It's no secret that the chemicals in the pool, mainly chlorine, can do a number on your hair. Unless properly treated, the chlorine builds up over time and can leave your hair brittle, discolored, and feeling like straw.
That's where shampoos designed specifically to remove chlorine comes into play. 
Throughout my almost 20 years of swimming, I've tried several different brands. Some with success and others with not much luck. 
More Content for You: Your Quick Guide to Swim Caps
We will note that what works for one swimmer may not work for another. Hair types vary and sometimes it takes a few tries to find the product that works best for you.
Here are 7 of the best swim shampoos to remove chlorine from your hair.
Disclosure: This post may contain affiliate links, meaning we earn a small commission at no cost to you if you purchase something through one of our links. As an Amazon Associate, we earn from qualifying purchases. Please check out our disclosure page for more information.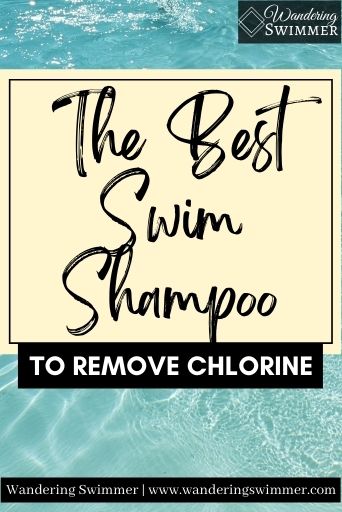 7 Best Swim Shampoos to Remove Chlorine
Of all the swim shampoos on our list, TRISWIM is one of the few that provides a full set of chlorine removal products. Not only do they have swim shampoo and conditioner, but they also offer body wash and lotion.
TRISWIM products not only help remove chlorine from your body, but they also remove saltwater and bromine too. Most swim shampoos only target chlorine and we like that it covers a wide range of waters.
The Aloe Vera, Vitamin A and B all work together to help hydrate and moisturize your hair in a natural way. All while removing the smell of chlorine and making your hair stronger. All of TRISWIM products are paraben and gluten free.
I feel that I need to use a bit more conditioner than others, but it does leave my hair soft and tangle-free once it's dry.
We will note that the scents aren't the same for each product. While they're all based in a mango scent (except for the lotion), they have an additional scent added. For some, this may be an issue. But others may like the difference 🙂 Their scents are as follows:
Their bottles come in 8.5 fl oz (251ml) with a flip lip for tight storage. They also come in 32 fl oz (946ml) size so you won't run out!
You can buy their products separately or you can purchase them in gift sets. Pick a gift set with a combination of shampoo and conditioner. Or body wash and lotion. They also have a travel set, which we think is a great way to sample all four products.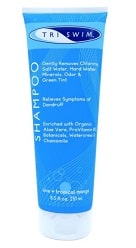 For complete hair care treatment, Malibu C offers one of the most thorough products for swimmers. We think it's also the best for swimmers with blonde or light colored hair that tend to turn green the easiest.
In addition to their swim shampoo and conditioner, Malibu C has a Swimmers Wellness Hair Remedy. These little packets have crystals inside that you work through your hair after washing your hair with shampoo.
Let them sit in your hair for at least five minutes to help remove any green from the chlorine and then rinse out! Follow up with some conditioner to add moisture back to your hair and you'll have healthy hair in no time.
More Content for You: 6 Best Earplugs for Swimming
Malibu C recommends using their Wellness Remedy at least once a week for optimal results. If you're swimming daily, once a week will help remove the copper buildup. However, if you're only swimming a few times a week or month, then once a month should suffice.
Again, everyone's hair is different and you may need to adjust the frequency based on your hair.
We suggest using their Swimmers Wellness Collection to start. This collection comes with a 9 oz bottle of their shampoo and conditioner. Along with 4 packets of their Wellness Remedy. Try each one and see which works best for you!
Some swimmers find that they only need the Wellness Remedy and use their own hair care products. Others like to use the whole set to ensure they keep their hair as healthy as they can. 
Malibu C products are vegan and are cruelty, paraben, gluten, and fragrance free.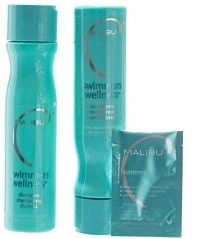 Ultra Swim has been around since at least I started swimming. And boy does it work! We bought countless bottles of their shampoo and conditioner to help save my hair. 
Admittedly, I'm not too fond of the smell. But I follow up with a separate shampoo and conditioner so my hair isn't only clean but also smells good.
For best results, it's ideal to use both shampoo and conditioner. While the shampoo helps remove chlorine, the conditioner adds back any moisture that might've been lost during the swim. 
We will note that the product is a bit on the thin side, so you have to use a bit more product if your hair has bad chlorine damage. Or if you have a lot of hair.
Both bottles come in 7oz bottles with a press-top lid. One negative about this product is that it does tend to leak or spill when in transit if the bottle isn't closed well.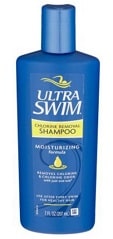 Much like TRISWIM, TRIHARD also offers a full product line to help remove chlorine. One unique thing about their conditioner and body lotion is that it's designed for pre and post-swim.
We'll admit that using products pre-swim is beneficial at keeping your hair and skin from absorbing chlorine. However, it can make your cap slippery and the product isn't always good for pool water.
If you do plan to use TRIHARD as a pre-swim product, try your best to rinse it out before getting into the water. This will help keep your swim cap from sliding off. Along with keeping the pH levels balanced in the water.
One unique feature of TRIHARD is that they have two different types of shampoo and body wash based on the swimmer's preference. 
Both products contain a cooling effect that can help energize swimmers. The Extra Boost version of their shampoo and body wash can provide a deeper cleaning. Along with emphasizing the cooling effect.
TRIHARD swim shampoo and conditioners are paraben free, vegan, cruelty-free and their bottles are made with 80% recycled plastic.
You can purchase TRIHARD as a bundled set, which you can create yourself, or individually. The bottle sizes are either 8.45 oz (250ml) or 10 oz (300ml), except for the lotion, which comes in 3.50 oz (100ml).
Don't let the name fool you. Even though it says it's for kids, you can 100% use this shampoo as a teen or adult. I used it for at least two years in high school before I discovered Ultra Swim!
It smells like oranges, giving it a nice scent. Although some will say that it's more of a perfumy smell than a natural orange smell. 
If you find that you don't like the smell, you can always use this as a first rinse and follow up with your regular shampoo.
More Content for You: How to Pick the Right Swim Goggle for You
L'oreal doesn't have a conditioner to go with their swim shampoo. So you may want to pair it up with a swim conditioner to help add in some extra moisture for your hair.
The bottle comes with a cute fish design for kids to make bath time a bit more fun. The lid is a flip-top, which has the chance to pop open during travel. You can tape it down or transfer the shampoo to a different bottle if you're concerned about spills.
This swim shampoo comes in a 9 fl oz (265ml) bottle.
Fairy Tales produces a Sun and Swim line that's specifically geared towards kids and helping treat their hair. It can help recover hair damaged from chlorine, seawater, hard water, and sun damage. 
All while using natural ingredients to help replenish moisture and clean your child's hair at the same time.
For best use, follow up with Fairy Tales Swimmer Conditioner for Kids (8oz). Which you can get in either a bottle or a conditioning spray. The spray works great to help untangle the hair before a shower, removing any knots that may have formed.
We will note that the shampoo bottle is a bit larger at 12oz compared to the conditioner options, which are 8oz. As the conditioner always seems to run out first, it'd be nice if their conditioner bottles came in the same size 🙂
In terms of scent, their shampoo and conditioner smells like oranges! 🙂 Both products are also soy, dairy, gluten, and nut free. Along with paraben and sulfate free.
For those who want a salon-quality shampoo that removes chlorine, Paul Mitchell's Shampoo Three is a good option.
The Shampoo Three option helps to deep clean your hair and removes the pool chemicals that can turn hair green. Paul Mitchell does offer other conditioner products to help add moisture back into your hair. However, none of them are specially designed for repairing chlorine damage.
Because Paul Mitchell Shampoo Three is a cleansing shampoo, we recommend using a good conditioner. As the cleansing portion is designed to remove any build-up in the hair and it can leave it on the dry side.
Follow up with a conditioner on this list or your favorite conditioner!
Paul Mitchell Shampoo three comes in three different sizes for your needs. Pick from 10.14 (300ml), 16.9 (500ml), and a 33.8 (1 liter) fl oz. The bottles come with a press top for a secure fit.
Scents vary by bottle size, unfortunately. Or at least they do online 🙂
Answering your Swim Shampoo Questions
1. Why Does Chlorine Turn My Hair Green?
One thing that might surprise you is that it's not the chlorine that turns your hair green. It's actually the copper in the other chemicals that turn your hair green! 🙂
The green color is most noticeable in lighter-colored hair, such as blonde hair. If you've colored and dyed your hair, you may find that your hair may change some color, too. 
Related article: Your Ultimate Swim Cap FAQ
However, even if you have darker hair, don't think that the lack of green color doesn't mean you don't have chemical build-up in your hair. You probably do. Especially if it's feeling brittle, dry, or straw-like.
2. Is Swim Shampoo Necessary?
Honestly? It depends. 
Some swimmers never need to use swim shampoo to keep their hair healthy. Others only need to use it on occasion to provide some extra treatment for their hair. And then you have some who can only use swim shampoo to save their hair.
Our suggestion is to keep a bottle of shampoo and conditioner on hand as a 'just in case'. 
If you're going to swim without a cap, you'll need swim shampoo for sure. The chemical damage to unprotected hair can be significant. And it's best to remove it with dedicated products.
For those swimming with a cap, using swim shampoo still doesn't hurt. Especially if you feel your hair doesn't feel as smooth or soft as it used to. 
3. How do I Take Care of My Hair if I Swim Daily?
Proper preparation and maintenance are key to taking care of your hair if you swim frequently. There's not just one step to this solution. Instead, it's a combination of a few steps. 
And while it might seem tedious, it's well worth the extra steps if it means that you keep your hair soft and well-hydrated throughout the year.
Wet your hair before you get into the pool. Doing this helps your hair absorb clean water and thoroughly saturates it so it can't soak up as much chlorinated water. 
Wear a swim cap. While swim caps won't keep your hair 100% dry or keep out all the chlorine, it protects the majority of your hair. You'll find that usually, the hair around the seam of your cap will become damp (if you haven't wet your hair already)
Wash your hair after your swim. Usually, the sooner you can wash your hair, the better. This can help remove any chlorine buildup that occurred during your swim. If you can't wash your hair, rinse it out with clean water to remove the chlorine. 
Treat with leave-in conditioners or hair masks as needed. For some, this may be a weekly occurrence. Others may need to do this monthly. 
4. Can Men Use Swim Shampoo?
Of course! 
Men should especially use swim shampoo if they prefer to swim without a swim cap. And usually, your standard 2-in-1 shampoo won't be up to the challenge of removing the chlorine if you're not wearing a cap.
We've had male teammates end up with straw-like hair because they didn't take care of it. 
Most haircare products aren't gender-specific. And you shouldn't feel that swimming shampoo or conditioners should only be for females 🙂
5. Will Swim Caps Protect my Hair?
Yes, they can. 
We will disclaimer this with the statement that swim caps won't keep your hair 100% dry. Nor will they keep out all the water. Some will seep through no matter how tight it is. 
Related articles: 
However, the amount that wets your hair is far less than swimming without one. And in wearing one, you give your hair more protection from the chemicals. 
6. Should I Put Something in my Hair Before I Swim?
Some people will suggest putting oil or other hair products in your hair to protect it from chlorine. And while they're not wholly wrong, doing this can leave the pool a disgusting mess. 
Because the oil or product that you used will wash off in the pool. Leaving you and others to swim in it. 
It can also mess with the chemical levels in the pool and to correct it, the pool staff may need to add more chemicals to balance it. 
If you want to put something in your hair before you swim, we highly encourage you to wet your hair before getting into the water. It works just the same as using a product but without the negative side effect.
7. Does Swimming Shampoo Actually Remove Chlorine?
If used correctly and frequently, yes, it does help remove the chlorine build-up in your hair. 
That said, sometimes it may take a few washes to wash out the chlorine. Especially if it's been built up over a long time. 
In some extreme cases where the hair is pretty much dead, nothing may help except a haircut to remove the dead hair. Again, this is in extreme cases where you've gone several months without doing anything. 
It's rare, but it does happen.
Swim shampoos work best when you do your part by wearing a swim cap. Or by using the shampoo and conditioner frequently to stop the build-up before it, well, builds up! 🙂
8. Are Swim Shampoos Safe for Kids?
All swim shampoos (both on this list and not listed) can be used by kids for their hair. That said, any shampoo or conditioner won't be safe if it's digested and can cause burning if it gets into the eyes.
A few brands do have shampoos specifically for kids though:
In Closing
Swim shampoos vary in success by swimmer and it may take a bit to find the product that works best for you. However, once you find the right one, you'll discover a remarkable difference in your hair! And it's well worth the search 🙂
---
Bonus Content
6 Best Prescription Goggles for Swimming: Need prescription goggles to help you see better at the pool? Here are the best prescription goggles for swimming and all your pool needs.
8 Best Swim Bags for Swimmers and Water Enthusiasts: A swim bag is a swimmer's best friend. They hold everything from towels and phones to goggles.  We've broken down the 8 best swim bags for swimmers.
---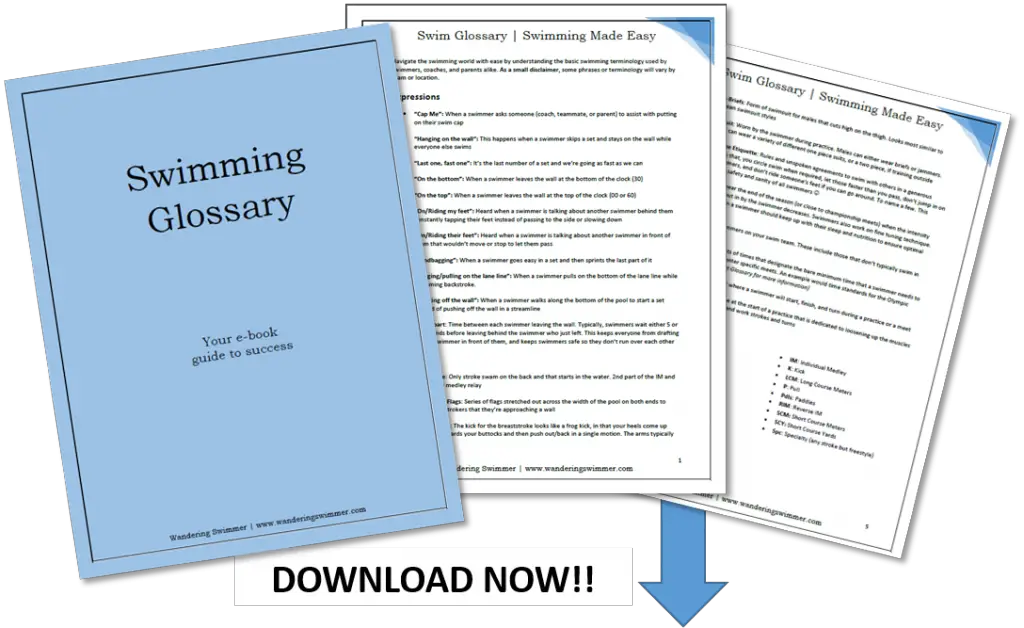 Want to Improve at the Pool?
Join swimmers and swim parents to receive my free newsletter and receive a free Swimming Glossary e-book as a thanks!
Every month you'll receive tips and coaching to help you find success at the pool.
---
About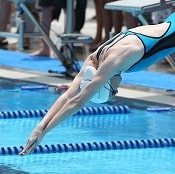 Chevron is a current competitive swimmer with almost 20 years of experience in the pool. And although she fell into the sport by accident in her high school years, she still trains daily and competes throughout the year. She's committed to providing guidance to all levels of swimmers and believes that everyone should know how to swim.