In some ways, preparing for a swim meet is almost just as important as the meet itself! But knowing how to prepare for a swim meet can be challenging for new and current swimmers.
It's not just physical preparation but also mental. And it takes time as you figure out what does and doesn't work for you.
Related article: How to Have a Better Swim Meet
To get you started, here are 6 things to keep in mind when preparing for your next swim meet.
Disclosure: This post may contain affiliate links, meaning we earn a small commission at no cost to you if you purchase something through one of our links. As an Amazon Associate, we earn from qualifying purchases. Please check out our disclosure page for more information.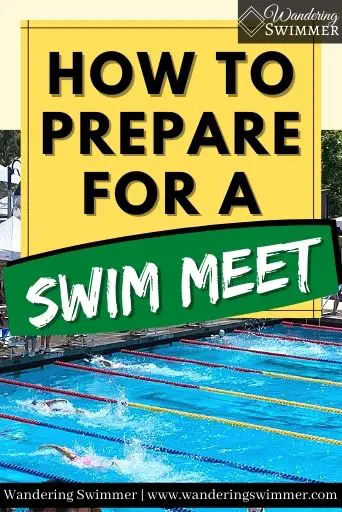 Keep Practicing
As your swim meet draws closer, it's tempting to want to back off practice. Or to stop altogether to allow your body to rest.
In actuality, this is one thing you shouldn't be doing!
We know. It sounds counterproductive to keep training instead of resting. But most athletes train up to the day of their meet. However, they might reduce the number of practices per week or how long each one runs.
They'll also lower the intensity of practice too. 
More Content for You: 15 Ways to Extend the Life of Your Tech Suit
Doing this allows the body to keep its endurance, strength, and speed at peak levels. While still letting the body rest.
Cutting out practices just before a meet can make you feel more lethargic in the water. And you're less likely to feel that your stroke is race-ready.
That said, listen to your coach. They know what they're doing! And when it doubt, ask for clarification to help you understand.
Coaches know which meets they'll taper you for. Or the meets that they don't plan to taper or reduce practice intensity for. 
Because there will be some meets that you'll go into without any rest. And that's okay! It's how you get stronger and learn your limits 🙂
Watch Your Nutrition
As a swimmer, you should always watch your nutrition. From what you eat and drink, to how much you consume. 
While it's true that swimmers burn hundreds of calories during practice, it shouldn't be a free pass to eat badly all the time. Especially leading up to a swim meet.
As you prepare for a swim meet, make sure you monitor your nutrition. 
Ensure you're eating good, balanced meals. Ones that have a healthy balance of proteins, carbs, and vegetables. 
Related article: What are Healthy Snacks for Swim Meets?
You should also check that you're not eating too little. Or trying to fast in an effort to drop weight. You need to keep your body fueled for it to perform well. And it can't do this when it's being starved.
As the meet gets closer, most swimmers will start to eat more carbs to help prepare their bodies for the meet ahead.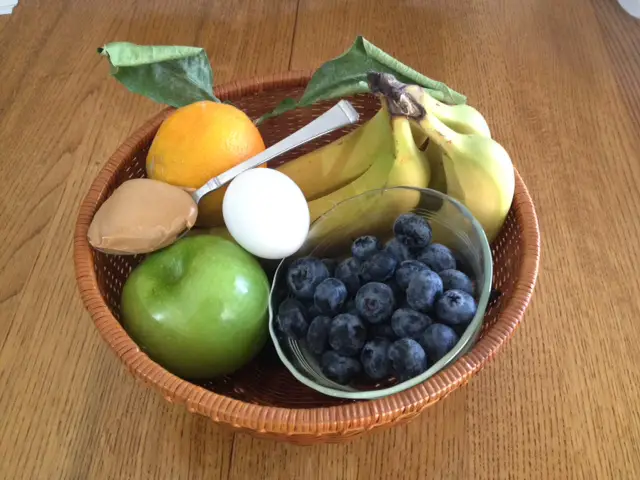 What each swimmer needs will vary. 
Just because carb loading works for a teammate doesn't mean that it can work for you. It will take a few swim meets to find what works best.
Once you do find a nutrition plan/schedule that works for you, start to make it a habit before your meets. You'll find that it'll help you better prepare for upcoming swim meets.
Pasta Parties
Some teams will have pasta parties ahead of swim meets. 
These are a great way to bond with your team. And can be a great way to get some or a lot of carbs in before a swim meet. But we do offer a word of caution for them. 
If you have a sensitive stomach, it might be best to bring your own pasta to a pasta party. This can help prevent you from getting sick after eating a meal that someone else made.
The last thing you want is to get sick just before the meet!
Get Enough Sleep
Sleep is important for your body and helps to encourage muscle recovery. And it's especially important before and during a swim meet.
Try to stick with your regular sleep schedule as much as you can and get enough sleep. This will help your body perform well and at high levels during the meet. 
More Content for You: How to Stay Warm at Swim Meets
Getting enough sleep is critical not just before a swim meet but during it too. If your meet is several days or prelims/finals, you'll need your body rested. This means taking a nap between sessions to prepare for the next session.
How much sleep you need varies based on what your body is used to. But if you typically don't get much sleep at night, you might want to consider adding an extra hour to help your body recover.
Nerves keeping you up?
Try using a weighted blanket or a white noise machine to help calm your mind. And don't look at the psych sheet if it makes you anxious. You might find that you sleep better for it
Mental Preparation
A large part of a swim meet is the mental piece. And mentally getting ready is part of preparing for a swim meet.
Some ways to prepare mentally are:
Know what events you're swimming 
Familiarize yourself with the meet so there won't be any surprises 
Set goals that you might have for the meet and work towards them in practice
Remind yourself that you can do this 🙂
Visualization is also another good way to mentally prepare.
Close your eyes and walk yourself through a 50 of your race. From the start to the number of strokes you need to take, to the turn, and the finish. Have someone time you to see if you can get close to your 50 time.
Pack Early
Whether your swim meet is a single day or a couple of days, it never hurts to get a headstart on packing. 
Waiting to pack the morning of a swim meet can be stressful. And you're more likely to forget something in the rush to leave on time. Especially if you have to leave early for a morning warm-up.
That said, help take some of the stress away by packing the night before your swim meet.
It's easy to pack your towels, suits, and cap and goggles the night before in your swim bag. Even gathering the food you plan to take and putting it in a bag can help. This way, come morning, all you need to do is get breakfast, check your bag, and grab everything.
Going to an overnight meet? 
Start pulling items out a day or so before you need to leave. Set aside the extra towels you plan to take and your warm-ups or parka. Throw them in the suitcase so they're all in one spot. And then set time aside to pack everything.
Related article: What to Pack for an Overnight Swim Meet
Some swimmers will wait until the last minute to pack. And it might work for them! But if you're prone to being late or forgetting something, it might help to pack a bit earlier. 
It's also helpful for those with pre-meet nerves. Getting everything ready can help calm you down sometimes.
Stay Positive
It's incredibly easy to get a negative attitude leading up to a swim meet. 
Your stroke doesn't feel right. Your goggles fell off on a dive at practice or they broke. Coach put you in the wrong event or one that you hate.
And we get it. 
Having something go wrong the day or week of a meet before can put a huge damper on your attitude. It gets you out of the racing mentality and you start to dread something that hasn't happened yet.
And it's not to say that you can't dislike a race or have a bad day. Those are 100% valid feelings. But you don't need to bring down everyone else around you.
Related article: Best Swim Meet Advice
When you find that you can't stay positive, turn to your teammates and coaches for support. Let them know you're struggling and could use the encouragement. Or that you're having a bad day.
Cheer for your teammates and support them. Congratulate them after a race. Even if you're not having a good meet, you can still be kind to those around you.
As always, happy swimming!
Chevron
---
Bonus Content
Top 11 Questions About Swim Meets: Swim meets can bring about a variety of questions. Here's a brief overview of the top 11 frequently asked questions about swim meets.
Best Warm Clothes for Swim Meets: Staying warm at a swim meet is more than just wrapping up in a towel. You also need the correct warm clothes for swim meets.
---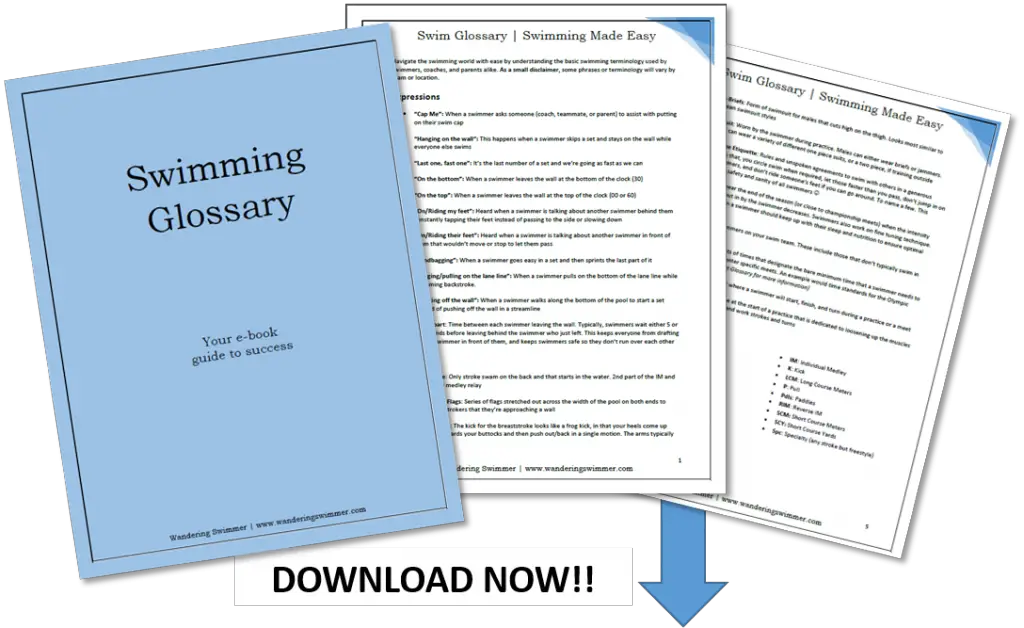 Want to Improve at the Pool?
Join swimmers and swim parents to receive my free newsletter and receive a free Swimming Glossary e-book as a thanks!
Every month you'll receive tips and coaching to help you find success at the pool.
About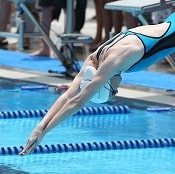 Chevron is a current competitive swimmer with almost 20 years of experience in the pool. And although she fell into the sport by accident in her high school years, she still trains daily and competes throughout the year. She's committed to providing guidance to all levels of swimmers and believes that everyone should know how to swim.