When you pack for an overnight swim meet, it's important to consider everything that you need. Or may need. Because more often than not, once you're at the meet, you can't run home to pick up something you forgot.
Related article: What to Bring to a Swim Meet
Having a packing list for an overnight swim meet can help ensure that you won't leave anything behind. And lessen the need to run to the store in the middle of the night because you forgot something. 😉
It also helps ease some anxiety that comes with traveling!
Packing for an overnight swim meet though is only half the battle. Knowing what to pack is the other half!
Disclosure: This post may contain affiliate links, meaning we earn a small commission at no cost to you if you purchase something through one of our links. As an Amazon Associate, we earn from qualifying purchases. Please check out our disclosure page for more information.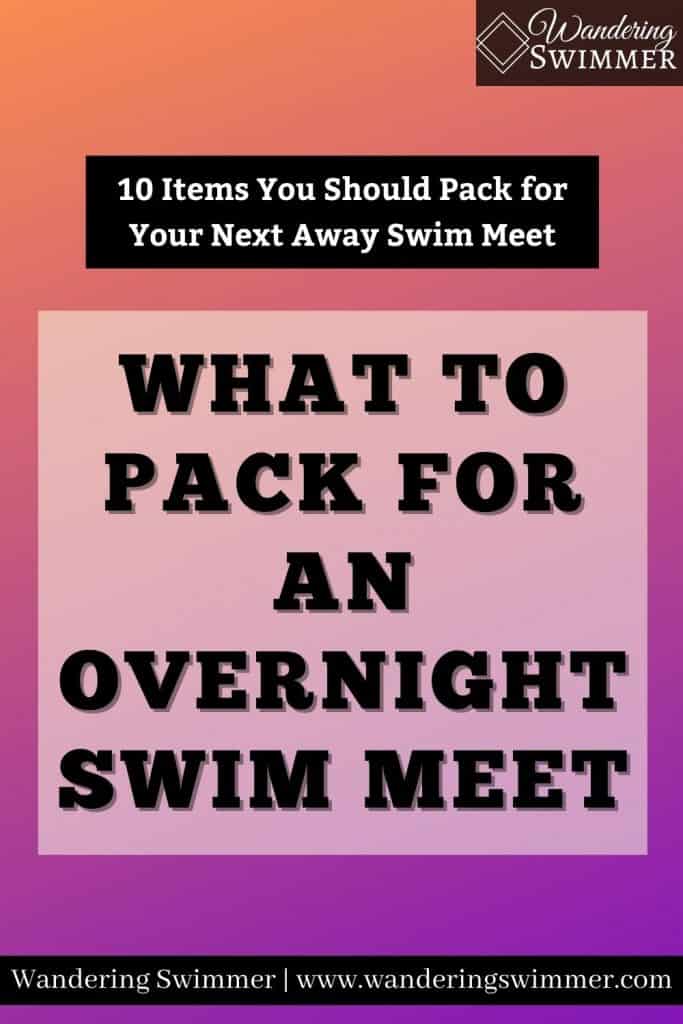 Packing for an Overnight Swim Meet
Swimsuits
Probably one of the most important things to pack for any swim meet is your swimsuit! Pack the suits that you'll need for the meet. And make sure that the suits you pack are in good condition to race.
You'll want to also ensure that you bring several backups with you. That goes not just for your race suit, but also the suit you plan to warm up in. Having multiple suits on hand gives you options in case a suit rips and a dry suit to wear if the first suit isn't dry.
Related article: 15 Ways to Extend the Life of Your Tech Suit
When packing for an away swim meet, make sure you keep your tech suits in a protective bag. They're far too fragile to keep loose in your suitcase or bag. And the last thing you want is for them to rip in transit before the meet even starts.
Store them in a sturdy ziplock bag or the travel bag/case that the suit came in.
As an extra piece of advice for you. Whenever you're flying, make sure you keep several of your suits in your carry-on bag instead of your checked bag. This keeps your suits with you in the event your checked bag gets lost during transit.
Towels
You'll need to pack towels, much like you would for any other swim meet. The key though is to ensure you pack a few extra towels in case you need them. 
It's easy to pick up new towels at home or toss the wet ones into the dryer for the next session. When you're at an away swim meet though, you don't always have that option. And you could end up stuck with a damp towel.
Related article: 5 Reasons to Own a Shammy
How many towels you need is up to you. But it's better to have extras on hand than not enough! 
A good rule of thumb is to consider how many towels you use in a typical session and add 1-2 more to your count. This provides a few extra for those just in case moments.
And if you plan to stay at a hotel, you can always use a hotel towel as a backup, too. Just remember to bring them back 🙂
Clothing
Pack clothes not just for the season, but also the pool you'll swim at. While the outside temperatures might be hot, the natatorium may run cold. 
When it comes to packing clothes, you have to know what works best for you. 
Will you need layers and warmer articles of clothing? Or will simple shorts and shirts do the trick? Can you pack your parka in case it's needed?
Related articles:
If you're not sure, it's best to play it safe and bring extras if you can. Take a backup pair of warm-ups if you have them. If not, pack some sweats or a hoodie. It's easier to cool off than warm up at a swim meet.
When you pack your clothes for an overnight, make sure to consider the following:
What clothes will you sleep in?
Do you have extra clothes to travel in? Or will you need a set of travel clothes?
Will you have downtime to go exploring? If so, what clothes will you need for that?
And last but not least, don't forget to pack your undergarments! 🙂
Cap and goggles
While some items, such as towels, backup suits, and clothing go in a separate travel bag, your cap and goggles should never leave your swim bag.
Double-check that you packed your goggles and cap in your swim bag. If you have racing goggles and dome caps that you use for meets, pack those. And then check one final time before leaving the house.
A little bit of paranoia goes a long way when you're at an overnight swim meet!
You should also check that you have your backup goggles and caps, too. The same goes for an extra set of goggle straps or bungee straps. You never know they either will break and you don't want to be caught without one.
Shoes
They're easier to forget than you think! But don't forget to pack the various types of shoes that you'll need at an away swim meet. 
Know what type of shoes you plan to wear and pack those. Or set them aside to pack.
Remember that you need sandals for after your warm-up and in the locker room. And you should at least have some shoes to wear around on deck to help keep your feet warm. 
If you can't pack your shoes in a travel bag, stash them in the car if you're driving to your overnight swim meet. Or consider wearing them if you're flying.
Packing sandals?
Wrap them in a plastic bag (or two), and put them in your travel bag. That will keep them from touching your clothes and other items that you've already packed.
Extras of Everything
You've packed what you need. Your suit, clothes, caps, and goggles. Now pack some extras. Yes, we mentioned extras and backups in earlier sections, but it bears repeating. Always pack extras!
That trusty cap or suit will find a way to rip or tear at the meet. Goggle straps snap and nose pieces break. If it can break, it will break at a swim meet. 
Because of this, you should always ensure that you pack extras. Extra suits, caps, and goggles. Even extra warm-ups, clothes, and towels. 
If you don't need them or never end up using them, great! But when you find yourself needing them, you'll feel grateful that you brought the spare.
Food
As with any swim meet, you should pack some food. Whether that's simple snacks to eat on deck or actual meals to eat while away is up to you.
Bringing your own food from home when possible helps save some money while traveling. Overnight swim meets add up quickly, and food expenses are right up there next to lodging fees.
Related article: The True Cost of Swim Meets
Pack your food (and drinks) in reusable grocery bags so they're easy to carry. It also makes them easier to pack when traveling in a vehicle. 
Storing them in these bags also helps prevent food from damage.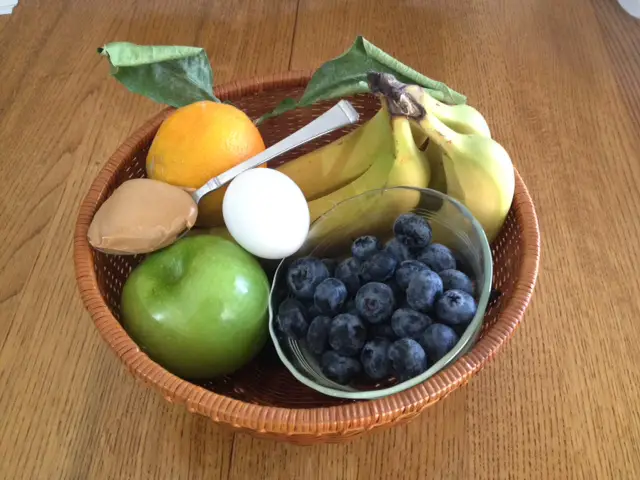 Water Bottle
Probably one of the easiest things to forget is your water bottle. Especially if you're using a plastic one. But staying hydrated during a swim meet is crucial if you expect to perform well.
Related article: How to Have a Better Swim Meet
As a recommendation, we suggest that you bring a reusable water bottle. They're less likely to be forgotten and used by someone else compared to plastic water bottles. But whichever type of bottle you plan to use, be sure to actually drink from it!
Don't forget any drink powder if you typically mix that into your drink as well.
Toiletries 
It's easy to forget your toiletries amongst the rest of your packing. Before you close up your travel bag, make sure you've packed all the basic toiletries that you will need. Items such as your toothbrush and toothpaste 🙂
If you need certain toiletries, make sure you pack those as well. This also includes any medication that you may need. If you use an inhaler or take medication daily, please make sure those are in your bag.
Lastly, for those that experience periods. 
Even if you're not on your cycle or don't expect to start during an overnight swim meet, still pack your product(s) of choice. You might not need them, but someone else on your team might.
Related articles:
Miscellaneous 
Not everyone sleeps well when they're away from home. Certain things, such as too much noise, too little noise, or light can take away from a decent sleep. Especially if it's different from what you're used to at home.
To counter excess noise or light, consider keeping earplugs or eye masks with you when you travel. They come in handy when your roommate snores like a bear or has to sleep with a light on.
On the other hand, if it's too quiet, consider a white noise or sound machine. You can bring a small one for traveling. Or, you can purchase/download an app for your mobile device.
Bring what you need to sleep better when you're away from your bed. Sleep is important at overnight meets. Don't miss out on a good night's sleep because it's too loud or too quiet.
In closing 
Traveling for an overnight swim meet can be fun but stressful. And while the packing aspect of it might not be fun, it doesn't have to be stressful as well.
Save yourself the time and hassle by following a list whenever you pack for your next away meet. Check off each item as you go and you'll find that you'll never forget anything again!
As always, to happy swimming!
-Chevron
---
Bonus Content:
How to Read a Heat Sheet: Knowing how to read a heat sheet is one of the more important but confusing parts of a swim meet. But what is a heat sheet and how do you read one?
Best Advice for Swim Meets: To help make the most of your next swim meet, we've compiled the 14 best pieces of swim meet advice we've heard throughout the years. (coming 5/15)
---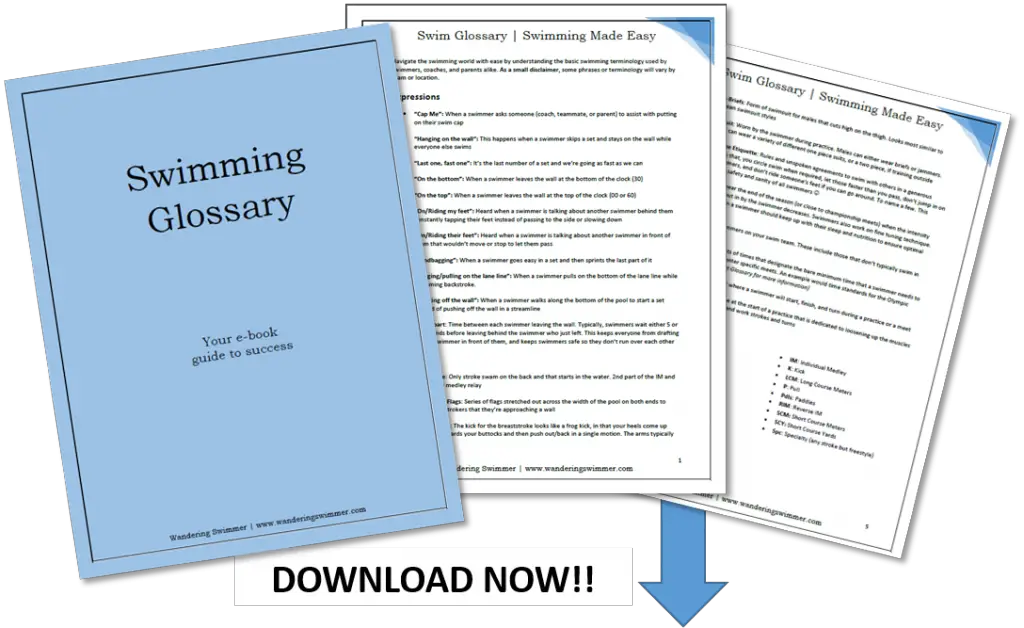 Want to Improve at the Pool?
Join swimmers and swim parents to receive my free newsletter and receive a free Swimming Glossary e-book as a thanks!
Every month you'll receive tips and coaching to help you find success at the pool.