When it comes time for a swim meet, everyone seems to have the best advice to share. From personal experience or encouragement. Everyone has swim meet advice they can pass along. 
Related article: What is a Swim Meet?
To help make the most of your next swim meet, we've compiled the 14 best pieces of swim meet advice we've heard throughout the years.
Disclosure: This post may contain affiliate links, meaning we earn a small commission at no cost to you if you purchase something through one of our links. As an Amazon Associate, we earn from qualifying purchases. Please check out our disclosure page for more information.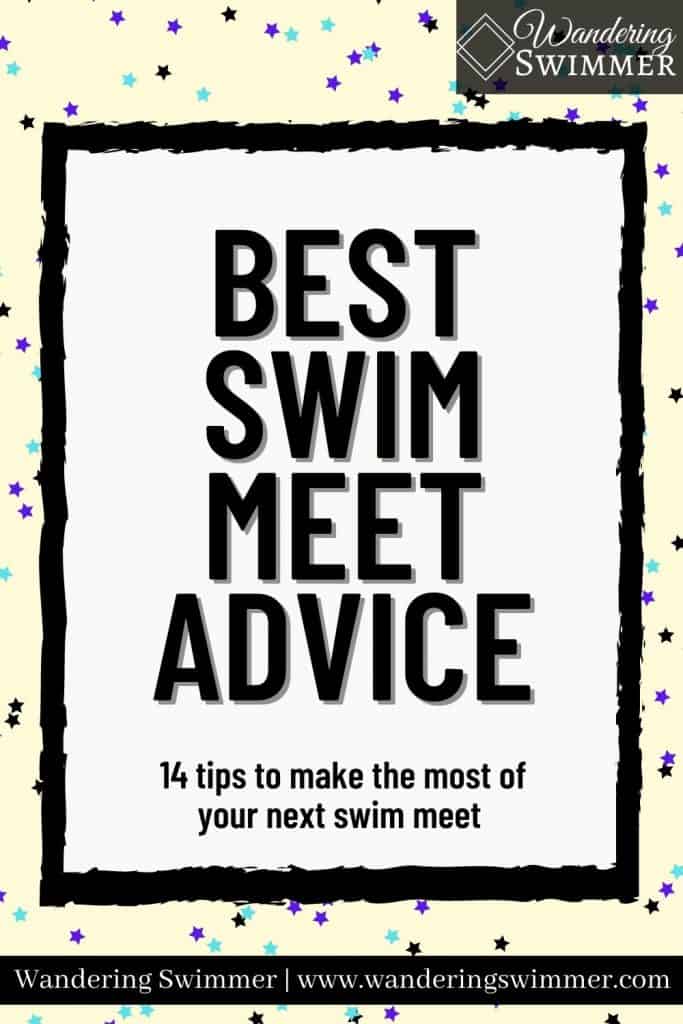 1. Know the Meet Information 
Before you even leave for your meet, make sure you know the meet information. Meet information isn't just for coaches! Parents and swimmers alike should read through them. 
The meet information will have all the information you need. To include:
Date(s) of the meet
Order of Events
Parking information, if necessary
Admission fee, if any
Timeline (depending on the meet)
Hotel information, if necessary 
Reviewing the meeting is the best way to know what's needed of you and it can help you prepare for your meet. 
2. Psych and Heat Sheet
Psych Sheet
One of the best swim meet advice we can give is to never let the psych sheet psych you out. It's not a sure document and isn't always a good indicator of how fast everyone will go. Or where you'll end up.
If looking at the psych sheet gives you anxiety or ramps up your nerves, avoid it altogether. Let your parents, coaches, and teammates know that you don't like discussing the psych sheet to keep them from talking about it while around you.
Heat Sheet
Check the heat sheet before the start of the meet so you can determine what time you'll swim. You should also check the heat sheet to make sure you're in the correct events. Accidents have been known to happen 🙂
Related article: How to Read a Heat Sheet
You should also know what event and heat is currently in the water. Knowing this can help keep you from missing your event and tell you how much time until you swim. 
3. Prepare Accordingly
Another piece of swim meet advice? Make sure you prepare accordingly for your meet. 
If the swim meet is outdoors, make sure you have tinted goggles and appropriate clothing based on the season. If it's summer, remember your sunscreen and a hat. For the winter, bring your parka and warm-ups. 
Related articles: 
Check the meet information to see what type of seating is available. For both swimmers and spectators alike, you may need to bring something to sit on if seating isn't provided. Or if it's provided, be sure you have a cushion for longer meets.
4. Arrive Early
Ideally, you should arrive early, as this gives you plenty of time to stretch and change before your warm-up. And you have a better chance at finding a seat if you arrive early.
If you can't arrive early, you should at least arrive on time. This helps you ensure that you can finish your warm-up before the meet starts. 
5. Check-In
Have a distance event? One swim meet advice is to remember to check-in or sign in for these races. Distance events are usually any race that has a distance greater than 200. 
One exception we will note is that Masters Swimming typically requires swimmers to check-in for distances over 100.
Lastly, remember to have a counter and timer identified before your distance event. Check with them well before your race to ensure they're still good to count and time. 
Scrambling around at the last minute to find one takes time away from preparing for your race
6. Bring Extras 
If we could give some swim meet advice? Always bring extras! Don't forget to bring extras of these items:  
Suits – Both a race suit and a practice suit. 
Extra towels if the meet is longer 
For those that wear contacts, it's also wise to keep an extra set in your bag or your glasses in case your current pair fall out.
7. Nutrition and Hydration 
Pack snacks and bring your reusable water bottle. And for that matter, make sure you pack some extra 🙂
If you don't have any with you, bring some money to purchase at the concession stand. Just remember that food is typically more expensive at a meet than what you would bring from home.
Related article: The True Cost of Swim Meets
8. Warm-Up
Warm-up before your race to wake up your muscles, especially if you've been sitting for a while. 
Your body performs best when it's warmed up properly. And if you go into a race without a decent warm-up, you might not be happy with your results. 
9. Cool Down
If you should warm up before a race, you should also cool down after your race. 
Lactic acid builds up in the muscles while you race and the only way to flush it out of your body is to keep moving. One of the best ways to cool down is to base your cooldown on time and not laps.
At a minimum, your cool down should be about 10-15 minutes of easy swimming.
10. Stay Warm
Stay warm! This is one of the easiest ways to help you have a better swim meet. While it's not wholly to blame for bad meets, not staying warm at swim meets can lead to bad times and races.
There's no single remedy to staying warm at swim meets. However, there are options to try that can help you warm up. Consider wearing a parka and/or your warm-ups to help stay warm.
11. Tech Suits 
Tech suits come with a plethora of swim meet advice. From putting on your race suit to extending the life of your tech suit. 
Plan for enough time to put on your tech suit if you're wearing one. Especially if the suit is new. Remember that it typically takes anywhere from 10-30 minutes to put on a suit. Rushing to put it on due to poor planning is a sure way to rip a suit.
Make sure you're completely dry before attempting to put on your race suit. Damp skin makes it extremely difficult to wiggle into a tech suit. Make sure the suit is completely dry as well. 
Go to the bathroom before putting on your tech suit! Nothing is worse than putting the suit on and realizing you need to go to the restroom. 
Rinse out your tech suit with cold water once your meet or race is over
For those that menstruate, it never hurts to have extra tampons on hand with you. Keep some in your bag. If not for yourself, then at least for someone in the locker room. For those that use a menstrual cup, keep one in your bag, just in case.
Related articles:
If you're traveling by plane or bus to a swim meet, keep your race suit in your carry-on bag. The same applies to your racing cap and goggles, too. This way, if something happens to your checked bag, you still have a backup with you.
12. Be Humble
Be a good sport and stay humble throughout your meets.
Can you celebrate dropped time or earning a new cut? Of course! But don't flaunt it excessively and continually brag on it. 
The same applies to races lost and cuts missed. Being a sore loser or a cocky/arrogant swimmer before or after a race reflects poorly on you. 
Take the time to congratulate the swimmer(s) next to you. Shake their hands or tell them 'good job'. Even a nod of acknowledgment goes a long way. 
13. Breathe 
Lastly, take some deep breaths. You know what you're doing. We promise. 
You do the same thing every day in practice and the motions are familiar to your body. Anxiety and nerves are normal for anyone. The trick is learning not to let them get the best of you 
BONUS! Be Grateful
Odd advice? Perhaps. But every swimmer and parent should take a moment to be grateful at swim meets. Coaches, officials, and volunteers spend hours at each swim meet to make them run as smoothly as possible. 
Without them, we wouldn't have swim meets!
Related article: 8 Awesome Gifts for Swim Coaches
Take a moment to thank those at the meet. Thank your coach for all the time and work they've done. And thank the officials and volunteers who make the meets run.
In Closing
Whether it's your first meet or your 100th, we hope you always learn something. 
Life is all about learning and swim meets are one of the best ways to learn and grow. Either from something you did right/wrong or from watching another swimmer. 
Swim meets are teeming with individuals who know so much. Take the time to talk to someone. Encourage someone. Cheer for someone. You might be surprised at what happens 🙂
As always, to happy swimming! 
Chevron
---
Bonus Content: (coming soon)
How to Prepare for a Swim Meet:
Things You Should do at Swim Meets (But Aren't):
---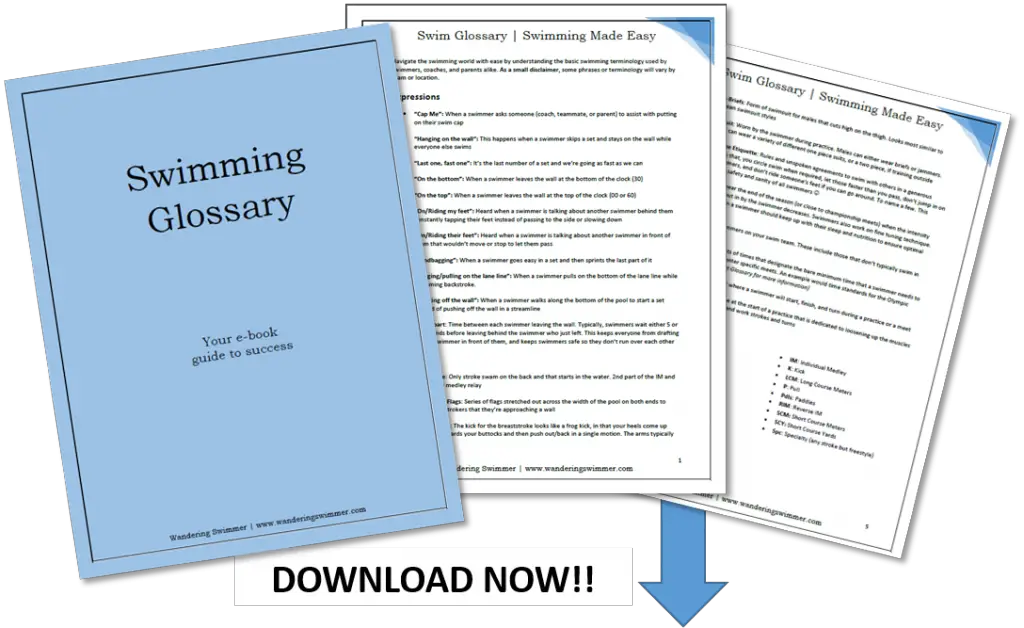 Want to Improve at the Pool?
Join swimmers and swim parents to receive my free newsletter and receive a free Swimming Glossary e-book as a thanks!
Every month you'll receive tips and coaching to help you find success at the pool.
About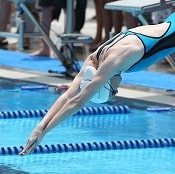 Chevron is a current competitive swimmer with almost 20 years of experience in the pool. And although she fell into the sport by accident in her high school years, she still trains daily and competes throughout the year. She's committed to providing guidance to all levels of swimmers and believes that everyone should know how to swim.