If you have long hair, you know how difficult it is to protect it when you swim or get in the water. And you also know that most regular swim caps won't work as well for you.
Related article: Can You Swim With Long Hair?
Luckily, brands have started to make swim caps for long hair in recent years. And the selection of available, quality products seems to grow every year.
Which is the best swim cap for your long hair? We've picked the top 7 swim caps to fit a variety of hairstyles and needs. Because swim caps are rarely one size fits all 🙂
Disclosure: This post may contain affiliate links, meaning we earn a small commission at no cost to you if you purchase something through one of our links. As an Amazon Associate, we earn from qualifying purchases. Please check out our disclosure page for more information.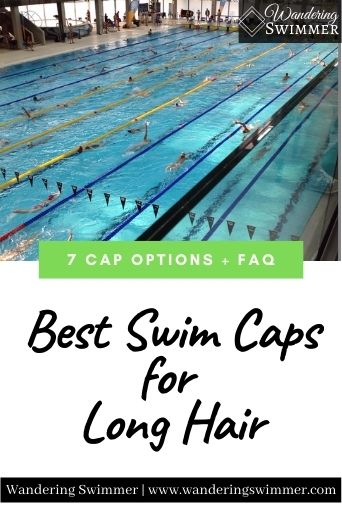 7 Best Swim Caps for Long Hair
Sporti might not be as well known of a swim brand as others in the swimming world, but they make some great products.
They have a wide variety of fun and playful swim caps. And the same is true for their long hair swim caps.
These caps come in a rainbow of solid colors, multi color options or a variety of fun printed styles. Making them appealing to anyone who needs to use a larger swim cap.
To include individuals whose heads may not fit comfortably in a regular-sized swim cap!
These caps are great for lap and competitive swimmers, as they're more likely to stay on. Just know that they'll probably be tighter than other caps on this list.
More Content for You: The 7 Best Swim Shampoos to Remove Chlorine
Both the printed and solid color caps are made from a strong silicone material. This helps them stretch to fit your head and hold all your hair. 
Lastly, Sporti's Long Hair Swim Caps are very affordable. 
The printed versions may run a bit more expensive than the solid colors from Sporti. But they are about the same price as other brands on this list.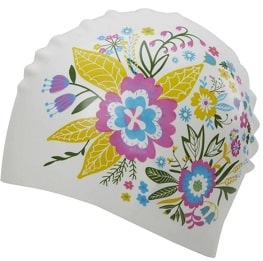 For those that favor Speedo gear, they also have a long hair swim cap! Speedo is a well-known brand in the swimming world and one of the most popular swimming brands.
Much like Sporti, the Speedo swim cap for long hair is made from silicone. The soft material keeps from pulling your hair, making it an ideal choice for long hair swimmers. 
It's also latex-free, so those with a latex allergy can use this cap (and others on this list) without worry.
The stretchy material and slightly larger design of the cap will help ensure it'll fit all your hair. And the tight fit means the swim cap won't fall off while you're swimming.
Related article: 8 Reasons Your Swim Cap Slides Off
With five solid color options, you don't have as many choices as other brands. But if you're looking for a simple cap that gets the job done, this cap will do the trick!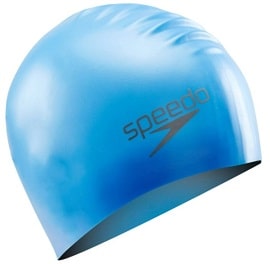 While long hair swim caps are great for some people, they don't always work for individuals with long and/or thick hair. Or certain hairstyles, such as dreadlocks, afros, and weaves.
For these types of hairstyles, we recommend the Dsane Extra Large Swimming Cap.
Compared to long hair swim caps, Dsane's is noticeably larger. This means it has enough room to fit a variety of hairstyles and hair types. 
More Content for You: Basic Swimming Terminology
It's made from silicone, making it strong, durable, flexible, and comfortable. And the strong elastic at the bottom of the cap helps form a tight seal, keeping it in place while you swim.
We like that it's a unisex cap and comes in several different colors. 
And like other long hair caps, Dsane can also fit larger heads more comfortably. 
One downside is that this cap is that it tends to run a bit more expensive than other caps. Both regular and long hair caps. 
However, with the protection, fit, and comfort it provides, it may be worth it for some.
Lahtak's large and extra-large swim caps are ideal for those with extremely long and/or thick hair. To include dreadlocks, afros, and box braids.
The design of this cap is to help keep your hair dry but in a way that it's not squeezed tight against your head. Instead, the cap forms a tight seal around the edge and leaves excess space for your hair. 
The excess gathers just behind your head in a stylish design. Protecting your hair and making you look great!
Because of this specific design, we don't recommend it for lap or competitive swimming. The extra material will make it a bit more difficult to swim with. And it might not stay on very well.
However, this is a great swim cap for fun at the pool, beach, or lake.
The silicone material is soft and stretches well to accommodate your hair. Be careful putting it on if you have long nails, as you can cause it to rip.
We love the fun name of this cap. And fun name aside, the Friendly Swede Long Hair Swim Cap does its job well.
The Friendly Swede makes caps in regular and XL sizes to fit all needs. They recommend using their regular version for short to medium hair. And their XL version for long or extra thick hair.
Their caps come with ear pockets to help lessen the cap from putting pressure on them. 
These little pockets are also great if you wear earplugs or use a waterproof MP3 player when you swim! 
Just know that while this cap is designed to cover your ears and keep some water out, you will probably still get water in your ears. Pair your cap with some earplugs to keep water completely out of your ears.
Like the other caps on this list, this swim cap is made from silicone. Making it stretch to fit larger heads or long/thick hair!
TYR Long Hair Swim Cap is unique in that it has an asymmetric design specifically for your long hair. Whereas other caps might be slightly larger in design, this cap is very specific in where to place your hair.
This design helps loosen some of the pressure on your head. And takes out the guesswork on how to wear the cap!
More Content for You: Swimming Basics to Get You Started
Because the excess is centralized in one area on the cap, some individuals may find the cap is still too small.
This cap comes in six different colors, all of which are solid colors. Making it a good unisex cap and can be worn by anyone.
It's also made from silicone, so those with latex allergies can wear it without worry.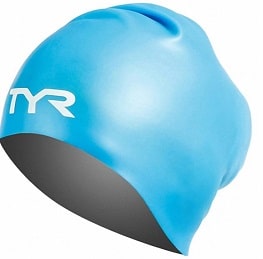 A swim cap with style! COPOZZ's Extra Large Swim Cap is designed to fit long hair and braids, dreadlocks, curls, afros, and more. 
And their caps have fun and cute designs to let your personality shine through!
From black swans to a curious-looking cat, you can pick your favorite style and keep your hair dry at the same time. COPOZZ also offers two solid colors in black and pink, if you favor a design that's not printed.
This cap measures 11.69 inches at the base and 11.41 inches in height. Giving you plenty of space to tuck your locks into the cap and protect them. 
Answering Your Questions About Swim Caps
What Should I Look for in a Long Hair Swim Cap?
Two of the most important features you should look for in a swim cap for long hair are the material and the size. 
Related article: Your Quick Guide to Swim Caps
Silicone is the best material for long hair (and is the only material for all the caps on this list). It stretches easier, lasts longer, and is usually the best at holding large amounts of hair. 
Lastly, the size of the cap matters based on the amount of hair you have. Some caps will fit better if they're slightly larger or smaller. This is a more personal choice, as you'll need to determine if a smaller cap will fit just right or too tight.
And of course, pick a color or style that fits you best! One of the fun things about swim caps is that they can reflect your personality 🙂
Should I Wear a Swim Cap if I Have Long Hair?
We admit we're biased when we say that you should wear a cap. But we also think that anyone who wants to protect their hair while in the pool should wear a swim cap. Long or short hair.
Chlorine and the chemicals in the pool aren't kind to hair. And sometimes all it takes is just one pool visit for your hair to dry out.
Related article: 6 Reasons Why You Should Wear a Swim Cap
Swim caps also help prevent hair from getting into the pool. Speaking from personal experience, it's disgusting to get a piece of hair caught on your face!
Will Swim Caps Keep My Hair Dry?
Yes, but not completely. We've yet to find a swim cap that will keep hair 100% dry. No matter what type of hairstyle you have. 
You can expect your hair to be damp along your neckline and usually around your ears. 
However, if you wear your cap correctly, it should keep the majority of your hair dry.
Are Swim Caps Waterproof?
Yes and no. 
It depends on the swim cap that you get. Most long hair caps are made from silicone, which makes them waterproof. Lycra swim caps, however, are not waterproof and will not keep water out.
Related article: Your Ultimate Swim Cap FAQ
Just remember that while silicone caps are waterproof, they will not keep your hair 100% dry.
What's the Best Hairstyle to Use for a Swim Cap?
Honestly, this comes down to a personal choice. Based on what feels comfortable for you, what works for you, and your hair type.
Some options to consider are:
A high or low bun: Depending on where you place the bun can affect how well your goggles stay on. Or how comfortable they may fit. If you're not sure, try one more in the middle on the back of your head and adjust from there
Ponytail: Some swimmers will keep their hair in a ponytail, put on their cap, and then tuck the rest of the hair into the cap. You can also put the ponytail in first or pull it directly over your head before putting on your cap
Braids: Like with a ponytail, you can braid your hair however you like and then wiggle it into a cap in various ways
Hair down: Admittedly, I could never do this. But some swimmers can put on a cap without pulling back their hair. They'll put the cap on their head and then tuck in the excess hair. This can make the hair a bit more 'loose' in the cap but it works for some swimmers!
In Closing
Swim caps have come a long way, especially for individuals with long hair. And while they're not always perfect, they're the best option to protect your hair. And keep it looking healthy and great!
---
Bonus Content
What Equipment Do You Need to Start Lap Swimming? What swim equipment do you need to start swimming? We help you break down which gear you need so you can make the best decision
How to Pick the Right Swim Goggles: When it comes time to pick the right swim goggles, you might feel overwhelmed. Consider these 4 things the next time you're looking at goggles.
---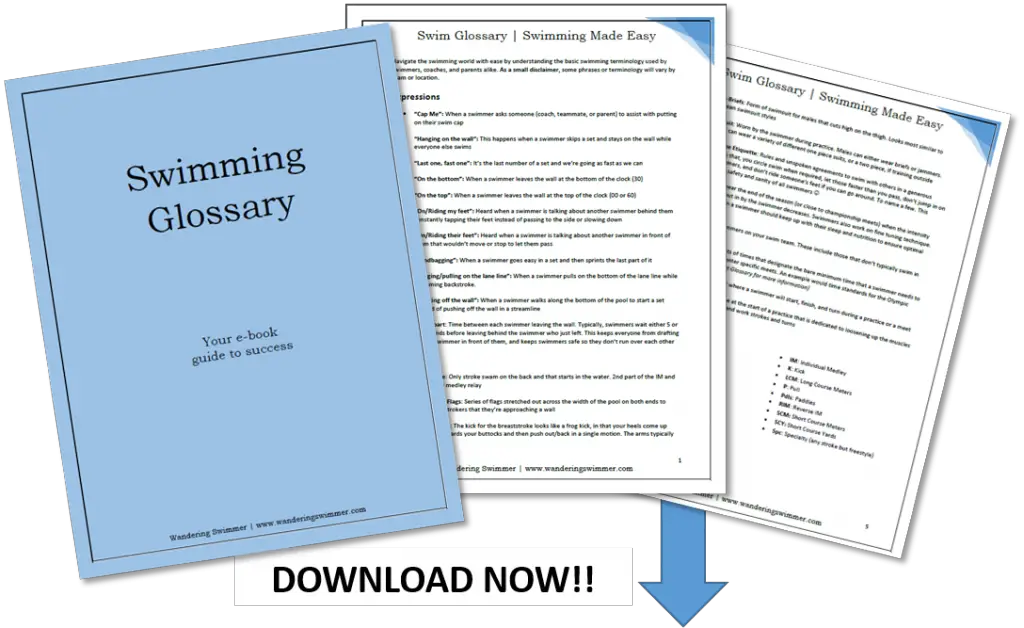 Want to Improve at the Pool?
Join swimmers and swim parents to receive my free newsletter and receive a free Swimming Glossary e-book as a thanks!
Every month you'll receive tips and coaching to help you find success at the pool.
---
About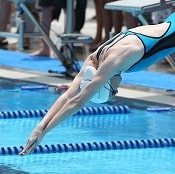 Chevron is a current competitive swimmer with almost 20 years of experience in the pool. And although she fell into the sport by accident in her high school years, she still trains daily and competes throughout the year. She's committed to providing guidance to all levels of swimmers and believes that everyone should know how to swim.