Swimming can be a lonely sport when it's just you and the water. And you don't have anything to listen to for minutes at a time. 
The recent development of waterproof MP3 players though has enabled swimmers to break the boredom.
While they can be on the more expensive side, getting to jam out with your favorite music while swimming is worth the cost.
Here are the best waterproof MP3 players for swimming.
Disclosure: This post may contain affiliate links, meaning we earn a small commission at no cost to you if you purchase something through one of our links. As an Amazon Associate, we earn from qualifying purchases. Please check out our disclosure page for more information.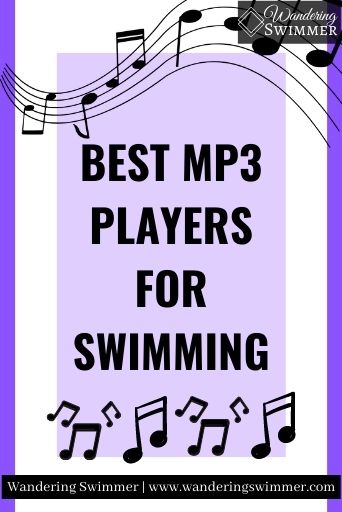 7 Best Waterproof MP3 Players for Swimming
Simple in design and incredibly easy to use, SEWOBYE is an affordable option for Waterproof MP3 players. 
This little device features five buttons to control your music and also has a shuffle option to keep things spontaneous. And because the design is so simple, you can navigate the buttons without looking.
The headphones are on a short cord, keeping your arms free while swimming. And SEWOBYE provides an extension for the headphones if you need a longer cord.
It can be clipped on your goggles for lap swimming Or on a swimsuit if you're enjoying some leisure time in the pool or on the lake.
More Content for You: How to Pick the Right Swim Goggles
SEWOBYE recommends covering half of the device with a swim cap if you plan to do an extensive workout. Such as sprint work or dives. As this will help keep it in place easier.
Drag and drop your music from your computer and you're good to go! The battery lasts up to 16 hours, ensuring you can complete a workout uninterrupted. 
It's rated at IPX8 and can hold audiobooks or music, for your listening pleasure. Use it in the water, next to the pool, or on land. The versatility of it makes it great for triathletes, too. 
The FINIS Duo is unique in that it features no headphones and nothing goes in your ears. Instead, this device clips to the side of your goggles and sits on your cheekbones.
And using bone conduction, you can hear your music without the use of earbuds.
This is a great alternative for individuals who don't like wearing earbuds or who wear earplugs when they swim. 
Related article: 6 Best Earplugs for Swimming
We recommend cleaning your FINIS Duo after each submersion, as there can be some mineral build-up. If this does happen, soak the charging side in some CLR and rinse them well before using them again.
You get 4GB of storage space with the FINIS Duo and 60 hours of playback. It's also worth noting that you cannot add audible book downloads to the FINIS Duo. 
If you're not fond of the placement of the FINIS Duo on your head, you can also consider XTrainerz by Aftershokz. These are also bone conducting but fit more like regular headphones.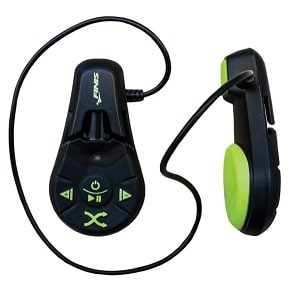 Not everyone likes the cords that come with headphones. It's one of the reasons AirPods are so popular. And while most waterproof MP3 players come with corded headphones, Sony's Walkman Sports Wearable has no cables.
Instead, it has an adjustment loop, which goes behind your head. Keeping everything out of the way for an easy and stress-free swim.
And unlike other MP3 players for swimming, these do not clip onto anything. The earbuds go into your ears and the adjustment loop curls around the back of your ears. And that's it!
The earbuds are ergonomically designed so they fit tightly and securely for long swims. 
The navigation buttons are along the bottom of the MP3 player. We suggest that you familiarize yourself with them before getting into the water.
More Content for You: 8 Best Waterproof Fitness Trackers for Swimming
Loading music onto the device is as easy as dragging and dropping. And you get up to 12 hours of battery life when charged fully.
We like that they come with a protective storage case to keep them safe when not in use.
One negative feature is the storage size, which is 4GB. Making it one of the smallest storage sizes on this list. However, you can still cram a good amount of music and audiobooks into 4GB 🙂
For those that want a Bluetooth option to listen to music when out of the water, be sure to check out Sony's Bluetooth version.
For the most control over your music and workout, the Delphin Micro-Tablet certainly delivers. 
Unlike most of the MP3 players on this list, the Delphin Micro-Tablet is a small touch screen device. Which allows you to navigate your playlists and music much easier than other waterproof MP3 players.
And for those that like the traditional button navigation, these are still available on the sides of the device 🙂
It also has the capability to download certain apps, such as Audible, Pandora, and Spotify. 
We will note, however, that you cannot use the WiFi feature for these apps when swimming. You'll need to download any playlists first.
You can also download Lap Tracking to help keep track of the laps that you swim. No more losing count of what you've done!
The Delphin Micro-Tablet comes in either 8GB or 16GB. 
And you have a choice on the type of headphones you'd like. Regular earbuds or headphones that go behind your head. Each one comes with several different ear types.
It's rated at IPX8 and has a 6-hour battery life. It can be used on land or in the water, making it ideal for triathletes.
The one downside of this device is that it runs more expensive than some of the other devices. 
Swimbuds specializes in waterproof headphones and has also designed SYRYN, a waterproof MP3 player. 
The bundle comes with a set of waterproof headphones from Swimbuds, along with 4 different ear tips. It holds up to 8GM of music, which you can add through a simple drag and drop feature. 
And with a 10-hour battery, you can go a couple of workouts before it needs charging.
It's a simple MP3 player with only 3 buttons, so it's pretty user-friendly. You can attach it to your goggle straps and its 360-degree swivel clip makes it easy to adjust to your liking.
This bundle also comes with a USB for charging and adding music.
H2O Audio Stream 2 is a sleek, hydrodynamic waterproof MP3 perfect for swimming laps. 
It holds up to 8GB of memory and has about 10 hours of battery life before it needs to be charged. 
There are more buttons on this device than most of the others. But this can be a positive option for those who want easy-to-use controls. 
The headphones come with several different earbud tips so you can find the fit that works best for your ears.
Drag and drop your music to upload onto the device and you're good to go!
While Bluetooth is a feature that comes with this MP3 player, the Bluetooth itself won't work when you're underwater. And connection can become spotty the further you move away from the source.
We recommend that you don't use the Bluetooth feature if you'll doing any underwater work, such as flip turns or underwater work. Instead, it's best to use the songs that you've added. 
Another option from H2O Audio is their H2O Audio Interval 4G Waterproof Case. Yes, it's a mouthful. But if you have an existing iPod Shuffle 4-7, this might be an option.
It's important to note that this is only a case and not an MP3 player itself. And it only houses iPod Shuffle 4-7.
This case clips onto your swim goggles for a secure fit and comes with short headphone wires. Which keeps your arms free from wires. They also include 5 different sets of changeable ear tip sizes so you can find the best fit for your ears.
To use, simply connect the headphones to your iPod and place the iPod inside the case. 
Before you attach it to your goggle straps, we recommend that you familiarize yourself with the buttons. They're laid out in the same design as the Shuffle and are relatively easy to use.
As with most headphones, these are hit and miss based on each swimmer. Some find that one or all of the ear tips work great while swimming. While others can't keep any in.
Again, we recommend wearing a cap to help keep the earbuds in.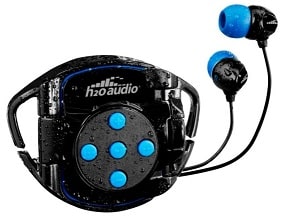 Some Things to Know About Waterproof MP3 Players
What's the Difference Between Water Resistant and Waterproof?
Despite what some people may try to tell you, there is a huge difference between water-resistant and waterproof. Not just for headphones but anything.
Water-resistant means that a device or item (such as a parka) can handle small amounts of water. Such as sweat or a light splash of water from the pool or shower. Anything more can cause the device to malfunction.
More Content for You: 8 Best Swim Parkas for Swimmers
When something is labeled as waterproof, it can be submerged or soaked through, and still function. 
Because of this, it's crucial that you look for a device that has full water protection and is marked as waterproof. They need to have a rating of IPX7 or higher to protect your devices.
What About Bluetooth Devices?
Sadly, Bluetooth (or WiFi) doesn't work well with water.
You can pick up a somewhat decent signal when you're close to your phone or other MP3 devices. But as you move away from your device, the signal becomes weaker.
And the signal gets worse when your head is underwater. 
This is one of the reasons you can't (and shouldn't) use your AirPods when swimming. Not only are they not waterproof but they won't connect via Bluetooth to any of your devices.
So while Bluetooth is convenient for many other aspects of life, swimming just isn't one of those areas. 
You're better off getting a waterproof MP3 and/or headphones. You'll save money and keep from becoming frustrated.
Can I Listen to Music if I Wear Earplugs When I Swim?
Yes and no.
If you wear earplugs when you swim, you won't be able to wear headphones that insert into your ear. 
However, you can use bone-conducting headphones, such as the FINIS Duo.
Because these aren't inserted into your ears, you can still listen to music with ease and wear your earplugs at the same time.
How Can You Keep the Earbuds from Falling Out?
Probably the biggest complaint with most waterproof MP3 players is the earbuds not staying in place.
One option is to wear a swim cap, (such as this one from Swimbuds). Caps can help keep earbuds in place, although they may put some extra pressure on your ears.
If your headphones come with several earbud tips, use the larger earbud tip first and work your way down in size. You can usually get a better seal and fit when finding the larger size that's most comfortable for you.
We also suggest that you clean the area of your ear where the earbuds will sit. This is typically along the opening of your ear. Oils and sweat can build up there, making the skin a bit slippery.
Lastly, put in your earbuds the same way you would put in earplugs. Pull up and back on the top part of your ear, and then insert your earbud. This can help the ear canal to better fit the earbud and lessen the chance of it falling out.
As always, happy swimming!
---
Bonus Content
6 Best Prescription Goggles for Swimmers: Need prescription goggles to help you see better at the pool? Here are the best prescription goggles for swimming and all your pool needs.
How to Select the Best Fin Socks: Using fin socks is one of the best ways to keep your fins from giving you blisters. Here are the best fin socks to consider for your next workout.
---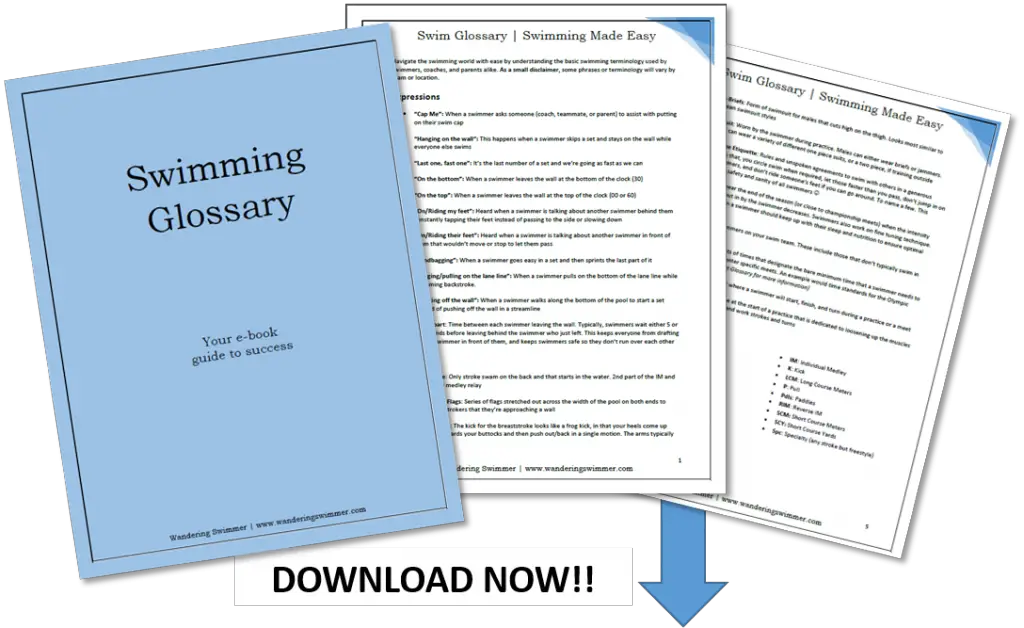 Want to Improve at the Pool?
Join swimmers and swim parents to receive my free newsletter and receive a free Swimming Glossary e-book as a thanks!
Every month you'll receive tips and coaching to help you find success at the pool.
---
About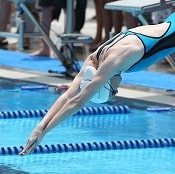 Chevron is a current competitive swimmer with almost 20 years of experience in the pool. And although she fell into the sport by accident in her high school years, she still trains daily and competes throughout the year. She's committed to providing guidance to all levels of swimmers and believes that everyone should know how to swim.