The end of the swim season is a time to relax and enjoy the break. But before you start your break, here are a few things you should do after your last practice/meet.
More Content for You: How to Return to the Pool After a Long Break
Disclosure: This post may contain affiliate links, meaning we earn a small commission at no cost to you if you purchase something through one of our links. As an Amazon Associate, we earn from qualifying purchases. Please check out our disclosure page for more information.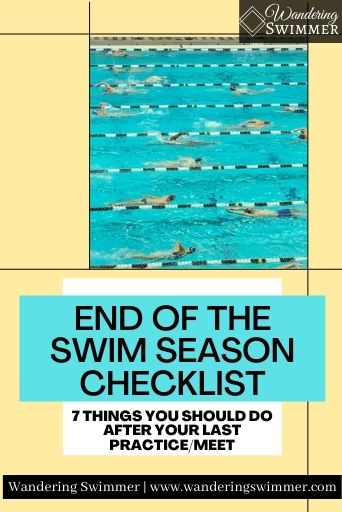 1. Clean Out Your Swim Bag
Some of us rarely clean out our swim bags. We've left damp towels and swimsuits in our bags overnight. And sometimes we've forgotten a snack or two after a long swim meet.
While you should pull out your wet belongings after each practice, it's easy to forget other items.
And by the end of the swim season, we've managed to accumulate empty bottles, trash, and broken goggle pieces.
When the end of the swim season rolls around, take a minute to thoroughly empty and clean out your swim bag. 
Empty the main compartment of any towels, suits, dryland clothes, and other belongings. Take a minute to sort through any other inner compartments within the main one. 
You should also check the side and front pockets while you're at it.
If you use these to store extra caps, goggles, hygiene products, and other items, make sure they're well-stocked. 
More Content for You: 8 Best Swim Bags for Swimmers
Lastly, be sure to check the wet/dry bag if you have one. Take out anything that's been left there. And if needed, let it vent if it smells some.
Once you're done, don't forget to repack everything before you go back to the pool!
2. Wash Your Water Bottle 
If you use a reusable water bottle (and you should!), give it a thorough washing at the end of the swim season. 
Truthfully, you should do this weekly or even daily. But most of us don't think about cleaning our water bottles all that much. Or simply forget to do so.
And it happens! Life gets busy and it's not a high priority on our to-do list.
However, water bottles, especially those that sit poolside for hours each day, are prone to mold growth. This can happen within the bottle itself, the straw, the lip, and the mouthpiece. 
More Content for You: How to Improve Your Swimming Performance
And if you drink something other than water, you'll find that the mold can grow a lot quicker. Especially if you're not rinsing it out daily.
Do yourself a favor and give your water bottle a good scrub down.
Use soap and water to clean every piece of the bottle that you can. You can find specially made brushes that fit easier into bottles to get them clean. Along with cleaning the straw and mouthpiece. 
Once everything has been cleaned, let it air dry and keep the lid off until you're ready to go back to the pool. Doing this will keep it from smelling and mold building up.
3. Launder Towels 
You really should wash your swim towels weekly. Or at least get new ones weekly until they're washed. Just as you should dry them after each practice.
Doing this helps prevent mold from growing and keeps them from smelling pretty rancid.
But some swimmers are okay with using the same towel without laundering them. And no judgment if that's you, but consider washing them at the end of the swim season.
This can help keep your swim bag from smelling and gets everything new and ready for a new season.
If you have a microfiber towel or shammy, you should wash these as well. Doing so can help extend their longevity.
More Content for You: 5 Reasons Every Swimmer Should Use a Shammy
4. Check Over Your Gear 
It's not the most exciting thing to do while on break, but checking your swim gear is important. 
You put your gear through the wringer during the season. And some of your gear might be on its last leg. Straps on your paddles might be ready to give way. Or swim caps have a thin spot that's starting to develop.
If needed, see what needs to be replaced. Or what will need to be replaced within the upcoming months. Be sure to have extras on hand before they break so you're not without for a while.
Below is some common swim gear you should check and what to look for. 
Goggles
Look at the straps and nose pieces of your goggles. If you find any tears or cracks, fix them, if you can. The goggles are still good to use but will eventually break.
Even bungee straps will wear out and should be looked over. Check the elasticity of the strap and the tightness of the adjustment piece. 
Related articles:
Lastly, how are the lenses themselves? Are they scratched up beyond repair? Or can they last through another season?
Swim Caps
It's never easy to tell when a swim cap will tear. But sometimes you can see the material becoming thin. Usually in the spots where you pull at it, such as around your ears.
More Content for You: Best Swim Caps for Long Hair
Even if you're not sure about a cap, it doesn't hurt to have an extra or two on hand. 
Fins
Swim fins can break and tear after time. Especially if you're not taking good care of them. 
Most often, fins will tear near the front where the toes peek out. This can happen if you try to walk on deck with them on. Or if your feet are too big for your fins.
Fins can also start to tear or grow brittle around the ankle. This typically happens if they're left out in the heat or sun.
Once fins start to tear, it increases the chance of chafing your feet and creating blisters. 
Torn fins can still be used if you pair them with a good set of fin socks. Fin socks can help protect your feet from developing blisters.
If you already use fin socks, take a second to check them over too. Make sure they're good for your next season.
Paddles 
Paddles rarely break, unless they're old or you're trying to break them. 
The straps on the paddles though are a different story. These can become brittle after time. Especially if you're adjusting them or leaving them out in the heat.
Ask your coach if they have extra paddle straps if yours look ready to tear. They can last longer than you'd expect but it's good to have extras on hand.
Snorkel
Do yourself a favor and clean the mouthpiece of your snorkel. Especially if you keep it in your gear bag.
Scrub it down and even let it soak overnight in some soapy water. Clean around the bite piece and then dry it off well. If you're feeling ambitious, you should also clean the snorkel piece itself.
Lastly, check that the forehead piece isn't growing tacky with age or that the strap is about to break.
Gear Bag 
Gear bags take tons of abuse from swimmers. We drag them across the deck and toss them around trying to get the gear we need.
With time, the mesh that makes up a gear bag will start to fray and tear. 
When this happens, you can look at getting a new one or find a way to repair it. 
To make your gear bag last longer, try not to drag it across the deck. And hang it up after practice so it can dry better.
Suits
We all know that swimsuits don't last forever. Some can last longer than others, but even then, they'll eventually give way.
More Content for You: Competitive Swimming on a Budget
Check any straps, waistbands, and the fabric itself. If the elastic isn't stretching anymore or sounds crunchy, it's time for a new suit.
And if the fabric is getting see-through or dry-rotting, you need a new suit for sure.
We recommend looking at suits from dedicated swim stores, such as SwimOutlet, Speedo, Arena, or Jolyn for suits made for swimmers. They're made from fabric that's more resistant to chlorine and can last longer than a typical one you find at a local store
It's also good to have a backup swimsuit, as you never know when you'll need it!
5. Thank Your Coach(es) and Parents
Your swim coaches and parents put in some long hours this season alongside you. From practices to swim meets, they were on deck with you.
End your swim season by thanking your coaches and parents for all that they've done for you.
H2O Society has thank you cards for swim coaches and parents to help you show your appreciation. 
If you want some other ideas, check out our gift guides 8 Awesome Gift Ideas for Swim Coaches and 9 Amazing Gift Ideas for Swim Parents.
6. Donate Leftover Towels and Clothes
Every swim team has a lost and found bin. And it's usually filled with forgotten towels and clothes.
Instead of throwing them away this year, consider donating them. Animal shelters always need towels. And they don't care if they're a little torn or thin! Just be sure to launder them first before dropping them off 🙂
Related article: How Swim Teams Can Give Back to Their Community (coming soon)
If you have any lost clothes or shoes that didn't get claimed, take them to a homeless shelter or donation station. They can always use donations.
Again, just wash any clothes before dropping them off 🙂
7. Review Your Swim Season Goals
At the end of your swim season, review any goals that you set for yourself at the start of the season. 
Which goals did you accomplish and what allowed you to accomplish them. Be proud of any goals that you hit and celebrate that success.
More Content for You: New Years Resolutions for Swimmers
At the same time, evaluate why you missed any goals. Missed goals aren't a negative strike against you. Rather, they're a chance to learn and develop more. Be honest with yourself and see if you can work on a goal next season.
---
Bonus Content
Your Swim Team Overview: A swim team in principle seems simple. But like anything, it has its many quirks, terms or jargon, and various facets that can make it confusing. Here is a brief overview of all swim team related items to help you get started
7 Things Every Swimmer Should Have: Aside from the obvious needs of a swimsuit and towel, what are some absolutes that every swimmer should have? What do successful swimmers have that others don't?
---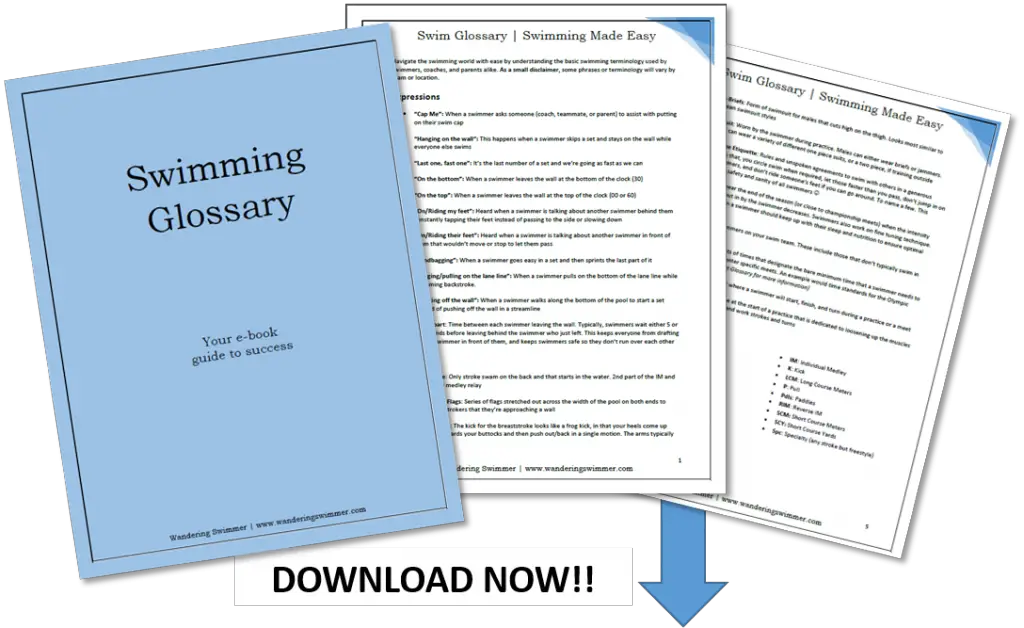 Want to Improve at the Pool?
Join swimmers and swim parents to receive my free newsletter and receive a free Swimming Glossary e-book as a thanks!
Every month you'll receive tips and coaching to help you find success at the pool.
---
About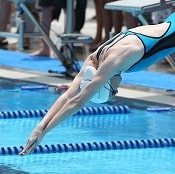 Chevron is a current competitive swimmer with almost 20 years of experience in the pool. And although she fell into the sport by accident in her high school years, she still trains daily and competes throughout the year. She's committed to providing guidance to all levels of swimmers and believes that everyone should know how to swim.