Competitive swimming is expensive. And while perhaps it's not the most expensive sport out there, it's still an expense that not every family can afford. Joining a swim team and swimming on a budget though is possible.
This article isn't a magical way to eliminate all the expenses that come with the sport. Rather, these suggestions can help you lower some of the costs to help better fit your budget. 
Disclosure: This post may contain affiliate links, meaning we earn a small commission at no cost to you if you purchase something through one of our links. As an Amazon Associate, we earn from qualifying purchases. Please check out our disclosure page for more information.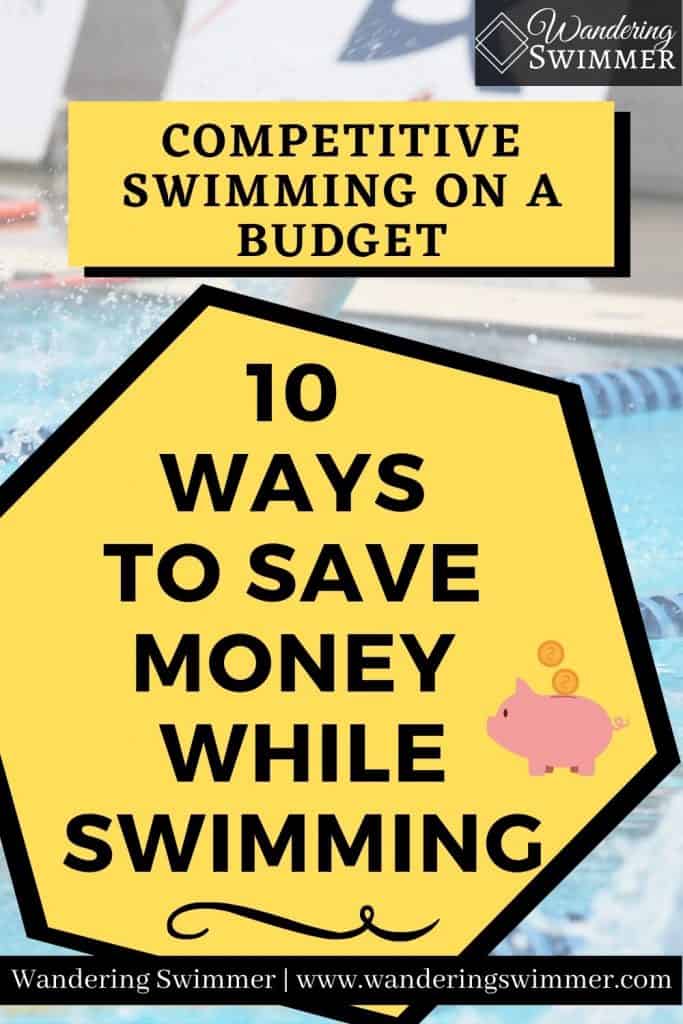 10 Ways to Save Money While Swimming
Honest Communication
One of the largest expenses that families face in competitive swimming are monthly dues. Especially those families who have multiple swimmers on the team. 
For those that struggle with paying for the monthly dues, our first recommendation is to speak to the coach about your dues.
It's hard, we know. No one likes to admit that they're struggling. 
But having that open, honest communication can sometimes open doors that you didn't know existed. Your club team might offer assistance when it comes to paying dues. Or they might offer a discount to families who can't pay the full amount.
More Content for You: What is a Swim Team?
Most clubs even offer a discount or cap on monthly dues for multiple swimmers in a family. 
Asking is free and who knows what it can save you. 
In that same thought, be sure to communicate with the coach if you'll have a late payment. Most club teams charge an extra fee for late dues or a rejected payment. If you know that you'll be late, tell the coach.
They might be able to waive the late fee if they know you're going through a tough time. 
Transportation
While it's not a cost directly associated with swimming, fuel and car expenses can add up after a while. 
Most elite swimmers train 1-2 times a day, 6 days a week. And if you're dropping your child off and coming back after each practice, your travel time just doubled.
That's a lot of traveling to and from practice each week!
And while gas expenses might not seem like a lot on a week-to-week basis, the total adds up over a year. And when you're swimming on a budget, that's extra money you have to account for.
Related articles:
That said, see if you can start a carpool or rideshare group with other teammates. Carpooling is a great way to save on cost and time. And it's families can easily help share the burden by rotating driving responsibilities.
Yes, you should still offer to pay for gas, as it's only fair. But the amount you would pay is far less than what you would pay in a tank of gas. Plus, it gives you extra time throughout the week.
As an added plus, it's better for the environment, too 🙂
If you can't carpool, consider purchasing a gas card to use for gas expenses. Some stores offer a small discount per gallon when using a gas card at their pump.
Discounts on Gear and Suits
The cost of gear and suits adds up over the year. But cheap swim equipment and suits aren't always the best.
When swimming on a budget, it's important to watch out for deals throughout the year. While some of the best deals happen on Black Friday or Cyber Monday, it's possible to find other great deals throughout the year, too.
More Content for You: What is Dryland?
Yes, this means that you might have to wait to order something new until a sale goes on. But the cost savings that come with it are worth the wait. 
When it comes to suits, we recommend picking suits with chlorine resistant fabric.
Suits like Endurance+ from Speedo and most Jolyn suits tend to last the longest. They might cost more upfront (if you don't buy them on sale), but you won't replace them nearly as often as cheaper suits.
Lastly, make sure you check online sites such as Offer Up, Craigslist or even Ebay. Sometimes you can find good deals on new or gently used swimming equipment.
Be sure to ask for pictures when buying second hand. And if you're not sure on a sale or if it sounds too good, trust your instincts. 
Take Care of Your Gear and Swimsuits
As stated earlier, the cost of gear and suits can add up quickly.
It's one of the reasons why every swimmer should take good care of their equipment and suits. 
They'll last much longer if you take proper care of them and if you use them wisely. 
Rinse out suits after each practice. You can either use a product to rinse out your suit, or you can wash it with regular water. We also recommend that you avoid showering in your swimsuit to help the fabric last longer.
Related articles:
If you have a suit that's not as comfortable or starting to wear out, use it for shorter practices and save your others for longer practices. 
The same holds true for tech suits. 
If you're a meet where you don't have to wear your newest racing suit, but still want to chase a cut, wear an older one. You'll be surprised how much use you can squeeze out of a tech suit even after it's started to dry rot.
Retiring Swimmers
At some point in time, a swimmer will finish their swimming career and decide to retire at the end of the season. When this happens, they're left with a bag of swimming equipment and nothing to do with it. 
Know someone who just quit swimming or is looking to leave? Ask them what they're going to do with their gear. Used caps, goggles, and swimsuits aren't the best to reuse. But fins, buoys, kickboards, paddles, and swim bags can still be used.
Check to see if your teammates might have warm-ups or a parka that they won't use anymore, too. 
Invest in a Reusable Water Bottle
A good, durable water bottle will last you for years. Again, provided you wash it out at least once a week and clean it 🙂
Related article: Reusable Water Bottles and COVID
Most teams require that you have a water bottle on deck during practice, so you might as well get one that's easily recognizable instead of constantly purchasing plastic water bottles. 
Reusable water bottles are better than plastic water bottles for several reasons:
Reusable bottles are more cost efficient than plastic water bottles. For the price of two cases of water bottles, or two-three weeks of swimming, you can purchase a water bottle that'll last you several years.
Plastic water bottles all look the same and it's easy to get them mixed up on deck. Whereas reusable water bottles vary enough that they don't get used by other swimmers
You're more likely to leave your water bottle at the pool instead of bringing it home to reuse
The screw caps on plastic water bottles aren't the best when you're on a short rest. Reusable water bottles with a flip lid work much better for quick rests.
It's just better for the environment to use a reusable one compared to a plastic bottle. 🙂
Hotels Reward/loyalty Points
Swim meets offer an entirely new level of costs, especially when it comes to overnight traveling. 
If you're looking to save money while swimming, consider staying with hotels that offer a loyalty program. Sites such as Hotels.com offer a program that gives you a night free after so many trips booked with them. 
Related article: The True Cost of Swim Meets
Like to stay at the same hotel brand? See if that hotel offers reward or loyalty points as well. It could be that after a few times of traveling, not just for swimming but also for work or fun, you can end up with a free stay.
Signing up for these loyalty programs are usually free. A nice bonus when you're on a budget. 
Room with Teammates
One of the best ways to save money during overnight swim meets is to room together with teammates. Even splitting room costs with one teammate can cut the cost in half. 
When you room with teammates, you can look at booking larger apartments or homes through AirBnB. The cost may be more than you'd pay for yourself. But when you split it out amongst two or three other teammates, it ends up more affordable.
More Content for You: What to Pack for an Overnight Swim Meet
Obviously, the more people who room with you, the less you'll all have to pay. 
Just be sure that you don't try to cram so many people into one place to save money, as that only leaves everyone stepping on each other's toes, especially if the space isn't truly designed for so many people. 
Bring Your Own Food 
In our article, 'How Much Does Competitive Swimming Cost?', we briefly mentioned the cost of swim meets. One of those costs dealt directly with eating out at swim meets. 
Lunch and dinner for a swimmer alone can total around $30-40 each day. Add in the rest of the family or additional swimmers and the cost can balloon enough to rival the cost of your hotel room. 
Related article: How to Save Money at Away Swim Meets
While it seems hard to believe, it's been proven that buying your own food and preparing it saves you money. 
If you're staying at an AirBnB or rental location, take advantage of the available kitchen. Make your own meals with food you either brought from home or bought locally. It's easy to make a quick meal of pasta and toss in some protein. 
Staying in a hotel? Not all hotel rooms have a kitchenette that you can use. But they typically have a microwave and small fridge. Meal prep at home before you leave if you can and store it in the hotel's fridge. 
One advantage of eating at your hotel or BnB saves you time from finding a place to eat. Instead of waiting for your food, you can go straight back to your lodging and start eating right away. 
Rideshare at Swim Meets
If you're flying to a location and you have to look at renting a car, see if you can't use a rideshare program such as Lyft or Uber. This comes in handy as renting a car means additional expenses from gas, insurance (if elected), and potential parking fees.
Do the math to see which is the better option.
In some cases, it might be cheaper and more convenient to rent a car. While other times might be cheaper to rideshare. And if possible, see if you can share costs with other teammates. 
In Closing
While the above tips aren't exactly going to save you thousands of dollars each year, they can help save some money if done correctly. It's not a trick or scheme. It's just about being smart with your actions, choices, and money. 
Swimming can be expensive, but swimming on a budget is possible. We hope these suggestions listed here can be of some help for you. 
And as always, happy swimming!
Chevron
---
Bonus Content:
5 Things to Know Before Joining a Swim Team: Joining a swim team comes with benefits and challenges. Avoid these five things that seem to catch most new swimmers off guard when they first join a swim team.
10 Reasons to Start Competitive Swimming: Swimming provides more than just health benefits and lifesaving skills. Here are 10 benefits to swimming and why you should start competitive swimming.
---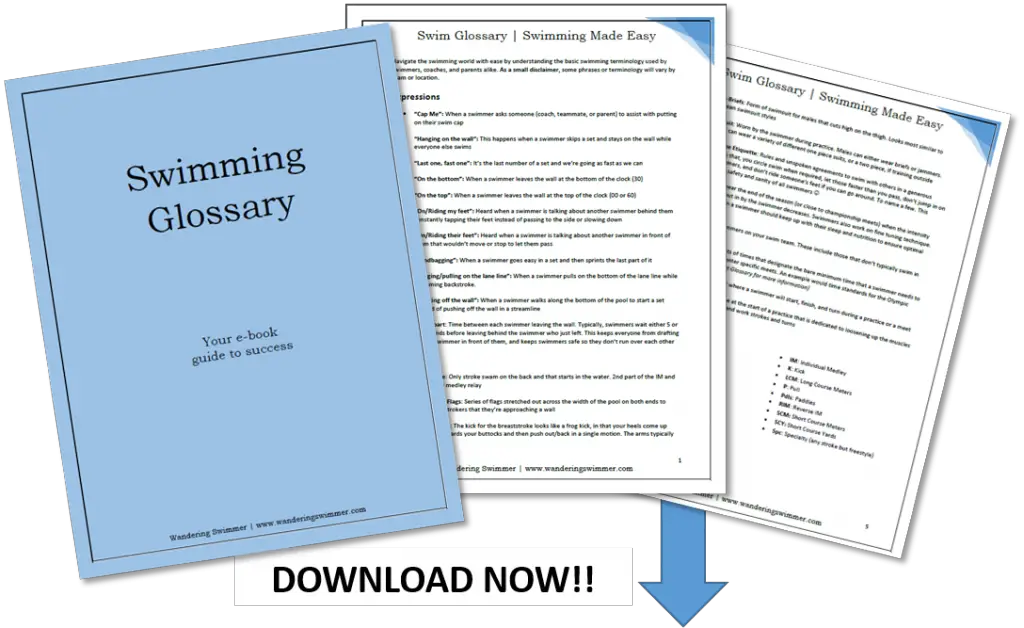 Want to Improve at the Pool?
Join swimmers and swim parents to receive my free newsletter and receive a free Swimming Glossary e-book as a thanks!
Every month you'll receive tips and coaching to help you find success at the pool.