It's probably one of the first questions you thought of when looking to start year-round club swimming. How much does competitive swimming cost?
Some costs of competitive swimming are easy to see. The cost of swimming fees/dues, swimming equipment, and swimsuits. But other swimming costs exist that you typically don't think about when starting the sport.
For those looking to join a swim team, you've probably thought about the cost associated with swimming at least once. And you probably asked: How much does club swimming cost me? Or even, is the cost of competitive swimming something we can afford?
Truthfully, the answers vary based upon your location and your circumstances. 
To help you get an idea of what you can expect to pay, we've compiled a list of costs common with year-round club swimming. Just remember that prices do vary by your location. And that every team has different costs associated with them.
If you're looking for ways to swim while on a budget, or just looking to save some costs, check out our post on Budget Swimming!
Disclosure: This post may contain affiliate links, meaning I earn a small commission at no cost to you if you purchase something through one of my links. As an Amazon Associate, I earn from qualifying purchases. Please check out my disclosure page for more information.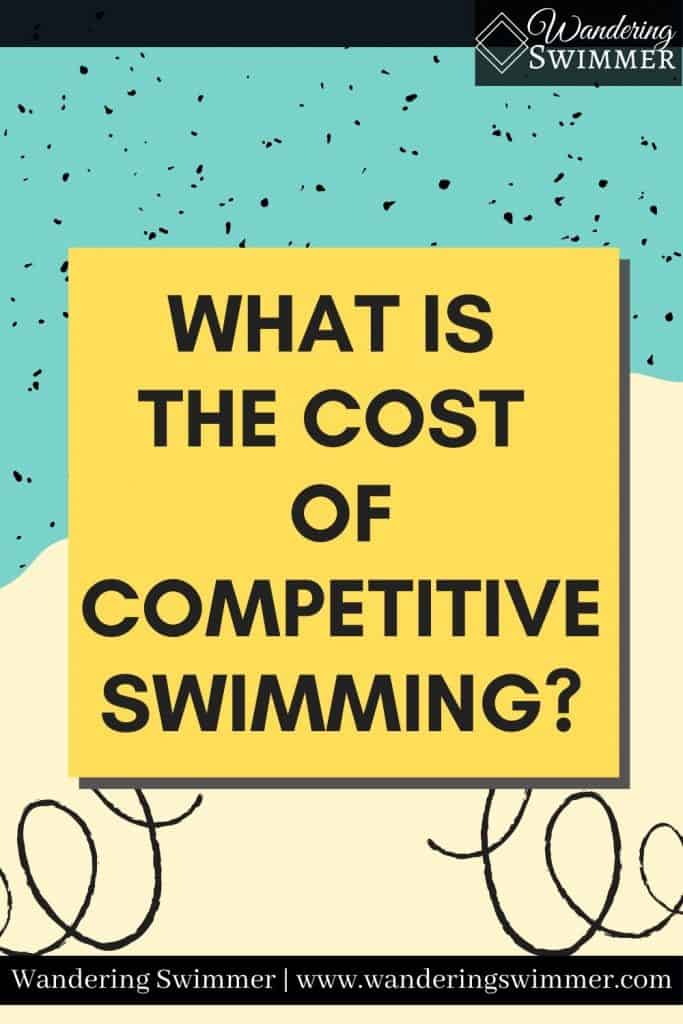 1. Fees and Dues
Let's start with the obvious. When asking that important 'how much does competitive swimming cost?', the monthly dues/fee is the best place to start.
Much like gyms have monthly membership costs, year-round club teams have monthly dues. Typically, this fee is for each swimmer you have in your family. 
Dues vary drastically by the team and location. We've seen ranges from $90 up to around $500 per month. Per year, those totals can come out to $1000 – $5000. 
This doesn't include processing costs and late fees that some clubs may charge. Additionally, some clubs require that parents volunteer a certain number of hours. Evading this requirement may also result in a fine. 
Lastly, year-round clubs often have a one-time application fee, which can range from $50-$300. And there are annual registration fees for both the club team and USA Swimming (or US Masters). 
Annual registration fees for clubs do vary. And as of this writing in 2021, annual registration for USA Swimming was $84. US Masters cost $60. 
Monthly club fee assistance 
Overall, you can expect the various dues and fees to account for the biggest expense in competitive swimming. 
If this particular cost makes swimming unattainable for your family, speak with someone on the team about it. Some clubs do offer assistance in terms of paying monthly swim dues. Others may offer a discounted rate for multiple swimmers in the family.
2. Gear/Equipment
Swimming gear and equipment is a necessary evil in terms of swimming. Much like the cost of monthly dues, it's a cost associated with swimming that you can't avoid. 
However, gear requirements vary by team. Some teams may require swimmers to bring their own equipment. While other teams provide some pieces of gear.
Related articles:
Best Kickboards for Swimmers
Gear preference also varies by the swimmer. What works for one swimmer, may not work for another. 
Because gear varies by team and swimmer, the below isn't a full, detailed list. Instead, we've listed the basic swim gear that most club teams require their swimmers to have. Along with necessary personal items 
| | | |
| --- | --- | --- |
| Swim Gear/Equipment | Cost | Where to Buy |
| Kickboard | $8-25 | Amazon, SwimOutlet |
| Pull Buoy | $6-12 | Amazon, SwimOutlet |
| Fins | $15-40 | Amazon, SwimOutlet |
| Snorkel | $15-35 | Amazon, SwimOutlet |
| Paddles | $7-20 | Amazon, SwimOutlet |
| Mesh Equipment Bag | $4.50-15 | Amazon, SwimOutlet |
| Swim Bag | $35-75 | Amazon, SwimOutlet |
| Swim Cap | $2-10 | Amazon, SwimOutlet |
| Goggles | $15-60 | Amazon, SwimOutlet |
| Water Bottle | $6-30 | Amazon |
| Towel and/or Shammy | $8-20 | Amazon, SwimOutlet |
| Total | $115 – 342 | |
Based on the club team, you may also be expected to purchase team warm-ups. These can run around $20-60 depending on the brand and style.
Some additional, but optional items are listed below. These are based more on a swimmer's preference and aren't always necessarily required.
Lastly, we highly encourage you to do your research before purchasing swim gear. Cheap doesn't always mean it's the best. Ask around for the best brands and preferences so you're not paying more than you need.
3. Swimsuits
One of the most obvious things you need for swimming are swimsuits. Yet not all swimsuits are made the same and there's a vast difference between suits for practice and suits for competition. 
And while there's no rule for how many suits you need, most swimmers will have at least 2-4 that they'll rotate through. At best, we recommend keeping two suits on hand. This way, the second suit can serve as a backup.
Practice Suits
For practice suits, the fabric of the material is the biggest factor to look at. 
Those swimming several times a week need to look at suits that can withstand being in the water for up to 4 hours a day, for at least six days. This comes out to about 7-9 practices a week.
Further, those swimming that frequently should have at least 2-3 suits to rotate through during the week to ensure the longevity of the suit.
Related article: How to Make Your Swimsuit Last Longer
Most practice suits from your more recognized brands, such as Arena, Jolyn, Nike, and Speedo will run you about $47 – 80 based on fabric type and style. Note that male swimsuits are cheaper than female suits.
If you find that your suit isn't lasting past a season or even a year, it might be worth the investment to purchase a more expensive suit with a higher chlorine resistant fabric. 
Ask teammates what works best for them. They'll have insight into how the pool chemicals react to their suit.
Tech Suits (Suits for Competition)
If you're new or newer to competitive swimming, you might ask what a tech suit is.  
In short, a tech suit is a swimsuit designed specifically for swim competition. You might also hear swimmers refer to these as a race or meet suit. 
Because tech suits are so 'elite' and can supposedly make or break your race, they're not exactly cheap.
These suits can range from $70 up to $600 for females based upon the tech suit you want. Men's suits can cost from $40 to $410. The more elite the suit, the more expensive it'll be. 
On top of tech suits being so expensive, they're also notorious for their short life span. At best, they'll last a year (or two seasons), if they're taken care of and not used at every meet. 
Related article: 15 Ways to Extend the Life of Your Tech Suit
It's worth noting that USA Swimming recently passed a rule in September 2020 that swimmers 12 and under cannot wear certain tech suits. You can find legal and approved 12 and under tech suits at SwimOutlet, where they have a separate section for the approved suits.
If you're new to the sport and want a tech suit, we recommend looking at SwimOutlets men's and women's entry-level tech suits. 
These will be more affordable and still provide all the benefits of a tech suit.
4. Swim Meets Costs
One competitive swimming cost that most people don't consider when they start swimming is the costs associated with swim meets.
While the costs will vary based upon the type of meet you're at and the level, here are some expenses you can expect to encounter:
Entry fees: Swimmers are expected to pay for each event they swim. And possibly for any relays they swim on. Swim meet fees can run from $4-7 an event at local meets. Whereas championship meets can cost up to $15 an event.
Travel: Whether you're driving or flying to a meet, you can accrue some hefty travel costs for swim meets. See if you can carpool to help reduce travel costs.
Lodging: Based on the type and length of the meet, you might need to stay overnight at a hotel. This can be as short as 1-2 nights or run as long as a week. Rooming together with teammates or other families can help cut costs at long meets
Suits and Apparel: Swim meets require specific suits and clothes, such as parkas and warm-ups. Along with goggles and caps designed for racing.
Food: If you're traveling, a hotel might provide breakfast, but you'll cover the costs of lunch and dinner for each day of travel. This can come out to about $10-12 a meal and person. Add in some snacks and drinks, and the total bill might surprise you!
Miscellaneous expenses: These can range from parking and admission fees to the meet, to heat sheets, or Meet Mobile.
For a more detailed cost breakdown, be sure to read the following article: The True Cost of Swim Meets.
5. Nutrition
Competitive swimmers eat a lot. 
And one hidden expense of competitive swimming is the increased grocery bills. Swimmers will eat more at meals and in general, eat more meals. 
Related article: 10 Myths About Swim Teams
Some will also consume sports drinks instead of drinking just water. While it's not a large expense, it can add up over time. Purchasing the powdered mix and adding it to water might be cheaper than buying premade bottles. 
Lastly, some competitive swimmers will take supplements to aid with muscle building or recovery, such as whey protein. This varies by the swimmer, but vitamins and protein bars/drinks aren't cheap.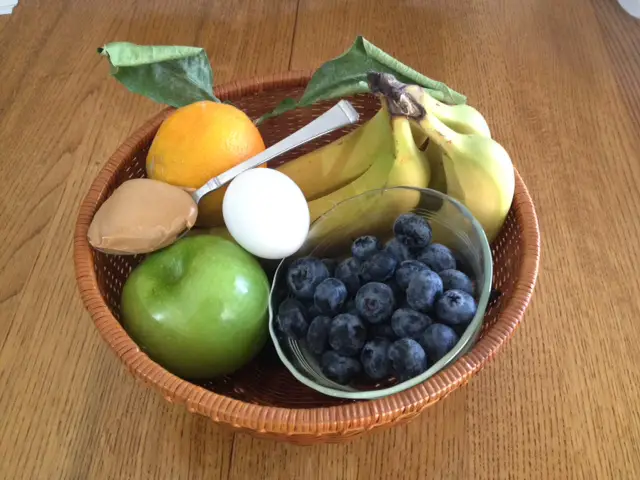 6. Lessons/Learn to Swim
This isn't always a direct cost, but it can be an indirect competitive swimming cost. If you want to join a year-round club team but don't know how to swim, you'll need to take swim lessons first. 
Nearly every swim team requires swim team tryouts before joining a team. And you must have some basic swim skills before you can join. 
Related article: 10 Tips to Prepare for Swim Team Tryouts
You can either opt to take lessons through a swim school, learn-to-swim program, or with a private swim instructor. Each has its pros and cons, and vary in price. At best though, you can look to pay around $160 or more for a season at a swim school. 
7. Time and Commitment 
You can't put an exact price on this, but it's worth noting. Competitive swimming takes a lot of time and commitment. Especially if you're in it for the long haul. 
As a parent, it's driving your swimmer to and from practice. Sometimes several times a day. It also means taking time off work and giving up your weekend for long meets. And it can mean giving up your holidays and summer trips so your swimmer can focus on training.
For swimmers, it's early mornings and late evenings. It's hours spent at the pool before and after school, and on the weekends. Swimmers miss school for meets and give up weekends and their summer breaks for year-round training. 
In short, it's not an easy commitment. And to some people, that's expensive. Time is money and we're often short on it. For some, the time and commitment is the most expensive competitive swimming cost on this list. 
And it's one that you should consider carefully if you're looking to join a year-round club team.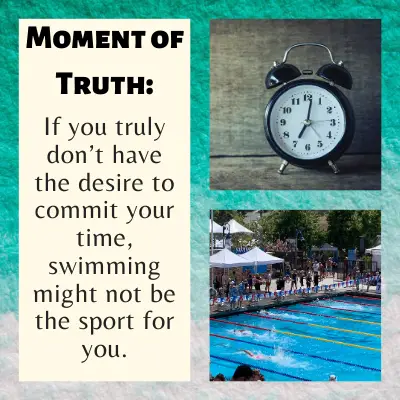 8. Miscellaneous fees
Lastly, you'll find a few other hidden expenses that add to the cost of competitive swimming.
These are items that didn't fall into any of the categories above. And are probably things you wouldn't consider until you've started swimming.
Clothes/shoes: Swim teams require proper clothes and shoes for weights or dry land. 
Towels: Swimmers go through towels like crazy and you can never have too many of them. Pick up some at the end of summer when they're going on sale. You never know when you'll need that backup
Gas expenses: Between going back and forth from practices and meets, you'll see an increase in gas expenses. 
Medical: Swimming is typically low in injuries. However, the repetitive motions can cause some strain on the shoulders. Swimmers can work through this with foam rollers, massage sticks, or consider a massage session. And regardless of age, competitive swimmers can develop swimmer's ear. Using swimming specific ear drops though can help prevent swimmer's ear.
The Total Cost of Competitive Swimming
So, how much does competitive swimming cost?
While this varies greatly by location and team, you can expect to pay several thousand dollars each year. Some months will be cheaper and others will be more expensive based on meets and replacing gear/suits.
We cannot emphasize enough that these swimming costs vary by location and by the club. You should always search around your area for different teams and compare which one works best for you and your budget.
Despite the costs associated with year-round club swimming, the benefits truly do outweigh the sticker shock. 
Swimming is such a great way to stay healthy and in shape. Swimmers also learn amazing time management as they balance practice, school/work, and social life. This, combined with teamwork, dedication, and a strong work ethic that they learned while swimming sets them up for success in school, work, and life.  
That said, be sure to take the time to thank whoever is paying for all the various expenses! H2O Society has swimming specific thank you cards for swim parents and coaches alike. 
And as always, happy swimming!
-Chevron
---
Bonus Content:
10 Reasons to Start Competitive Swimming: Swimming provides more than just health benefits and lifesaving skills. Here are 10 benefits to swimming and why you should start competitive swimming.
7 Things Every Swimmer Should Have: What gear do successful swimmers use that others don't? While this can vary by swimmer, here are 7 things every swimmer should have
---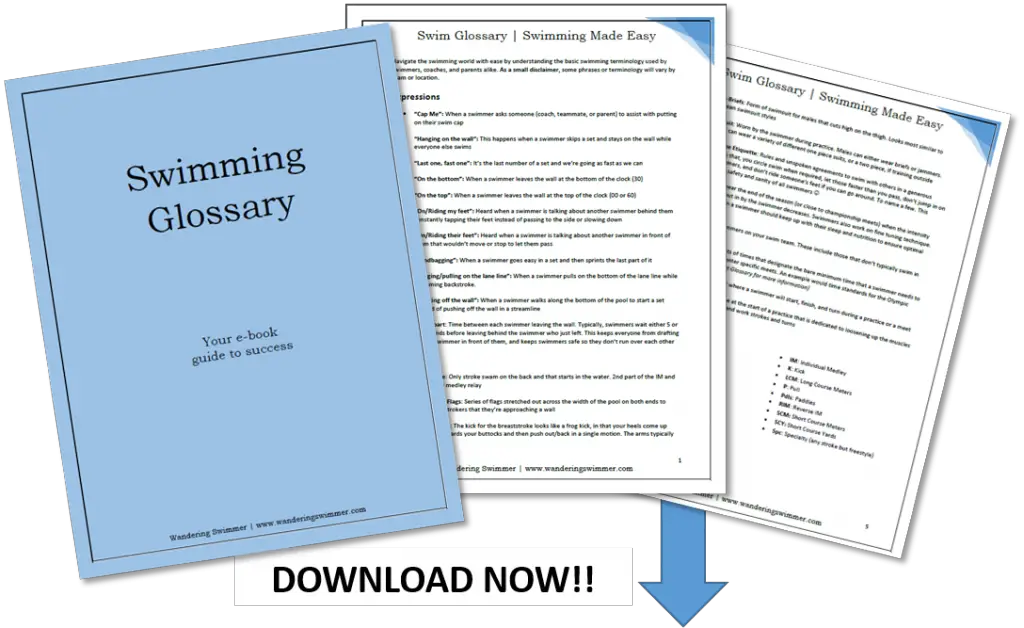 Want to Improve at the Pool?
Join swimmers and swim parents to receive my free newsletter and receive a free Swimming Glossary e-book as a thanks!
Every month you'll receive tips and coaching to help you find success at the pool.