Volunteering and giving back to your community is something every swimmer or swim team should consider. It not only paints a positive light on your swim team but it's also the right thing to do. 
Because swim teams are more than just a bunch of swimmers. They're part of the community, too.  
We'll point out that this isn't just limited to your swim team. These are things you can do on your own if your team doesn't want to join you
More Content for You: Your Swim Team Overview
We've compiled a list of ten ways swimmers can give back to their community. But know that these are only suggestions. There are other ways to help and we encourage you to keep an open mind 🙂
Disclosure: This post may contain affiliate links, meaning we earn a small commission at no cost to you if you purchase something through one of our links. As an Amazon Associate, we earn from qualifying purchases. Please check out our disclosure page for more information.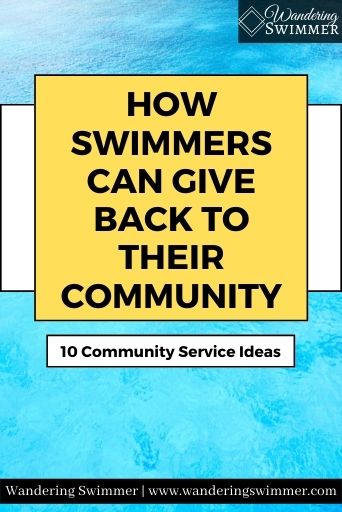 1. Donate Lost Towels/Clothes
Every year, swimmers leave behind towels and clothes at their pool. These usually end up finding a forever home in the trash or the lost-and-found box.
One way swim teams can give back to their community is by donating any unclaimed towels. 
Pet shelters and rescues always need towels. From drying off dogs to using them as bedding, donated towels can help an animal rescue center stretch its budget.
And because these towels will be used by dogs or another animal, it's okay if they're not new. Or even a bit thin. We just recommend that they're washed before donating.
More Content for You: 5 Reasons to Own a Shammy
If you don't want to use your home washer, take them to the laundromat to clean them up.
You can also consider donating any clothes or shoes that haven't been claimed, too. Homeless centers need clothing donations and rely on community support. 
Again, launder these before taking them in. Most places don't have a washer on hand to wash/dry donated clothes. Or the manpower to wash them.
Swim teams can do this as often as once a month or twice a year. It also has the added benefit of cleaning up the locker rooms!
2. Collect Toiletries to Donate
Have an away swim meet? Chances are you'll probably stay in a hotel. 
If the hotel you're staying at offers small toiletries for guests, consider donating them to a homeless shelter. Provided you're not going to use them of course 🙂
Most homeless shelters need some form of toiletries. From shampoo and soap, to even toothpaste. 
While a small handful of shampoo bottles might not seem like a lot, a little bit goes a long way. And if a swim team agrees to do this at their next away meet, you might be surprised how much you can donate!
More Content for You: 7 Best Swim Shampoos for Swimmers
And this doesn't have to be limited to away swim meets. 
If you, a friend, or a family member will be staying at a hotel for any reason, ask them to bring back the toiletries. 
It might sound strange but once you explain what you're doing, they'll probably be more than happy to help.
3. Hold Free Swim Lessons (or Swim Clinics)
We understand that not every swim team can do this based on their facility arrangements. Or even staffing abilities.
However, consider running free swim lessons or clinics for a short period. 
More Content for You: Make Learning to Swim Your New Year's Resolution
And yes, we know what coaches will say. Personal swim lessons are a source of revenue for the team and we understand that, too. But even offering a few basic classes on water safety can mean saved lives in your community.
If you can't swing free lessons, consider discounts on lessons instead.
It also shines a great light on the team and swim program. Communities are more likely to support a team or program if they show they care about the local community as well.
Swimmers can assist with lessons or help on deck if there isn't enough coaching staff. 
If you can, partner with local schools to see if they'll consider holding a swim class at the pool as part of the PE curriculum.
Lastly, remember that these free swim lessons might lead some individuals to start swimming. Whether that's through picking up paid lessons or wanting to join the team later.
And even if nothing comes of it, individuals can walk away with life-saving knowledge. That alone is worth it! 🙂
4. Commit to Reusable Water Bottles
A common swim team myth is that swimmers don't need to stay hydrated while working out. And most of us know that this couldn't be further from the truth! 
You should be drinking something while you're working out. In the pool or dryland. Just as you should be staying hydrated throughout the day, too.
And the best way to stay hydrated is by using a reusable water bottle. 
As a swim team, commit to ditching the single-use plastic water bottle and switch to a reusable one. 
Even if you plan to recycle a plastic bottle, it can still end up in a landfill. Also, let's be honest. How often do you reuse a plastic bottle like you say you will?
Using a reusable water bottle might cost a bit more in upfront costs. But you save money in the long run when you can stop buying cases of water.
Reusable water bottles also have the benefits of:
They're easier to see on deck
Less likely to be taken or used by someone else
Easier to open/close during short breaks
They're personable! Pick the color/design that best fits you
Encourage your teammates to look into using a reusable water bottle. You might not get the whole team to commit to the change but some will be better than none!
5. Food Drive
Running a food drive (or a clothing drive) is a simple way swim teams can give back to their community.
Food drives are most commonly run during the last few months of the year to coincide with the holidays. You can opt to do this or pick a different month to run your food drive. Either option has different benefits to them and one might work better for your team.
If you don't want to collect food or clothes during the holidays, consider just before the school year starts. School clothes and supplies are great things to collect instead of food. And for some, might be easier.
More Content for You: 7 Things Every Swimmer Should Have
Before you get started with your food (or clothing/supply) drive, make sure you locate a center or school to donate to. It's best to know who needs the supplies first before you start collecting anything.
Not sure who needs the help? Contact your city, school, or church officials. They typically know who is in need and can take donations.
6. Volunteer Around the Community
Giving back to your community doesn't have to be swimming related!
Volunteering around town is just as meaningful and helpful. Cites always have projects going on that your team can help with. And it's not just limited to picking up trash along the road.
You can also:
Volunteer at an animal shelter by walking dogs or playing with shelter animals
Help a neighbor in need 
Visit a nursing home and talk/play games with the residents
Clean up/paint over graffiti 
Buy a brick to help sponsor a park being built
And yes, you can always pick up trash around the area. It's not the most glamorous job out there but it can make a lasting impact. Start with your pool and go from there!
 7. Plant a Tree
Trees are incredibly helpful and useful to the environment. Not only do they provide shade and shelter for animals, but they also produce oxygen. Which we all need 🙂
You'll have to work with your city on this one, as you can't just plant a tree wherever you want. Sadly. But there might be a place in a park where you can plant a tree. Or along a walking path.
If you can't find a place locally to plant a tree, look online! The National Forest allows you to buy and dedicate a tree. And One Tree Planted also has options to plant a tree. They also have a way for sports teams to start a green initiative.
More Content for You: Swimming Secrets: What Really Happens at Swim Practice
Of course, there are dozens of different programs available to choose from. Some are national or international. And others are local or even state-specific.
Decide as a team what works best for you and start planting! Help save the Earth one tree at a time 🙂
8. Help at a Food Bank
Food banks need help throughout the year. But especially during the holidays. 
And while holiday training is important to swimmers, try volunteering at a food bank during the holidays. You can go directly after practice (make sure you eat first!) to help sort and box food.
Or you can go early morning to help pass out food. 
Each food bank or distribution center has different needs and times that your team can help. Check with them first to see when a good time is to offer help. And find out exactly what they need help with.
We highly encourage you to connect with them first instead of showing up randomly. Some places require that you sign up first to volunteer. Plan wisely so you can give back to your community efficiently! 
9. Sponsor a Swimmer 
Swimming isn't always a cheap sport. And swim teams can make the sport expensive when you add up dues, fees, and various other costs.
Related articles:
This type of cost isn't something that every family can afford easily. And while this suggestion isn't necessarily community-based, it is a great way to give back to a teammate.
Talk to your coach about setting up a type of scholarship or sponsor fund to assist families who can't easily afford dues or travel costs. 
How your team decides to run this is up to you. There is no one size fits all model. Two options are:
Set aside a small amount from each swimmer's dues to funnel into the sponsor fund each month
Request donations in a monthly newsletter or email to help drum up support and awareness of the program
It might take some work to get this type of program up and running, but the benefits it can bring to your team (and community) can be long-lasting. 
10. Partner with a Local/National Swim Foundation
If you or your team can't do any of the options on this list, consider donating to a swim foundation. There are dozens available to pick from. Each with its own goals and needs. 
But they have one main purpose. And that's to help promote and encourage swimming and water safety.
Some swimming foundations to consider are:
A few other swimming-related foundations to consider also are the National Drowning Prevention Alliance, USMS Swimming Saves Lives Foundation (SSLF), and Swim Strong Foundation.
In Closing
There are several ways swimmers can give back to their community. Some ideas may require a bit more work than others. But even a little bit can go a long way. Make it part of your team's goal each year and see what you can accomplish!
Helping out those around you and your community can feel just as good as winning gold 🙂
As always, happy swimming!
– Chevron
---
Bonus Content
How to Improve Your Swimming Performance: Trying to improve your swimming performance or wanting to swim faster? Make these adjustments to your technique to see results in the pool.
End of Swim Season Checklist:
---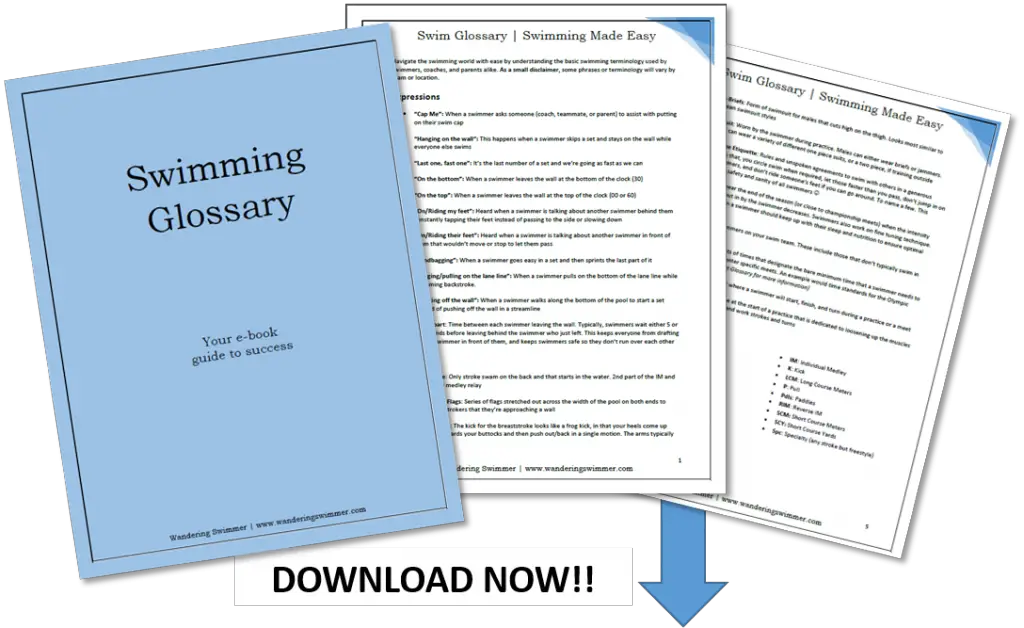 Want to Improve at the Pool?
Join swimmers and swim parents to receive my free newsletter and receive a free Swimming Glossary e-book as a thanks!
Every month you'll receive tips and coaching to help you find success at the pool.
---
About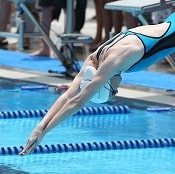 Chevron is a current competitive swimmer with almost 20 years of experience in the pool. And although she fell into the sport by accident in her high school years, she still trains daily and competes throughout the year. She's committed to providing guidance to all levels of swimmers and believes that everyone should know how to swim.