No pool is complete without a pile of mesh gear bags at the end of each lane. Much like swim bags, gear bags are a staple for most swimmers, as they provide a place to hold wet items.
Most mesh gear bags have the same build. A large main compartment, typically made of mesh. However, each can mesh bag varies slightly to best fit each swimmer's needs.
We've picked the 6 best mesh gear bags to help find the gear bag for you.
Disclosure: This post may contain affiliate links, meaning we earn a small commission at no cost to you if you purchase something through one of our links. As an Amazon Associate, we earn from qualifying purchases. Please check out our disclosure page for more information.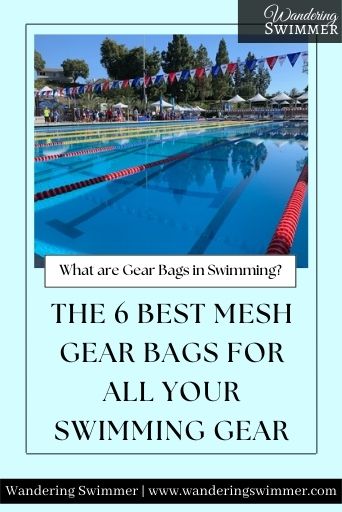 Best Mesh Gear Bags for Swimming
One of the tallest mesh equipment bags on this list and our top pick is Sporti's Mesh Bag with a zipper pocket. This gear bag measures 18 inches wide and 29.5 inches in height (45cm x 74.93cm).
It's an improved design from Sporti's original mesh bag (also included on this list), as it features a small zipped pocket in the corner. 
This bag holds a massive amount of gear in one go. It's tall enough to fit the largest kickboards and longest fins. And it's wide enough to store a pull buoy or water aerobic equipment. 
While still having room for paddles and a snorkel!
One feature that most swimmers like is the small zipped pocket in the corner. 
Trying to root through a large mesh bag for your goggles or nose clip is a pain. Because more times than not, it's at the bottom of the bag.
With the zipped pocket on the outside of the bag, it's easy to find and access your smaller gear.
The whole bag is made from breathable mesh fabric and has a toggle closure. One of the reasons we like this gear bag is that it dries quickly due to all the mesh, which allows water to drain and the fabric to breathe.
Lastly, the bottom corner features a white label for you to write your name, which can come in handy. You can also pick from a wide variety of color options.
We will note that the corded strap is a bit long. And it can be too long for younger swimmers. If this is the case, we suggest that you tie a knot at the bottom to help shorten it to the right length. 🙂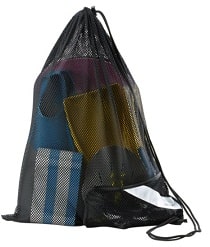 TYR's Big Mesh Mummy Gear Bag is one of the larger bags on this list (40 liters). It's shorter than Sporti's Mesh Gear Bag. But, it has more external pockets that give it more storage space.
This gear bag measures 19 inches wide and 25.19 inches high (48.26cm x 63.98cm). And it comes in at least a dozen different color options.
It features one large main compartment, which can store all your swim gear with ease. From a kickboard to your paddles, you can fit everything in here!
Outside of the main bag, TYR added one zippered mesh pocket and a drawstring mesh pocket. 
The pocket is a perfect size for storing your cap and goggles. Allowing you to access them with ease. You can also put your nose plug or smaller paddles in them.
The drawstring pocket next to it is best for a water bottle.
This gear bag has shoulder straps in addition to a hand strap at the top of the bag. This allows you to carry your gear bag like a backpack. Which is also more ergonomically correct for your body 🙂
TYR's Big Mesh Mummy Backpack isn't 100% mesh. It has a polyester strip on the front where the pockets are. However, the top, bottom, and sides are still mesh. Which will allow the bag to drain.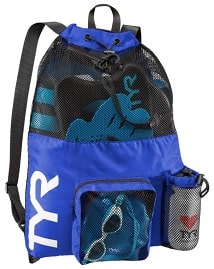 Sporti's Mesh Bag is the simplest and most affordable mesh gear bag out there as of this writing. It's also the one I currently use.
This gear bag measures 18 inches wide and 29.5 inches in height (45cm x 74.93cm). Putting it at the same dimensions as Sporti's upgraded mesh bag with a pocket. It currently comes in about 8 different colors.
We like this bag for the simplicity of its design. 
It features one large compartment and no pockets. The whole bag is made of mesh for breathability and quick drying. It also has a corded strap to go over your shoulder and a place to write your name at the bottom of the bag.
Some swimmers may dislike that this bag doesn't come with any external pockets. But I like it because I tend to keep any smaller items in my swim bag. So pockets are just wasted space for me. 
It's also a good bag to start with if you've never used a mesh gear bag before. With it being so affordable yet durable, you're not out a lot of money if you decide you don't like it.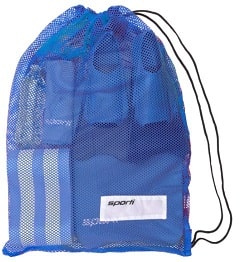 Speedo's Ventilator Mesh Bag is extremely similar in design to Sporti's Mesh Bag with a Pocket. They're both mesh bags with a pocket on the side. However, Speedo's pocket is larger and isn't made of mesh.
This mesh bag measures 19 inches wide and 28 inches high (48.26cm x 71.12cm) and comes in about 7 colors.
It features one large main compartment, which can hold all your swim gear. In addition to the main storage unit, Speedo provided a large pocket on the outside of the bag. Perfect for holding any smaller items.
The pocket makes it easy to find your smaller items without having to dig through your whole bag. And because it's larger than Sporti's Mesh Bag with a Pocket, you can store a bit more in there.
Both the bottom and the pocket of Speedo's Ventilator Mesh Bag are made from polyester. This can make the material last longer but may make it longer for those sections to dry. The rest of the bag is vented mesh for drainage and breathability.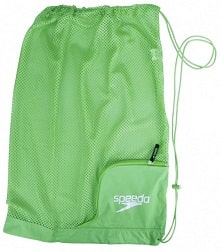 Like Speedo's classic ventilator mesh bag but wish it had some more pocket space? You're in luck! In addition to their classic ventilator mesh bag, Speedo also has a Deluxe Ventilator Mesh Bag.
It's pretty similar to TYR's Big Mummy Mesh Bag and comes in several different color options. It measures 17 inches wide and 24 inches high (43.18cm x 60.96cm). So just a bit smaller than TYR's gear bag.
This bag has one large main compartment to hold all your larger pieces of equipment. It toggles shut at the top to keep everything secure. 
The front of the bag has a zippered pocket that's about half the height of the bag. Great for storing paddles and other smaller items. The pocket is made of solid polyester instead of mesh.
In addition to the front pocket, Speedo added a mesh pocket for your water bottle.
The back of the bag has shoulder straps that allow you to carry the mesh bag like a backpack. It also features a small handle at the top for easy carrying or hanging in your locker.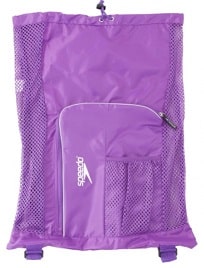 A bit of a different but simple mesh gear bag. But it gets the job done! 
BeeGreen Mesh Bag is more of a drawstring mesh backpack. And it's designed for use as a beach bag, but it can also serve as a simplistic swim gear bag, too. 
Measuring at 18.9 inches wide and 25.2 inches high, it's about the same size as most of the bags on this list. Meaning you'll have plenty of space to pack all your swim gear.
It has one large main compartment for all your belongings. The outer part of the bag is made of mesh so wet items can drip dry without the bag collecting water. The bottom section does have a nylon type covering around the front of the bag that may take longer to dry.
The outside also features two mesh pockets. One for a water bottle and one that you can fold the bag into! This is great for traveling and extremely convenient if you want to take it to the beach, too. This zippered bag can also hold your cap and goggles, or other smaller swim items.
Inside the main bag is a smaller zipped pocket near the top of the bag. For beach users, this is best used for a phone. 
But if you'll keep this bag poolside, you'll want to keep your phone stored somewhere more dry 🙂 Instead, the zipped pocket is best for smaller items, such as earplugs or nose plugs.
BeeGreen Mesh Bag opens and closes similar to traditional drawstrings bags. This keeps your items from getting lost while carrying them around. And easy to get to when you need them.
It also allows you to carry your swim gear like a backpack.
Or, you can carry it by the handles up at the top, if you're already wearing your swim bag.
Lastly, we'll note that BeeGreen has a simpler version of their gear bag with all the same features, minus the outside pockets.
We like this bag for the added a reflective strip on the back of the bag. And feel that it's worth mentioning for the safety feature alone.
Some swimmers train in the early morning or late at night. And sometimes cars can't see them when they're crossing the road or parking lot. This reflective strip helps add some protection and reduces the chances of being hit by a car.
What Are Gear Bags in Swimming?
Gear bags are designed to hold swimming equipment and gear. Most gear bags are made from mesh, which allows water to drain from the bag so any equipment can dry easier. The mesh also enables the bag itself to dry quickly.
Mesh bags are great for:
Carrying gear to and from the pool
Storing equipment in one place
Keeping it centrally located behind the lane while swimming
Keeps wet gear away from dry items 
Most swimmers will keep their gear in a mesh bag and use their swim bag to carry their dry belongings. Such as clothes, towels, phone, etc.
Gear bags can also be used to carry other water related gear, such as water polo equipment and even water aerobic gear.
Gear Bags vs Swim Bags: What's the Difference?
Despite sharing the name 'bag' and being used to store things, mesh gear bags and swim bags are two different things. 
Probably the biggest difference is that swim bags aren't designed to sit behind a lane and take constant splashing. Swim bags are best at keeping things dry.
Related article: The 8 Best Swim Bags for Swimmers
Gear bags though are designed specifically to handle a thorough soaking and keep going. However, they're not designed to keep things dry. So any towels or clothes you pack in there will get wet if you put them on the pool deck.
In short, the biggest difference is how they're designed to be used. 
Swim Bags
Can hold dry items, such as clothes and towels
Can also hold gear but will get other items wet once stored after a workout
Should not be set close to the pool where it can get wet
It will take a while to dry if it gets too wet
Mesh Gear Bags
Holds swim gear that's specifically used while swimming
Should not be used to store dry items, such as towels or clothes
Can sit next to the pool
Dries quickly
Do You Need a Gear Bag?
You don't! 
If you only have a few items that you use when you swim, it might be easier to carry them in your swim bag. Just know that you'll be putting wet gear inside your dry swim bag and potentially getting your clothes wet.
And while it can be easier to just hand-carry a few items, it's not fun juggling everything in bad (or cold) weather. Or if you have to walk far to your car.
However, if you use a lot of swim gear during your workout, it might be worth looking into. If only to help keep everything organized on deck. And easier to carry everything in one go.
Ultimately, the choice is yours.
The good news is that most mesh gear bags are pretty cheap. So even if you're not certain, you can always try the basic mesh bag from Sporti without spending a lot of money.
Can I Store My Cap and Goggles in My Mesh Gear Bag?
Tons of swimmers store their cap and goggles in their gear bag. It's easy to throw them in there and not have to worry about remembering them for your next practice.
That said, we honestly don't recommend that you keep your goggles and cap in your bag. Instead, we suggest that you keep them in your swim bag. 
The main reason we suggest this is to protect and extend the life of your cap and goggles.
More Content for You:
Mesh bags take a beating. We toss and drag them around on the pool deck. People step on them by accident and other gear can get set on them.
This can lead to your goggles breaking if you keep them in your gear bag.
Storing your cap and goggles can also make them break or tear sooner, too, as they don't get a chance to dry completely.
Instead, we recommend drying off your cap and goggles before putting them in your swim bag.
In Closing
Despite their unassuming looks, mesh gear bags play a large role for swimmers. From carrying around a swimmer's equipment to keeping wet gear away from dry belongings, they're a great bag for any swimmer to have 🙂
As always, happy swimming!
-Chevron
---
Bonus Content
The 7 Best Swim Shampoos to Remove Chlorine: The chemicals in the pool can leave your hair crunchy and straw-like. Here are the best swim shampoos to help reverse chlorine damage.
The Best 11 Kickboards for Swimmers: Kickboards come in all shapes, sizes, and materials. Finding the best kickboard for you might seem easy enough but which is the right one for you?
---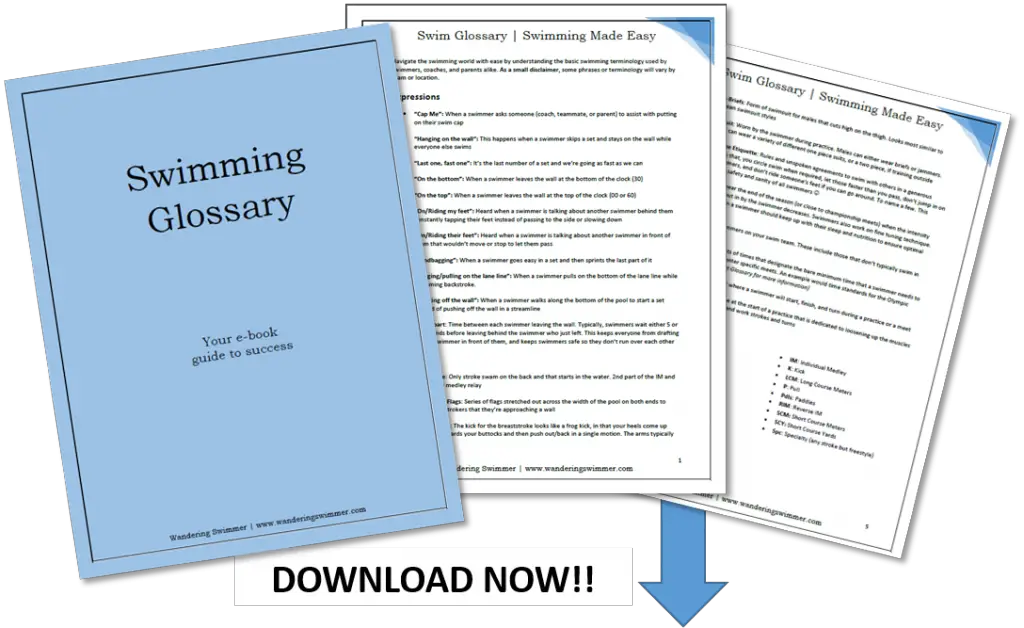 Want to Improve at the Pool?
Join swimmers and swim parents to receive my free newsletter and receive a free Swimming Glossary e-book as a thanks!
Every month you'll receive tips and coaching to help you find success at the pool.
---
About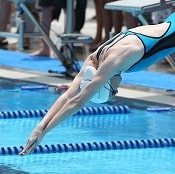 Chevron is a current competitive swimmer with almost 20 years of experience in the pool. And although she fell into the sport by accident in her high school years, she still trains daily and competes throughout the year. She's committed to providing guidance to all levels of swimmers and believes that everyone should know how to swim.