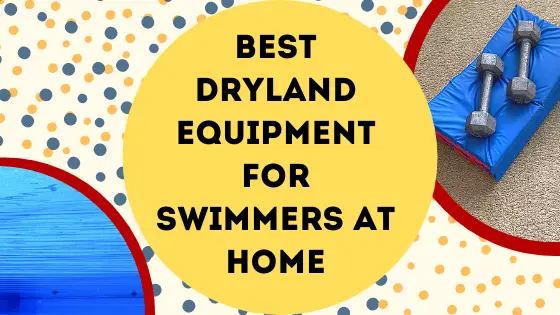 When you can't make it to the pool for your daily workout, try getting in a dryland workout instead! You can complete most dryland at home with just body weight without the need for dryland equipment.
However, having some pieces of dryland equipment can help enhance the intensity of your workouts at home. Especially if you're out of the water for an extended period of time.
Related article: How to Do Dryland Workouts at Home
Not sure which ones are best for you? Here are the best dryland equipment for workouts at home.
Disclosure: This post may contain affiliate links, meaning I earn a small commission at no cost to you if you purchase something through one of my links. As an Amazon Associate, I earn from qualifying purchases. Please check out my disclosure page for more information.
DISCLAIMER: I don't claim to be a trainer, a coach, or a medical provider. These workouts and suggestions are only provided for informational purposes. Only those individuals who can safely complete these workouts should attempt them.
Check with your coach and parents before beginning. Always consult with your health care provider before starting any new workout regimen. If you can't safely complete an exercise or workout, modify it so it best fits your capabilities.
---
My Pick for Best Dryland Equipment for Swimmers at Home
Resistance bands offer both stretching and strength training for swimmers. With it's focus specific to swimmers, StretchCordz is my pick for the best dryland equipment for swimmers at home.
---
1. Resistance Bands
The best equipment for dryland at home are resistance bands. Not only do they come in a wide variety and levels of resistance, they're also a great tool for daily stretching.
They have other added bonuses, such as:
Easy to use
Affordable (most types)
Practical for everyone, not just swimmers
Lightweight and small
Easy to pack for training trips, away meets, and traveling
Versatile
While they won't replace the strength building that weights can give you, they offer a good alternative. And, you can do dozens of different dryland workouts at home with the bands.
Resistance bands come in several types:
Pick the band that works best for you based upon your needs and capabilities. And not every band on the list will work for your situation. Some, such as the loop bands need a pole to utilize certain exercises.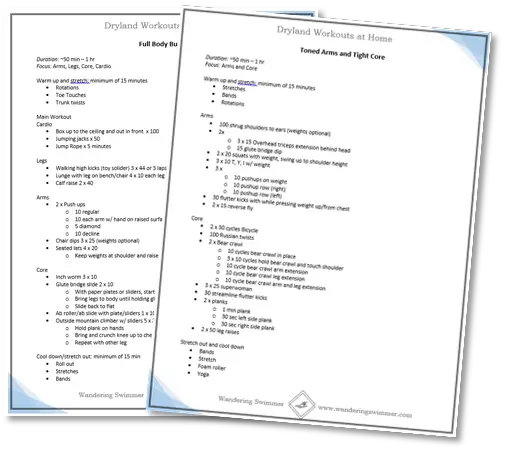 Best resistance bands
My personal favorite is Stretchcordz that comes with handles. They're easy to use and pack for trips, and I can do dozens of different workouts for my arms with them.
While they're a bit more expensive than other resistance bands, these are pretty specific for swimmers. They help swimmers focus on technical aspects of their strokes and build strength
StretchCordz with Handles (my favorite)
StretchCordz with Handles Red – Strong
StretchCordz with Paddles
StretchCordz with Paddles, Red
As an alternative to Stretchcordz, you can look into a more affordable option of Thera-Bands.
Thera-Band offers several varieties in many different resistant levels. They come in both cord style (without handles) and loop bands (large and mini). Thera-Bands are also used in physical therapy clinics to aid in rehab and stretching.
TheraBand Resistance Bands, 6 Foot Band
TheraBand Resistance Tubes w/ Hard Handles, Green, Heavy
Resistance Band Summary
Band Type
Pros
Cons
Learn More
StretchCordz
1. Specific to swimmers and their strokes
2. Stretching strength building
1. A bit more expensive than other resistance bands
2. A bit bulky when travelings
Amazon
StretchCordz w/ Handles
StretchCordz w/ Paddles
Resistance Bands
1.Cost effective
2. Easy to travel with
1. Might not always come with handles
Amazon
Resistance Bands
Loop Bands
2. Core/Exercise sliders
No, we're not talking about sliders as in food (although they can be delicious 😉 ). Instead, we're talking about exercise sliders. Personally, I just discovered these and I am addicted to what all I can do with them!
Exercises sliders can take a normal workout and up the intensity with little more than a tiny disk on the floor. Use them to work your core, cardio, arms, and legs!
For those unfamiliar with exercise sliders, they're small disks that you put your feet or hands on, and they slide across the floor. Much like furniture sliders for when you move.
Try using these with workouts that you already do. Such as:
Mountain climbers
Glute bridge
Lunges
Planks
Pikes
As an added bonus, much like the resistance bands, they're small in size. It makes them easy to pack them up for your next trip away from the pool. Some brands work best on hardwood floors, while others work better on carpet.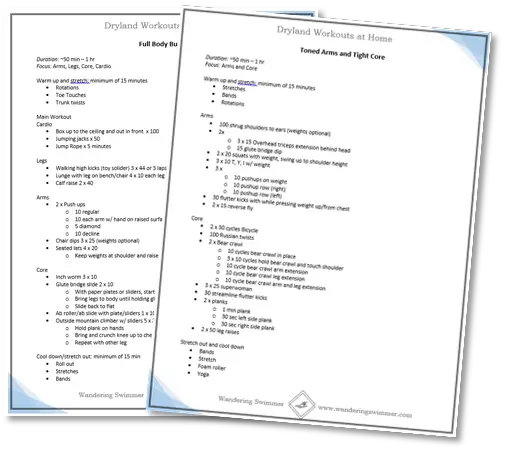 Best core/exercise sliders
Typically, most core/exercise sliders are the same across the board. They're 7 inches or so in diameter with a hard plastic on one side and a softer, felt like material on the opposite.
I have found that sliders a bit larger than the standard 7 inches make it easier to place your feet. I don't have to stop as often to readjust my position.
When looking at different sliders it's incredibly important that you pick the one that works best for your home. If you have a hardwood floor, make sure you select a product that has a softer backing so it won't damage the floor.
Best for Hardwood Floors
Gliding Discs Individual Kit Hardwood, 1 Pair (Grey)
Best for Carpet
Synergee Jet Black Gliding Discs Core Sliders
Exercise Sliders Summary
Floor Type
Pros
Cons
Learn More
Hardwood/tile floors
1. Doesn't build up a lot of heat when used on carpet
1. Can scratch the floor depending on the material
Amazon
Gliding Discs
Carpet floors
1. Softer on the hands when exercising
2. Lessens risk of scratching the floor
1. Might not glide smoothly on the surface if the material isn't correct
Amazon
Synergee Gliding Discs

3. Stability/Swiss Ball
A stability ball (also known as a Swiss ball) is another easy piece of dryland equipment that you can use at home.
If you keep the stability ball inflated, it will take up a bit more room than the first two options, but the workout that you can get from a stability ball is top notch. Need to save room? Deflate the ball when not in use and inflate when you're ready to workout again.
When it's deflated, you can pack and travel with a stability ball. So long as you remember the pump!
Balance
Core strength
Coordination
Lower back muscles
Stability balls also make you focus on every bit of your body and muscles when using them. Finding the balance and coordination to complete different exercises takes mind and body. You'll have to stay patient when you first start using a stability ball and find your balance! 🙂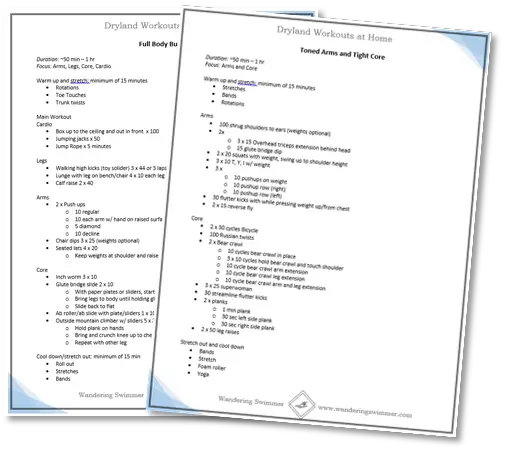 Best Stability Balls
For the most part, stability balls are the same across the board. Where they differ the most is the amount of weight/pressure that the material can handle. Along with the thickness in material to support that weight.
When looking at different stability balls, pick the one that will best handle the workout that you plan to use it for. If you're using it for stretching or yoga only, a thinner, less weighted stability ball will work best.
Planning on doing a heavy cardio workout? Opt for one that can take more weight. Personally, I do all sorts of core workouts where I'm balancing on my arms/hands on the stability ball. For these, I like to use the stability balls that can take more weight.
Light Weight Stability Ball
TheraBand Exercise Ball, 65 cm Diameter Green
Heavy Weight Stability Ball
Vitos Fitness Anti Burst Stability Ball Extra Thick Non Slip Supports 2200LB
Stability Ball Summary
4. Jump Rope
Simple but so effective, jumping rope is a key dryland workout for swimmers. It's a fantastic way to get in a cardio workout without the high impact of running.
Not quite sold on something so simple? Here's a few more reasons to look at a jump rope as your next piece of dryland equipment.
Low impact workout
Minimal equipment
Can be done anywhere
Aerobic exercise
Cost effective
You don't need to get fancy with weighted jump ropes. A simple jump rope will suffice for a dryland workout at home or while traveling. Just make sure you pick a rope that's best suited to your height and get working out!
Jump Rope Tangle Free
Jump Rope Summary
Pros
Cons
Learn More
Jump Rope
1. Easy to pack for travel and store at home
2. Excellent cardio workout
Can do anywhere
1. Not efficient if it's the wrong length
2. Can be frustrating for beginners
Amazon
Jump Rope
5. Medicine Ball
Medicine balls are versatile in the different exercises you can do with them. Much like the stability ball. However, they can run expensive.
While they're used most for core workouts, you can also use them for:
Stretching
Push ups
Wall throws (add in a squat for a harder workout)
Throwing/slamming on the ground
Wall sits
Partner stretches and passes (if one is available 🙂 )
One thing to note. Not all medicine balls are made equal. Some work best for just stretching and core work. These usually come in a non-rubber surface material with fabric stitching on the seams.
These will split if you try to use them for wall throws or ground slams! They might hold up for the first few rounds, but after that, you'll probably see them tear.
Instead, opt for a sturdy and durable material that can withstand heavy abuse.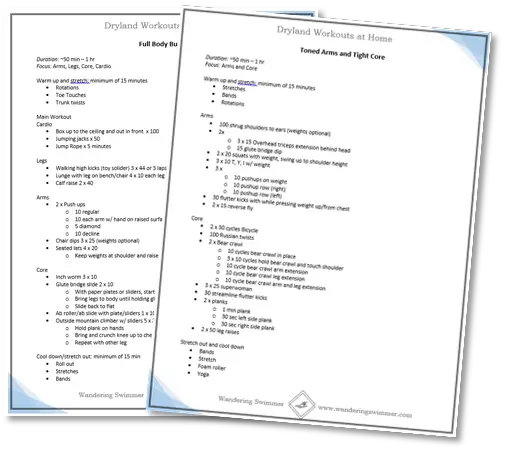 Best Medicine Balls
Soft shell medicine balls perform best for basic core work, such as Russian Twists, flutter kicks with weight, and sit ups. You can also use them for stretching.
They will not, however, last when thrown at the wall.
Soft Shell Medicine Ball
Champion Barbell Medicine Ball
A hard shell medicine ball can be used in a variety of different workouts and take a bit more rough handling. Because they keep their round shape instead of flattening or squishing like their soft shell counterparts, they add a level of challenge for push ups.
Hard Shell Medicine Ball
10 lbs Medicine Ball Non-Slip Rubber Shell Textured Surface (will bounce)
Most will bounce, unless you specifically get a slam ball. If you plan to use a hardshell medicine ball for slamming, just know that it will bounce back to about shoulder height. Please don't let it hit your face 🙂
If you want a ball that doesn't bounce to use for slamming, please use specifically a slam ball.
Medicine Ball Summary
6. Exercise mat
An exercise mat might not seem important. But they offer protection that the floor doesn't give. It'll offer you padding on your back and tailbone while doing core workouts. And can also cushion your knees during exercises.
And while the carpet might be enough padding for some individuals, others need a bit more cushioning. That's when the exercise mat comes in.
However, mats themselves don't come the same across the board, either. Some are thin and others are thicker. Based upon what works best for you will determine what type of mat you need.
Best exercise mats
For those who only need a bit of protection from the ground while working out, a thinner mat will work best for you.
These typically run from 3mm to 8 mm. and will provide protection from the ground. But they don't always offer enough padding for some people. Myself included 🙂
If you're worried about rubbing your tailbone or spine, a thicker mat might work better for you. Typically, a mat of about 16mm will provide enough cushion for those who need more padding.
Personally, I use a 16mm cushion mat. It gives me enough support for core workouts without rubbing my tailbone raw.
Thick Exercise Mats
5/8-Inch Extra Thick Yoga Mat with No Stick Ridge, Blue
Exercise Mat Summary
Mat Type
Pros
Cons
Learn More
Thin exercise mat
1. Easier to pack and travel with
2. Better to use with some exercises
1. Might not offer enough protection for some people
Amazon
Thick exercise mat
1. Can offer more cushion
2. Makes core work harder for stability
1. Harder to pack and travel with
2. Some might have trouble balancing

Amazon
5/8 Thick Mat
In Closing
Even if you can't make it to the pool, you can still keep up with other aspects of swimming. Maintain a healthy balance and sleep schedule. And when you can, get in a dryland workout at home.
With the various options available, you can use different dryland equipment to get a good workout at home. Even if you opt not to use any dryland equipment, you can still use body weight to exercise.
As always, to happy swimming!
– Chevron
---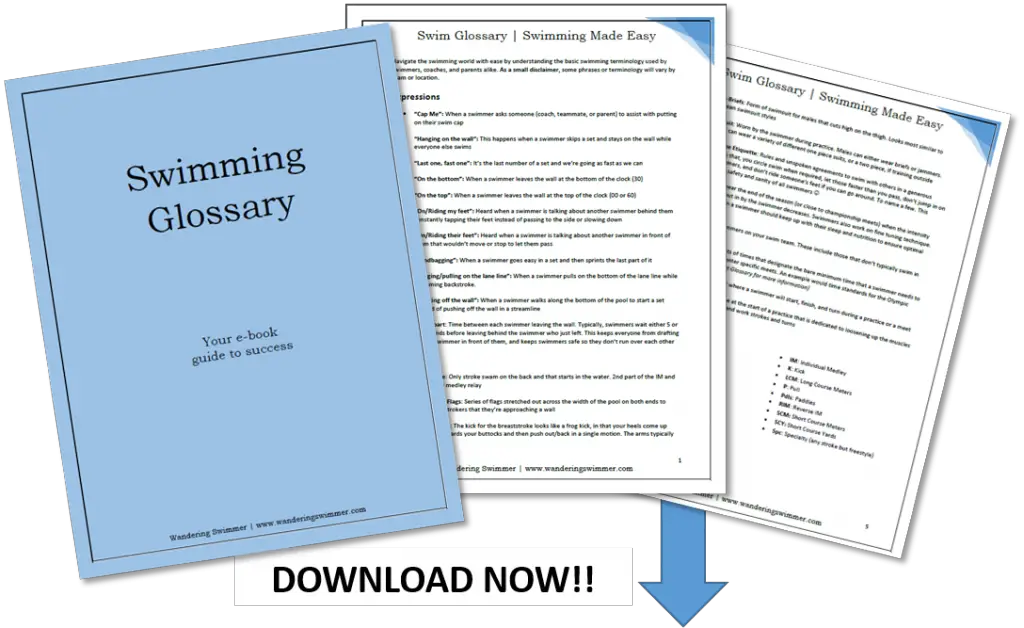 Want to Improve at the Pool?
Join swimmers and swim parents to receive my free newsletter and receive a free Swimming Glossary e-book as a thanks!
Every month you'll receive tips and coaching to help you find success at the pool.
---
[pt_view id="eee00a42li"]