Understanding women's swimwear isn't easy. Between the numerous options and styles available, it's enough to make anyone feel overwhelmed. 
And while the overall design of a swimsuit is to allow you to get into the water, not all swimsuits are made the same. 
Some may be better suited for activities such as lap swimming. While others are better for tanning or playing in the water.
More Content for You: Best Women's Swimsuits for Lap Swimming and Training
To help you pick your next suit style and find your perfect swimsuit, we've broken down the various swimwear available for women.
Disclosure: This post may contain affiliate links, meaning we earn a small commission at no cost to you if you purchase something through one of our links. As an Amazon Associate, we earn from qualifying purchases. Please check out our disclosure page for more information.
One-Piece Swimsuits
A one-piece swimsuit is a type of women's swimwear that is made of one piece of material. It covers the body from the chest down to the hips. 
The one-piece swimsuit comes in dozens of different styles, designs, and cuts. And has at least half a dozen functions that women can utilize it for. 
More Content for You: What Should You Take When You go Lap Swimming?
From lap and competitive swimming to water aerobics and fun at the pool. One-piece swimsuits can fit pretty much any water activity. 
That said, not all one-pieces are made the same. The design and cut of a one-piece swimsuit make the biggest difference when it comes to use. 
Some one-piece suits are better for competitive, training, and lap swimming. While others are more suited for fun and fashion.
Breakdown of One-Piece Swimwear
Here's a quick breakdown of the various one-piece swimwear you can wear.
For a more detailed explanation of one-piece swimsuits and what to look for in one, check out our article: What to Look for in a Women's One Piece Swimsuit
Two-Piece Swimsuits
A two-piece swimsuit covers the body around the chest and the hips, leaving most of the torso bare
Like the one-piece suit, a two-piece swimsuit comes in dozens of different styles, designs, and cuts. And you'd be surprised at the many water activities women can use them in. 
From lap and competitive swimming to recreational. 
Again, not all bikinis are made the same. It's best to keep in mind what you intend to use your two-piece for before purchasing one. 
When looking for a bikini for lap swimming, we highly suggest that the bottom piece has drawstrings and elastic to keep it snug. And in place 😉 
More Content for You: The 8 Best Swim Bags for Swimmers (and Water Enthusiasts)
The top piece can either come as a fixed back or a tie back. If you're going with a tie back, the straps should criss-cross over your back.
Some good two-piece suits for training or active are:
For recreational two-pieces, pick something that you feel most comfortable in. Be sure to look at the various amounts of coverage.
Triangle two-piece tops are your more revealing and open cuts. They're also the most popular for most women. 
For something with more coverage, you can opt for a tankini top (which we'll cover more below), or styles that mirror sports bras. These are more rectangular in shape and can either come up high to the neckline. Or cut lower for more cleavage. 
For a more detailed explanation of two-piece swimsuits and what to look for in one, check out our article: How to Pick a Two-Piece Swimsuit.
Tankini Swimsuits
Is a tankini a one-piece or a two-piece swimsuit? It depends on who you ask! It should fall under a two-piece, based on the definition. But some consider it a one-piece due to how it covers the stomach.
Because it's somewhat both, we're giving it its own section 🙂
The tankini is a fantastic but not well-known swimsuit. Often overlooked by one and two-piece swimsuits.
Yet this underrated bathing suit has the flexibility of a two-piece with the coverage of a one-piece. The perfect combination for many women as they struggle to find a balance and what works best for them.
More Content for You: Swimming on Your Period FAQ
They can come in a variety of different styles, designs, and coverage to fit the needs that matter the most to you. From high neck to scoop neck, to active tankini's, you can find the tankini that best fits you.
Tankini tops offer more support than most other swimsuits. Some will come with removable cups for your comfort and needs, while others feature an underwire or a bra shelf for a range of support. 
A Note on Tankinis
We will note that not all tankini swimsuits come as a complete set. Some will come only with a tankini top and you'll have to find a bottom piece on your own. Others though may come with a complete set.
In some ways, we prefer the option to pick your own tankini bottom piece.
Not everyone wears the same sizes for their shirts and pants. And the same is true for swimsuits. What may be a large for the top suit may need to be a medium for the bottom suit.
Related article: What is a Tankini? (And Why You Should Own One)
By picking your own tankini pieces, you can get the fit that works best for your body without conforming to just one size. 
Swim Dresses
Although a smaller section of swimwear, swim dresses add a bit of style and flair that one-piece swimsuits may lack. 
Much like the other bathing suits on this list, swim dresses come in a wide range of styles and cuts. From strapless to higher necklines and flirty dresses, there's no shortage of coverage and fit to meet your needs.
More Content for You: Can You Swim With Bad Eyesight? + FAQ
Also, like most of the other suits, you can use a swim dress for almost any water activity you'd like. 
Again, we will note that those swim dresses with a longer skirt/hem will be a bit more difficult to swim or work out in. Mainly due to the drag that comes with the extra fabric. 
That's not to say that you can't work out in a swim dress. But be prepared to fight some against the fabric if you opt for a longer skirt.
Swimsuits for Water Aerobics (aka The Unitard)
Swimwear for water aerobics isn't well known, but there are designated suits for this popular water activity. That's not to say that you can't use a different kind of suit for water aerobics. But some women do prefer the unitard swimwear.
What is a unitard?
It's a style of one-piece swimwear that comes down mid-thigh and offers more coverage than any of the suits on this list. The wide straps make them more comfortable for women who do water aerobics.
It's worth noting that the unitard isn't just for water aerobics. This swimsuit is versatile and can be used for swimming, running, and even biking.
If you're looking for the most coverage in a suit, this is the best option. And best of all, it doesn't limit you in the various water activities out there 🙂
Women's Swimsuit FAQ
Which Swimsuit Style Is Best For Me?
Swimsuit styles come in a wide variety. From your classic one-piece swimsuit and the favorite two-piece suit to the tankini. You have no shortage in swimsuit styles to pick from.
And we believe that you should pick the style that you like best. And the one that you feel most comfortable in. Regardless of what people say you should or shouldn't be wearing.
That said, if you're looking to emphasize or hide certain parts of your body, some swimsuit styles may be better than others.
Tankinis and one-piece swimsuits can provide coverage for women who want to cover their stomachs. Some come with 'tummy control' which has slimming fabric.
Wearing a bottom piece with a higher leg cut can make your legs look longer
Swim dresses, skirts, or shorts can provide more bottom and hip coverage, based on your desires
For women with a full bust, swimsuits that have underwire will provide the most support and shape
Picking a swimsuit style that's best for you is a bit of trial and error. Once you find a style that you like, try to remember it for next year. 
But remember that you don't have to stick with just one style. Pick what you like best and go for it!
How Do I Pick a Swimsuit?
We generally recommend that you pick a swimsuit style that you feel most comfortable in first. And then consider how you're going to use that swimsuit. 
While any swimsuit can be used for almost any water activity, some are better than others. But again, it's also not a hard rule that you have to follow.
More Content for You:
Generally, if you're going to be swimming laps or working out, a tighter-fitting suit is the best option. As it's more streamlined and doesn't have the excess fabric that will cause resistance. 
You can swim laps or work out in a two-piece or a tankini. You're not just limited to the traditional one-piece!
For fun and recreation, you can go with pretty much any suit you like. Poolside or beach swimsuits aren't just limited to two pieces either. You can still rock a one-piece or a tankini when you're at the beach or pool 🙂
Should a Swimsuit be Tight?
Yes and no. 
It should fit so that it's not falling off your shoulders or hips. But it shouldn't fit so tightly that it hurts and leaves marks.
Finding the right level of tightness in a swimsuit is a balancing game. 
While a suit will loosen some when it gets wet, it won't get that loose. If the straps or bottoms are already close to falling off, go a size or two smaller.
We recommend that you should be able to stick at least two fingers underneath the strap when you're wearing it. And still have some resistance on your fingers. Can't lift up the strap? It's probably too tight!
We also encourage you to move around while trying on your bathing suit. 
Swimsuits should be comfortable. They shouldn't rub, chafe, ride up, or irritate you when you wear them. And it's hard to know if a suit will rub if you just stand there in it.
Instead, move around. Lift your arms up over your head. Swing them around. Squat down and sit in a chair. Lean over to see if everything stays in place.
Will it look a bit silly? Probably! But it's the best way to see how the suit moves with you. 
As a competitive swimmer, I try on all my suits this way. Because I need to see if I can comfortably move through all the strokes. And if it's comfortable enough for me to wear for hours at a time.
While you may not be swimming laps, the same idea of comfort and flexibility should apply to your suit, too 🙂
Why Do Swimsuits Have a Hole in the Back?
The majority of women's suits have some type of hole or cut out in the back of the suit. The size of these cutouts can vary but they all serve the same purpose. Which is to allow for flexibility and movement when performing.
The hole in the back of the swimsuit makes it easier for swimmers to turn and complete strokes with ease. Similarly, the cutout can allow divers to move through their dives easier. And gives more room for movement for water aerobics or other water activity.
Typically, the larger the back style of the suit, the more freedom the suit can provide in terms of movement. 
And back styles vary by the swimmer.
I've worn every type of back style since I've started swimming and my current preference is for a more open cutout. 
This makes me feel less confined in my swimsuit and helps me feel like I can move easier. I train in a Crossback or an Open Back
However, some swimmers like having a smaller opening for their back style.
For more information on the different swimsuit back styles, check out our article: 6 Swimsuit Back Styles Explained
How Do You Tie a Tie-Back Swimsuit?
With patience and a lot of practice! It is possible but like with some things in life, it may take you a while to figure out the technique that works best for you.
It's easier if you have someone who can tie your swimsuit for you. As they can usually get it tied tighter and with less struggle. 
But if there's no one around to help or your friend isn't good at tying, you may need to do it yourself.
Try the following steps that I use to tie any of my tie-back swimsuits. Including a two-piece top!
Tighten the strings so the bottom part of the top is tight
Cross the strings to form a loose knot on your back
With the knot formed, grab the strings close to the knot and tighten them to your liking

If you suck in your breath just a bit, this will make the strings just a bit tighter when you're done

Inch your fingers back to the knot and tighten more if needed
Start making the bow, while keeping the strings tight. The closer your fingers are to knot while you're making the bow, the tighter you can keep everything
Adjust the tightness as you're tying
Stay calm and if needed, start over. Practice at home until you feel comfortable
One of the key things to remember is to stay calm and try not to get frustrated. This will only make it harder to tie your suit. Take a break if you need to and then try again. 
When Should You Get a New Swimsuit?
Ideally, you should always have two swimsuits on hand. One that you wear and a backup. This way, if the one you tend to wear the most gives out, you have another one ready.
That said, swimsuits do have a lifespan to them based on how frequently you use them, the fabric, and how well you take care of them. 
There's no time frame to give, as there are so many variables to consider. At minimum, a swimsuit should make it through the summer without any issues. 
Related article: How to Make Your Swimsuit Last Longer
You can tell you need a new swimsuit when it starts to 'dry rot', the elastic starts to give out, or the suit becomes too baggy in certain areas.
Once you notice any of these changes, you should start looking for a new bathing suit.
What is Dry Rot in Swimsuits?
So what is dry rot? 
Dry rot happens when fabric can no longer dry out effectively. 
In swimsuits, this can happen when the chlorine or saltwater eats away at the fabric of the swimsuit, leaving it thin and see-through. 
For certain suits, the fabric may start to feel sticky in the areas where it's dry rotting. And it will almost look like the fabric is pilling.
We usually see dry rot start around the seams of the suit. Typically on the bottom, as the water drains down and gathers there more often than not. You may also have dry rot in the stomach section of your suit.
You can help prevent dry rot in swimsuits by rinsing your suit out after each use and laying it out flat to air dry. Use dedicated swimsuit cleaners instead of laundry detergent. And never stick your suit in the dryer.
In Closing
When it comes to women's swimwear, the options are limitless. With all the various styles, cuts, colors, designs, and uses, the hardest part is often picking your favorite one!
---
Bonus Content
6 Reasons Why You Should Wear a Swim Cap: Swim caps are a necessary evil and swimmers love to hate them. But why should you wear a swim cap and what's the point of them?
How Many Calories Does Swimming Burn? Looking to burn some calories, but hate running? Swimming is one of the best workouts out there to help you burn calories and get in shape.
---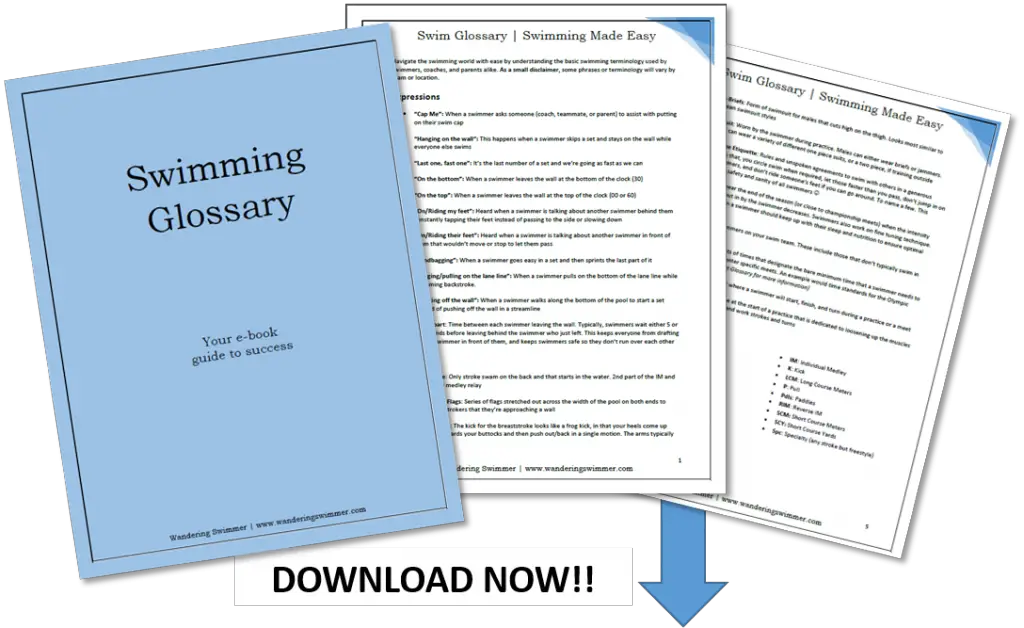 Want to Improve at the Pool?
Join swimmers and swim parents to receive my free newsletter and receive a free Swimming Glossary e-book as a thanks!
Every month you'll receive tips and coaching to help you find success at the pool.
---
About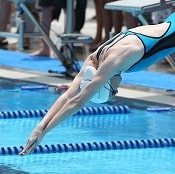 Chevron is a current competitive swimmer with almost 20 years of experience in the pool. And although she fell into the sport by accident in her high school years, she still trains daily and competes throughout the year. She's committed to providing guidance to all levels of swimmers and believes that everyone should know how to swim.