In between a one-piece and a two-piece swimsuit is a third option some women may not know about. The tankini. But what is a tankini and is it the right swimsuit for you?
Related article: Swimming Basics to Get You Started
We'll break down what a tankini is and how it can be used for a variety of water activities. Along with helping you find the right tankini for you! 🙂
Disclosure: This post may contain affiliate links, meaning we earn a small commission at no cost to you if you purchase something through one of our links. As an Amazon Associate, we earn from qualifying purchases. Please check out our disclosure page for more information.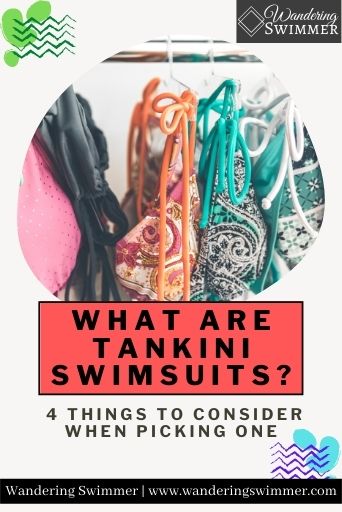 What is a Tankini?
A tankini is a two-piece swimsuit that masquerades as a one-piece swimsuit. It gets its name from a combination of a tank top style for the top piece and a bikini bottom for the bottom piece.
The top piece of the tankini has more coverage compared to that of a bikini. Typically, the fabric of a tankini will continue past the chest so that it covers the stomach.
This allows for a more conservative fit and coverage. But still gives women the feeling of freedom and flexibility that a one-piece may lack. 
Related article: How to Pick a Two Piece Swimsuit
The bottom part of the tankini is just a regular two-piece bottom. Which allows you the benefit of picking the sizes that work best for you. 
Not everyone wears the same sizes for their shirts and pants. And the same holds true for swimsuits. What may be a size large for the top suit may need to be a size medium for the bottom suit.
Picking different top and bottom pieces also allow you to mix and match styles or colors. You can select suits that best fit your personality and creativity for a fun suit!
Understanding the Tankini Swimsuit
For some, the tankini is an unknown swimsuit. Most people only think of one and two-piece swimsuits, never realizing the other options available. This can make it frustrating for women who believe they only have two options of swimsuits to wear.
Especially if they're not comfortable in either.
The good news is that a tankini provides the best of both suits. And it's suitable for nearly every water activity out there. 
Wear it at the beach or out tanning. Or try swimming some laps or completing a water aerobics workout. However you plan to enjoy your time at the water; poolside or the beach, a tankini can keep up with you!
Here's a quick breakdown of women's swimwear from most athletic to recreational styles.
For a more detailed guide to women's swimwear and the various kinds/uses, check out our article: Ultimate Guide for Women's Swimwear
Can I Wear a Tankini?
Is a tankini the right bathing suit for you? 
It can be! Anyone can wear a tankini no matter what. Regardless of size, shape, or age, a tankini is for anyone.
They're also for any type of water activity. 
One of the great things about tankinis is how versatile they are. Whether you're wanting to do some water aerobics or hit the waves at the beach, tankinis can fit any need.
How Do I Pick the Right Tankini?
We believe that anyone can wear whatever swimsuit they like, regardless of what others may think about it. That said, it's important to pick a swimsuit that will work best for whatever type of water activity you'll be doing.
Here are 4 things to consider when picking the best tankini for you.
1. Use
Whenever you're picking a new suit, it's always best to consider how you plan to use it. 
While the purpose of any swimsuit is to allow you to get into the water, some bathing suits are better for certain activities compared to others. 
That's not to say you can't use a training suit for fun at the beach. Or a recreational suit for a water workout. You just may have to tie the straps tighter or deal with a bit more fabric depending on what you're doing.
More Content for You: How Many Laps is a Good Swim Workout?
If you're wanting a suit that will hold up well to water activities, such as swimming laps and water aerobics, it's best to go with a tighter fitting tankini top. This will reduce the drag of the fabric in the water. And help you move easier.
Shops such as SwimOutlet carry thousands of suits from practice and active, to recreational. Use their filters on the page to narrow down what you want in a suit. And you'll have your perfect suit in no time!
2. Coverage
Like most bathing suits, tankini tops come with a large selection of cuts and styles when it comes to coverage. Some will cut higher up by the neckline, while others may dip a bit lower to show cleavage.
The coverage and cut style of a tankini top should fit your level of comfort. 
One of the nice things about tankinis is that despite being a two-piece, they offer more coverage for those wanting it. Tankinis naturally cover anything from the breasts down to the hips, providing coverage to the torso.
Related article: Swimsuit Back Styles Explained
For those wanting more coverage in the chest, opt for a higher neckline instead of a deep scooped or plunge neckline. This type of cut will bring the swimsuit up closer to your neck and keep from showing cleavage. 
The bottom piece of a tankini is regular bikini bottoms. These can range from barely-there coverage to a more conservative – or full bottom – coverage. 
You can also opt for bottoms that have a skirt for additional coverage. Or you can pick some swim shorts instead!
3. Fit
When picking a tankini, it's ideal to pick one that fits best on your body. In that, it's comfortable and moves with you.
No swimsuit should rub, chafe, or pinch you while you're wearing it. If it does, then it's not the right fit or size for you. And you should consider either a different suit or another size.
At the same time, the straps shouldn't be so loose that they slip off your shoulders. Just as the bottoms shouldn't fall off your hips!
More Content for You: The 6 Best Earplugs for Swimming
We recommend moving around when you try your tankini on. Yes, it sounds (and may look) ridiculous. But it's the best way to see how the suit moves with you before you clip the tags.
Not sure how to test this? Try some of these actions/moves to put your suit through some motions. They won't win you any dance prizes, but it'll give you a good idea of how the suit fits 🙂
Jump around to see if anything pulls or slides off
Reach up and down to see how the fabric moves with your body
Lean forward and check that your breasts won't spill out
Squat down and sit to check the wedgy factor
Wave your arms around (yes, all around) to see if the straps rub anywhere or if they constrict your movements any
This isn't a complete list and if you feel you should try a certain move, then go for it!
Remember that your suit will get slightly looser once you get into the water. And that over time, the material will stretch some. 
4. Material
Chlorine and saltwater aren't the kindest to swimsuits. They'll eat away at the material of the suit so that the color fades, the fabric stretches/loses its shape, and the elastic becomes brittle.
Related article: How to Make Your Swimsuit Last Longer
Some material will last longer against chlorine and can hold up for more than a year of daily use. Other materials may only last a few months based on the use. 
Depending on how frequently you'll be in the water, it's a good idea to pick a swimsuit that will last. 
Swimsuits usually come in polyester or a blend of materials, such as nylon and lycra.  
A 100% polyester swimsuit is much more chlorine resistant than a nylon and lycra suit. Just as Lycra Xtra Life will last longer than suits made of Spandex.
If you plan to be in the water frequently, it's best to look for a tankini with fabric that will hold up to multiple uses.
Tankini FAQ
Is a Tankini a One or Two-Piece Suit?
A tankini is technically a two-piece suit, as shown by the individual top and bottom pieces. But the extra fabric and coverage can make it appear as a one-piece, hence some of the confusion.
While it is considered a bikini, you can consider it a one-piece if it makes you feel more comfortable.
Related article: What to Look for in a Women's One Piece Swimsuit
What's the Difference Between a Tankini and Bikini?
The tankini is a style of bikini. The main difference between the typical bikini and a tankini is the amount of coverage. Tankinis cover the stomach and more of the ribcage than a bikini does. 
However, like bikinis, tankinis come in many style choices. The tops can feature a back that's more open for fewer tan lines or more closed for a tighter fit. Just as the front can come up high on the neck or scoop a bit lower.
One of the great things about bikinis and tankinis is the near-endless amounts of options that you have.
Are Tankinis Sold as a Set?
Typically, they're not. Most stores will have them priced separately, meaning you'll need to pick up a top and a bottom piece. In some ways, this can be frustrating and seem more expensive. 
But at the same time, it's something that works for most women. 
Some women may need a different size for each piece of the tankini. By picking your own pieces, you can find the fit that works best for you. And you can mix and match colors or patterns!
More Content for You: How to Fix Common Swim Goggle Problems 
Being able to find a suit that fits perfectly across the body is one thing that a one-piece can't do. Which can lead to frustration for some women.
What Body Type Looks Good in a Tankini?
Any body type can rock a tankini! 
Because tankinis have so many cuts, styles, and ways to fit bodies, finding a tankini to fit your body tight comes down to fit. It might take a bit to find what works best for your body, as everyone is different.
Some suggestions are:
Wearing a bikini bottom with a high cut to make your legs look longer
Opt for a tankini with an underwire for the maximum support if you have a full chest
Or, a bra shelf if you want a bit more push 
Some tankinis offer slimming material built into the stomach piece if you're wanting less attention on your stomach
Swim skirts can help give your hips a flirty flair while offering more coverage
What Are The Best Options for the Bottom Piece of a Tankini?
Admittedly, we're biased when we say that the bottom piece should have a good drawstring to keep it in place. But we believe that's the first thing to look for in a bikini bottom.
If you're wanting more coverage, something with a full and low cut will be the best bottom piece for you. You can also try a swim skirt or shorts for more coverage.
More Content for You: 8 Best Swim Parkas for Swimmers
For someone not concerned with coverage, you can pick your favorite bikini bottom. One good thing about tankinis is that two-piece bottoms pair well with tankinis. 
Who Wears a Tankini?
Anyone can wear a tankini! They're not limited to a certain age group or activity. 
They can be great for younger kids who want to wear a two-piece but their parents aren't ready for a traditional bikini. Just as a woman of any age can wear them with peace of mind that she's in style, feels comfortable, and looks beautiful!
Like most bathing suits, tankinis don't really go out of style.
The cuts and styles may change, but the suit itself will stay around for a while. Mainly thanks to how accommodating and versatile the bathing suit is.
In Closing
Probably one of the most underrated swimsuits, the tankini holds its place as a staple for many women's closet. With its flattering styles and cuts, to the offered coverage, tankinis are a swimsuit that every woman should own!
---
Bonus Content
Basic Swimming Terminology: Knowing some swimming terminology, or swim terms, will help you navigate the swimming world. Here are 25 common swimming terms to get you started.
7 Common Swimming Myths: Think you know the answer to some of these myths that surround swimming? Let's debunk these 7 common swimming myths.
---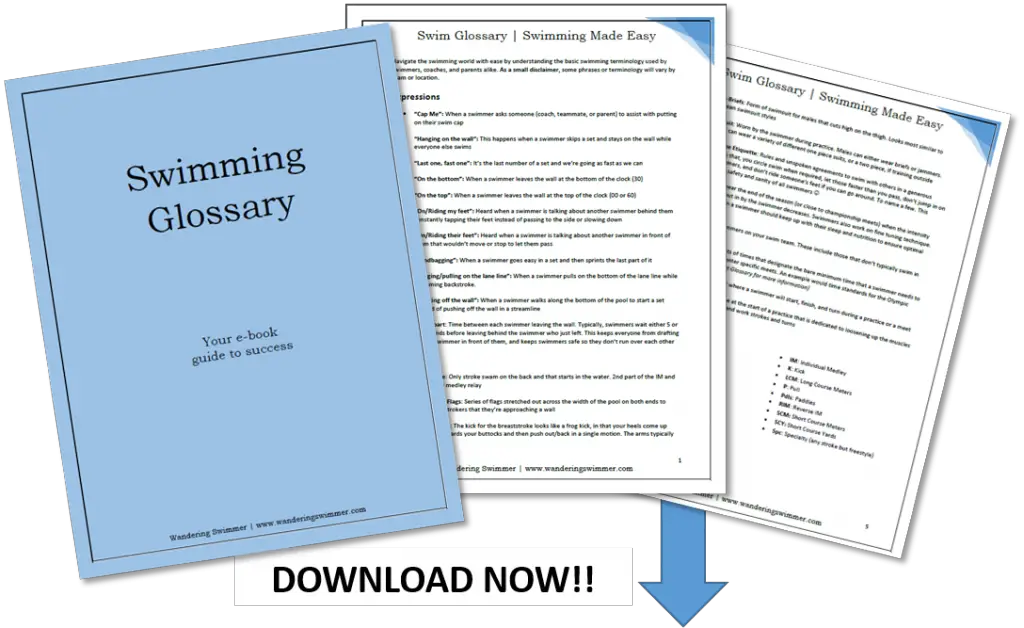 Want to Improve at the Pool?
Join swimmers and swim parents to receive my free newsletter and receive a free Swimming Glossary e-book as a thanks!
Every month you'll receive tips and coaching to help you find success at the pool.
---
About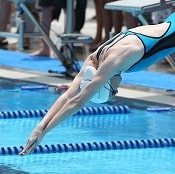 Chevron is a current competitive swimmer with almost 20 years of experience in the pool. And although she fell into the sport by accident in her high school years, she still trains daily and competes throughout the year. She's committed to providing guidance to all levels of swimmers and believes that everyone should know how to swim.