When it comes time to look for a one-piece swimsuit, you have hundreds of options to choose from. From suits best for lap swimming to ones for fun at the beach. You have no shortage of options.
Truly, the hardest part of getting a new swimsuit is picking the best one!
We break down the women's one-piece swimsuit, including what to look for, the best fit for you, and some pros and cons of this iconic swimwear.
Disclosure: This post may contain affiliate links, meaning we earn a small commission at no cost to you if you purchase something through one of our links. As an Amazon Associate, we earn from qualifying purchases. Please check out our disclosure page for more information.
Before we start, we will leave our beliefs: 
Ultimately, what you look for in a swimsuit is 100% your choice. This is only meant as a guide to help get you started. And is by no means a hard and fast rule.
If you find a suit that's more 'fashion' compared to 'athletic' and you want to swim laps in it, go for it! 
At the end of the day, a swimsuit is there to allow you to get into the water. Everything else is just embellishments. 
A swimsuit should be comfortable. And it should make you feel confident, powerful, and ready to take on the world. And if it makes you feel sexy and attractive, that's okay too!
So go ahead and rock whichever swimsuit style and design you like best. You're a rockstar in our books no matter what! 🙂
Understanding Women's One-Piece Swimsuits
Like many things in life, not all things are made equal or the same. And this includes women's swimsuits.
The one-piece swimsuit comes in dozens of different styles, designs, and cuts. And has at least half a dozen functions that women can utilize it for. 
Hence the vast differences between swimsuit styles.
From lounging and tanning at the pool or beach to swimming laps or training for competition, women's swimwear comes in a wide selection.
And one-piece swimsuits can fit pretty much any water activity. 
Here's a quick breakdown of women's one-piece swimsuits from most athletic to recreational styles.
Practice suits: Geared more towards competitive swimmers and divers. Built to reduce drag for both training and competing
Wetsuits: Designed more for triathlons, open water swimming, and surfing. Especially in cold water. They're not best for pool or casual swimming.
Lap swimsuits: Similar to practice suits but can be designed for more comfort and support for women
Active/Fitness swimsuits: Best for water exercises, such as water aerobics or jogging. These can be more conservative in cut and design
Maternity swimsuits: As the name implies, these suits are designed for expecting mothers. 
Recreational swimsuits: For fun in the sun, recreational suits combine fun, flirty, and fashion. Some styles aren't the best for lap swimming or water exercise but based on your comfort in the suit, you can still swim laps 
For a more detailed guide to women's swimwear and the various kinds/uses, check out our article: Ultimate Guide for Women's Swimwear
What to Look for in a Women's One Piece Swimsuit
Ready to pick out your next swimsuit but don't know what to look for in one? Here are 6 things to consider in a one-piece swimsuit. And how to find the perfect swimsuit for you.
1. Use
The first thing to consider when looking for any type of swimsuit is its use. What or how do you plan to use your one-piece?
Not all one-piece swimsuits are made the same. 
Those that are more fashion-forward, fun, and flirty won't hold up well to lap swimming. Conversely, swimsuits for training can be uncomfortable to wear all day.
That said, when looking for your next one-piece suit, keep in mind its purpose. And start your search there.
For more active and training swimwear, your best bet is to check dedicated swim shops. These stores cater to a wide variety of water lovers, but their search features allow you to pick the right suit.
Shops such as SwimOutlet carry thousands of suits from practice and active, to recreational. Use their filters on the page to narrow down what you want in a suit. And you'll have your perfect suit in no time!
2. Coverage/Cut
It might surprise people, but one-piece swimsuits can range from classic coverage to a bit more open and risque. 
When you're looking at your next one-piece, you should have an idea of the amount of coverage you like. 
Every woman has a preference for the type of coverage they want for their body. And it's something important that you should consider. As you want to feel comfortable and confident in what you're wearing! 🙂
In terms of swimsuits, coverage can mean the amount of coverage for the chest, back, hips, and bottom. There's a lot more to look at than you think!
Chest coverage: Necklines can either come up high to the neck (high neck style) or dip lower to the breasts (scoop neck or V neck styles). 
Back coverage: If you're looking to cover most of your back, an Racerback or Scoop Back styles are best for this. They typically come up at least to your mid-back. For a more open back, Micro Back and Tie Backs are some of the most open styles. 
Hip coverage: Swimsuits can't exactly cover your hips. But certain styles cut high on the hips, exposing them more. While others cut lower. Some may also have a skirt attached to help provide more coverage
Bottom coverage: For the most conservative bottom coverage, opt for full bottom coverage. If you want less coverage, look for minimal or cheeky bottom coverage.
Because of the many different styles, the best way to pick out the type of coverage that you want is to use the filters listed at online in stores such as SwimOutlet. As the options listed above are only a small amount of what's truly available.
This can help you find and narrow down your suit to exactly what you want!
3. Back Style
When it comes to the back options of a one-piece swimsuit, you have at least a dozen options. From barely there to a more conservative coverage.
Back style can go hand in hand with the use of the suit. 
Mainly because back styles that cut lower may slide off the shoulders easier when swimming. And they may also provide less chest support. 
Related article: Swimsuit Back Styles Explained
At the same time, certain tie-back suits can also provide less chest support. Depending on where and how the suit ties. 
While you can swim in these types of lower cut or tie-back suits, just make sure you check the fit of the straps to ensure you're comfortable.
If you're wanting a back style that offers more support, racerback and V-back swimsuits are the best options. 
These types of suits have more coverage on the back, leading to extra support and straps that won't move.
4. Material
Chlorine and saltwater aren't the kindest to swimsuits. They'll eat away at the material of the suit so that the color fades, the fabric stretches/loses its shape, and the elastic becomes brittle.
Related article: How to Make Your Swimsuit Last Longer
Some material will last longer against chlorine and can hold up for more than a year of daily use. Other materials may only last a few months based on the use. 
Depending on how frequently you'll be in the water, it's a good idea to pick a swimsuit that will last. 
Swimsuits usually come in polyester or a blend of materials, such as nylon and lycra.  
A 100% polyester swimsuit is much more chlorine resistant than a nylon and lycra suit. However, this can make the suit a bit tighter and it may not have as much stretch compared to other suits.
For some women, this can make the swimsuit uncomfortable to wear for long periods. And they'd rather select a more comfortable blend of nylon and lycra.  
We will note that in time, the polyester material will stretch a bit more with use. But it will still retain its shape.
If you're going to use your suit daily – or if you're wanting your swimsuit to last longer – look for swimsuits that are labeled as 'chlorine resistant.' Speedo swimsuits in particular market these as Endurance+, and they're one of my swimsuits of choice for practice. 
5. Support (aka the Bra)
Yes, swimsuits can have bras built into them! From a shelf bra to an underwire bra, you have at least half a dozen options available to you. 
If you need the support, a swimsuit with a built-in underwire is your best option. This will help give you the support that you need while still being comfortable. Or as comfortable as a bra can be 😉
More Content for You: Can You Swim With Long Hair?
Swimsuits also have soft cups that either come built into the swimsuit or can be removed. Soft cups will provide a bit more coverage for your breasts and smooth out the fabric. And avoid any unwanted nipple exposure.
For less support, you can look for a swimsuit with a lined shelf bra. Which will provide the minimum amount of support. 
6. Fashionable
Whether you're in the water for training, fitness, or recreation, you want to look for a swimsuit to match your style. And you want it to look nice.
The good news is that there's no shortage of patterns, designs, or solid colors to select your next swimsuit from. Some one-piece swimsuits come in solid or color block patterns, which some women find more slimming.
Other swimsuits, especially practice suits, can feature some really fun designs. From geometric and graphic designs to animal prints and random patterns. 
More Content for You: Swimming on Your Period FAQ
We love the variety that comes with one-piece swimsuits in terms of fabric design. They allow you to match your swimsuit to your style and preference. And sometimes, make a bold statement. 
Swimsuits can also come with accessories, such as ruffles, ruched fabric, or pieces of jewelry. These can help emphasize the design of your one-piece, along with your silhouette.
We will note that lap swimming or doing water aerobics with these extra accessories can make movement a little difficult. Ruffles aren't the most aerodynamic when in the water. Even if they do add a nice flare to your swimsuit.
Just as any chains or dangling jewelry pieces may catch on equipment or lane lines. And gross as it will sound, they're also ideal at collecting hair floating in the pool. 
That said, this doesn't mean that you shouldn't go with these types of one-piece swimsuits. Only that you should keep these things in mind so you don't have any surprises in the pool 🙂
One Piece Swimsuit FAQ
How to Find the Perfect Fit for a One-Piece Swimsuit 
Trying on swimsuits can be a pain. One size might fit with one brand or style, but the same size won't fit with a different style. 
One of the ways to find the perfect fitting swimsuit is to take your time. And try not to get too frustrated. Which, we know, isn't always easy.
So how does one find the perfect swimsuit?
Fit
Start with how it feels. Both in terms of fabric and how it feels on your body. 
Swimsuits shouldn't be uncomfortable. They shouldn't dig into your shoulders or hips. And they shouldn't rub or chafe around the seams. If your swimsuit does this, you're better off getting a new one.
More Content for You: 6 Best Prescription Goggles for Swimming + FAQ
To test how your swimsuit feels, move around with it when you try it on. 
Squat down, bend over, sit down, twist and stretch, lift your arms, and swing them around. This can give you a decent idea of how the suit will (or won't) move with you.
Check the tightness in your straps, too. 
The straps on a swimsuit are like the straps on a bra. They shouldn't be so loose that they slip down. But they shouldn't dig into your skin either. Instead, they should be just tight enough to keep everything in place. 
A good test is to tug a bit on the straps and see how much give they have. 
You should be able to slide at least 1-2 two fingers between the strap and your skin. If you can't pull the strap up from your shoulder, it's probably too tight and you should try the next size.
Support
It's also a good time to see how the support is in your chest. 
The perfect swimsuit won't compress your chest so much that it hurts to breathe. But they should also support your breasts in a way that's comfortable for you.
Once you've found a suit that fits this requirement, make sure it also fits your chest. 
Bend forward and see if everything stays in place. Your suit size might be too small if your breasts start to come out. However, the amount of coverage/cleavage you're comfortable with is up to you. 
Coverage
The amount of coverage you want is another thing to consider. The perfect swimsuit will have the right coverage in all the places you want it. 
If the bottom rides up or shows too much cheek, you'll want to look at a different style. Such as a swim dress or suit that's considered 'full coverage'. 
More Content for You: 8 Reasons Your Swim Cap Slides Off
Again, move around in the suit when you're trying it on. You might feel silly but this is the best way to determine how the suit will move with you.
The bottom or top might fit right when you're standing still. But it may move around or ride up as you walk or sit down.
Wearing thinner underwear or a thong is the best way to get a gauge on how the bottom will fit. 
And yes, you should always wear underwear when trying on swimsuits. Just a PSA 😉 
High-necked swimsuits can cover any cleavage that you might not want to show. They may also provide a bit more support, too!
How do I go to the Bathroom in a One-Piece Swimsuit?
Trying to go to the bathroom in a bathing suit is a pain. Specifically, if the suit is already wet. It's hard to take off and even worse to put back on.
So how do you go to the bathroom in a one-piece swimsuit?
You can always do what competitive swimmers do and pee in the pool 😉
If you're not overly fond of that idea, the best option is to pull the bottom to the side (towards your leg) and go to the bathroom that way. This will pull the fabric away just enough that you won't hit your hand or the fabric.
You can do this squatting or sitting. 
If you need to have a bowel movement, you'll want to ensure you're pulling the entire bottom piece to the side. 
More Content for You: How Many Calories Does Swimming Burn?
We recommend trying the motions at home where you're most comfortable. This can help you get a feel for how much needs to be pulled to the side. And you won't be scrambling at the last minute when you really need to go!
What's the Best Way to Take Care of Your Swimsuit?
We always recommend that you rinse out your swimsuit directly after your swim. Use cold and clean water to do this. As hot water can ruin the fabric quicker.
If you can, don't shower in your swimsuit either. The chemicals in shampoo and soaps might shorten the lifespan of the fabric, too.
Lastly, let your bathing suit air dry on a flat surface. Letting it drip dry will make the suit lose its shape. And sticking it in the dryer can damage the elastic. 
For more tips and details on caring for your swimsuit, be sure to check out our article: How to Extend the Life of Your Swimsuit
10 Reasons to Love a One-Piece Swimsuit
Still not convinced you should get a one-piece suit. We have 10 reasons why you should get a one-piece swimsuit. Or at least have one as an option to wear 🙂
One-piece swimsuits are flattering!
They can also be slimming 
And they can accentuate your figure
Despite what some people may think, they're always in style
They're classy, elegant, refined, and sexy
One-piece swimsuits offer more sun protection 
Don't have to worry about anything falling off!
Dozens of different styles, cuts, and designs to fit your body type and personality
Pair with shorts or a wrap for a new look when out at the beach/pool
They're great for any type of water activity 
5  Reasons to Dislike the One-Piece
Despite the reasons to like a one-piece, we'll admit there are a few reasons to dislike them too. And in the spirit of impartiality, we have 5 disadvantages to the one-piece suit.
Not always the easiest to find the right fit
The extra fabric around the stomach can make you warm
The stigma that one-piece swimsuits are 'old-fashioned' or not as attractive as bikinis
More tan lines
Harder to go to the bathroom
Related articles: How to Pick a Two Piece Swimsuit and What is a Tankini (And Why You Should Have One)
In Closing
One-piece bathing suits are an often underrated piece of swimwear. They're incredibly versatile in their uses and can be worn for nearly every water activity. Making them the perfect swimsuit for anyone!
---
Bonus Content
How Many Laps in a Pool is a Mile? Many people have a goal to swim a mile and want to know how many laps it takes. Here's how many laps are in a mile and how to count all those laps.
How to Pick the Right Swim Goggles for You: When it comes time to pick the right swim goggles, you might feel overwhelmed. Consider these 4 things the next time you're looking at goggles.
---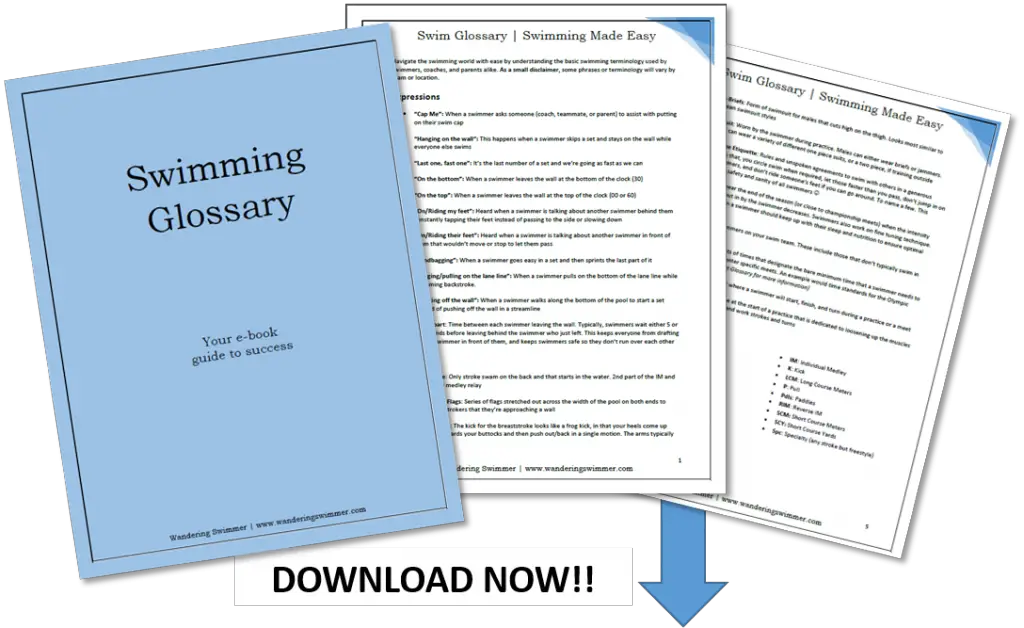 Want to Improve at the Pool?
Join swimmers and swim parents to receive my free newsletter and receive a free Swimming Glossary e-book as a thanks!
Every month you'll receive tips and coaching to help you find success at the pool.
---
About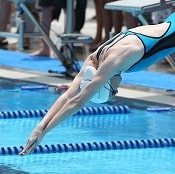 Chevron is a current competitive swimmer with almost 20 years of experience in the pool. And although she fell into the sport by accident in her high school years, she still trains daily and competes throughout the year. She's committed to providing guidance to all levels of swimmers and believes that everyone should know how to swim.