When it comes to swimming gear, paddles are one of my favorite pieces of gear to train with. And while I train with a wide variety of paddles, FINIS' Freestyler Paddles are one of my top 3 favorite paddles.
As the name implies, this swim paddle is meant for developing and working the freestyle stroke. But I have used it for my butterfly stroke too!
More Content for You: Swim Gear and Gift Guides
Want to know if this paddle is for you? Keep reading to get my full breakdown and thoughts on FINIS' Freestyler Paddles.
Disclosure: This post may contain affiliate links, meaning we earn a small commission at no cost to you if you purchase something through one of our links. As an Amazon Associate, we earn from qualifying purchases. Please check out our disclosure page for more information.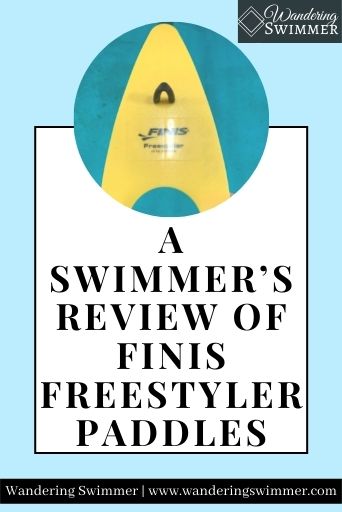 Overall Paddle Design
Next to other swim paddle designs, FINIS' Freestyler Paddles are very different. Most of this is because these paddles are specialty paddles, specifically to work the freestyle technique.
The only thing in common FINIS Freestyler Paddles share with most other paddles is that they're flat, non-contoured paddles. Aside from that, they're quite different.
Related article: The 7 Best Swim Paddles for Swimming
Compared to other paddles, which can be larger and wider, these paddles are cut like a thin triangle with a curve at the back for the wrist. This gives it a hydrodynamic shape, which decreases resistance through the water and helps prevent shoulder pain
The bottom also features a small dorsal fin (or Skeg) to focus on technique. 
This additional piece is something most paddles do not have but it's an important little feature. As it provides instant feedback for your streamline and hand entry.
And when I say instant, I mean instant.
If your hand enters the water incorrectly, the paddle will make your hand dive straight down. Or it may send your arm pushing out to the side.
There is only one set of rubber tubing for your finger, which goes on your middle finger. For those used to tubing around the wrists, this can be a bit of an adjustment. 
Together, the design of these paddles helps improve the distance per stroke and encourages a strong pull-through.
Size
These paddles come in two different sizes: junior and regular. And for the most part, the regular can fit most hand sizes. The junior option is best for younger kids, older Masters swimmers, or those with smaller hands.
FINIS Freestyler Paddles only come in yellow for the regular paddles and white for the junior. The dimensions are as follows:
Because there are only two sizes, you can't size up past the regular size.
However, it's important to note that the FINIS Freestyler Paddles are designed for technique. Not for building strength or speed work. For this reason, there's no need to have additional sizes. 
If you're wanting a larger size paddle to build strength, it's best to get a regular paddle that's designed for resistance. 
Related article: A Swimmer's Review of Speedo's Power Paddle Plus (coming soon)
I use the regular size (yellow), which measures 11" in length. For reference, my hand measures about 7.5" from the top of my middle finger down to the end of my palm. 
This is just the right size so that my wrist fits in the curve at the bottom and I have space at the top of the paddle for my fingers. I also have about an inch or so of the paddle on either side of my hand.
Resistance
Because FINIS Freestyler Paddles are for technique rather than pulling more water and building strength, they don't have much resistance. 
The triangular design is large enough just for your hand with a little excess around the edges. Just as the hydrodynamic design cuts cleanly into and through the water.
But compared to other paddles, the small excess isn't much when it comes to resistance.
Again, this paddle is for technique. And you shouldn't plan to use it for building strength. 
If you're wanting a paddle strictly for resistance and building strength, I suggest looking at a different paddle. Such as Speedo's Power Paddle Plus, Sporti Power Paddles, or Strokemaker Paddles.
These paddles come in various sizes that can provide more resistance. 
Material
Despite the small size, these paddles are made of hard plastic and can withstand some hard swimming. They can also hold up to speed work without bending. 
The straps are made of rubber, similar to most swim paddle straps. 
Swim paddle straps can last from a few months to a year or so, depending on how you treat them. As chlorine can eat away at the material. Just as constant exposure to sun and/or heat if you leave them outside.
To keep your straps lasting longer, dry off your paddles after practice. And store them somewhere dry where it's not too hot or cold. Keep them in your swim bag instead of a gear bag so the rubber stays dry when not in use.
Related articles:
I did break a set of straps once by pulling too hard on the rubber when I was tightening the strap. But aside from that, they're pretty durable little straps 🙂
If you do break a strap, you can opt for a replacement straps from Sporti.
Just remember to cut the tubing at an angle to make it easier to insert into the paddle.
Ease of Use
Most swim paddles are pretty easy to use. FINIS Freestyler Paddles, however, come with a bit of a learning curve. In my opinion. 
Some of this comes from the lack of a wrist strap, which some swimmers struggle with. This is on purpose, as this forces the swimmer to follow through with their stroke and watch where they exit the water.
Based on where they exit, the paddle will catch the water and it can be pulled off the hand. 
Another area that causes some trouble is the skeg design. 
More Content for You: 6 Best Prescription Goggles for Swimming + FAQ
The skeg design helps swimmers focus on their entry and the pull of the stroke. If the entry isn't correct, the paddle will send the hand/arm either straight down or off to the side.
This can be extremely frustrating until you find the stroke pattern that works for you.
However, the reward is less stress on your shoulders and a faster, stronger pull. And once you've fixed your stroke, they're much easier to use.
While I wouldn't call these 'advanced' swim paddles, as I believe younger swimmers and even beginners could use them, those new to swimming should expect a bit of a learning curve with them.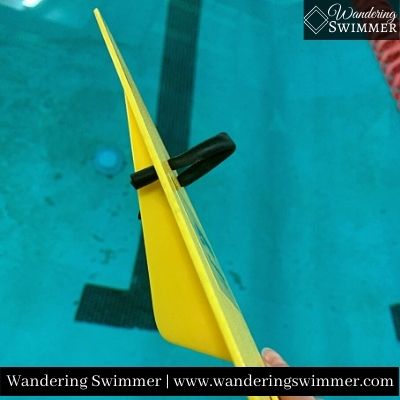 The Straps
One thing to note is that the paddles do not come assembled. The straps are provided, but you'll need to thread the straps into the paddle directly. To make it easier to thread, cut the tips of the straps at an angle.
Each paddle only has one strap, which can be adjusted to fit any finger size. There's only one place to set the straps, compared to others such as Strokemaker, Speedo Nemesis Paddles, and Speedo's Power Paddle Plus.
I've only ever worn these paddles with the strap around my middle finger. As it puts my hand right in the center of the paddle. I don't believe you can use a different finger as it could mess up the balance.
Some may find that the lack of options on where to place the strap is a negative feature. Although, if I'm honest, there's not much space to put other options 🙂 
More Content for You: The 7 Best Swim Shampoos to Remove Chlorine
Most swimmers dislike the lack of a wrist strap, as it's a bit of a security feature in keeping the paddle secure. Even when the stroke isn't correct.
For me, I've always swam with paddles without a wrist strap, so it doesn't bother me. If you haven't swum without a wrist strap before, don't let the lack of one intimidate you. It's not nearly as difficult as other swimmers make it out to be!
Price
When it comes to price, FINIS Freestyler Paddles run middle of the pack out of all paddles. Considering they're specialty paddles and not regular ones, I think they're a good price for all that they do.
And because they're made from some good material, I expect that they'll last for several years. Provided they're not thrown around or crushed 😉
Also, with only one strap per paddle, there won't be as many straps to replace compared to other paddles with dual straps.
Weighing the Pros and Cons
Pros
There's a lot that I like about FINIS Freestyler Paddles.
Although it's a bit different from regular swim paddles, the design and ability to hone in on the freestyle technique are excellent. 
It provides quick feedback to help you adjust your stroke so you're pulling more water. And it can help lessen shoulder strain.
Plus, the thicker plastic ensures that it won't bend while you're swimming. And you can use it for several years.
What We Like in Review
Durable and hard plastic makes for a strong paddle
Quick feedback to correct stroke
Works technique and helps develop the freestyle stroke
Can reduce shoulder stress by correcting the stroke
Available in a smaller size so younger swimmers can use them
Can be an additional paddle for stroke work in addition to regular paddles
Cons
For me, these swim paddles have no cons. As stated earlier, these are some of my favorite paddles to use.
That said, there are a few cons that may apply to other swimmers. The lack of a wrist strap may be daunting for those swimmers used to the extra strap. Just as the learning curve may frustrate others.
What We Didn't Like In Review
Not as easy to use as other paddles
A bit of a learning curve to figure out
Lack of a wrist strap
Only two sizes
No resistance/not meant for building strength
Other Paddle Options
If you don't think FINIS Freestyler Paddles are for you, that's okay! The good news is that there are at least a dozen or so paddles available. Each one with a different feature or purpose geared towards various swimmers.
Some other options to consider are
Arena Elite Finger Paddles: These are another set of specialty paddles that focus more on correcting your stroke than building strength or speed. They also help improve your stroke entry and provide quick feedback if you're doing something wrong
Speedo Power Paddle Plus: For a more rounded and general use paddle, Speedo's Power Paddle Plus is a good option. Its larger surface area provides greater resistance and is ideal for pulling water and building strength as you swim
FINIS Agility Paddle:  Another specialty paddle. This paddle features no straps. Only a single slot to place your thumb. This enables you to focus on your catch and pull. It is on the smaller side, so it offers less resistance and is more for technique work than anything else
FINIS Freestyler Paddles Final Thoughts
I think we can all agree that I like using my FINIS Freestyler Paddles 🙂
They're a great paddle that's simple in design, yet that same design sets it apart from the rest. It has a goal more to focus and correct your stroke than to strengthen it. 
But sometimes we need to slow down and work technique over speed.
I believe this paddle can be used by any level swimmer. But those new to swimming may find the learning curve a bit frustrating. Even if the benefits are worth the struggle.
If you'd rather stick with a more classic paddle, we recommend Speedo's Power Paddle Plus or Strokemaker Paddles. These are both well-designed paddles built for developing and strengthening your stroke.
Lastly, if you know someone who uses swim paddles, ask if you can try them for a few laps. And get their opinions on them. This can help you narrow down what you're looking for.
As always, happy swimming!
– Chevron
---
Bonus Content
A Swimmer's Review of Arena's Team Line Parka: Parkas aren't just for competitive swimmers. Anyone can use them as a means to stay warm in cold weather. One such parka is Arena's Team Line Parka.
The Best 11 Kickboards for Swimmers: Kickboards come in all shapes, sizes, and materials. Finding the best kickboard for you might seem easy enough but which is the right one for you?
---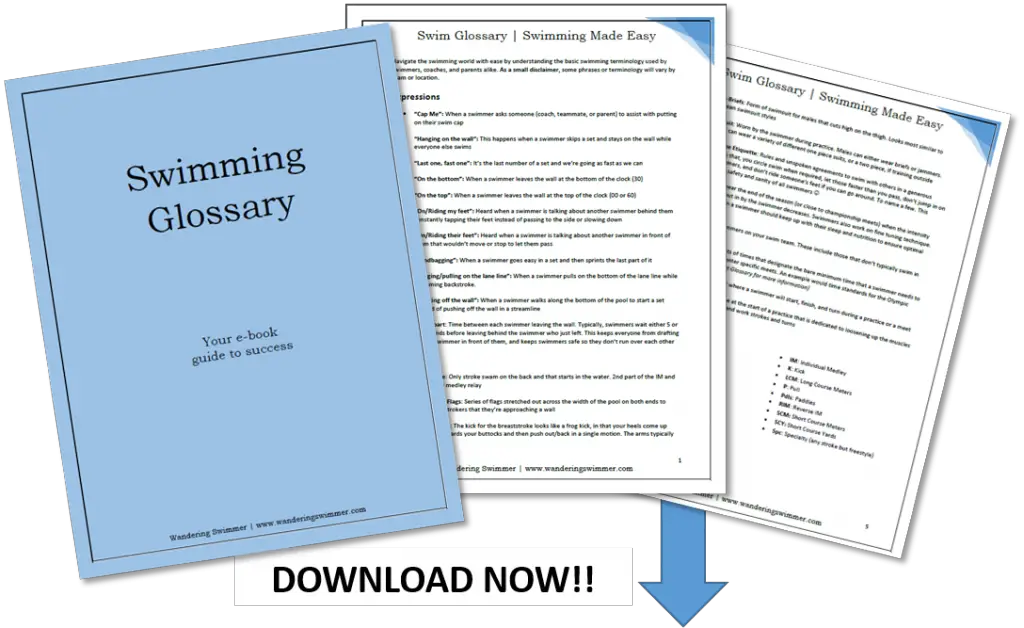 Want to Improve at the Pool?
Join swimmers and swim parents to receive my free newsletter and receive a free Swimming Glossary e-book as a thanks!
Every month you'll receive tips and coaching to help you find success at the pool.
---
About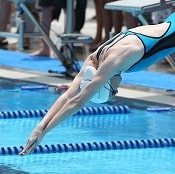 Chevron is a current competitive swimmer with almost 20 years of experience in the pool. And although she fell into the sport by accident in her high school years, she still trains daily and competes throughout the year. She's committed to providing guidance to all levels of swimmers and believes that everyone should know how to swim.