The two-piece swimsuit or bikini is a classic staple for summer. Wear them at the pool, the beach, or the lake. But how do you pick a two-piece swimsuit that's best for you?
Finding the right bikini is something most women dread. If only because there feels like you have so many things to consider. 
Related article: What is a Tankini? (And Why You Should Have One)
While this guide isn't about finding the right bikini for your body or body type, it will give you four things to consider before you pick a two-piece swimsuit. Based on the styles and coverage available. And your comfort level with each of these.
We'll break down this summer favorite from top to bottom. And answer some questions along the way 🙂
Disclosure: This post may contain affiliate links, meaning we earn a small commission at no cost to you if you purchase something through one of our links. As an Amazon Associate, we earn from qualifying purchases. Please check out our disclosure page for more information.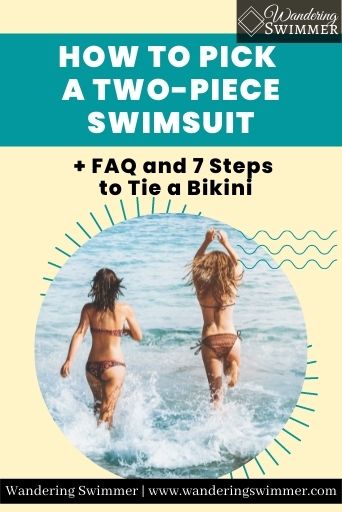 Before we start, we will leave our beliefs: 
This is only meant as a guide to help get you started.
At the end of the day, a swimsuit is there to allow you to get into the water. Everything else is just embellishments. 
Pick what you like best. Whether you want to swim laps in a more fashionable suit. Or show off a more athletic style at the beach! It's always 100% your choice. And there's no one rule that you have to follow. 
A swimsuit should be comfortable. And it should make you feel confident, powerful, and ready to take on the world. And if it makes you feel sexy and attractive, that's okay too!
So go ahead and rock whichever swimsuit style and design you like best. You're a rockstar in our books no matter what! 🙂
Understanding the Two-Piece Swimsuit
Despite what most women think, bikinis aren't just for recreation. While a large bulk of two-piece suits are geared towards style over activity, you can find bikinis now that can stand up to highly active water activities. 
Because of this, it's important to pick the right two-piece swimsuit for you.
From tanning at the pool or beach to swimming laps or training for competition, women's swimwear comes in a wide selection.
And two-piece swimsuits can fit pretty much any water activity. 
Here's a quick breakdown of women's swimwear from most athletic to recreational styles.
For a more detailed guide to women's swimwear and the various kinds/uses, check out our article: Ultimate Guide for Women's Swimwear
How to Pick a Two-Piece Swimsuit
1. Use
The first thing to consider when looking for any type of swimsuit is its use. What or how do you plan to use your two-piece bathing suit?
While you can swim in nearly every type of two-piece, we'll note that not every bikini is best designed for swimming. Frills and ruffles on suits look cute. But they can add drag when you're swimming.
More Content for You: Swimming Basics to Get You Started
Just as some suits don't have proper ties or elastic on the bottom piece. Meaning it's more likely to fall off if you're not careful. The same goes for the top piece, too.
That said, when looking for your next two-piece suit, keep in mind its purpose. And start your search there.
Shops such as SwimOutlet carry thousands of suits from practice and active, to recreational. Use their filters on the page to narrow down what you want in a suit. And you'll have your perfect suit in no time!
2. Picking the Right Two-Piece Top
Bikini tops aren't just limited to a few choices anymore. Now you can get two-piece tops that have a fixed back or a tie back. And you can pick the style in the front based on the amount of coverage that you want.
Related article: Swimsuit Back Styles Explained
Each of these things can help you pick a two-piece that's most comfortable for you.
Fixed back vs Tie-back
The backs of the two-piece typically come in two styles:
Fixed back: As the name implies, this style is more permanent and you can't make adjustments. In a way, you can call it pre-assembled. There's nothing to tie (or untie) and a lot of these bikini tops can almost double as a sports bra. This style is great for those who don't want to fight with tying straps all the time or worry about the tie coming undone
Tie-back: Unlike the fixed back style, the tie-back allows you to make adjustments to the straps. And you can almost consider it as 'needs some assembly' 🙂 One of the benefits of a tie-back two-piece is that you can make the suit as tight or loose as you'd like. It also reduces tan lines.
It's important to note that no style is better than the other. Picking the right back style for you comes down to preference and how you plan to use the top. 
We will note that tie-back tops aren't limited to just tanning at the pool. A lot of styles now make two-piece tops that can handle training and activity. 
Front-Style and Coverage
You wouldn't think it, but the front of a two-piece top comes in numerous different styles. Of which, those styles can range from conservative to those that offer less coverage.
What style you want to pick can depend on what you're most comfortable wearing. 
Triangle tops are typically the most common style for bikini tops. They also offer the least amount of coverage and support. 
More Content for You: 7 Reasons to Wear Goggles When You Swim
If you want more coverage for your two-piece top, you can consider a high neck bikini top for the most coverage. As the name suggests, the top of the suit comes up higher on the chest, closer to the neck. 
For something in the middle, scoop necks are a good option. They mostly resemble sports bras in their design. Which can make some women feel more comfortable with the coverage and support.
Support
For some women, support is an important detail that their bikini must have. 
Those with a larger bust may want to look at a two-piece top that has a thicker and wider bottom band to help provide extra support. A fixed back may also offer needed support, as the fixed straps are tighter than tie-back straps.
You should also look for a top that has a built-in underwire or suits that offer a 'shelf bra'. These can function similar to a bra while still maintaining the classic bikini top.
Women with a smaller bust can also consider suits that have underwire or a shelf bra. As these can help provide support or a bit of push-up.
3. Finding the Right Two-Piece Bottom
The bottom part of a two-piece is a lot like underwear. They can range from a standard bikini bottom to swim shorts/skirts. The choices don't end there, either! 
Two-piece bottoms also have varying cuts based on your preference. You can select a high or low-waisted bikini. Or bottoms that cut high on the hip or come down lower for more modesty. 
Coverage
In addition to the different style cuts, you should consider the type of coverage before you pick a two-piece bottom.
Bottom coverage ranges from conservative (or full bottom), which completely covers your bottom.
More Content for You: Your Ultimate Swim Cap FAQ 
Or cheeky or minimal, which will leave the majority of your bottom exposed. Bikini bottoms may also come in a thong style for those who want minimal tan lines.
For anything between conservative and minimal coverage, look at styles that offer moderate or medium levels of coverage. You may find that these are a good balance.
Drawstrings
Two-piece bottoms made for training will have elastic and drawstrings around the waist. Helping to keep them tight and secure during heavy workouts or activities. 
We like bikini bottoms that offer this feature because it lessens the chance of the suit falling off. And we'll note that anyone can wear these types of two-piece bathing suits. They're not just limited to competitive or lap swimmers.
4. Material
Chlorine and saltwater aren't the kindest to swimsuits. They'll eat away at the material of the suit so that the color fades, the fabric stretches/loses its shape, and the elastic becomes brittle.
Related article: How to Make Your Swimsuit Last Longer
Some material will last longer against chlorine and can hold up for more than a year of daily use. Other materials may only last a few months based on the use. 
Depending on how frequently you'll be in the water, it's a good idea to pick a swimsuit that will last. 
Swimsuits usually come in polyester or a blend of materials, such as nylon and lycra.  
A 100% polyester swimsuit is much more chlorine resistant than a nylon and lycra suit. Just as Lycra Xtra Life will last longer than suits made of Spandex.
If you plan to be in the water frequently, it's best to look for a two-piece with fabric that will hold up to multiple uses.
Two-Piece Swimsuit FAQ
How Do You Keep a Two-Piece On?
Tight strings for the top piece and good elastic for the bottom piece 🙂
In all seriousness, making sure everything is tied tightly is key to keeping your bikini from falling off. Along with checking the knots/straps occasionally to make sure nothing is coming loose.
Have someone tie the back of your top piece if it has straps. Another person can usually pull the strings tighter than you can. 
7 Steps to Tie Your Own Bikini Top
It is possible to tie your own bikini top and keep it tight while doing so. Yes, it's easier to have someone help you. But you may not always have that option. 
If you don't have someone who can tie a bikini top (or they're awful at it), try the following steps that I use to tie any of my tie-back swimsuits. 
Tighten the strings so the bottom part of the top is tight
Cross the strings to form a loose knot on your back
With the knot formed, grab the strings close to the knot and tighten them to your liking

If you suck in your breath just a bit, this will make the strings just a bit tighter when you're done

Inch your fingers back to the knot and tighten more if needed
Start making the bow, while keeping the strings tight. The closer your fingers are to knot while you're making the bow, the tighter you can keep everything
Adjust the tightness as you're tying
Stay calm and if needed, start over. Practice at home until you feel comfortable
Can You Really Train in a Two-Piece Swimsuit?
With the right suit and fit, yes!
Two-piece swimsuits have come a long way for lap and competitive swimmers. 
Before, bikinis weren't the best to swim laps in, as the bottoms would fall off. And even as brands started adding ties, there wasn't a large selection.
More Content for You: How to Count Laps in Swimming
We credit Jolyn for bringing the bikini to the modern-day for lap and competitive swimmers. Their innovative designs made the two-piece ready to take on the heaviest of training. While still being incredibly comfortable and fashionable.
Other brands started following from there and now it's much easier to find a bikini to train or swim laps in.
How Should a Bikini Fit?
Some people will say that a bikini should fit just right, with nothing spilling out or over the fabric. Otherwise, it's not a good fit or it's not the swimsuit for you.
To which we politely say "screw you".
It's nerve-wracking enough for some women to wear any type of swimsuit. Let alone having some societal standard that rarely exists outside of photo touch-ups.
So how should a two-piece fit?
Start with how it feels. Both in terms of fabric and how it feels on your body. 
Swimsuits shouldn't be uncomfortable. They shouldn't dig into your shoulders or hips. And they shouldn't rub or chafe around the seams. If your swimsuit does this, you should move on to the next one.
Next, test how your swimsuit feels.
Move around with it when you try it on. Squat down, bend over, sit down, twist and stretch, lift your arms, and swing them around. This can give you a decent idea of how the suit will (or won't) move with you.
More Content for You: The 7 Best Swim Shampoos to Remove Chlorine
Ideally, a two-piece should be comfortable enough to wear but still tight enough that you don't have to worry about it falling off. 
Remember that your suit will get slightly looser once you get into the water. And that over time, the material will stretch some.
Are Two-Piece Swimsuits Better Than One-Piece Swimsuits?
We don't think so. 
Every bathing suit has its pros and cons. But it doesn't make one swimsuit better than the other. There might be times that someone may favor a one-piece swimsuit over a two-piece. Or vice versa.
Just as one woman may only feel comfortable in a two-piece while another feels more at ease in a one-piece. 
Because of these, we feel that both one and two-piece swimsuits are the same. 
They have benefits and drawbacks. Just as there may be some cases where one style suit is better than the other. 
Related article: What to Look for in a Women's One Piece Swimsuit
What it should come down to though is what you like the most. What makes you feel the most comfortable and confident? 
And keep in mind not to give others a hard time for what they like to wear, especially if it's different from what you wear.
It's hard enough to love ourselves and our bodies without hearing negative and judgmental remarks from others.
In Closing
Two-piece swimsuits have come a long way for lap and competitive swimmers. Women now have dozens of different options to select from that can best fit their style and comfort level. 
And while picking out the best two-piece swimsuit can be a pain, keep in mind what you like best and you'll find one in no time!
---
Bonus Content
Swimming on Your Period (And Why You Should): Whether you're a competitive or leisure swimmer, it's perfectly fine and normal to swim during your period.
6 Reasons Why You Should Wear a Swim Cap: Swim caps are a necessary evil and swimmers love to hate them. But why should you wear a swim cap and what's the point of them?
---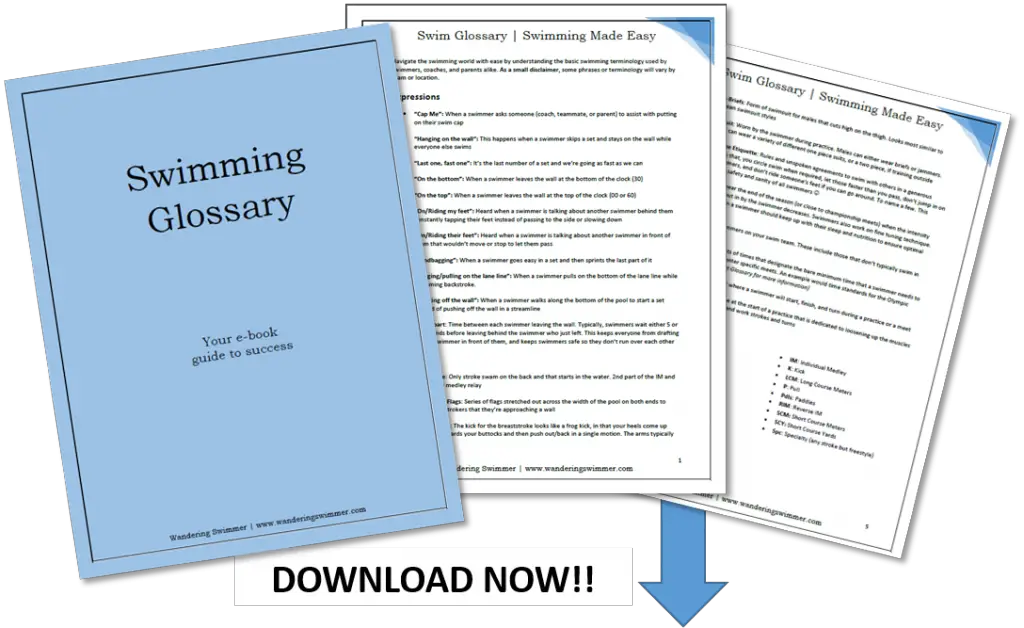 Want to Improve at the Pool?
Join swimmers and swim parents to receive my free newsletter and receive a free Swimming Glossary e-book as a thanks!
Every month you'll receive tips and coaching to help you find success at the pool.
---
About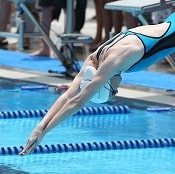 Chevron is a current competitive swimmer with almost 20 years of experience in the pool. And although she fell into the sport by accident in her high school years, she still trains daily and competes throughout the year. She's committed to providing guidance to all levels of swimmers and believes that everyone should know how to swim.