Knowing how to count laps in swimming can make the difference between hitting your swimming goal and missing it. 
There's nothing more frustrating than finishing your workout and having no idea what you just did.
Related Article: Basic Pool Etiquette: 15 Ways to Share the Pool
Here's a quick guide to counting laps while you swim and how to determine how far you swam.
Disclosure: This post may contain affiliate links, meaning we earn a small commission at no cost to you if you purchase something through one of our links. As an Amazon Associate, we earn from qualifying purchases. Please check out our disclosure page for more information.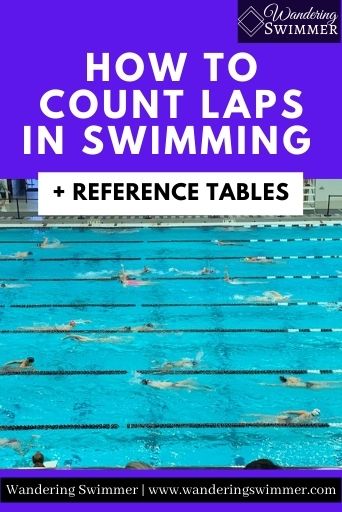 What is a Lap in Swimming? Lap vs Length
You'd never know it but the question and definition of 'how long is a lap in swimming?' is a hotly contested subject. Mainly between competitive swimmers and non-competitive swimmers.
So what is a lap in swimming? And is a lap different from a length?
To help put the record straight, a lap and a length are the same things in swimming. 
This is because, in swimming, a lap/length refers to the course of the pool. Ie., how long a pool measures going one way. Such as a 25 or 50-meter pool. 
Completing one full distance of the pool is the same as completing a lap or length of the pool.
Natalie Coughlin, 12-time Olympic medalist (and one of my swim heroes), said it best on NPR podcast: How To Do Everything
A lap refers to swimming from one end of the pool to the next. Without a doubt, it's one end of the pool to the other. It's not back and forth.

Source: NPR podcast: How To Do Everything
All swimming workouts are written with this understanding. So when it comes time to count your laps, remember that the 100 (25 yards or meters) you swam isn't 2 laps of the pool. It's 4 laps. Or 4 lengths.
We should note that competitive swimmers never speak in terms of laps or lengths. Swim practice isn't determined by the number of laps or lengths swam. Instead, it's always by distance. Same thing with races. 
More Content for You: Swimming Basics to Get You Started
And personally, I think it's just easier for everyone to speak in terms of distance, instead of lap or length. This helps you gauge how much you actually swim in terms of distance. 20 laps mean nothing, other than a number.
But if you say you swam 500 yards or a quarter of a mile, it gives a bit more validation to what you truly swam.
How Do You Count Laps When You Swim?
When it comes to counting laps when you swim, there's no one correct way. Every swimmer has a different method of counting their laps. And one isn't any better than the other. 
So long as it's done correctly 😉
You can count laps at least three different ways:
1. Counting Each Lap Swam
Probably the most common option for swimmers is to count laps by each lap/length that you swim. Remember again that going down one way is a lap, and coming back is a second lap.
This works best if you're trying to get the total number of laps you swam during a workout. Compared to keeping track of a preset distance in a set.
More Content for You: How Many Calories Does Swimming Burn?
However, I do have a teammate that counts their laps by numbers while swimming sets. In that, they know it takes 8 laps to finish a 200 (in a 25-yard pool). And will count each lap as they swim by the lap number they're on.
While this method does work, we'll admit it can be boring if you're just swimming to get laps in. And not mixing things up with sets.
2. Counting Laps by Distance
Some swimmers, myself included, count laps by distance swam. Usually by 25 or 50, based on the length of the pool.
This is usually for any distance over 100, as anything under 100 typically doesn't warrant counting. You just sort of swim it when it's that short!
My one teammate likes to count distances by 50 (in a 25-yard pool). Whereas I like to count by 25.
An example would be swimming a 200 and counting each 25. And with each lap completed, add the finished lap to the count. So 25, 50, 100, and so on, up to the desired distance.
Related article: How Many Laps is a Good Swim Workout?
This method works best when you're swimming several different sets throughout a workout. And not trying to track the total number of laps that you swam during your workout.
3. Backwards Counting
Admittedly, not many people count this way. But it's a fun challenge that can help take some of the boredom away that can come with swimming.
To count your laps backward though, you need to know the total distance or number of laps you plan to swim during your workout. And then start counting backward as you go.
When my team does longer distance sets, such as 4x1000s, I'll count two of them backward. Just for my amusement. 
Again, this isn't a typical method of counting. But if you want to give it a shot, you should try it one time!
How to Calculate Laps in Swimming into Distance
Telling people you swam 70 laps doesn't mean much to most people. Competitive swimmers included. 
Non-swimmers might be impressed with the high number, but ultimately, they don't have an idea of what '70 laps' means.
Related article: How Many Laps in a Pool is a Mile?
Telling them you swam a mile though gives a bit more depth to your workout. A distance is much easier to visualize than several dozen laps.
So how do you calculate those laps you swam into a distance? The good news is that it's not that difficult to calculate. You just need to know two things.
Length of the Pool
First, you need to know the length of the pool you're swimming in. 
There are three types of pool lengths for lap swimming. Some others may exist that vary in length, but 99% of the time, it'll be one of the three covered below.
50 Meter Pool: This is the distance used at the Olympics for swimming and other international swimming competitions. You'll know you're at a 50-meter pool because it looks like it never ends. 😀
25 Yard Pool: Nearly every pool at the gym, neighborhood pool, and natatorium in America is a 25-yard pool (or is a 50-meter pool broken into two 25 yard pools). This is due to America being the only country not using the metric system. High school and collegiate swimming, including NCAAs, all compete in 25-yard pools.
25 Meter Pool: The rest of the world uses 25-meter pools for training and competition. Don't let the somewhat similar name fool you. The 25-meter pool is slightly longer than the 25-yard pool. In international swimming, the 25-meter pool is used.
It's important to know that a 50-meter pool is double the length of a 25 length pool. So when counting laps in a 50-meter pool, it would go 50, 100, 150, 200, and so on. Whereas a 25 length pool counts laps as 25, 50, 75, 100, and so on.
If you have a pool that's longer or shorter than these distances, that's okay! You can still calculate the distance swam once you know how long your pool is 🙂
Formula to Change Laps into Distance 
Now that you have the distance/length of your pool, multiply the distance by the number of laps you swam by the formula shown below.
Formula:  # of laps swam X distance of pool = total distance swam
Example: 200 (laps swam) X 25 (25-yard pool) = 5000 yards total
Now divide your total distance by 1760 (for yards) or 1609 (for meters) to get the number of miles you swam.
5000 (yards total)/1760 (miles in yards) = 2.84 miles swam
If you're looking for kilometers, divide your total distance by 1000
You can also use the conversion in Google or any other conversion app you may have to automatically calculate the distance. 
Quick Lap to Distance Table (by Length of Pool)
For your reference, we've listed the number of laps and calculated the total distance for each lap swam. These are broken out by the length of the pool and can be used as a quick guide 🙂
25 Yard Pool: Laps to Distance
| | | | |
| --- | --- | --- | --- |
| Number of Laps Swam | Yards Total | Distance in Miles | Distance in Kilometers |
| 10 | 250 | 0.14 | 0.23 |
| 20 | 500 | 0.28 | 0.46 |
| 30 | 750 | 0.43 | 0.69 |
| 40 | 1,000 | 0.57 | 0.91 |
| 50 | 1,250 | 0.71 | 1.14 |
| 60 | 1,500 | 0.85 | 1.37 |
| 70 | 1,750 | 0.99 | 1.6 |
| 70.4 | 1,760 | 1 mile | 1.61 |
| 80 | 2,000 | 1.14 | 1.83 |
| 90 | 2,250 | 1.28 | 2.06 |
| 100 | 2,500 | 1.42 | 2.29 |
| 150 | 3,750 | 2.13 | 3.43 |
| 200 | 5,000 | 2.84 | 4.57 |
| 300 | 7,500 | 4.26 | 6.86 |
25 Meter Pool: Laps to Distance Reference
| | | | |
| --- | --- | --- | --- |
| Number of Laps Swam | Meters Total | Distance in Miles | Distance in Kilometers |
| 10 | 250 | 0.16 | 0.25 |
| 20 | 500 | 0.31 | 0.50 |
| 30 | 750 | 0.47 | 0.75 |
| 40 | 1,000 | 0.62 | 1.00 |
| 50 | 1,250 | 0.78 | 1.25 |
| 60 | 1,500 | 0.93 | 1.50 |
| 64.4 | 1,610 | 1 mile | 1.61 |
| 70 | 1,750 | 1.09 | 1.75 |
| 80 | 2,000 | 1.24 | 2.00 |
| 90 | 2,250 | 1.40 | 2.25 |
| 100 | 2,500 | 1.55 | 2.50 |
| 150 | 3,750 | 2.33 | 3.75 |
| 200 | 5,000 | 3.11 | 5.00 |
| 300 | 7,500 | 4.66 | 7.50 |
50 Meter Pool: Laps to Distance Reference
| Number of Laps Swam | Meters Total | Distance in Miles | Distance in Kilometers |
| --- | --- | --- | --- |
| 10 | 500 | 0.31 | 0.5 |
| 20 | 1,000 | 0.62 | 1 kilometer |
| 30 | 1,500 | 0.93 | 1.5 |
| 32.2 | 1,609 | 1 mile | 1.61 |
| 40 | 2,000 | 1.24 | 2 |
| 50 | 2,500 | 1.55 | 2.5 |
| 60 | 3,000 | 1.86 | 3 |
| 70 | 3,500 | 2.17 | 3.5 |
| 80 | 4,000 | 2.49 | 4 |
| 90 | 4,500 | 2.80 | 4.5 |
| 100 | 5,000 | 3.11 | 5 |
| 150 | 7,500 | 4.66 | 7.5 |
| 200 | 10,000 | 6.21 | 10 |
| 300 | 15,000 | 9.32 | 15 |
Alternatives to Counting Laps in Swimming
Counting lap after lap is boring. We'll be the first to admit it. Just as we'll be the first to admit that it's easy to miscount a lap here or there.
The good news is that several fitness trackers can count your laps as you swim. You'll need to set up the length of your pool before you get started but once done, you're good to go!
One thing to note is that some of the fitness trackers don't track when you're kicking. They'll only track when you're swimming, due to the device being on your wrist. 
If you plan to kick a couple of lengths of the pool, you'll need to manually add this to your swimming total after your workout.
Some good fitness trackers are:
Garmin Swim 2: This watch will count the distance as you swim, along with how many strokes you take per lap. It's not exactly a smartwatch if that's something you're also looking for, but it's great for swimming and other sports.
Apple Watch: When looking at Apple Watches, you'll want to look at newer series, as older series aren't waterproof or ideal for swimming. The Series 5 and 6 though are waterproof enough to take with you swimming and will count your laps.
FORM Swim Goggle: If you're like me and you don't like swimming with a watch on, you can opt for the FORM Swim Goggle. This goggle has a built-in display that tracks your laps as you go. Once your workout is over, you can download your swim to the app to review your metrics
For more fitness trackers to count your laps while you swim, check out our article: 8 Best Waterproof Fitness Trackers for Swimming
Low Budget Lap Counting Devices
Some waterproof fitness trackers aren't the easiest on the wallet. And for some, it's more of a distraction than helpful.
One incredibly affordable option and alternative to a fitness watch (or goggle) is the SportCount Chrono 200 Lap Counter.
This nifty little device sits right on your index finger and is a low-tech way to count each lap you finish. All that's needed to count each lap is tap the button at the bottom of the counter with your thumb. And that's it!
It may be a bit more manual than other swimming lap counters. But it's an affordable price that gets the job done. You can find this lap counter on either Amazon or SwimOutlet.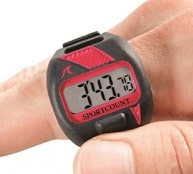 In Closing
Despite the confusion and debate regarding a lap vs length, counting laps when you swim isn't difficult! And once you know your lap count, you can brag to all your friends about how much you swam. 
As always, happy swimming!
Chevron
---
Bonus Content
Basic Swim Terminology: Knowing some swimming terminology or swim terms will help you navigate the swimming world. Here are 25 common swimming terms to get you started.​
Can I Swim with Bad Eyesight?: Can you swim with bad eyesight? Bad eyesight may limit you from many things, but swimming isn't one of them! Here's 4 ways to swim with bad vision.
---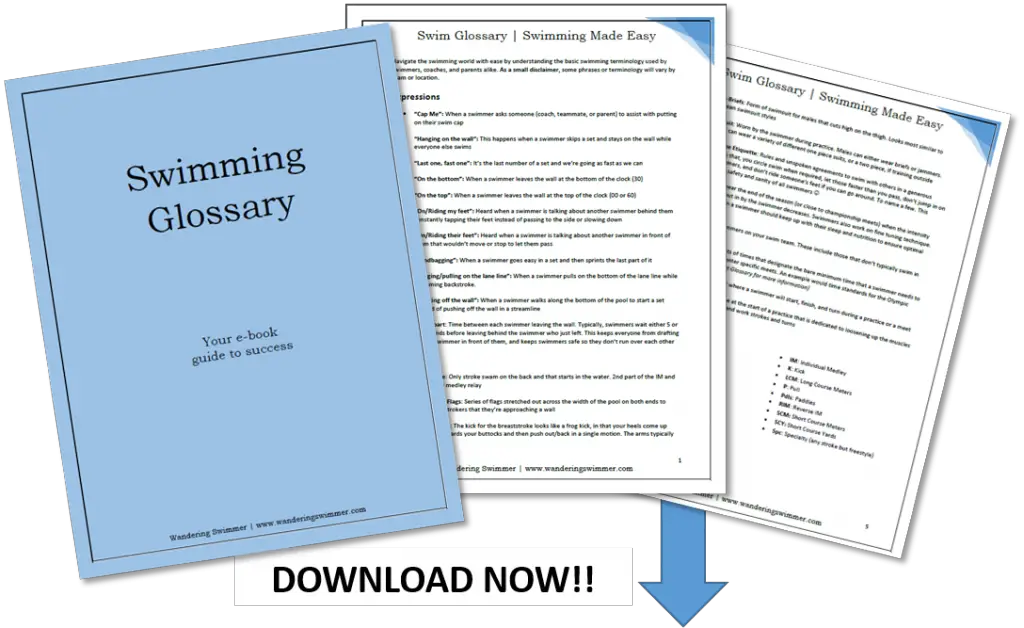 Want to Improve at the Pool?
Join swimmers and swim parents to receive my free newsletter and receive a free Swimming Glossary e-book as a thanks!
Every month you'll receive tips and coaching to help you find success at the pool.
---
About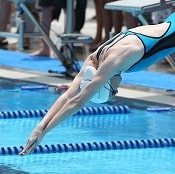 Chevron is a current competitive swimmer with almost 20 years of experience in the pool. And although she fell into the sport by accident in her high school years, she still trains daily and competes throughout the year. She's committed to providing guidance to all levels of swimmers and believes that everyone should know how to swim.