Many people set a goal of wanting to swim a mile and want to know how many laps it takes to swim a mile.
And this is a bit of a trick question. Because it depends on if you're looking at a swimming mile or a regular mile. And it depends on the pool you're swimming in.
Yes, something so simple can be this confusing 🙂
Related article: Swimming Basics to Get You Started
To help clear up the confusion, we'll break down how many laps are in a mile and how to count all those laps to get there.
Disclosure: This post may contain affiliate links, meaning we earn a small commission at no cost to you if you purchase something through one of our links. As an Amazon Associate, we earn from qualifying purchases. Please check out our disclosure page for more information.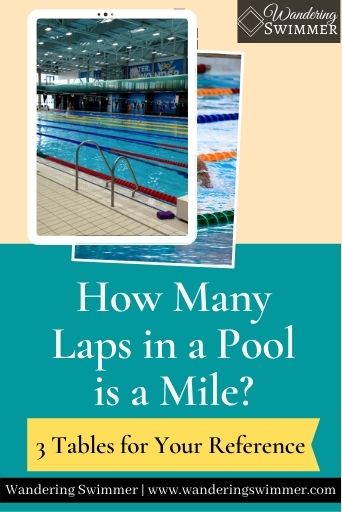 How Many Laps Are in a Mile?
For a quick and simple answer, you can reference the chart below. If you want a more detailed breakdown, keep reading!
| | | | | |
| --- | --- | --- | --- | --- |
| Regular Mile Distance | Number of Laps | Pool Length | Number of Laps | Competitive Swimming Mile |
| 1760 yards | 70.4 laps | 25 Yards | 66 laps | 1650 yards |
| 1610 meters | 64.4 laps | 25 Meters | 60 laps | 1500 meters |
| 1610 meters | 32.2 laps | 50 Meters | 30 laps | 1500 meters |
What is a Lap in Swimming? Lap vs Length
Before you start counting your laps to reach a mile, you need to know what a lap and a length are. 
So what is a lap in swimming? And is a lap different from a length?
In swimming, a lap and a length are used interchangeably. And they both refer to the course of the pool. Ie., how long a pool measures going one way. Such as a 25 yard or a 50-meter pool. 
Related article: How to Count Laps in Swimming (With Tables)
Because of this, a lap and a length are the same things in swimming. 
Completing one full distance of the pool is the same as completing a lap or length of the pool.
Natalie Coughlin, 12-time Olympic medalist (and one of my swim heroes), said it best:
A lap refers to swimming from one end of the pool to the next. Without a doubt, it's one end of the pool to the other. It's not back and forth.

Source: NPR podcast: How To Do Everything
Swimming Mile vs Regular Mile
It sounds strange to say, but in swimming, there are two distances that count as a mile. The swimming mile and a regular mile.
What's the difference?
A Regular Mile: Measures 1609 meters or 1760 yards
The Swimming Mile: Measures 1500 meters or 1650 yards.
As you can see, the swimming mile is actually just a bit shy of an actual mile. 
Despite not being an actual mile, the swimming mile is most common with competitive swimmers in a pool. And the distances for the swimming mile are used at all levels of pool competition.
That said, for anyone looking to swim a swimming mile (or a meet mile), set your goal for 1500 meters or 1650 yards.
More Content for You: 8 Best Swim Bags for Swimmers (And Water Enthusiasts)
Conversely, a regular mile is an actual, mathematically correct mile that you would find on land. This is typically what most people want to accomplish in their goal to swim a mile.
Therefore, if you're looking to swim an actual mile, you'll want to train 1609 meters or 1760 yards. 
Yeah, nothing in swimming is ever easy 🙂
We should note that open water swimmers train and compete for the regular mile in their swims, compared to the swimming mile. Any open water swimmers training for competition should set their goal for 1609 meters or 1760 yards.
More Content for You: What Should You Take When You Go Lap Swimming?
The numbers may seem daunting in terms of distance. But breaking it down into smaller distances, such as 400 meters or 500 yards, can make it easier. And it's a good way to scale up your training safely. 
What is the Length of a Swimming Pool?
To finish determining how many laps you need to swim a mile, you need to know the length of your pool.
There are three types of pool lengths for lap swimming. Some others may exist that vary in length, but 99% of the time, it'll be one of the three covered below.
50 Meter Pool: This is the distance used at the Olympics for swimming and other international swimming competitions. You'll know you're at a 50-meter pool because it looks like it never ends. 😀
25 Yard Pool: Nearly every pool at the gym, neighborhood pool, and natatorium in America is a 25-yard pool (or is a 50-meter pool broken into two 25 yard pools). This is due to America being the only country not using the metric system. High school and collegiate swimming, including NCAAs, all compete in 25-yard pools.
25 Meter Pool: The rest of the world uses 25-meter pools for training and competition. Don't let the somewhat similar name fool you. The 25-meter pool is slightly longer than the 25-yard pool. In international swimming, the 25-meter pool is used.
The longer the pool, the fewer laps you'll need to swim. Conversely, the shorter the pool, the more laps you'll need to swim to finish your mile. 
Number of Laps in a Mile – Table Breakdown
To determine how many laps you'll need, you'll want to divide the number of yards or meters in the mile you want to swim by the distance of the pool
Examples:
Swimming Mile: 1650 yards / 25-yard pool = 66 laps
Regular Mile: 1760 yards / 25-yard pool = 70.4
Below is the breakdown of the number of laps needed for each pool distance and how many miles it equals. 
Please note that the mile listed in these charts is just for the regular mile, not the swimming mile.
Want to swim more than a mile? Here are some popular/common swim distances to give you inspiration! 
The swim portion of an Ironman is 2.4m/3.8km 
A Half Ironman is 1.2m/1.9km
It takes 3.1 miles to swim a 5K Open Water Swim 
Anything over 6.2 miles (10 km) is the threshold for marathon swimming. 
25 Yard Pool: Laps to Distance Reference
| | | | |
| --- | --- | --- | --- |
| Number of Laps  | Yards | Distance in Miles | Distance in Kilometers |
| 70.4 | 1,760 | 1 | 1.61 |
| 140.8 | 3,520 | 2 | 3.22 |
| 211.2 | 5,280 | 3 | 4.83 |
| 281.6 | 7,040 | 4 | 6.44 |
| 352 | 8,800 | 5 | 8.04 |
| 422.4 | 10,560 | 6 | 9.65 |
25 Meter Pool: Laps to Distance Reference
| | | | |
| --- | --- | --- | --- |
| Number of Laps Swam | Meters Total | Distance in Miles | Distance in Kilometers |
| 64.4 | 1,610 | 1 | 1.61 |
| 128.8 | 3,220 | 2 | 3.22 |
| 193.2 | 4,830 | 3 | 4.83 |
| 257.6 | 6,440 | 4 | 6.44 |
| 322 | 8,050 | 5 | 8.05 |
| 386.4 | 9,660 | 6 | 9.66 |
50 Meter Pool: Laps to Distance Reference
| | | | |
| --- | --- | --- | --- |
| Number of Laps Swam | Meters Total | Distance in Miles | Distance in Kilometers |
| 32.2 | 1,610 | 1  | 1.61 |
| 64.4 | 3,220 | 2  | 3.22 |
| 96.6 | 4,830 | 3  | 4.83 |
| 128.8 | 6,440 | 4 | 6.44 |
| 161 | 8,050 | 5 | 8.05 |
| 193.2 | 9,660 | 6 | 9.66 |
How Do You Count That Many Laps?
Counting lap after lap is equal parts challenging and boring, as it's easy to let your mind wander and lose count. 
How you prefer to count the laps you swim is up to you. Some swimmers count each lap numerically. Others, such as myself, count each lap by distance.
More Content for You: 6 Reasons Why You Should Wear a Swim Cap
Probably the easiest way to count laps in a mile is by counting them in groups. Such as groups of 10 or 30, depending on the pool you're in.
If you're just starting to swim or consider yourself a beginner, this is also the safest way to build up to swimming a mile. Setting a starting goal and then adding a few laps to that goal each week until you reach a mile.
Lap Counters (Expensive to Affordable)
An even easier way to count your laps while you swim is to use a fitness tracker to do the work for you.
It's important to ensure you have a waterproof fitness tracker, such as the Garmin Swim 2, or the Apple 5 or 6 Series. 
Or, you can look at the FORM Swim Goggle or the FINIS Swim Goggle. Both track your laps while you swim and display the information as you're swimming. 
Related article: 8 Best Waterproof Fitness Trackers for Swimming
Lastly, there's the simple but effective lap counter that you wear on your finger. It's small enough that it won't drag you down in the water. But effective enough that in addition to counting laps, it also has a built-in timer.
One incredibly affordable option and alternative to a fitness watch (or goggle) is the SportCount Chrono 200 Lap Counter.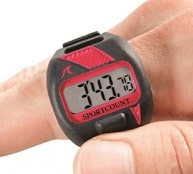 To use this nifty device, all you need to do is press a button each time you finish a lap. It's simple enough that you can do it while swimming, so there's no need to stop each time.
It may be a bit more manual than other swimming lap counters. But it's an affordable price that gets the job done. You can find this lap counter on either Amazon or SwimOutlet.
What's the Best Way to Train to Swim a Mile?
The same way you swim a mile. One lap at a time.
Swimming a mile takes time and you shouldn't rush through training for it. It's not as simple as just jumping into the pool and swimming. You need to know your body's limits.
Related article: How Many Calories Does Swimming Burn?
We recommend that you start with what you can do. And then build up from there by one to two laps as your body allows for it. 
If you can only get in 10 laps before your workout is over, great! You now have a starting point. 
Try to see if you can make it 11 laps the following week. And maybe try 12 laps the week after. Build your laps at your pace so you don't hurt yourself.
Talk with a coach or fitness instructor to help develop a training plan if you're not sure. And as always, consult with your doctor or care provider before starting a new workout.
What's a Good Time to Swim the Mile?
In addition to finishing a mile-long swim, you may want to finish it in a certain amount of time. So what's a good time to swim a mile?
A lot of it will depend on your swimming ability and the stroke that you're swimming. 
To set a healthy and realistic goal for yourself, it's best to see how long it takes you to swim a short distance. Such as a 100 yards or meters. 
Related article: How Many Laps is Considered a Good Swim Workout?
From there, you should try to average that time throughout each hundred you swim in the mile. 
You'll start to slow down as you progress through the mile, which is to be expected. So long as you stay within 2-4 seconds of your pace, though, you should be able to hit your goal.
If you can average 3 minutes a hundred, you'll finish your mile in about 45-52 minutes. Which can be a good starting pace if you're just starting. Holding 2 minutes a hundred will drop your mile time down to around 35 minutes.
Below are some times per hundred and an average on how long it could take you to swim a mile. 
NOTE: These numbers are just estimates and it's important to remember that your time per hundred will increase a bit as your mile goes. Do what's best for your body and health. Don't push yourself to swim at a faster pace if you don't swim at that speed.
| | | |
| --- | --- | --- |
| Time per Hundred | Average Mile Swim Time | Best for Swimming Level |
| 3 minutes | 48 – 53 minutes | Starting Out |
| 2 and a half minutes | 40 – 44 minutes | Beginner |
| 2 minutes | 32 – 35 minutes | Intermediate |
| 1 minute and a half | 24 – 26 minutes | Advanced |
| 1 minute | 17 – 20 minutes | Competitive/Elite  |
In Closing
Swimming a mile can seem daunting. It's a lot of laps and for most of us, it can take some time to finish it. But by taking it lap by lap and building up to that magical number, you can make swimming a mile your next swim goal!
As always, happy swimming!
– Chevron
---
Bonus Content
What is the Cost of Swimming?: The good news is that it doesn't cost much to begin swimming. As far as exercise goes, it's very minimal in terms of cost.
7 Common Swimming Myths: Think you know the answer to some of these myths that surround swimming? Let's debunk these 7 common swimming myths.
---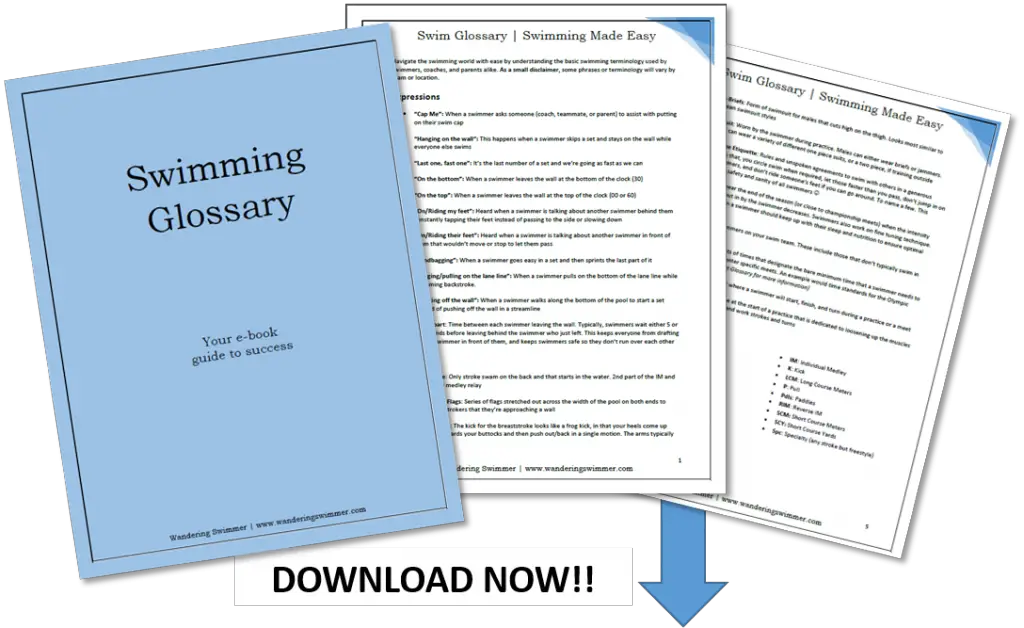 Want to Improve at the Pool?
Join swimmers and swim parents to receive my free newsletter and receive a free Swimming Glossary e-book as a thanks!
Every month you'll receive tips and coaching to help you find success at the pool.
---
About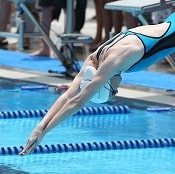 Chevron is a current competitive swimmer with almost 20 years of experience in the pool. And although she fell into the sport by accident in her high school years, she still trains daily and competes throughout the year. She's committed to providing guidance to all levels of swimmers and believes that everyone should know how to swim.