When it comes to swimsuits, you have dozens of different styles to choose from. And one thing most women don't realize is that a swimsuit back style can make a big difference in comfortability. 
Ranging from conservative to barely there, swimsuit back styles fall into at least 6 different categories. But even within these groups, there are near endless design and style options. 
Related article: Ultimate Guide for Women's Swimwear
So how do you pick a back style for you and which is the best one? We'll break down the 6 swimsuit back styles and explain each one. 
Disclosure: This post may contain affiliate links, meaning we earn a small commission at no cost to you if you purchase something through one of our links. As an Amazon Associate, we earn from qualifying purchases. Please check out our disclosure page for more information.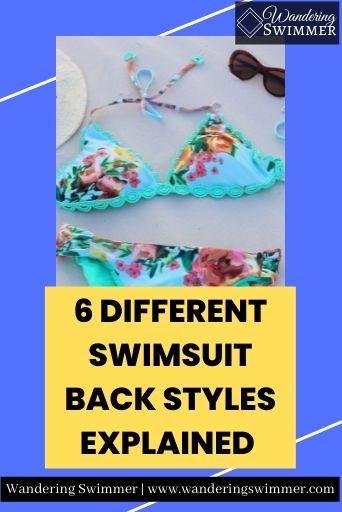 A Note of Swimsuit Back Styles
Before we start, we will note that each swim brand has its own cuts/patterns for back styles. And they're all called something different.
We can't cover all of them, or this list would top close to 50 different suit styles. Yes, there are that many swimsuit back styles available!
But we will group various styles based on similar cuts and patterns. 
Starting from the most conservative to the most open back style. 
The 6 Most Common Swimsuit Back Styles
1. The Racerback Style
One of the oldest and most common swimsuit styles is the racerback. It was the first style of suit I wore when I started swimming (competitively) nearly 20 years ago!
This suit style features wider straps for extra comfort. The wider straps have the bonus of providing support for larger busts. 
Related article: What to Look for in a Women's One Piece Swimsuit
It also has a smaller to moderately sized opening (or keyhole) in the back. Allowing for an easier range of mobility without feeling as though the back is too exposed. This cut-out may be higher on the back or more near the middle.
The size of the keyhole varies on the swim brand and the cut of the suit. 
Some examples of various racerback styles are:
This style is considered a more moderate design, as it typically features full bottom coverage and may not come up very high on the hip. And based on the size of the back opening, it may not show much back.
2. V Back (or Keyhole Back) Style
Admittedly, we're not 100% certain what this style is called. We've heard it referred to as a V back or a keyhole back. So we're listing both names here, just in case.
The main feature of this suit style though is the circular key-hole that typically rests in the middle of the back. Hence, key-hole style 😉
This style is very similar to the racerback style. Only the straps over the shoulders shift from wide to thin. While still maintaining a small to moderately sized back opening. 
More Content for You: Can You Swim with Long Hair?
The section of fabric along the back where the straps connect can be either thin or wide. And you'll find that the sides of the fabric where the key-hole forms will come further into the back. 
The key-hole style is one of the more popular cuts amongst most swimmers due to its comfortable cut and functionality. I frequently wore this style during my later high school years and throughout my college career.
Although I don't wear many V Back styles now, I favored Speedo's Fly Back back in the day. Now, I prefer Jolyn's Devon style, as it has a larger keyhole, which makes me feel less confined.
Some swimsuit options with a V Back style are:
This style of suit can be conservative, but not as much as a racerback. Although some brands (such as Jolyn) will make the keyhole a bit larger so the back is more exposed. 
3. The Crossback Style
Crossback suits are as the name implies. It's a suit whose straps cross over the back in an 'X' shape. 
Like the other suits on this list, the styles come in a wide variety. Making it so that each brand has its own designs.
Most of the straps are thin for competitive and training suits. However, you can find recreational suits that have wider straps. 
You'll find that a lot of cross-back styles also feature a tie-back style. In which the straps aren't fixed and you have to tie them yourself. 
Related article: What is a Tankini? (And Why You Should Have One)
With the cross-back style, the key-holes typically run a bit larger than what you'd find on the racerback or V back. 
The size of the keyhole varies by brand and some will border just on the edge of an open back suit. Depending on how it's cut.
A cross-back suit is one of the two swimsuit back styles that I prefer to use for training. Preferably Speedo's cross-back or Jolyn's Brandon 2 style.
Some examples of various cross-back styles are:
Most of the swimsuits from Jolyn feature a cross-back style of some type. And they come in either a tie back or a fixed back style
4. Tie Back Style
New to the scene are tie-back styles. While tie-back styles are more common with two-piece swimsuits, they were a bit less common with one-piece suits. At least for training and lap swimming!
What is a tie-back suit? 
It's basically any suit that has straps that need to be tied. This can be something as simple as a halter top to one a bit more complex with straps that criss-cross before tying. They're typically in the same style as a cross back suit, too.
Tie-back swimsuits usually have thin straps for lap and training swimsuits. And thicker straps for recreational suits.
Related article: How to Pick a Two-Piece Swimsuit
One benefit of tie-back straps is that it allows you to control the comfort and tightness of the straps. You can loosen them for comfort or tighten them for working out. 
Many competitive swimmers will opt for a tie-back top when at swim meets so they can roll down their tech suit to give their shoulders a break. 
These suits come in a wide range of back and bottom coverage, from moderate coverage to barely there. 
Nearly every brand makes tie-back swimsuits now. And they're not just limited to two-piece suits anymore! You can get tie-back suits for one-piece swimsuits, tankinis, and yes, two-pieces. 
We believe Jolyn led the way on the tie-back swimsuit back for competitive swimmers. And Jolyn is our go-to for tie-back suits. Specifically their one-piece Jackson 4 style. Or their Tomcat Bikini Top
Some other tie-back options are:
5. Scoop Backs
Made more for leisure and recreational swimming, scoop backs are as the name implies. A back style that scoops down. The shape can range from a U shape to an H-shape.
A U-Back style scoops down the back in the shape of a U. Some can cut down into a short V, too.
H-Back styles fall into a scoop back, because the back does dip and scoop. But this style back features an additional strap up behind the neck. And the back is a straight line compared to a curved dip
Nearly all scoop backs have wider straps for comfort and support. 
The degree of back coverage varies by brand and style. Some scoop backs will dip minimally, providing more support and the straps will be less likely to slip off. 
More Content for You: 7 Best Swim Caps for Long Hair
Other scoop backs will plunge much further down the back. Decreasing tan lines but potentially offering less support.
Pick a scoop back from some of the below options:
6. Minimalist or Open Back Styles
One of our favorite styles of swimsuits on this list! The open back is the most open back style swimsuit on this list. 
The keyhole is removed from the suit so that the only fabric on the back is for the straps and to cover the bottom. This leaves the back open for maximum flexibility and comfort. Along with reducing the amount of tan lines 😉
The straps on an open-back style are thin. For both the straps that go over the shoulder and along the back. 
Some suits offer full coverage on the bottom, while others may show a bit more cheek. Additionally, the dip or curve of the fabric that covers the bottom will usually come a bit lower than most suits.
More Content for You: 6 Reasons Why You Should Wear a Swim Cap
One negative of the open-back style is that water does catch easier on the sides of the suit. Typically as the suit gets older and stretches out more.
Because of the cut and style, this is the least conservative back style on the list. And some swimmers may not like having their back exposed so much.
Personally, I do. And it's one of my favorite styles.
The open-back style I prefer is Speedo's One Back One Piece and pretty much any suit from Jolyn (although you may also consider Jolyn a very open cross back). They keep me from feeling too claustrophobic when I swim and I feel like I can breathe and move easier when wearing them. 
Some options for open back swimsuits are:
How to Pick a Swimsuit Back Style
With so many swimsuit back styles to select from, how do you pick the right one for you? 
Some of it is through trial and error. As you'll know just by looking at the suit, you won't like certain back styles. 
Others may intrigue you enough that you want to try them on and determine how they fit.
Here are three things to consider when picking a swimsuit back style.
1. Swimsuit Straps
Wide Straps
Wide straps can be more comfortable and offer more support than a thin strap. And while they're key for tech suits in competition, they can also be worn during a workout or for any type of recreational needs.
Wider straps are easier to find in recreational and leisure swimsuits. However, any racerback style will feature wide straps for lap or competitive swimming.
More Content for You: How Many Laps is a Good Swim Workout?
Most swimsuits for younger kids will feature wider straps. As they help fit the child a bit better and can stay in place easier. 
One thing we will note about wide swimsuit straps is that the fabric on the straps can bunch and rub on your neck. Competitive swimmers call these 'swimsuit hickies' due to their placement on the neck.
They're not extremely painful. But they can be annoying and embarrassing.
Good suit options for wide straps are Speedo Pro Back, Dolfin Moderate, and Penbrooke High Neck
Thin Straps
Probably the largest option these days is thin straps. They offer less coverage in terms of tan lines and are more revealing. 
Some swimmers find that thin straps can be more comfortable than wide straps. But it does come down to personal preference. 
Related article: How to Make Your Swimsuit Last Longer
Older competitive swimmers typically favor thin straps, such as the V Back, Crossback, or Open Back style. These suits can be used for practice or during local swim meets where race suits aren't necessary.
Because the straps are thinner, some women with larger busts may find that the straps don't offer as much support. A V back style suit will offer the most support out of the thin straps. 
2. Fixed Back vs Tie-Back Swimsuits
A vast majority of swimsuits feature a fixed back style. This suit has the straps already set – or fixed – into place. They don't need to be tied and can't be adjusted. 
Some swimmers like fixed-back swimsuits as it lessens the hassle of dealing with tying straps. While others may prefer the security of having the straps in place.
More Content for You: The 7 Best Swim Shampoos to Remove Chlorine
A tie-back suit is a suit that needs to be tied. Most people think of bikini tops for tie-back suits but there is a range of one-piece and tankini swimsuits that offer a tie-back style.
One draw of the tie-back suit is that swimmers can control the tightness of the straps. And typically, because the straps can be pulled tighter, we've found that you can get more life out of a tie-back than a fixed back.
3. Coverage Amount
When picking a swimsuit, the amount of back coverage matters to a lot of women. From smaller key-holes that don't show much skin to suits that show the entire back. 
You should have an idea of how much skin you're comfortable with showing. On your back and your bottom! 
For those wanting more coverage, a racerback, certain V back styles, and some scoop backs are your best option. These are also more likely to stay in place based on the type of water activity that you're doing.
To show more skin and less coverage, certain cross-back and scoop-back styles and open backs are good options. These will reduce tan lines and give you more flexibility and comfort.
Commonly Asked Questions About Swimsuit Back Styles
Which Swimsuit Back Style is Best for Competitive Swimming?
While this is highly biased, we favor the racerback, cross-back, V-back, tie-back, and open-back for competitive swimming. 
Related article: Best Lap and Active Swimsuits for Women
These style suits are all designed with competitive or lap swimming in mind. And the style will help reduce drag while swimming while providing the most comfort for you.
What's the Purpose of the Key-hole in the Back of the Suit?
The majority of women's suits have some type of hole or cut out in the back of the suit. The size of these cutouts can vary but they all serve the same purpose. Which is to allow for flexibility and movement.
The hole in the back of the swimsuit makes it easier for swimmers to turn and limits restrictions. 
Similarly, the cutout can allow divers to move through their dives easier. And gives more room for movement for water aerobics or other water activity.
Typically, the larger the back style of the suit, the more freedom the suit can provide in terms of movement. 
Which Back Style is Right for Me?
Swimsuit back styles vary by personal preference, so it's hard to say which is right for you. 
We recommend starting with your comfort level in terms of coverage and going from there. You should also consider how you plan to use your suit in the water. 
If you want more coverage and thicker straps, you may find that a racerback is the best suit style for you.
Or if you want something more open and with thinner straps, you can consider a cross-back, scoop back, or an open back.
More Content for You: Swimming Basics to Get You Started
Some back styles, such as a deep scoop back, might not be the best for competitive swimming. As they're more likely to move around when you swim. 
Just as a closed-back design may make it difficult to swim laps in, due to friction of the fabric.
In Closing
The options for swimsuit style may seem endless but they do serve a point. Mainly, to help you find the suit that's best for you in terms of comfort, coverage, and use. Give yourself some time and patience when looking at suits to find the one that best fits you.
As always, happy swimming!
Chevron
---
Bonus Content
8 Reasons Your Swim Cap Slides Off: Trying to keep your swim cap on though is a challenge. There's no one secret to keep it in place but there are some reasons why your swim cap slides off.
How to Fix Common Swim Goggle Problems: Swim goggles. You love them but hate the problems that can come with them. Before you ditch your goggles for good, try some of these fixes.
---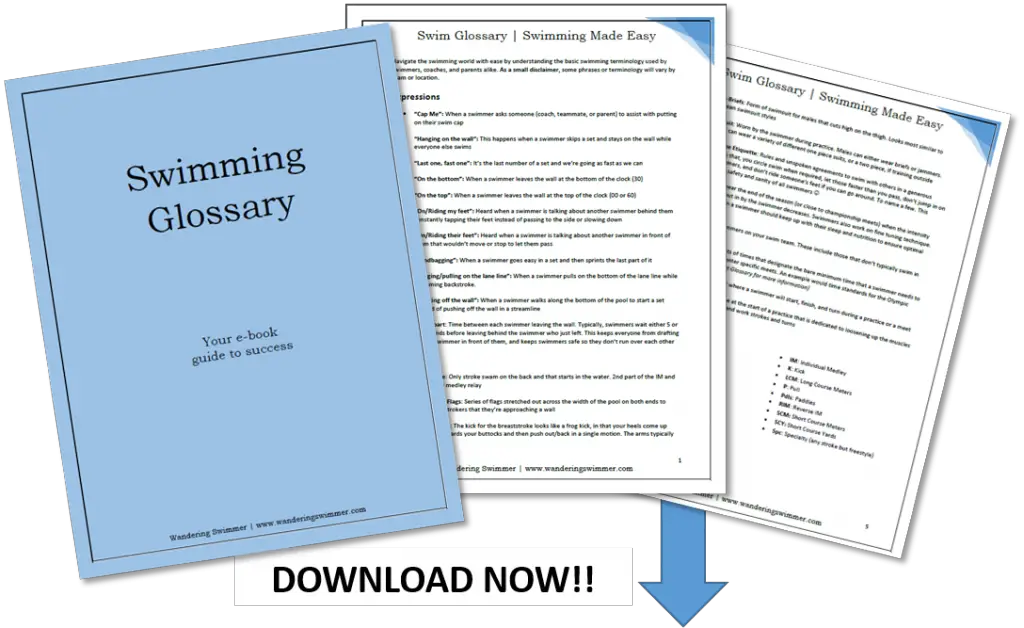 Want to Improve at the Pool?
Join swimmers and swim parents to receive my free newsletter and receive a free Swimming Glossary e-book as a thanks!
Every month you'll receive tips and coaching to help you find success at the pool.
---
About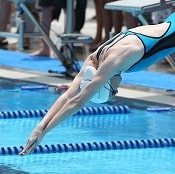 Chevron is a current competitive swimmer with almost 20 years of experience in the pool. And although she fell into the sport by accident in her high school years, she still trains daily and competes throughout the year. She's committed to providing guidance to all levels of swimmers and believes that everyone should know how to swim.