Finding the best swimsuit for lap swimming and training isn't always the easiest. With so many styles and designs, it's easy to get overwhelmed and not know which suit will work the best.
We've broken out a variety of swimsuit options that are best for lap swimming or training. Along with some alternatives to each category to help you find the best suit for you.
Related article: Ultimate Guide to Women's Swimwear
Here are our picks for the best swimsuit for lap swimming and/or training.
Disclosure: This post may contain affiliate links, meaning we earn a small commission at no cost to you if you purchase something through one of our links. As an Amazon Associate, we earn from qualifying purchases. Please check out our disclosure page for more information.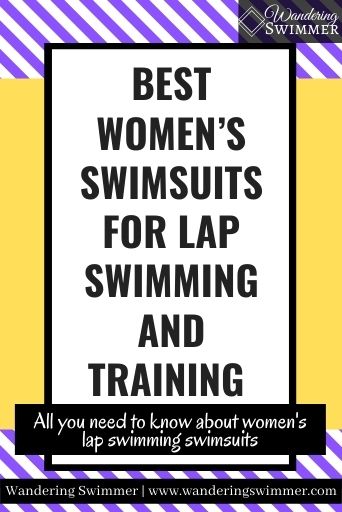 A Note on Swimsuits
All the swimsuits on this list are great options for lap swimming and are presented in no specific order.
Mainly because swimsuit styles and fit are completely personal. What may be listed as the best 'overall' swimsuit might not be the best overall for you.
While I have worn these styles throughout the years, there are some that I can't wear now due to my preference. For example, I wore closed-back suits many years ago. Now, I prefer open-back suits. 
More Content for You: How to Work Out in a Small Backyard Pool
However, just because I don't like to wear some suits due to my preference doesn't mean they're not good swimsuits for lap swimming. 
It just means that I prefer not to wear them. But that doesn't mean that you can't like them 🙂
It's worth noting that more important than the style of the suit is the fit. 
A stylish and functional swimsuit means nothing if it's uncomfortable. When picking your suit, make sure you can move around easily, it's not too tight, but not so loose that the suit will fall off.
Lastly, I've found that shops such as SwimOutlet, which carry thousands of suits from practice and active, to recreational, are the best places to look for swimsuits. Their filters on the page can help narrow down what you want in a suit, making it easier to find what you're looking for.
Modest Swimwear for Lap Swimming
Everyone has a different definition of modest when it comes to swimwear. For this list of modest swimsuits, our criteria focused on:
Medium to a high neckline
Stomach coverage
A larger portion of the back covered
Low cut hip 
Full bottom coverage
There are swimsuits that offer full coverage for religious or cultural purposes, such as Burkinis and modest swimwear from Alsharifa. These cover the body completely and come with head coverings.
Because I've never worn them before and I can't provide accurate information regarding coverage and fit, I won't be covering any brands. If anyone has a brand or suit in particular that they recommend though, please let me know!
Dolfin Conservative Lap Suit
This swimsuit from Dolfin ticks all our boxes for a modest swimsuit. 
It comes in a racerback style that covers the majority of the back, up towards the straps. The straps themselves are wide, which offers more comfort than thin straps. 
Suits with wide straps can typically be worn longer than those with thin straps. As they tend not to bite into the shoulders as much. The wide straps may also offer some women a feeling of more modesty, too. Along with more support.
More Content for You: 10 Things You Should Do After a Swim Workout (But Aren't)
The cut on the hips is a low cut, so it doesn't arch up as high on the legs. And the bottom coverage is full coverage, for the maximum amount of coverage on the bottom. 
This suit also makes the list due to how long the fabric can last. If taken care of, of course 😉 
The fabric is 100% polyester, which will last longer in the water. However, it may take some time to break in, as the fabric won't stretch as much as other swimsuits might.
With the tight-fitting fabric and conservative cut, it's a great swimsuit for those who want to swim laps and maintain modesty. 
It comes in at least four different colors, so it's easy to pick the suit you like. 
Dolfin also offers this same swimsuit for lap swimming with additional colors in their Color Block style. Same suit, but with a different style when it comes to the design. 
They also offer the same Color Block Style but in a moderate cut, with the back a little more open than the Conservative style.
Alternative Modest Swimwear
Swimsuit
Description
Available At
Speedo Conservative Ultraback One Piece
Back dips just a bit more than the Dolfin suit. Only two colors are available. Also available in a Moderate Long Torso cut
SwimOutlet
Amazon
Sporti High Neck Colorblock
Unique H-Back style with a hook closure for extra style. Medium hip cut and moderate bottom coverage
SwimOutlet
Penbrooke's High Neck one-piece
H style back. Dips a bit lower in the back but has a low cut hip and full bottom coverage
SwimOutlet
Amazon
One Piece Bathing Suit for Swimming Laps
There are thousands of different one-piece swimsuits for swimming laps and training. And it's hard to say which is the best one, due to preference. 
Related articles:
For this group, we picked out one swimsuit for each back style, to help keep the list more manageable. For all of us! 😉 
Our criteria focused on:
Moderate to high hip cut 
Full to cheeky bottom coverage
Fabric life
Comfort/fit
Because of the thousands of different options, we also felt it important to list a few alternatives for each suit. Just to give more options.
Sporti Wide Strap One Piece (Racerback Style)
A classic one-piece swimsuit is Sporti's Wide Strap swimsuit. 
They offer a solid color option in about half a dozen colors. Along with a Piped Splice option with nearly a dozen color varieties. 
This suit comes in a racerback style, which has a moderate-size keyhole in the back of the suit. This allows for more flexibility and a great range of motion compared to smaller sizes. 
As the name implies, it features wide straps for added comfort. Meaning you can feel comfortable in even the longest of workouts. 
While this suit doesn't have any built-in cups or bra support, the wide straps can help provide some bust support. Especially compared to thinner straps.
More Content for You: Basic Pool Etiquette: 15 Ways to Share the Pool
We consider the hip cut to be moderate, but how it fits on some individuals may find that it cuts high. The hip cut does lead to full coverage on the bottom.
The fabric is a nylon and Lycra Xtra Life blend for a longer-lasting fit and a bit more stretch. To help extend the life of the suit, you should rinse out your suit with clean water after each use.
Lastly, we will note that this suit is designed for performance and competition. Because of this, it will have a tighter and more snug fit. If this will bother you, please consider sizing up for a looser fit.
Racerback Alternatives
Swimsuit
Description
Available At
TYR Alliance Maxfit (Solid and T-Splice)
SwimOutlet
Amazon
Speedo Proback
The back comes up a little bit higher and can offer a bit more bottom coverage
SwimOutlet
Amazon
Speedo Flyback One Piece (V Back Style)
Speedo's Flyback One Piece is a suit that keeps going and is ideal for lap swimming. 
I wore this suit in the later years of high school and throughout college. And while I don't wear it now (presently, I favor more open-back swimsuits), I know this is a good suit.
These suits come in over a dozen solid colors and just as many patterns.
They tend to have a higher cut on the hip for more flexibility. However, the suit still offers full to moderate coverage on the bottom. 
Most V-back style swimsuits have thin straps, including Speedo's Flyback suit. 
Thin straps are less likely to rub on the neck (creating what swimmers refer to as 'swimsuit hickies') and are more flexible. But they can provide less support for the chest.
More Content for You: Basic Swimming Terminology
The back of this suit features a small to moderate size opening in the center of the back. This allows for easier flip turns without exposing too much of the back.
Speedo's Flyback suit is made out of their Endurance+ fabric, which stands the test of time. It's one of the longer-lasting suit fabrics that I've used. And should easily make it through a year or more with proper care.
It can run on the small side, as with most training and competitive suits. And because the straps are thin, some females may find that the straps dig more into the shoulders. 
V Back Alternatives:
Swimsuit
Description
Available At
Sporti Solid (or Patterned) Thin Strap One Piece
Slightly larger keyhole in the back and medium to high hip cut
SwimOutlet
TYR Diamond Fit 
Slightly larger keyhole in the back and medium to high hip cut
SwimOutlet
Amazon
Jolyn Devon
Large keyhole in the back, full bottom coverage, and high hip cut 
SwimOutlet
Amazon
Speedo Crossback (Crossback Style)
One of my favorite swimsuit styles is the cross back style, as it's more open in the back for comfort, mobility, and flexibility while swimming. 
Much like Speedo's Flyback suit, this suit lasts for more than a season and can be worn for lap swimming, training, or competition. 
This suit has several solid color options in about dozens of colors and color variations. Along with several patterned options. 
The back is predominantly open and features a high cut for the hip. Despite the high cut, the suit does have moderate coverage on the bottom. 
Related article: How to Make Your Swimsuit Last Longer
Like most of the suits in a cross-back style, Speedo's Crossback has thin straps. I've worn this suit before for long swim meets and didn't have issues with the straps digging into my shoulders. 
However, some swimmers may not like the way thin straps can dig into the shoulders. 
Speedo's Crossback suit is also made out of their Endurance+ fabric. I can usually get two years out of this type of fabric, even with constant use. 
Even though it's fit for competition, this swimsuit can be used for lap swimming or training. I've used it for both training and during swim meets without any issue. 
For some, it may feel small or too tight because of the fit. And you may consider sizing up if you like a looser-fitting suit. For reference, I'm 5' 9" and around 120-125lbs, and I wear a size 30.
Crossback Alternatives
Swimsuit
Description
Available At
Jolyn Brandon
Open back with high hip cut and moderate bottom coverage
SwimOutlet
Amazon
Nike Trinityfit
More open back with a modern strap style, and cuts inward on the sides. High hip cut with a cheeky to moderate bottom coverage
SwimOutlet
Amazon
Jolyn Tie Backs (Tie Back Style)
Jolyn started the tie back trend for one-piece swimsuits and we think they're the best at this style. 
A tie-back suit is as the name implies. The straps aren't fixed in place and instead, need to be tied together. Much like traditional bikini tops.
Admittedly, this style isn't for a lot of females. As some find it a hassle to deal with the straps and others worry about the straps coming undone. 
For those that do like this style though (myself included), it's a fun swimsuit to wear at practice. And Jolyn has dozens of different colors and patterns to pick from, meaning you can get the style that best fits you!
One of the benefits of tie-back suits is that they enable you to wear the suit as tight or loose as you like. Meaning you control the level of comfort.
More Content for You: How to Count Laps in Swimming (with Tables)
Jolyn's tie-back suits are all available in thin straps and cut high on the hips. Bottom coverage does vary from full to cheeky based on the style you select. The Jackson 4 features a full bottom coverage.
The fabric is 100% polyester for a long-lasting fit. Much like my Speedo Endurance+ suits, these swimsuits for Jolyn can last for several seasons. The elastic typically gives out before the fabric 🙂
While this suit is ideal for lap swimming, we don't recommend it for competition. 
Lastly, we like that this suit can be used for both lap swimming and recreation. It's a training suit that looks more at home on the beach or at the lake!
Tie Back Alternatives
Swimsuit
Description
Available At
Sporti Tie Back
Slightly deeper cut on the sides, cheeky bottom coverage
SwimOutlet
Sporti HydroLast
Slightly deeper cut on the sides, moderate to full bottom coverage
SwimOutlet
Nike Lace Up Tie Back
Fun and stylish. The tie-back sits lower on the back and crosses over the back several times with cheeky bottom coverage
SwimOutlet
Amazon
Sporti Micro Back (Open Back Style)
Open back swimsuits have the least amount of coverage for a one-piece swimsuit. They're ideal for those who don't want many tan lines or who like the freedom and mobility that the open back provides.
Sporti's Micro Back One Piece is one of the few open-back styles. It comes in a handful of colors but isn't available in any patterns. 
More Content for You: 7 Reasons to Wear Goggles When You Swim
It has a little more give and stretch than Speedo's One Back (my personal favorite), which tends to appeal to more swimmers. The sides do cut in and forward more than other suits, adding less coverage on the back.
As with the rest of the suits with an open-back style, Sporti's Micro Back has thin straps for reduced tan lines. 
Because of the thin straps and more open back, this suit style may provide less support for some women.
The back opening does scoop low on the back and has a high hip cut, which leads to cheeky bottom coverage.
The fabric is a nylon and Lycra Xtra Life blend for a longer-lasting fit and a bit more stretch. To help extend the life of the suit, you should rinse out your suit with clean water after each use.
Those who can swim laps or train outside will appreciate the minimal tan lines. Along with the flirty nature of the suit!
Open Back Alternatives
Swimsuit
Description
Available At
Speedo One Back
Less stretch/give depending on Endurance+ or Endurance Lite fabric. Moderate bottom coverage. More pattern and color options
SwimOutlet
Amazon
Arena Challenge
Features moderate bottom coverage, high hip cut, more pattern and color options, and deeper cut sides
SwimOutlet
Amazon
Nike Cut Out Tank
Cheeky to moderate bottom coverage, high hip cut, more pattern and color options
SwimOutlet
Amazon
Sporti Hydrolast Micro One Back
Similar design to Sporti's Micro Back, but features moderate bottom coverage and 100% polyester fabric. More pattern and color options
SwimOutlet
Lap Swimming Tankinis
While most competitive swimmers won't train in a tankini, you can still swim laps in one if you have the right fit.
Related article: What is a Tankini? (And Why You Should Have One)
For tankinis suited for lap swimming, we used the below criteria.
A tankini top that fit close to the body
Neckline that didn't dip too much so that it caught water
Bottom piece with drawstring and elastic
It is possible to swim laps in a tankini that's looser fitting around the torso. Or has extra/flowy fabric around the stomach. However, it will cause drag and billow out when you swim.
Carve Designs Stinson Tankini Top
Available in black or a pattern design, Carve Designs Stinson Tankini Top is simple and gets the job done. 
This suit features thin straps and a fixed back that comes up high on the back for modesty. It's designed for a long torso, so you don't have to worry about the suit riding up on your stomach or not covering it completely.
For those who need support, the Stinson Tankini top has a built-in shelf bra. There are removable bra pads for those who don't wish to use them. 
More Content for You: Can You Swim with Long Hair?
The neckline does dip just a bit. But not so much that it'll collect water and drag down the fabric.
We don't recommend the companion bottom piece for lap swimming, simply because it doesn't have a drawstring. 
Instead, you're better off selecting one such as TYR Lula Bikini Bottom or Sporti Active Workout Bikini Bottom (medium/modest coverage). 
And of course, nearly every bikini bottom from Jolyn is built for activewear 🙂
Alternative Tankinis
Swimsuit
Description
Available At
TYR Lola Tankini Top
Wide straps that cross on the back, with a mostly covered back. Doesn't sit as tight on the stomach but isn't too flowy
SwimOutlet
Amazon
Sporti Active Racerback Tankini Top
Wide straps with a back that covers below the shoulder blades. Fits tighter to the stomach and can run small
SwimOutlet
Sporti Active High Neck Tankini
Wide straps with a high neck cut to provide more support. H-Back style. Fits tighter to the stomach and can run small
SwimOutlet
Two-Piece Swimsuits for Practice
There's no shortage now of two-piece swimsuits that can be worn for lap swimming or training. These can range from fixed or tie-back tops to moderate coverage to triangle tops. Just as the bottoms can range from full coverage to barely there.
Our criteria focused more on the suit staying put while swimming, which is the most important factor in a two-piece. 
Related article: How to Pick a Two-Piece Swimsuit
Coverage and back style is more of a personal preference, so they weren't overly considered. However, we will provide some options 🙂
Jolyn Two-Piece Swimsuits
While other companies now make two-piece swimsuits built for lap swimming and training, Jolyn makes some of the best. In our opinion of course 😉
Their two-piece swimsuits come in many different styles and cuts, making it easy to find the suit that works best for you. 
More Content for You: 6 Reasons Why You Should Wear a Swim Cap
Jolyn builds their swimsuits to last and I can squeeze out at least two years' worth of a swimsuit. More if it's a tie-back.
Our pick for the best two-piece swimsuit for lap swimming is Jolyn's Tomcat Bikini Top. 
It's a nice blend of coverage, not too revealing but not too modest. The Tomcat suit is a tie-back style. Allowing you to tie the suit as loose or tight as you like. 
An added feature is the vent system in the front, which allows water to pass through the suit while you're swimming.
Surprisingly, it does make a big difference!
A less conservative option that a few of my teammates like is Jolyn's Triangle Top. This suit provides the least amount of coverage and comes as a tieback.
For a more modest fixed-back suit, you can opt for Joyln's Fendrick Bikini Top. It has the same amount of coverage as the Tomcat, but without the vent system.
The Kaylee Bikini Top provides the most coverage, as it features a high neckline and has a fixed back.
Bottom Pieces
Nearly every bottom piece in Jolyn's collection is built for active and training wear. They feature tight elastic and a drawstring to keep everything in place. 
This is key in two-piece swimsuits for lap swimming. Without these features, the bottom piece will fall off or move around. And you don't want to spend your whole workout worrying about that!
Jolyn's bottom pieces range from cheeky and slim, to full bottom coverage. And everything in between.
I train in their Europe Bikini Bottom style, which is medium coverage. Some may say it's closer to a cheeky style, but the fit works well for me! 
More Content for You: 7 Best Waterproof MP3 Players for Swimming
For full bottom coverage, consider their Andy or Midl Bikini Bottoms. These will cover more on the bottom than other styles. Although we will admit that other brands will have a fuller bottom coverage than Joyln's full bottom suits.
Lastly, for the least conservative, try the Brazil or Duke bikini bottoms. They're cheeky and slim coverage for those swimmers who want less coverage.
Two-Piece Alternatives
Swimsuit
Description
Available At
Sporti Active Bikini Top Tie Back
Triangle style front with a tie back for less coverage.
SwimOutlet
Sporti Active Bikini Top Fixed Back
Similar design to Jolyn's Tomcat, minus the vents. Tie back with thin straps
SwimOutlet
TRY Trinity Bikini Top (Fixed)
Fixed back top with three straps on the back and medium front coverage
SwimOutlet
Amazon
TYR Lula Bikini Bottom
Medium to moderate coverage with drawstring
SwimOutlet
Amazon
Sporti Active Bikini Bottom
Moderate to full coverage with drawstring
SwimOutlet
Some Swimsuit FAQ
What's the Best Swimsuit for Lap Swimming?
One that fits your body, stays in place and feels comfortable for you. Everything else is just window dressing. 
Yes, you can swim laps in any type of swimsuit. However, you run the risk of it sliding or falling off, moving around, or just feeling uncomfortable.
Instead, it's much easier to wear a swimsuit that's built for activity. Whether that's swimming laps, training, or doing water aerobics.
How Should a Swimsuit for Lap Swimming Fit?
Comfortably and in place. You want the suit to fit just right on your body. 
Not too tight so that it rubs and chafes your skin. And would otherwise make it uncomfortable to move or wear for long periods.
But it shouldn't be so loose that it will fall off while you're in the water. 
When looking for a swimsuit, you should also see how it moves with you. It should have a range of motion and move in a way that doesn't pinch or rub. 
We always recommend moving around whenever you're trying on a new suit. This will help you see how your swimsuit does or doesn't move with your body.
In Closing
As you can see, you have many different options when it comes to picking the best swimsuit for lap swimming. The best way to find the one that works for you is to try on a variety of styles to see what works best for you.
---
Bonus Content
The 7 Best Swim Caps for Long Hair: Which are the best swim caps for your long hair? We've picked the top 7 swim caps to fit a variety of hairstyles and needs.
What is the Cost of Swimming?: Looking to start swimming but not sure how much swimming costs? The good news is that it doesn't cost much to begin swimming. As far as exercise goes, it's very minimal in terms of cost. 
---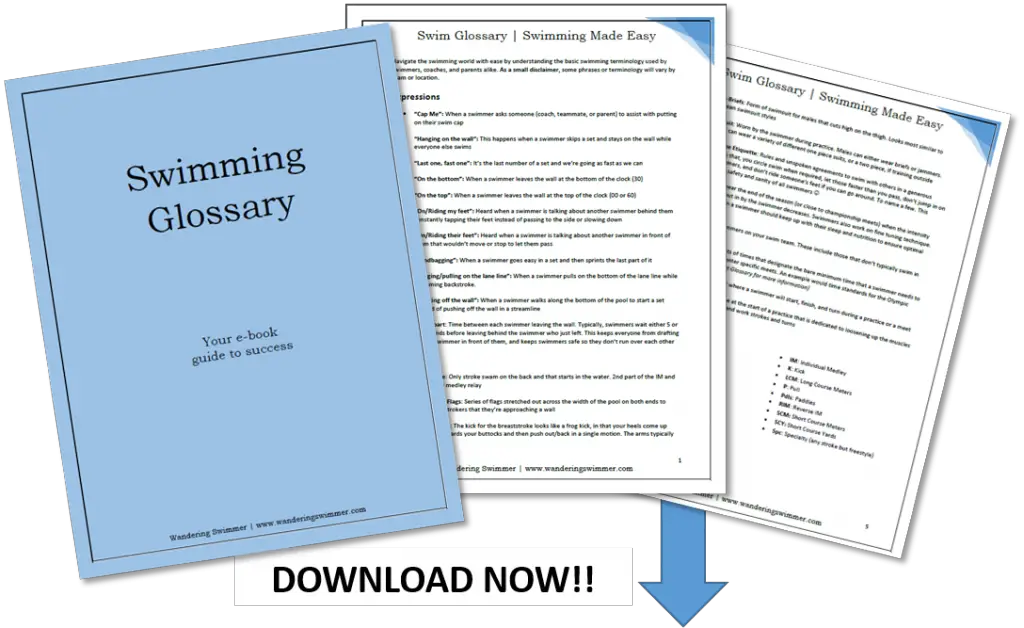 Want to Improve at the Pool?
Join swimmers and swim parents to receive my free newsletter and receive a free Swimming Glossary e-book as a thanks!
Every month you'll receive tips and coaching to help you find success at the pool.
---
About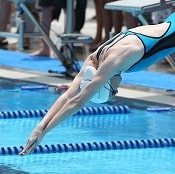 Chevron is a current competitive swimmer with almost 20 years of experience in the pool. And although she fell into the sport by accident in her high school years, she still trains daily and competes throughout the year. She's committed to providing guidance to all levels of swimmers and believes that everyone should know how to swim.