With the various and numerous options and styles of men's swimwear, it's not easy to understand which swimsuit is for what. Or when you should wear one particular suit over another.
While the design of a swimsuit is to allow you to get into the water, each swimsuit is made differently and for different purposes. 
Related article: Best Men's Swim Briefs for Lap Swimming and Training
Some are better for training and competitive swimming. While others are best for surfing or wakeboarding. And some should only be used for low-intensity water activities.
To help you pick your next swimsuit and find the best swimsuit for you, we've broken down the various swimwear available for men. And we'll detail which suits are best for which water activity.
Disclosure: This post may contain affiliate links, meaning we earn a small commission at no cost to you if you purchase something through one of our links. As an Amazon Associate, we earn from qualifying purchases. Please check out our disclosure page for more information.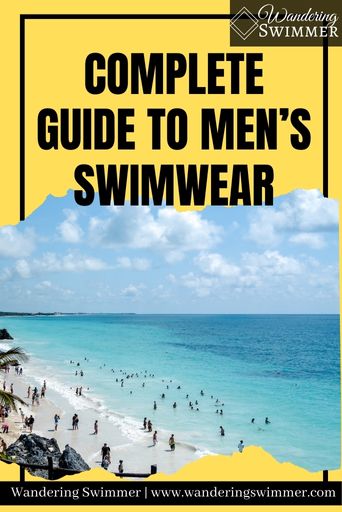 Jammers
Jammers are a type of men's swimwear that are tight on the legs and cover the majority of the thigh. They always stop just above the knees. Across the board, jammers are pretty similar in their style, in that every jammer looks like the other.
However, their cuts vary by brand and can either sit higher or lower on the hips, as well as fit longer or shorter on the leg.
This may not seem like a big deal overall. But it can make a difference when it comes to comfort and performance. You're less likely to have a good training or workout session if you're too focused on how your swimsuit isn't fitting compared to a comfortable and well-fitted suit.
Related article: What to Look for in a Men's Jammer
The biggest benefit for some men is that jammers are longer than swim briefs. The additional material makes some men feel more comfortable and confident when wearing them.
Because jammers come with a drawstring and fit tighter to the body than other men's swimwear listed here, they're ideal for training, lap swimming, and competition. And despite their more serious uses, they can also be just as easily used for fun and recreation.
That said, we don't recommend wearing just a pair of jammers to surf or wakeboard in. While the longer outseam of the jammer will protect your legs, the material is more likely to snag and tear. 
Instead, you're better off wearing a jammer swimsuit underneath board shorts.
Board Shorts
Probably one of the better-known men's swimwear is board shorts. Not to be confused with swim trunks, which we'll cover next! It may not seem like there's any difference between them but there are 🙂
Related article: Board Shorts vs Swim Trunks
Board shorts are designed for the surfer. They're made with durable material and a long fit to protect the surfer's legs from the elements. 
This type of men's swimwear can have one of the longer outseams, or length of the suit. Board shorts will range in length from 16-17 inches, which stops above the knee, to 21-22 inches, which goes below the knee.
There's no golden rule for picking the outseam on a board short. Instead, it comes down to individual preference and how you feel wearing it.
While board shorts are geared mainly towards surfers, wakeboarders, or bodyboarding, it doesn't mean that they can't be used for other activities! Both in and out of the water.
You can wear board shorts for kayaking, yoga, volleyball, and even swimming! 
Although when it comes to swimming, you should know that the loose fabric that makes up board shorts will add some resistance when trying to swim. So while you can swim in board shorts, they're not 100% ideal.
Swim Trunks
Another well-known pair of men's swimwear is swim trunks. They're also referred to as swim shorts or volley shorts.
Most men have a pair of swim trunks in their wardrobe but not all swim trunks are made the same.
Swim trunks are a shorter form of board shorts,  although some brands make longer swim trunks that are almost as long as board shorts. A lot will depend on the type of outseam that you like the most and how they fit you.
Despite their similarities with board shorts, there are some key differences aside from the length of board shorts compared to swim trunks. One of the main differences is the waistband.
More Content for You: Beginner's Guide to Swimming Freestyle
Some swim trunks only have an elastic waistband with no drawstring, while others may feature a drawstring for additional security. Because some swim trunks lack a drawstring, they're not recommended for more high-intensity water activities, such as surfing. 
Doing so runs the risk of them sliding off, which is something you probably want to avoid 😉 
Even swim trunks with drawstrings may not be the best for wakeboarding and surfing, as the material may not hold up well. 
Additionally, trunks often feature a lining on the inside of the suit for support. This liner can either be fabric or mesh depending on the swimsuit. The lining may make it difficult to execute tricks and moves when on a board as it limits flexibility.
While trunks aren't recommended for the waves, they're ideal for poolside and having fun at the pool or beach. We do believe that trunks with drawstrings are better if you plan to swim, play volleyball, or go to a water park, as they'll help keep everything in place.
Square Leg Swimwear (Euro Swimwear)
If you've never heard of square leg swimwear, you're not alone! These aren't the most well-known style of men's swimwear in places like America. However, they're quite popular in Europe and other countries and they are slowly starting to become more known in America and other places.
As the name implies, a square-leg swimsuit looks a bit like a square and is somewhere between a swim brief and a jammer. The suit fits tight to the body, offering support and making it ideal for training and lap swimming.
Related article: All About Men's Square Leg Swimwear
It also provides more coverage than a swim brief, as the leg piece comes down lower to about mid-thigh at the longest. The cut of the suit comes straight across the legs, like a jammer, instead of arching up like a brief.
This additional coverage still allows for movement while providing modesty and comfort at the same time. 
Because of the coverage, these swimsuits can be an option for individuals who want something shorter than a jammer but aren't ready for a swim brief yet.
Like swim trunks, some square leg swimwear will only feature an elastic waistband with no drawstring. While others do have a drawstring that will keep the suit in place. 
You can also wear square leg swimsuits under board shorts as they come without liners and some want additional support and protection. 
Swim Briefs
While swim briefs are often associated with competitive swimmers, no rule says only competitive swimmers can wear them! 
This style of men's swimwear offers the least amount of coverage out of all the suits on this list.
Also referred to as a 'Speedo', the swim brief is a classic men's swimwear that hasn't gone out of style yet. The swim brief fits tight to the body, reducing drag in the water and providing support. Briefs can either sit low or high on the hips and the cut of the leg can either come up high or cut lower.
There's no wrong answer when picking a swim brief based on the cut or style. It's 100% determined by your preference and what makes you most comfortable when wearing it.
Related article: What are Swim Briefs (And Should You Wear One?)
Swim briefs are geared mainly towards training and lap swimming, however, you can find briefs that lean towards more recreational use. 
For those suits aimed towards recreation, the cuts and style will vary more and range in different levels of coverage. Such as thinner or wider seams and full to cheeky bottom coverage. 
Briefs are most popular among competitive swimmers due to the range of motion and comfortability that they provide. The lack of fabric covering the leg reduces the amount of drag, thus, making swimmers move faster through the water.
Don't feel comfortable wearing just a brief out in public? Because these swimsuits fit tighter to the body, they're also ideal to wear under board shorts, swim trunks, and drag suits!
Drag Suits
While not exactly a common men's swimwear, drag suits are designed mainly for the competitive swimmer. Drag suits can also be used by lap swimmers and other individuals looking to increase the intensity of their swim training.
A drag suit is a type of square leg style swimsuit that has an outer mesh lining meant to capture and hold water as you swim. They're worn on top of another suit and their purpose is to create resistance as you swim, which makes you have to swim harder.
Related article: What are Drag Suits in Swimming?
It seems counterproductive in some ways. But once you take off the drag suit, you should feel much faster and smoother when swimming through the water.
Drag suits can provide a great challenge to your swim workout. However, we don't recommend them if you're not a strong swimmer, as they can exhaust you without realizing it. Additionally, drag suits can mess with your technique if you're not careful.
Men's Swimwear FAQ
Which Men's Swimwear Is Best for Me?
With the wide array of men's swimwear available, you have no shortage of styles to select from. The hardest part is picking one you like!
We are a firm believer that you should pick the style that you like best and feel most comfortable in. 
That said, we also want to note that some swimsuits are better for certain water activities than others. And some suits may emphasize or hide certain parts of your body.
It may take time to find the right swimsuit and which one you like best. You may even end up with several different swimsuits for different occasions, and that's okay! 
How Do I Pick a Swimsuit?
Ideally, you should look at what you feel most comfortable in and what activity you're going to do in that swimsuit. 
While you may feel most comfortable in swim briefs, it's not the best fit if you plan on surfing in them and you may have to settle for use over comfort.
More Content for You: 8 Best Swim Bags for Swimmers (And Water Enthusiasts)
As a rule, there is no hard rule that you have to follow when it comes to the suit that you pick. But generally, tighter-fitting suits are the best options for training, working out, or swimming laps. These are more streamlined and have less drag.
How Tight Should a Swimsuit Be?
Your swimsuit should be tight enough that it's not slipping down your hips even after they've been tied. But they shouldn't be so tight that it's cutting into your legs or hips. 
It's a bit of a guessing game to find just the right level of tightness for your swimsuit as it's not just the waistband that you need to watch for being too loose or tight.
For trunks and board shorts, the material around your legs should be loose enough that there's some gap between the material and your legs when it's dry. It shouldn't be tight enough that they barely fit on your thighs.
More Content for You: 7 Best Waterproof MP3 Players for Swimming
For briefs, square legs, and jammers, the cut on the legs shouldn't dig into the legs themselves. They'll fit tightly, yes, but it shouldn't cause pain.
We always encourage individuals to move around when trying on their swimwear to see how it moves with them. This also helps you get a feel for the swimsuit.
So move around! Squat, sit down, bend over and bring your knees up to your chest. Go through the motions that you'll be doing when wearing the suit in question.
It sounds silly, but as a competitive swimmer, I try on all my suits this way. It allows me to see if the swimsuit is comfortable to wear for hours on end. And if I can move through all my strokes and turns.
In Closing
When it comes to men's swimwear, the options are limitless. With all the various styles, cuts, colors, designs, and uses, the hardest part is often picking your favorite one!
Chevron
---
Bonus Content
Answering Your Questions About Rash Guards: For all their benefits, not a lot of people know about rash guards. Let alone why they should wear them and who can wear them. In this article, we'll discuss what a rash guard is and why you should wear one the next time you're out in the sun!
How to Make Your Swimsuit Last Longer: Swimsuits can be expensive. Whether you're using them for training, working out, or lounging by the pool, how can you make your swimsuit last longer?
---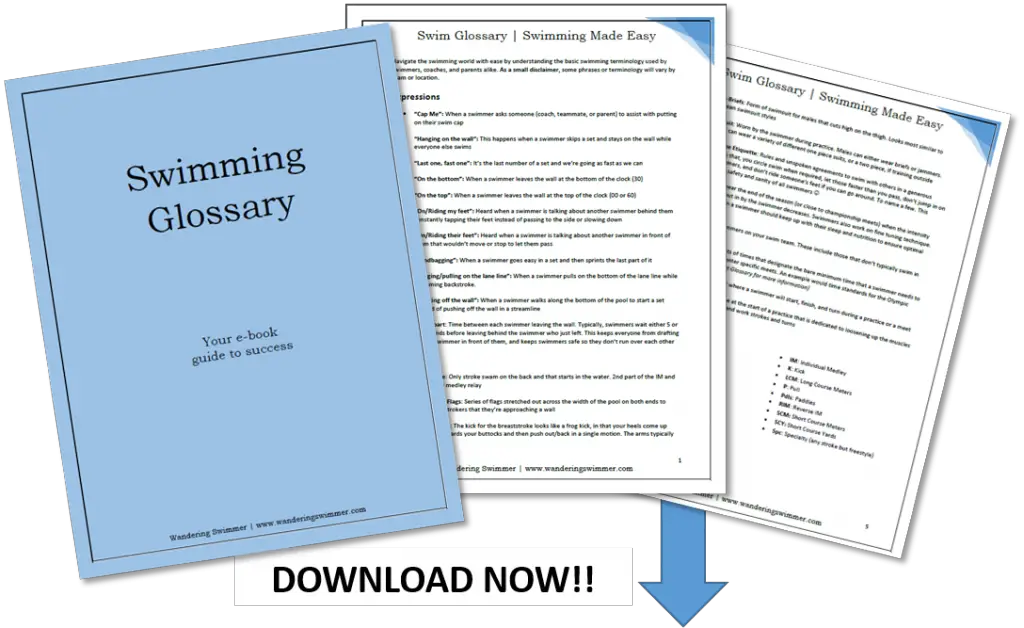 Want to Improve at the Pool?
Join swimmers and swim parents to receive my free newsletter and receive a free Swimming Glossary e-book as thanks!
Every month you'll receive tips and coaching to help you find success at the pool.
---
About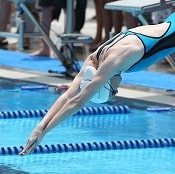 Chevron is a current competitive swimmer with almost 20 years of experience in the pool. And although she fell into the sport by accident in her high school years, she still trains daily and competes throughout the year. She's committed to providing guidance to all levels of swimmers and believes that everyone should know how to swim.