Swim trunks and board shorts are both popular types of men's swimwear but what is their purpose and how are they different? Chances are you have at least one pair but do you have the right swimsuit?
Related article: Complete Guide to Men's Swimwear
In this article, we break down the differences between board shorts and swim trunks, and what you should look for in each to ensure you have the best suit to meet your water activity needs!
Disclosure: This post may contain affiliate links, meaning we earn a small commission at no cost to you if you purchase something through one of our links. As an Amazon Associate, we earn from qualifying purchases. Please check out our disclosure page for more information.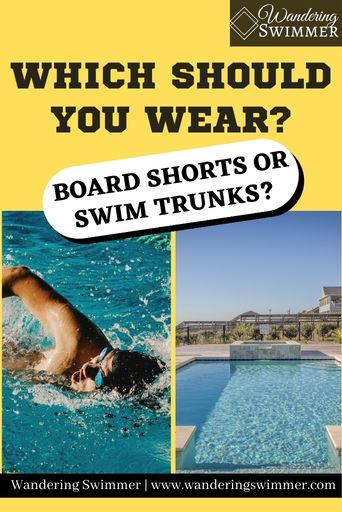 Board Shorts vs Swim Trunks in A Nutshell
| | Board Shorts | Swim Trunks |
| --- | --- | --- |
| Use(s) | Active performance, such as surfing, wakeboarding, and swimming | Based on the trunk you get, they can be more leisure based than active |
| Length of Suit (Outseam) | Usually stops just above the knee or just below it | Trunks show more thigh but some can run longer |
| Can You Swim in Them? | Yes, but the excess and loose material may cause some drag | Yes, but the pockets and lining may fill up with water and you need to ensure the band has a good drawstring and tight waist.  |
| Do They Have a Drawstring? | Yes, board shorts always have a drawstring or ripcord | Some brands/styles will have a drawstring but others may not feature one |
| Inner Lining | No, board shorts do not have an inner lining | Most feature a mesh/net or cloth lining |
What's the Difference Between Board Shorts and Swim Trunks?
The biggest difference between board shorts and swim trunks comes down to their uses. 
Specifically, board shorts were designed with the surfer in mind to help protect the surfer's legs from chafing and board wax, surf rash, and sun exposure. Because of this, board shorts are typically longer compared to swim trunks
Additionally, because board shorts were designed originally with the surfer in mind, they have a tighter waistband and drawstring to keep them snug and in place. 
Related article: Best Men's Swim Briefs for Lap Swimming and Training
The material is often made of more durable fabric to last against rough waves. And the design is built so that board shorts move with the individual instead of restricting movement.
Swim trunks come in various lengths ranging from short and showing more thigh, to longer outseams that stop just above the knee. Trunks also vary in their uses, as not every swim trunk has a drawstring. 
Trunks such as Nike Adventure Volley Shorts only feature an elastic waistband with no drawstring. Without the drawstring, these swim trunks are better suited for lounging poolside and not water activities. Lest they fall off!
For swim trunks with drawstrings, you can tackle more water activities without worrying about the trunks sliding off, such as Speedo's Marina Volley Shorts
Swim trunks also have a mesh liner or comfort liner for support. For those trunks with mesh liners, the inside lining may make it harder to move around and may collect water when swimming. 
More About Board Shorts
What are Board Shorts?
Board shorts were created in Hawaii by Japanese-Hawaiian couple Mr. and Mrs. Nii on Oahu island and rose in popularity after Elvis wore them in 1961. 
Board shorts are made from quick-drying material and feature a tight, well-fitted waistband and drawstring. Some brands, such as O'Neill, have Velcro fastenings instead of drawstrings for additional security. The material is often durable and made to withstand rough wear in the ocean.
Related article: What to Look for in a Men's Jammer
They fit longer on the legs, protecting surfers from the wax on the surfboard, surf rash, and other abrasive materials. 
The length or outseam (which we'll cover shortly) varies by swimsuit. Some may fit above the knee while others may go below the knee.
Can You Do Other Activities in Board Shorts?
You can! Because of the durable fabric and well-fitted waistband, you can tackle pretty much any water activity in board shorts. From wakeboarding, body surfing, and even swimming!
Just as you can take on activities away from the water, such as skateboarding.
Do You Wear Anything Under Board Shorts?
Unlike swim trunks which have an inside lining, board shorts rarely have any lining. 
We say rarely because some brands, such as Speedo's Bondi Board Short feature a mesh liner. Some board shorts are also double named as swim trunks, which may explain the liner but is something to watch for.
The main reason board shorts don't have a lining is because the lining can restrict the movement and flexibility needed when surfing and performing water activities. 
Related articles:
Because of this, some will opt to wear swim briefs, square leg swimsuits, or even trunk-style underwear. Some may also opt not to wear anything depending on how long they plan to wear their board shorts. 
O'Neill's Men's Skins Short is another option to wear under board shorts. They offer support and fit tight to the body, like swim briefs, but stop just above the knee. While these are similar to jammers, the material is more flexible. 
Ultimately, the decision to wear anything under board shorts is up to you and your comfort level. 🙂
Board Short Length (aka the Outseam)
The outseam is what defines the board short and it comes in several different lengths. From the shortest at 16-17", which is well above the knee, to 21-22 inches, which is well below the knee. And everything in between.
Longer outseams fit longer on the legs and can provide more protection when paddling or surfing, along with sun exposure. Whereas shorter outseams fit shorter on the legs.
There is no correct outseam length as it's completely dependent on your preference and what fits your body. 
What are the Benefits of Board Shorts?
The biggest benefit of board shorts is they're great for those who like to be active at the beach or in the water. Board shorts don't restrict leg movements as much as swim trunks with mesh lining do. 
Another benefit is the waistband and drawstrings that ensure the board shorts won't fall off. Whereas the cut and design help prevent the suit from riding up at inopportune moments.
More Content for You: 7 Reasons Why Swimming is So Hard
And as mentioned previously, the length of the board shorts is another benefit. From protecting leg hair from board wax to the rough water, and UV rays, the proper outseam can make a huge difference for anyone.
How to Pick a Board Short
When it comes time to choose the right board short for you, we recommend starting with the outseam. The outseam length should be based on your preference, comfort, style, and even activity.
Once you know the outseam length that you want, you can start to look at the design/color of the board shorts in that length. Along with the fabric and extras, such as pockets and drawstrings.
We will note that the outseam seems to vary by brand and can vary by the length of your legs. You may need to try on a few different pairs to find the right pair of board shorts that you like best.
More Content for You: 10 Drills to Help You Master the Freestyle Stroke
As with any swimsuit, we encourage you to move around in your suits when trying them on to see how they do (or don't) move with you. 
More About Swim Trunks
What are Swim Trunks?
Swim trunks are a shorter form of board shorts and often feature a mesh or fabric lining. Trunks usually have an elastic waistband and may or may not come with a drawstring. Although most swim trunks now have some type of simple drawstring for added security.
Trunks may also be referred to as swim shorts or volley shorts.
My team's favorite brand of swim trunks is Chubbies for their comfortable fit, fun patterns and fashion-forward appeal, and multipurpose use.
More Content for You: 6 Best Earplugs for Swimming
Some swim trunks do come in longer sizes so that they're almost as long as board shorts. However, they're not ideal for surfing or other strenuous water activities such as wakeboarding. 
Part of this is due to the mesh lining in the swim trunk. Another reason is due to the fabric that's used for trunks. While the fabric for swim trunks is quick-drying, they're not as tough as board shorts.
What Can You Do in Swim Trunks?
Swim trunks aren't necessarily built for the rough tumble in the waves the same way board shorts are. Just as they're not recommended for high-intensity water activities such as wakeboarding and bodyboarding.
However, they can be used for casual poolside wear and recreational use in the pool or beach. If you plan on taking them to a water park or horsing around in the water, it's best to get a pair of trunks that have a drawstring instead of just an elastic waistband.
This will help keep the trunks more secure and in place while you're having fun in the water.
Swim Trunk Length
How long are swim trunks? 
The length of trunks varies by brand and style but can go as short as 14-16 inches (Sporti Men's Active Swim Trunk Volley) and go as long as 20 inches (Speedo Men's Sport Volley Water Short).
More Content for You: Swimming Basics to Get You Started
For the longer swim trunks, you can get the length of a board short but with swim trunk features.
We will note that some brands, such as Chubbies, measure the length of their swim trunks by inseam instead of outseam. 
What are the Benefits of Swim Trunks?
The shorter outseam is one of the benefits of swim trunks, as not all men like the longer outseams that are standard in board shorts.
Another benefit of swim trunks for some men is the mesh lining. The mesh not only provides support but also means that you don't have to wear anything under the trunks. Additionally, the mesh netting can also help keep the wearer cool while wearing them out of the water.
More Content for You: 6 Reasons Why You Should Wear a Swim Cap
Lastly, because swim trunks are relatively streamlined, they can pass as shorts when away from the pool or beach. This makes them ideal for those heading out to eat when going straight from the beach.
How to Pick a Swim Trunk
Like with board shorts, we recommend starting with the outseam length along with the activity you plan to do in them. Because swim trunks aren't built to handle more intense water activities, it's also important to consider what you plan to use them for.
Additionally, you should check to see if the trunks have a drawstring or if they only feature an elastic waistband. Trunks with only elastic waistbands are more prone to sliding off compared to those with drawstrings.
More Content for You: 7 Best Waterproof MP3 Players for Swimming
Also like board shorts, outseam length will vary by brand and you may need to try on a few swim trunks to find what you like best.
Lastly, be sure to move around when trying your suits on. This will help you gauge whether or not the trunks move with you.
Swim Trunks and Board Shorts FAQ
How Should Shorts or Trunks Fit?
Both board shorts and swim trunks should fit at your hips and no higher than your belly button. They shouldn't fit so tight on your hips that they hurt or dig into your skin. Just as they shouldn't fit so loosely that they slide down.
They should also fit loose around your thighs. How loose is up to you but they shouldn't be tight enough that they're flush against your skin like jammers would be. Instead, there should be some space between your thighs and the fabric.
Lastly, board shorts should fall just above or below the knee. Whereas swim trunks should stay above the knee but the overall length from there can vary. 
Can You Swim in Trunks or Board Shorts?
You can but swim trunk and board shorts have excess fabric around the legs that create resistance in the water when you swim. This can make it much more difficult to swim and move efficiently through the water if you're attempting to train.
So while you can swim in trunks or board shorts, you may end up fatigued more quickly and unable to go as fast as you could with jammers or swim briefs. 
More Content for You: How to Pick the Right Swim Goggles
If you're wanting a good swimsuit to train or swim laps in, we highly recommend jammers or swim briefs instead. Jammers are similar to trunks and board shorts in terms of length, but they fit tighter to the legs.
Whereas swim briefs (also referred to as 'Speedos'), have much less coverage but provide more freedom of movement. 
A third option could be square-leg swimsuits or Euro swimwear. These suits are still on the shorter side compared to swim trunks or board shorts but aren't as short as swim briefs!
Should I Wear Swim Trunks or Board Shorts?
Honestly, it depends on what you plan to do in the water and your preference. If you want to try surfing, wakeboarding, or any other high-intensity water activity, your best bet is to wear board shorts.
However, if you're going to be relaxing in and out of the water, swim trunks may be better for you. The lining can keep you cooler and the shorter outseam may be more your style.
Why Do the Pockets Have Holes in Them?
You may notice that the pockets in swim trunks have holes in them. This isn't an accident! Rather, it's to help the water drain out of the pockets so they don't fill with water and weigh your suit down.
In Closing
When it comes to swim trunks and board shorts, the options are nearly endless. Even if one suit doesn't fit your needs, it's likely that the other will. Or who knows, maybe you'll like both!
As always, happy swimming!
–Chevron 
---
Bonus Content
The 7 Best Paddles for Swimming: Swim paddles (or hand paddles) are a great training tool for swimmers. We've broken down 7 different paddles to help you find the best swim paddle for you!
How to Workout in a Small Backyard Pool: From swimming to water aerobics and other workouts in between, here are 5 ways to work out in a small backyard pool.
---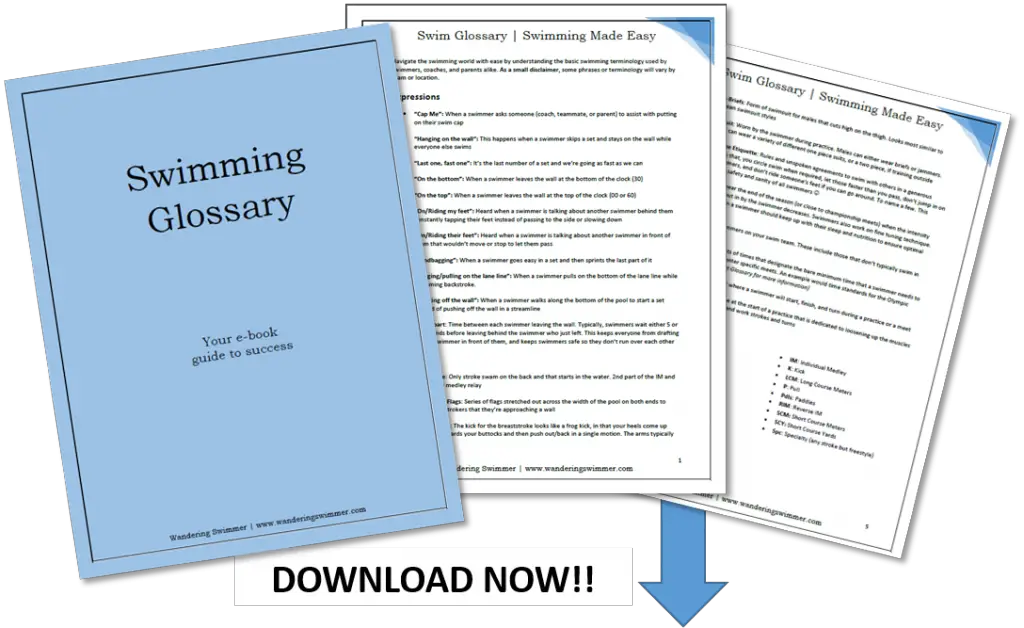 Want to Improve at the Pool?
Join swimmers and swim parents to receive my free newsletter and receive a free Swimming Glossary e-book as a thanks!
Every month you'll receive tips and coaching to help you find success at the pool.
---
About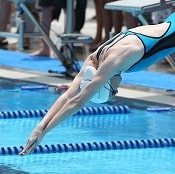 Chevron is a current competitive swimmer with almost 20 years of experience in the pool. And although she fell into the sport by accident in her high school years, she still trains daily and competes throughout the year. She's committed to providing guidance to all levels of swimmers and believes that everyone should know how to swim.