There's no shortage of men's jammers to pick from. But knowing what to look for in a men's jammer can sometimes be overwhelming. Especially if you've never worn one before, or let alone heard of a jammer!
Related article: Best Men's Swimsuits for Lap Swimming and Training
To help give you a better understanding of this suit, we'll break down the men's jammer, including what to look for, the best fit for you, and some pros and cons for this swimwear.
Disclosure: This post may contain affiliate links, meaning we earn a small commission at no cost to you if you purchase something through one of our links. As an Amazon Associate, we earn from qualifying purchases. Please check out our disclosure page for more information.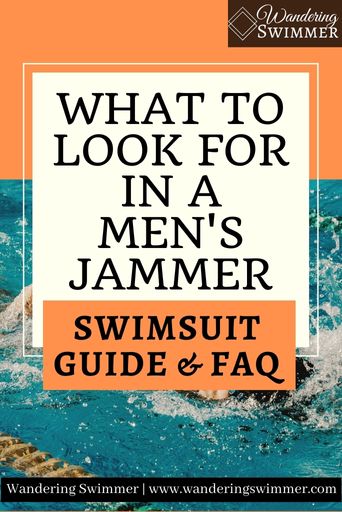 Before we start, our beliefs regarding swimwear
What you look for in your swimwear and what you end up picking is 100% your choice. This is only meant as a guide to help get you started and answer any questions you may have. 
More Content for You: Basic Swimming Terminology
Swimwear styles vary by individual but at the end of the day, a swimsuit is there to allow you to get into the water. Your swimsuit should be comfortable and should also make you feel confident. 
What is the Men's Jammer?
Swim jammers are a type of swimsuit that men can wear to allow them to get into the water.
They're similar to board shorts and swim trunks, but fit much tighter to the thighs. Like trunks and board shorts, jammers are long compared to the swim brief (or speedo cut) and stop just above the knee.
Related article: Swim Trunks vs Board Shorts
Because jammers fit tighter against the legs, they're often used for competition and lap swimming, as the tighter fit reduces resistance in the water. This lack of resistance (or drag) can help swimmers move through the water easier and faster.
For a more detailed guide to men's swimwear and the various kinds/uses, check out our article: Ultimate Guide to Men's Swimwear
Understanding Men's Jammers
Jammers are made from comfortable, stretchy fabric which moves with the swimmer. This allows more freedom of movement while swimming, and makes for a more comfortable swimming experience.
When it comes to style, jammers are pretty much the same across the board. 
The cuts though may differ by brand. However, it's a very slight difference and you'll notice it more on where the swimsuit sits on the body. 
Related article: What are Swimming Briefs (And Should You Wear One?)
Two instances of this would be that some brands sit higher on the hips than other brands. While other jammers may fit longer on the leg and stop a bit closer to the knee.
While small differences in the cut of a jammer, they can make a big difference for the swimmer wearing them. We have teammates who prefer Arena jammers or Speedo because of how it fits on the hips and it's their preferred style.
One of the benefits of jammers is that the longer fit is more comfortable for some men compared to the shorter cut and fit of the swim brief. It can also make some men feel more confident whenever they're at the pool or beach.
Almost all swim jammers come with an elastic waistband and a drawstring tie to ensure a secure but comfortable fit. This is important as no one wants to feel like their swimsuit is sliding off while they're swimming!
Lastly, one of the best things about jammers is the numerous designs, patterns, and colors available. From the simple solid colors or pipped suits to the bold designs, there is a jammer pattern out there for everyone.
What to Look for in a Men's Jammer
1. Cut/Style
When it comes to looking for a men's jammer, you should first consider the cut and style that you like the most. Do you like the waistband to sit higher or lower on your hips? What about the length of the jammer leg itself?
Again, these may seem like small things to consider but when it comes to your comfort, they can play a large role. 
Related article: All About Men's Square Leg Swimwear
Because of this, we encourage you to try on a few different brands to get a feel for how each brand fits your body. You may find that you gravitate toward a certain brand or two.
2. Material/Fabric
Not all fabrics are made the same when it comes to swimsuits, and jammers are no exception. 
While most swimsuits have some level of chlorine protection, some are stronger than others. Speedo's Endurance+ fabric (such as Speedo's Launch Splice) and Arena's MaxLife fabric (such as Arena's Spraypaint MaxLife) are two good examples.
This means suits with this fabric keep their shape and won't stretch out as quickly as other swimsuits. Chlorine-resistant jammers will also be less prone to fading and pilling.
While jammers made from material more resistant to chlorine may last longer, they do tend to run more expensive. And for some, the suit can be just a touch on the tight side until it gets broken in.
We feel though that the longevity of the suit is worth the price, especially if you're in the water frequently.
A 100% polyester swimsuit will last much longer than one made of just nylon and lycra. However, polyester has less stretch compared to other materials, which can be uncomfortable for some. 
3. Size
The size of your jammer can make all the difference in terms of comfort and functionality. A swimsuit that's too big will constantly shift around or worse, slide off. But a swimsuit that's too small can be painful.
You can tell when a jammer fits too large if it's baggy or too loose around your thighs. Jammers shouldn't fit loosely in the same way that board shorts or trunks fit. Check to make sure that the waistband isn't too loose either.
More Content for You:
While jammers do come with drawstrings, a waistband that's too big can catch water while you swim. This increases the resistance when you swim and you also run the risk of the suit moving around.
Alternatively, a jammer may fit too tightly if you have trouble pulling the suit up over your thighs. Jammers may have a tight fit but they shouldn't be so tight that it's a struggle to get into them!
Because jammers fit tight and provide compression, you may have to try on a few sizes until you find the fit that works best for you. 
A properly fitted jammer will be tight, but not so much that it causes you pain or you can't move. Just as it shouldn't move around and look baggy on your legs.
4. Design/Color
The best part about looking for a jammer is all the designs, patterns, and colors available! 
When picking your jammer, you have no shortage of options. Jammers with just a single color typically run more affordable than those with patterns and designs. Which can provide a cost alternative to those looking to save money.
Because of the many different styles, the best way to pick out the type of design and pattern that you want is to use the filters listed online in stores such as SwimOutlet. 
This can help you find and narrow down your suit to exactly what you want!
Men's Jammer Frequently Asked Questions
What's the Perfect Fit for a Men's Jammer?
Trying to find the perfect fit for a swimsuit can be a pain. Sizes vary by brand and sometimes even by fabric. 
However, the perfect fit for a jammer is entirely up to you! Some swimmers prefer a tighter or looser fit based on their preference. 
More Content for You: 7 Best Waterproof MP3 Players for Swimming
One suggestion we have is to take your time when trying on various swimsuits. And while easier said than done, try not to get too frustrated.
Here are some things to look for when looking for your jammer.
Fit
Again, the fit of a men's jammer varies by the swimmer. To find the right fit for you, start with several sizes and work through which size feels best. 
Remember that it shouldn't fit so loosely that the fabric is saggy or falling off your hips. But it shouldn't be so tight that it hurts when you wear it.
It may take some time but the right fit for you is something that feels comfortable when you wear your jammer. If it's looser or tighter than what someone else may wear, that's okay! You're the one wearing the suit and its fit should be what's right for you 🙂
Lastly, remember that jammers will loosen slightly when you get into the water and over time. Keep this in mind if you feel that a suit is a smidge too tight but the next size up feels too large.
Fabric
Some fabric stretches more than others and this can make a big difference in the fit of a jammer. Polyester fits more snugly and stretches out slowly. Whereas nylon and lycra can be looser and stretch out quicker.
Check not just the stretchiness of the fabric but also how it feels on your body. If you find that polyester feels scratchy, then it may not be the suit for you. 
More Content for You: How Many Laps is Considered a Good Swim Workout?
You may need to try on different materials to determine which fabric you like best. And know that your suit size may also change based on the material.
We also recommend that you go with a chlorine-resistant fabric to help extend the life of your swimsuit.
Movement
Swimsuits shouldn't be uncomfortable. They shouldn't dig into your skin, cut into your waist near the waistband, or rub around your hips. If this is the case with your suit, it's probably too small and you should get a new one in a different size. 
To find the perfect fit for a men's jammer, move around when you're trying on different suits.
Yes, it's going to feel or probably look a little ridiculous. But it's well worth the effort of moving around in your suit can tell you how well – or how badly – will move with you.
More Content for You: Beginners Guide to Swimming Freestyle
Try squatting down, bending over, and sitting down while wearing your jammer. Do some trunk twists where you rotate your torso to check the fit around your hips. And bring your knees up either to your chest or parallel to the ground to ensure the fabric isn't too tight.
If you feel that the suit isn't letting you move easily or your movements are restricted, try the next size up. Jammers will give you some compression on your legs but not so much that you feel the suit will rip if you sit down.
Why Should I Wear a Jammer?
Jammers probably get the reputation of looking dorky or that they're only for serious swimmers. But that's not true by any means! 
With the right color and pattern, jammers can have a slimming effect and make your legs look longer and leaner. For some, this may be a positive.
They can also provide a great alternative for those men who want something tighter fitting for lap swimming but don't feel comfortable in smaller-cut swim briefs. 
Are There Any Benefits to Jammers?
There are many benefits to wearing jammers! 
The first and biggest benefit is that it reduces drag and cuts back on resistance in the water when you're swimming. This can make it easier and more efficient to move through the water and reduces fatigue. 
More Content for You: The 10 Best Swim Fins for Swimmers
Not only do jammers make it easier to move through the water, but they can also help swimmers move faster when they swim. This is one of the reasons competitive swimmers race in jammers instead of swim briefs.
Another benefit is the added compression that comes with jammers, which can provide support to the muscles. 
Lastly, one of the benefits of swim jammers is the level of confidence they can provide swimmers. The extra length of the swimsuit can make some feel more comfortable and confident in what they wear.
What's the Best Way to Take Care of a Men's Jammer?
We always recommend that you rinse out your swimsuit directly after your swim. Use cold and clean water to do this. As hot water can ruin the fabric more quickly.
If you can, don't shower in your swimsuit either. The chemicals in shampoo and soaps might shorten the lifespan of the fabric, too.
Lastly, let your bathing suit air dry on a flat surface. Letting it drip dry will make the suit lose its shape. And sticking it in the dryer can damage the elastic. 
For more tips and details on caring for your swimsuit, be sure to check out our article: How to Extend the Life of Your Swimsuit
7 Reasons to Like and Wear a Jammer
Still not 100% convinced about wearing a jammer? Here are a few reasons you should consider having a jammer as an option to wear!
Can help you feel confident at the pool, beach, or lake
Offers more coverage than a swim brief but with the same benefits 
Less resistance when swimming than board shorts or trunks
Help you move faster and more efficiently through the water
More sun protection than swim briefs
Great for any type of water activity 
Jammers are available in many different colors, designs, and patterns
4 Reasons to Dislike Jammers
No swimsuit is without flaws and there are a few reasons to dislike jammers. In the spirit of impartiality, here are a few disadvantages of the jammer.
The stigma that jammers aren't always flattering or 'cool'
Some swimmers may dislike the extra material on their legs
Unfortunate tan lines
The feeling of being restricted/restrained
In Closing
Men's jammers are often underrated pieces of swimwear despite their efficient design and purpose. They're widely versatile and can be used for almost every water activity and by any age. If you're looking for a functional swimsuit, try a jammer! You might be surprised at how much you like it 🙂
---
Bonus Content
Ultimate Guide for Women's Swimwear: Not all women's swimwear are made the same. To help you find your perfect swimsuit, we've broken down various swimsuits for women.
Best Water Bottles for Swimmers: Picking a water bottle seems simple but it's no easy choice. With so many different water bottles available, how do you know which is the best water bottle for swimmers?
---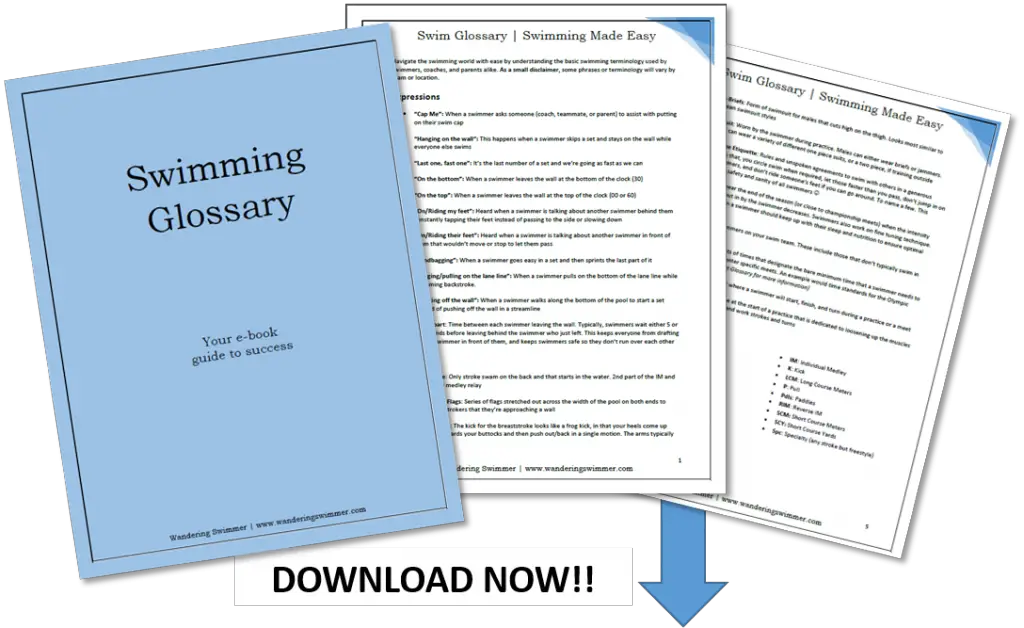 Want to Improve at the Pool?
Join swimmers and swim parents to receive my free newsletter and receive a free Swimming Glossary e-book as a thanks!
Every month you'll receive tips and coaching to help you find success at the pool.
---
About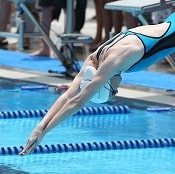 Chevron is a current competitive swimmer with almost 20 years of experience in the pool. And although she fell into the sport by accident in her high school years, she still trains daily and competes throughout the year. She's committed to providing guidance to all levels of swimmers and believes that everyone should know how to swim.