Perhaps one of the lesser-known men's swimwear is the men's square leg swimsuit, which is a cross between a jammer, trunks, and swim briefs. 
This style of swimsuit is more popular in Europe, but I have seen it worn while I was in Japan, too! Recently, it's become a bit more mainstream around the world.
Related article: Complete Guide to Men's Swimwear
But is it the right swimsuit for you?
We'll break down what the men's square leg swimsuit is to help you decide if it's the right swimsuit for you!
Disclosure: This post may contain affiliate links, meaning we earn a small commission at no cost to you if you purchase something through one of our links. As an Amazon Associate, we earn from qualifying purchases. Please check out our disclosure page for more information.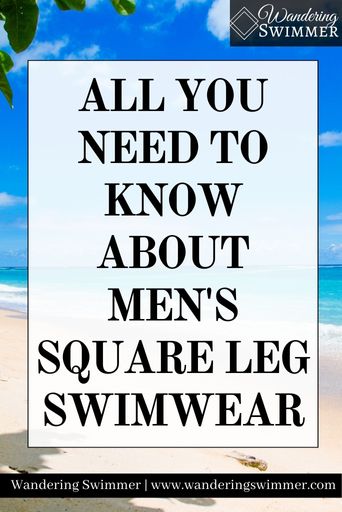 What is a Square Leg Swimsuit?
Also called Euro swimwear, square leg swimsuits are more popular in Europe but have seen growing popularity recently throughout the rest of the world. Some of this is due to the style, fit, and use, which can be used for recreational purposes or training.
A square leg swimsuit is somewhere between a swim brief and a jammer. The suit fits tight to the body and offers support along with minimal resistance when swimming. Similar to swim briefs.
Related articles:
But unlike swim briefs, square leg swimsuits provide more coverage on the legs like that of a jammer. Although they don't reach near the same length as a jammer. 
Instead, a square leg swimsuit will only fit about mid-thigh at its longest. Some may compare them to tighter, form-fitting swim trunks.
Because the swimsuit fits longer than briefs, it allows for more coverage and modesty for men. But still allows the freedom of movement and the ability to swim with ease.
Can I Wear Square Leg Swimwear?
If you feel that square leg swimwear is a swimsuit that you want to try, then you should try it! Anyone can wear Euro swimwear as it's not limited to a specific age group or body type. 
That said, we will note that some square leg swimwear is better suited for certain types of water activity than others.
Some, such as Wavebreaker Men's Square Leg are best for more leisure activity, as this swimsuit only features an elastic waistband and no drawstring. Without the drawstring, it's more likely to fall off during more strenuous water activity.
Related article: What to Look for in a Men's Jammer
Whereas Sporti's Square Leg Swimsuit has 4-way stretch fabric and a drawstring to help the suit stay put and move with you. This type of suit can be used for swimming or be worn under board shorts in lieu of swim briefs.
How Do I Pick the Right Square Leg Swimsuit?
Because square leg swimsuits can vary between use, we do suggest that you start by picking out a suit based on the water activity you plan to do while wearing it. This can be the difference between being happy with your suit or being miserable.
Here are 4 things to consider when picking the right square leg swimsuit for you.
1. Use
As stated earlier, you should always pick your swimsuits based on how you plan to use them. While the purpose of a swimsuit is to keep you covered and allow you to get into the water, swimsuits aren't made equal.
Some are better for different water activities than others. And you should consider this first before deciding on a suit.
Recreational style suits usually only feature an elastic waistband and won't hold up to more vigorous water activities such as swimming or surfing. Instead, you run the risk of them falling off if you're not careful.
These swimsuits though can be ideal for a day at the beach or lounging poolside. Some individuals may also prefer this type of suit because it doesn't feature a drawstring.
Related article: Which is the Best for You? Board Shorts vs Swim Trunks
If you're wanting square leg swimwear for something more active, we suggest looking at those suits that feature a drawstring. These suits will fit more snugly on your waist and the drawstring will help keep them from falling off.
One such option is TYR's Durafast Elite Square Leg, which features a drawstring and a tight but flexible fit.
While we don't overly recommend square legs for activities such as surfing or wakeboarding, they can be worn underneath board shorts to help with support or chafing. 
2. Leg Coverage
While swim trunks and board shorts have various outseam lengths, square leg swimwear varies little in length. Some brands and styles may fit longer on your legs than others based on the cut. Just as some may appear more square than others.
A good example of this is Sporti's Square Leg Swimsuit compared to Arena's Icons Solid Square Leg and nearly every square leg from Funky Trunks. These suits fit lower on the hips and look almost like a longer swim brief.
At quick glance both appear to have a square leg design, however, Sporti's swimsuit fits more like a square leg and provides more coverage compared to the Arena and Funky Trunks design. Instead, these suits fit lower on the hips and look almost like a longer swim brief.
If you're wanting a true square leg, ensure that you're looking at swimsuits that have a flat leg cut instead of an arching one. Otherwise, you may end up with more of a swim brief (or an actual swim brief!) than you wanted.
3. Fit
Swimsuits should fit and feel comfortable when you wear them. Just as they should move with you instead of staying put and rubbing/chaffing.
If your swimsuit feels too loose or feels like it could fall off, try the next size down. Alternatively, if it pinches or feels too tight around your legs or hips, try the next size up. Remember that even square legs will fit snugly but not so much so that they cut into your skin.
More Content for You: Overview of 6 Common Swimming Strokes
As always, we highly suggest moving around in your square legs. This can help you see and feel how the suit will move with you. It can also help you determine any trouble areas, such as getting a wedgy if you sit or squat down.
Some simple motions to try are:
Sitting down
Squatting
Bringing your knees up 
Bend over like you're picking something up
Take a step forward with one leg and the other staying stationary
Take a side step with one leg and the other staying still
You may need to try some other motions and movements to feel comfortable and that's okay! 
4. Material
When it comes to material that makes up swimwear, you have fabric that's chlorine resistant or not, and fabric that stretches or doesn't. 
Typically, fabric that stretches more or easier is less chlorine-resistant and is made of a blend of materials. Such as lycra and nylon. Some may have a blend of polyester and lycra for more chlorine resistance and stretch.
Suits made from 100% polyester though are usually more chlorine-resistant and have much less stretch than blend suits. This material is ideal when you plan to use your suit frequently and want it to last longer.
Square Leg FAQ
Who Wears Square Leg Swimwear?
Anyone can wear square leg swimwear or Euro shorts. They're not limited to a specific area or age group. 
While it's true that this style of swimwear is more popular and well-known in European countries and other areas, that shouldn't stop you from considering one if you're not from that area. 
More Content for You:
Square leg swimsuits can be an option for younger kids or others who aren't comfortable yet in a swim brief but want something shorter than a jammer. 
Just as these suits may be a better option to wear under board shorts instead of a brief or other types of lining.
What's the Difference Between Swim Briefs and Square Legs?
Square leg swimsuits are a type of swim brief, however, the main difference comes from the coverage. 
Swim briefs will offer the least amount of coverage between the two and the cut on the leg will arch up on your leg.
Square leg swimsuits though come down longer on the thigh, typically no longer than mid-thigh. They provide more coverage due to the fabric extending past the curve of the bottom and the cut on the leg typically runs straight instead of arching.
Are Drag Suits the Same as Square Leg Swimsuits?
Yes and no.
Yes, in that they're square in their design. But that's about the only similarity between them.
Drag suits are meant to be worn over the top of another swimsuit, such as swim briefs, jammers, or square leg swimsuits. The purpose of drag suits, is as the name implies, to create drag.
These suits typically have some type of outer mesh lining covering the fabric of the swimsuit. This mesh lining catches the water and creates resistance while you swim, which slows you down.
Related article: What is a Drag Suit in Swimming?
It's great for adding a challenge to your swim workout but you shouldn't use a drag suit unless you're a stronger swimmer. Drag suits can impact your swimming technique and can exhaust you without realizing it.
When looking at square leg swimsuits, check that the suit isn't labeled with the word 'mesh' in it. The description may even mention the word 'drag' in it. Another indicator of a drag suit is the mesh outer lining.
In Closing
Although not very well known, square leg swimwear is starting to make itself more known. And it's an ideal option for those wanting a swim brief with more coverage or a jammer-style suit with less fabric. Give it a try for yourself! It may be the style of suit that you've been looking for.
Chevron
---
Bonus Content
How Many Calories Does Swimming Burn?: Looking to burn some calories and get in a great cardio workout, but hate running or dripping sweat everywhere? We have some great news for you! Swimming is one of the best workouts out there to help you burn calories and get in shape.
7 Reasons to Wear Goggles When You Swim: Goggles may seem like a pain but their benefits far outweigh any frustrations that may come with them. So why should you wear goggles when you swim and are they that helpful?
---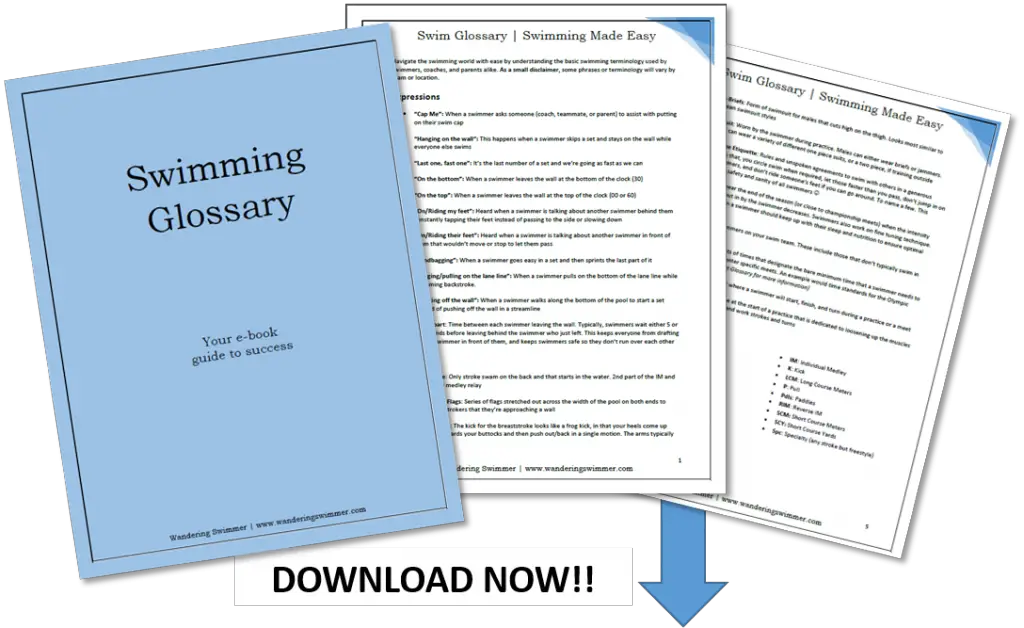 Want to Improve at the Pool?
Join swimmers and swim parents to receive my free newsletter and receive a free Swimming Glossary e-book as a thanks!
Every month you'll receive tips and coaching to help you find success at the pool.
---
About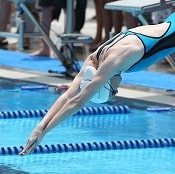 Chevron is a current competitive swimmer with almost 20 years of experience in the pool. And although she fell into the sport by accident in her high school years, she still trains daily and competes throughout the year. She's committed to providing guidance to all levels of swimmers and believes that everyone should know how to swim.