The swim brief or more often referred to just as a 'Speedo' is a classic swimsuit that's stood the test of time. 
Ask any competitive swimmer who switched from a jammer to a swim brief and they'll swear that they'll never go back to jammers. Although for some, swim briefs are hit or miss due to the minimal coverage they provide.
Related article: Complete Guide to Men's Swimwear
So what are swim briefs, what's the hype about them, and should you wear one? We'll break down this popular swimsuit and answer some more frequently asked questions!
Disclosure: This post may contain affiliate links, meaning we earn a small commission at no cost to you if you purchase something through one of our links. As an Amazon Associate, we earn from qualifying purchases. Please check out our disclosure page for more information.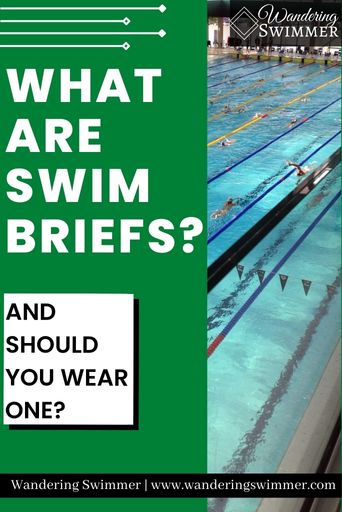 Before we start, our beliefs regarding swimwear
What you look for in your swimwear and what you end up picking is 100% your choice. This is only meant as a guide to help get you started and answer any questions you may have. 
Swimwear styles vary by individual but at the end of the day, a swimsuit is there to allow you to get into the water. Your swimsuit should be comfortable and should also make you feel confident. 
Understanding the Swim Brief
Swim briefs have an old-school and European feel to them in some ways. Just as many individuals associate the brief with competitive swimmers and perhaps lap swimmers.
While a large bulk of swim briefs are geared more toward training, lap swimming, and competing, you can find more fashion-forward swim briefs to wear at the pool, beach, or lake. 
Related article: Best Men's Swim Briefs for Lap Swimming and Training
Due to this, you should ensure that you're looking at and picking the right swim brief for you. Below is a quick breakdown of the swim brief from athletic to recreational styles.
How to Pick A Swim Brief
1. Use 
Swim briefs come in several different uses. From training and competition to recreation. The best place to start when picking a swim brief is to know what you're going to do in your swimsuit.
If you don't plan on racing in a swim brief, it's best to avoid those types of swim briefs designed specifically for competition. 
Related article: What to Look for In a Men's Jammer
Most swim briefs can be worn for training or recreation, however, some suits designed for recreation may not hold up to training. These recreational-style suits may also fit slightly differently than those meant for training.
Be sure to check whether the suit you want will fit your aquatic needs.
Shops such as SwimOutlet carry thousands of suits from practice and active, to recreational. Use their filters on the page to narrow down what you want in a suit. And you'll have your perfect suit in no time!

2. Style/Cut
At first glance, it's easy to think that all swim briefs are the same. But swim briefs come in different styles and cuts based on the swimmer's preference. Such as low-rise or mid-rise briefs, how wide the side seam is, or how high the leg cuts.
I have some teammates who prefer low-rise briefs while others prefer a bit higher cut on their waist. Just as others like the cut on the leg to come up higher while others prefer a bit lower for more coverage.
There is no right or wrong answer when it comes to picking a swim brief based on its style or cut. It's always 100% your decision based on what makes you feel more comfortable. Both in and out of the water.
3. Material
Swimsuits take a beating in the water. Whether it's by chlorine or salt water, neither is kind to the material that makes up swimsuits.
The chemicals in the pool or the saltwater can eat away at the material in your suit. This leads to the color fading, the elastic becoming brittle and stretched out, and the suit losing shape. 
Related article: Swim Trunks vs Board Shorts
Because of this, when picking a swim brief, we suggest that you look at the type of material that the suit is made from. Certain materials, such as 100% polyester suits, will last far longer than those made from a blend. 
Two good examples of 100% polyester suits are those with Speedo's Endurance+ and Arena's MaxLife fabric. These are more chlorine-resistant and hold their shape and color better than other suits.
We will note that 100% polyester swimsuits fit tighter and stretch much less compared to suits made with a blend.
If you're wanting something with a bit more give that still holds up well in the water, look for suits made from Lycra Xtra Life fabric. These will stretch and can fit more comfortably than 100% polyester. 
Swim Brief FAQ
Why Should I Wear a Swim Brief?
My male teammates swear by swim briefs. They like the maximum range of movement that they provide, especially when it comes to breaststroke.
However, if you're new to the swim scene, the lack of coverage can be off-putting and slightly intimidating. And you might wonder what's the hype for swim briefs.
Mostly, it's about the comfort and range of motion that swimmers can get when wearing swim briefs. Compared to a jammer, which covers more of your leg, you feel that you can move easier and the compression is far less.
Related article: All About Men's Square Leg Swimwear
While I've never worn swim briefs, I do know that I prefer the freedom of my two-piece bottom compared to my knee-length racing suit for the same reason. Knee-length suits can be tolerable for some but only as necessary and for short periods (such as competition).
My teammates have also stated that they feel faster in the water when they train in swim briefs compared to jammers. Some of this is due to the drag of water going over more fabric. And some is probably mental due to them feeling more comfortable in their chosen suit.
Swim briefs can also double as a training suit or a recreational suit at the beach, and most would never know the difference. They're very flexible in their uses and can be doubled up with drag suits or used to extend the life of a jammer that's dry rotting.
You can also wear swim briefs under your board shorts or swim trunks for more support or to prevent chafing. 
Related article: What is a Drag Suit in Swimming?
How Do You Keep a Swim Brief from Falling Off?
Having the correct size, tight drawstrings, and a good elastic waistband! 🙂
In all seriousness, one of the biggest concerns about wearing swim briefs is keeping them in place and not falling off. Especially if you're going to be diving or jumping into the water. 
Starting with a properly fitted and tied swimsuit is the best way to ensure your swim brief doesn't fall off. You should also check that the elastic in the waistband is still strong enough to keep the suit from sliding down. 
Once the elastic starts to get worn and stretched out, you should start considering a new suit. The drawstrings will keep things from falling off, but they'll only last for so long.
More Content for You: The 7 Best Swim Paddles for Swimmers
You may also need to retie your suit on occasion or if it feels like it's starting to get loose. The tie in the drawstring can loosen over time and needs tightening during your time in the water.
How Should a Swim Brief Fit?
We believe that any swimsuit should fit comfortably on your body and the swim brief is no exception. 
You should ensure that your swim brief isn't too tight so that it's digging into your hips or waist. It should also be snug around your legs but not so snug that it cuts into the skin.
At the same time, it shouldn't be so loose that it risks falling off. Both before it's tied or when you're wearing untied. 
When you're out of the water, a well-fitted swim brief should stay on your hips without needing to be tied. If it's sliding down, try a smaller size.
More Content for You: The 8 Best Swim Bags for Swimmers (And Water Enthusiasts)
We also encourage you to move around in your swim brief to test how it feels and moves with you. Ideally, you should do this with any swimsuit you get!
Squat down and bend over to make sure everything stays in place as you move around. Twist your torso to check that the waistband is comfortable and fits well. And bring your knees up to check the fit of the legs.
Doing this can help you determine if you're comfortable in the suit and can identify any trouble issues. Such as a suit riding up or slipping down!
Remember that your swimsuit will loosen slightly when you get into the water. And over time, the material may stretch some.
Are Swim Briefs Better Than Jammers?
We don't think so.
Every swimsuit has its pros and cons, and each swimmer can favor a certain swimsuit style over the other. But it doesn't mean that one swimsuit is better than the other. 
Some swimmers feel more comfortable in a jammer than in a swim brief. Or vice versa. The good thing about having different types of swimsuits available means that swimmers can pick and wear what makes them comfortable and what they feel best in.
More Content for You: How to Side Breathe When Swimming Freestyle
Because of this, we feel that both jammers and swim briefs are good suits to wear.
It's important to remember that when it comes to picking out a swimsuit you pick out what you want to wear and what you like the most. Ask yourself what makes you feel the most comfortable and confident.
Wearing a swimsuit of any kind can be intimidating and it's worse when you feel uncomfortable with what you're wearing. Sticking with what makes you feel best is the ideal way to go!
What Age Should a Competitive Swimmer Switch to a Swim Brief?
We believe there isn't a set age that swimmers should switch to a swim brief. Or even back to a jammer. There's a lot of pressure as competitive swimmers get older to switch from a jammer to a brief.
And while teammates may mean well, it's also important to know that not everyone feels comfortable in swim briefs. And that's okay! One major component of a swimsuit is that you feel comfortable wearing it. 
More Content for You: How to Fix Common Swim Goggle Problems
Because of this, we don't believe that there's one specific age that someone should start or stop wearing a certain type of swimsuit. I have teammates on my team who still wear jammers because they're not fond of briefs.
In Closing
Swim briefs aren't for everyone despite their growth in popularity. However, despite their classic look and minimal coverage, they do have their benefits, and men have dozens of different briefs to choose from.
As always, happy swimming!
Chevron
---
Bonus Content
How to Count Laps in Swimming (With Tables): Knowing how to count laps in swimming can make the difference between hitting your swimming goal and missing it.  Here's a quick guide to counting laps while you swim and how to determine how far you swam.
11 Ways to Improve Your Freestyle Kick: Small adjustments to your flutter kick can make a big difference for swimmers. Here are 11 ways to improve your freestyle kick.
---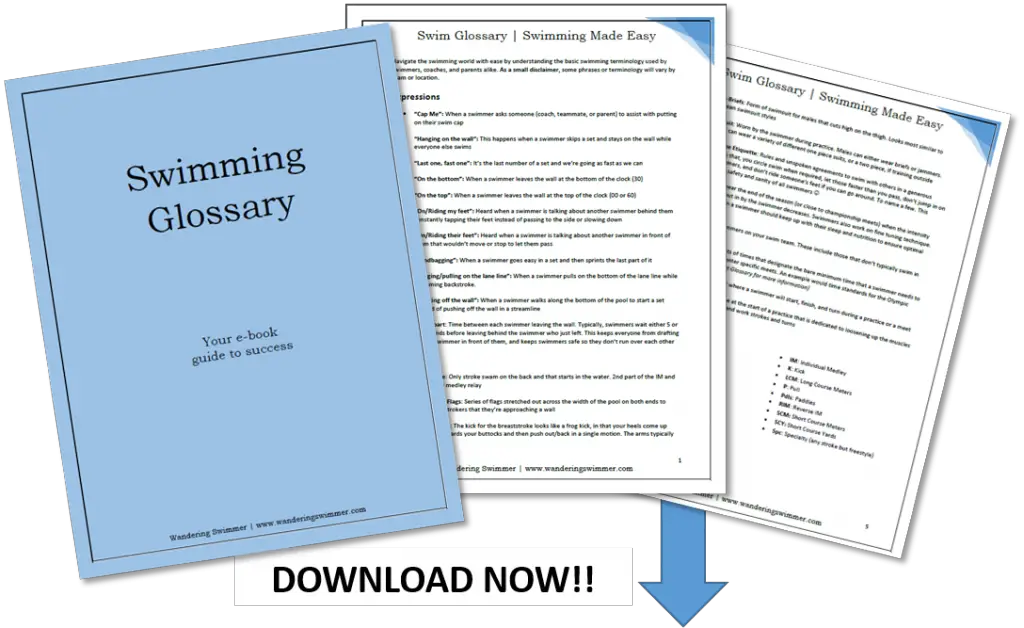 Want to Improve at the Pool?
Join swimmers and swim parents to receive my free newsletter and receive a free Swimming Glossary e-book as a thanks!
Every month you'll receive tips and coaching to help you find success at the pool.
---
About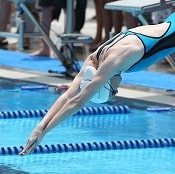 Chevron is a current competitive swimmer with almost 20 years of experience in the pool. And although she fell into the sport by accident in her high school years, she still trains daily and competes throughout the year. She's committed to providing guidance to all levels of swimmers and believes that everyone should know how to swim.