It's no secret that it's difficult to find the best swim brief for lap swimming and training. Especially if you've never worn one before or feel intimidated by the smaller coverage. It's easy to feel lost and not know where to start.
Related article: What are Swim Briefs (And Should You Wear One?)
We've broken out several swim brief options that are the best for lap swimming or training to help you get started. Additionally, alternatives are provided in each brand/category so you can find the best suit.
Here are our picks for the best swimsuit for lap swimming and/or training.
Disclosure: This post may contain affiliate links, meaning we earn a small commission at no cost to you if you purchase something through one of our links. As an Amazon Associate, we earn from qualifying purchases. Please check out our disclosure page for more information.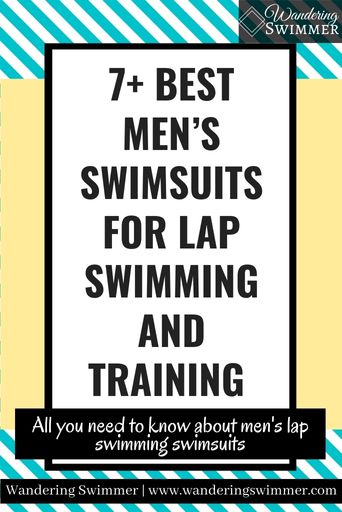 Swim Briefs for Lap Swimming and Training
There are hundreds of different swim briefs for swimming laps and training, and no one pair is better. Most of what makes a swimsuit 'the best' comes down to personal preference in how the suit fits, feels, and performs.
Because of this, no overall 'best' swimsuit outperforms the others. Instead, we picked swim briefs by coverage and grouped them from there. Additionally, we provided alternatives just in case our pick isn't your pick.
Our criteria focused on:
Low to high-rise cut on the hip
Moderate to high hip cut
Wide to thin side/outseam
Fabric life
Comfort/fit
Drawstring (a must!)
And while not exactly considered a swim brief, we will include square leg swimwear in our FAQ below as another option. Mainly because they're similar to the brief style, however, they offer more coverage than a brief but not as much as a jammer.
Related article: What to Look for in a Men's Jammer
Lastly, we've found that shops such as SwimOutlet, which carry hundreds of briefs, are the best places to look for swimsuits. Their filters on the page can help narrow down what you want in a suit, making it easier to find what you're looking for.
Longer Outseam Swim Briefs
Speedo Endurance Brief
A swim brief classic is the Speedo Endurance Brief.
This suit tends to sit higher on the hips and has a wider side seam, coming in at about 3-4 inches. The outseam length can vary by size. Typically, the smaller the suit, the shorter the outseam will be, and vice versa.
On average though the outseam for the Speedo Endurance brief is about 3-4 inches. This provides more coverage and a comfortable fit on the hips and legs. 
Because the outer seam is wider, the cut on the leg doesn't come up too high on the hip. Despite the lower cut, this suit still offers great flexibility and movement when swimming laps or training. 
However, we will note that each swimsuit will fit every swimmer differently so you may find that the cut comes up higher compared to another swimmer. 
One of my teammates actually dislikes this suit because of how high it sits on the hips and the lower cut of the leg. The rest of my teammates though swear by the suit and the vast majority wear it without complaint.
The fabric is Speedo's Endurance+, which is 50% polyester and 50% PBT. PBT is a texturized material that's best at resisting chlorine like polyester but has a similar stretch as Spandex. Combined, these make for a long-lasting fabric that will hold up for hours in the pool. If handled correctly 🙂
The Speedo Brief has both an elastic waistband and a drawstring for a secure and tight fit so you don't have to worry about anything falling off while swimming. 
The Speedo Endurance Brief comes in solid and patterned options.
Similar Speedo Alternatives
Swimsuit Name
Description
Available At
Speedo The One Men's Brief
Fabric is Endurance Durable, which has 53% polyester and 47% PBT. The sides are just a smidge shorter.
SwimOutlet
Amazon
Speedo PowerFLEX Eco Brief
Made with more stretchy fabric with Nylon and Xtra Life Lycra. The sides are around 3 inches
SwimOutlet
Amazon
Speedo Dive 5
The largest outseam and coverage out of the Speedo briefs. A mix of Nylon and XtraLife Lycra and has a drawstring. Limited colors
SwimOutlet
Amazon
TYR Durafast Elite Racer
TYR's Durafast Elite Solid Racer is another great swimsuit with long-lasting fabric and a bit lower cut on the leg. It's designed with the swimmer in mind, regardless of their ability. 
This suit sits a bit higher on the hips and the cut of the leg is low, but that doesn't mean that you can't move around in this swim brief. You can still train or work out while wearing this suit without any issues.
The fabric is TYR's Durafast Elite Fabric, which is 94% polyester and 6% spandex for long-lasting fabric. The side seams range from 3-4 inches based on size and the waistband also has a drawstring.
You can get the TYR Racer Brief in solid colors, although slightly limited in terms of color options. They're also available in a few pattern options, such as the Phoenix Splice and Camo prints. The camo print fabric is 100% polyester.
TYR Swim Brief Alternatives
Swimsuit
Description
Available At
TYR TYReco Solid Racer
Similar in design to the Elite Racer, however, the fabric is made of TYReco material, recycled nylon, and Lycra XtraLife. Front lined only. Side seams run smaller with smaller sizes
SwimOutlet
Amazon
Alliance Splice Racer
A simple black suit design with a colored splice on the side. The fabric is a mix of Nylon and Lycra. Side seams run smaller with smaller sizes
SwimOutlet
Amazon
iSwim Essential Solid Brief
One of the lesser-known swim brands, iSwim makes a simple but well-constructed swim brief. Their Essential Solid Brief is affordable and gets the job done. 
It's a classic style swim brief that sits higher on the hips and has a wider outseam for more coverage. It's front lined only and has a drawstring to help keep everything tight and secure.
When it comes to fabric, this suit is 82% polyester and 18% spandex for a long-lasting material that'll keep it holding up for hours in the pool.
One downside of iSwim's Brief is that it only comes in solid colors. However, there are at least 5 color options to select from, which is more than most brands when it comes to solid color swim briefs.
Nike HydraStrong Swim Briefs
Although known more for shoes and apparel, Nike does make swimwear (and swim gear!) that hold up well in the pool. Their HydraStrong Swim Brief is one of their swim briefs that does its job well.
The HydraStrong Swim Brief has the basic swim brief design with an outseam of around 3 inches depending on size. It sits about average on the hips, perhaps a bit lower than the rest of the briefs in the list of longer outseam briefs.
The cut on the leg comes up high enough for mobility and a good range of motion. However, it doesn't cut up so high that you feel more exposed when wearing the swimsuit.
Nike's Hydrastrong fabric is a polyester blend of polyester and PBT, making it chlorine-resistant and able to withstand hours in the water. It's front lined only and comes in solid and pattern options.
Alternative Nike Swim Briefs
| Swimsuit | Description | Available At |
| --- | --- | --- |
| Nike Rift Swim Brief | Made with 82% polyester and 18% spandex. The outer seams run about 3 inches. There is a large logo on the back with the Nike name which may be a turn-off for some swimmers | SwimOutlet |
Best Shorter Outseam Swim Briefs
Arena MaxLife Swim Brief
Another favorite of my teammates is Arena's MaxLife Brief. 
This suit tends to fit lower on the hips than most of the brands, which some of my teammates prefer over the higher-fitting ones. To them, the lower fit on the hips enables them to move easier.
In addition to fitting lower on the hips, the side seam is also smaller/shorter than most of the brands listed. Again, some of my teammates like the smaller outseam as it makes the cut higher on the leg.
At around 2.75 inches, it's not the shortest outseam on the list, but it can provide a nice middle ground between the smaller size and the large seams.
Like with every suit though, we'll note that suits fit each body differently and may sit higher or lower on your body. Additionally, the outseam may be smaller or larger based on the size you wear.
Arena's MaxLife Brief is made with MaxLife fabric, which is 100% polyester, making it the most chlorine-resistant fabric available. However, 100% polyester fabric tends not to stretch out when worn, which may make it feel tight.
This suit features a drawstring and is fully lined. It typically comes in patterns but some solid options are available.
Arena Alternatives
Swimsuit
Description
Available At
Arena Men's Icons Solid Brief
This suit features a more stretchy fabric than the MaxLife fabric. It features a fun vertical racing stripe and a 2.75-inch outseam
SwimOutlet
Amazon
Sporti Solid Swim Euro Brief
We feel that most of the Sporti swim brief line has smaller side seams compared to other brands, such as Speedo and TYR. But size does make the side seam fluctuate so it's possible that some sizes may make some of the Sporti briefs have a larger outseam
Out of the Sporti brief line, the Sporti's Solid Swim Euro Brief is their smallest brief in terms of coverage. It's very similar to their Solid Swim Brief in terms of material. 
However, as it's more of a Euro cut, it differs in fit and the size of the outseam. These swim briefs fit much lower on the hips and have a smaller outseam, which measures around 2 inches depending on your size. 
The smaller outseam and higher cut on the leg allow for greater flexibility when swimming and moving around. It also features a drawstring to keep everything in place.
The fabric is made from 80% Nylon and 20% Lycra XtraLife and comes only in solid colors. It is front lined only instead of fully lined.
Sporti Alternatives
Swimsuit
Description
Available At
Sporti HydroLast Brief
This suit's fabric is a blend of 48% PBT and 52% polyester for a more durable fabric and less likely to fade. The outseam can be a little longer than the Euro cut
SwimOutlet (solid)
Amazon (solid)
SwimOutlet (splice pattern)
Amazon (Tie-Dye pattern)

Sporti Solid Swim Brief
Similar fabric to the Sporti Euro brief with a blend of Nylon and Lycra XtraLife. Front lined only with a drawstring. Outseam may be longer and closer to 3 inches on some sizes
SwimOutlet
Amazon (solid)
SwimOutlet (piped slice pattern)
Amazon (piped slice pattern)
Speedo Solar 1 Inch Brief
Probably the shortest outseam on this list, the Speedo Solar 1" Brief is as the name implies. The outseam is one inch. 
This suit is the smallest brief out of Speedo's line but many feel that the high arch of the leg cut gives the best motion and freedom of movement when swimming.
Fabric-wise, it's the same as the Speedo PowerFlex with a blend of Nylon and XtraLife Lycra. If you liked the PowerFlex suit but wanted a higher cut and smaller outseam, this would be the suit for you!
It has an elastic waistband and drawstring for a secure fit, comes fully lined, and is available in solid colors or pattern options. You can also find one of Speedo's Pride Prints in this suit style!
Men's Swim Briefs FAQ
What's the Best Men's Swimwear for Lap Swimming?
Whichever swimwear feels best for you and stays on your body. You can swim in any type of men's swimwear, that's what it's designed for; getting in the water. However, we will admit that certain types of men's swimwear aren't 100% ideal for lap swimming.
Trunks and board shorts are larger and don't fit as tight to the body, which can create drag when swimming. This makes it more challenging to move through the water.
Related article: Swim Trunks vs Board Shorts
Instead, you'll find that it's much easier to lap swim in swim briefs, square-leg swimsuits, or jammers. Any of these three options is designed for lap swimming and fits tighter to the body to reduce resistance when swimming.
What are the Various Lining Types?
Swim briefs are lined for privacy and to prevent chafing, but not all briefs are lined the same way. Most have either a fully lined or a front lining to them.
Fully Lined: When a brief is fully lined, it means that the lining goes all the way around the suit. This is best on lighter-colored suits and as a suit ages, the lining can make the suit last longer before it becomes see-through. One downside of full-lined swim briefs is that they can take longer to dry
Front Lined: As the name suggests, swim briefs that are front lined only have a lining in the front. This lining can help prevent chafing while providing coverage at the same time. Front-lined suits tend to dry faster than fully lined, however, once a suit starts to fade, it becomes see-through quicker than a fully lined suit.
Are Square Leg Swimsuits the Same as Swim Briefs?
Yes and no. 
Yes, they're similar in that they're closest in design to swim briefs compared to other men's swimwear. But they're just a bit longer than briefs and have a straight cut across the legs instead of an arching leg cut.
Because of the lower cut on the leg, a square leg (or Euro suit) can provide more coverage than a swim brief while still providing many of the benefits of a swim brief. 
Related article: All About Men's Square Leg Swimwear
If you're not sold yet on a brief or not quite ready to try one, a square leg is a nice middle step.
Sporti's Square Leg swimsuit is a more stretchy suit that has outseams of about 10 inches. Whereas Speedo's Square Leg utilizes their Endurance+ fabric for 100% polyester to make the suit last longer. The outseam of the Speedo Square Leg is longer at around 11 inches.
For square legs with a bit shorter outseam that more closely resembles a swim brief, Arena's Men's Icon Square Leg and all suits from Funky Trunks Square Leg are your best option. These suits have a much shorter outseam but don't arch on the leg cut as briefs do.
Which you pick, swim briefs or square legs, know that there's no right or wrong swimsuit for you to wear for lap swimming or training. Pick whichever makes you feel most comfortable! 🙂
What are the Benefits of Wearing a Swim Brief?
There are a few benefits to wearing swim briefs. One of the biggest benefits is the maximum range of movement and motion you can get while wearing one. The various leg cuts on the suit provide less restriction while swimming as the leg is more open.
Some swimmers may also feel faster in the water because there is less fabric moving through the water when they swim. While jammers may offer compression, the excess fabric does add a small level of resistance when swimming.
For some, the lack of extra fabric on their legs is another win. Most of my teammates dislike how restricting jammers make them feel when swimming. And they only tolerate jammers when they're racing as it's for a short time.
Lastly, swim briefs are very versatile. They can be worn for lap swimming or just lounging poolside. They can also be worn underneath board shorts or swim trunks for more support or to prevent chafing. 
In Closing
Swim briefs have a wide variety of options to select from when it comes time to pick the best swim brief for lap swimming. From more coverage to less, and solid colors to patterns, the choices are nearly endless!
---
Bonus Content
Answering Your Questions About Rash Guards: For all their benefits, not a lot of people know about rash guards. Let alone why they should wear them and who can wear them. In this article, we'll discuss what a rash guard is and why you should wear one the next time you're out in the sun!
How to Make Your Swimsuit Last Longer: Swimsuits can be expensive. Whether you're using them for training, working out, or lounging by the pool, how can you make your swimsuit last longer?
---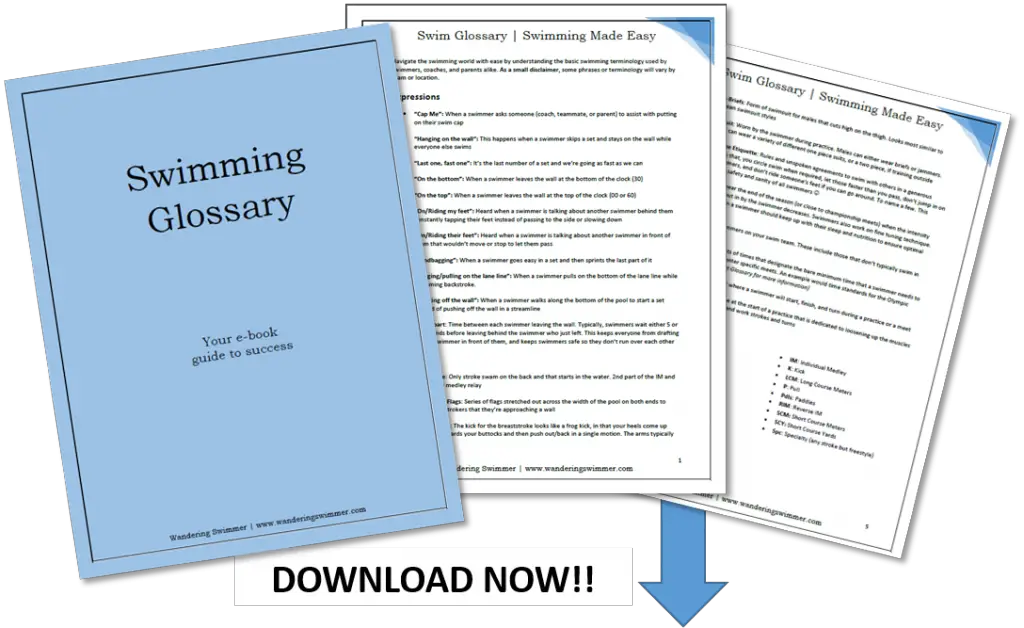 Want to Improve at the Pool?
Join swimmers and swim parents to receive my free newsletter and receive a free Swimming Glossary e-book as thanks!
Every month you'll receive tips and coaching to help you find success at the pool.
---
About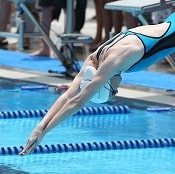 Chevron is a current competitive swimmer with almost 20 years of experience in the pool. And although she fell into the sport by accident in her high school years, she still trains daily and competes throughout the year. She's committed to providing guidance to all levels of swimmers and believes that everyone should know how to swim.