When it comes to girls' swimwear, you have hundreds of options to select from and it's incredibly easy to feel overwhelmed by the number of choices. 
Finding the right swimwear for your child is important. But between suits for swim lessons and competition to those suits geared towards fashion and fun, there's a lot to choose from! 
Related article: The 7 Best Swimsuits for Girls
To help you pick your daughter's next swimsuit and find the correct swimwear for her, we've broken down the various girl's swimwear available.
For a companion article on boys' swimwear and how to pick swimwear for your son, please head over to Your Guide to Picking Boys' Swimwear. Some swimwear, such as float suits and rash guards are the same for both genders and reflect as such in both articles.
Disclosure: This post may contain affiliate links, meaning we earn a small commission at no cost to you if you purchase something through one of our links. As an Amazon Associate, we earn from qualifying purchases. Please check out our disclosure page for more information.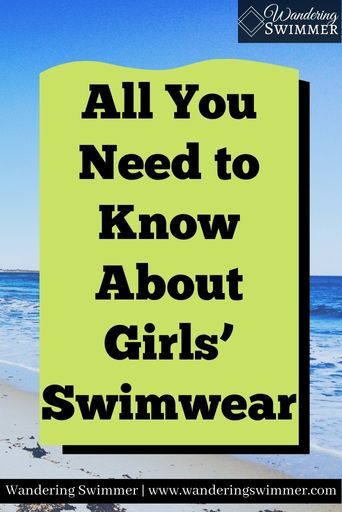 Before we start, here are our beliefs: 
This is only meant as a guide to help get you started and give you a breakdown of girls' swimwear. It is by no means a hard and fast rule (except for certain competition swimwear). 
What you and your daughter look for in a swimsuit is 100% between you. While we offer our advice, you by no means need to take it if it goes against what you believe or want for your child.
Related article: Ultimate Guide for Women's Swimwear
At the end of the day, a swimsuit is there to allow your child to get into the water. Everything else is just embellishments. 
Girl's Swimwear for Training and Swim Lessons
This group of girls' swimwear is focused more on being efficient in the water instead of fun and fashion. That said, there's nothing that says these suits can't be used for fun and fashion!
Most girls' swimwear for training and swim lessons are one-pieces, however, there are some available in a two-piece design. 
Typically the two-piece swimsuits are tankinis instead of bikinis. However, a few bikini styles are available for training and swimming lessons.
These suits come in a wide range of styles and designs. The three biggest differences between these suits will be the width of the shoulder straps (wide vs thin), the back style (more enclosed vs more open), and the fabric type (more polyester vs less).
Related article: 6 Swimsuit Back Styles Explained
Breakdown of Suits for Training and Swim Lessons
Here's a quick breakdown of the various elements to look for in swimsuits that are often used for training and swim lessons.
Swimsuit Style: Suits for training come in various styles, from one and two-piece suits to tankinis. One-piece swimsuits are the norm for training but some tankinis and two-pieces can hold up to activity
Wide Strap Suits: Suits with wider straps tend to fit more comfortably than thin straps. Wide straps are more common in swimsuits for younger kids because of this and they're easier to grasp for small hands. One negative is that the straps may rub on the neck
Thin Strap Suits: While thin straps are more popular with older swimmers, some younger swimmers do like them and thin straps are available for youth swimsuits
Closed Back Swimsuits: These suits don't feature an opening in the back of the suit, such as TYR's Girls Solid Ella MaxFit. These suits will provide the most coverage but can slightly restrict movement when training and can be hard to get on for swim lessons.
Open Back Swimsuits: Suits with an open back have some type of keyhole in the back of the suit. This keyhole allows for more flexibility and movement when swimming. Most girls' swimsuits feature a V-back or racerback. The size of the keyhole varies by suit
Fabric Type: Suits that have more polyester in them tend to last longer than those with just nylon or Lycra. This means that your daughter can wear them for more than one year. The drawback is that suits with more polyester don't stretch out as much and can fit tighter.
Tech Suits for Competition 
One of the smaller categories of girls' swimwear but an important one for those who compete. For this section, we're focused mainly on tech suits instead of regular practice suits that can be worn at meets.
Tech suits are most often knee-length suits with fabric and fit designed to reduce resistance when racing. There are also regular one-piece styles (not knee-length) available in tech suit material and design.
Related article: 15 Ways to Extend the Life of Your Tech Suit
Any type of tech suit is expensive and unfortunately, doesn't last as long as practice suits. If your daughter isn't competing, there's honestly no need for them to wear a tech suit. It's a waste of your money.
If you're wanting a knee-length style suit, you're better off looking at unitard swimwear. This style of swimsuit reaches down to the knees but has more durable fabric compared to that of a tech suit.
 Lastly, it's important to note that in the US, swimsuits for competition and racing have specific rules based on age. 
The new ruling put out by USA Swimming in 2020 states that swimmers 12 and under may only wear particular tech/racing suits. The two main features of a 12 and under tech suit are
Suits have sewn seams and not bonded seams
The fabric is textile instead of woven
When looking for these suits, it's important to check that they're approved for ages 12 and under. SwimOutlet has a specific section for these suits. 
Fashion Swimwear 
Fashion swimwear encompasses swimsuits that are more for fun instead of training or exercising. Typically these have ruffles and/or bows on the suit, and may sit on one shoulder or off the shoulder.
They can also be used for swim lessons! I saw many swimsuits that would be considered 'fashion' during my time giving swim lessons 🙂
This type of swimwear comes in a range of swimsuit styles, mainly one-piece, two-piece, and tankini swimsuits. Some types of rashguards and board shorts may also be considered fashion swimwear.
More Content for You: The Parents Guide to Summer League Swimming
One thing to consider with more fashion-forward swimsuits is that they may not have the best chlorine-resistant fabric compared to those designed for training. 
These suits may last for the summer but you'll likely need to get a new one the following year. 
Girls' One-Piece Swimsuits
When you think of girls' swimwear, most people think of cute one-pieces with ruffles, bows, and fun patterns. And while this is true of most girls' swimwear, there is also a large collection available that's more subdued.
These various options allow girls to pick the patterns and styles that they like best so that it fits their personality. While this may seem minor, liking the swimsuit you wear is key to feeling comfortable and feeling your best.
So whether a girl wants to rock some ruffles and shine in a bright pattern or show off in a classic suit, she can always pick what works for her!
More Content for You: Can You Swim With Bad Eyesight?
One-piece girls' swimsuits come in either wide or thin straps and some may even have sleeves for added UV protection. Depending on the suit you get, there may or may not be a hole in the back for more movement.
It's also worth noting that swimsuits considered 'fashion' can be worn at swim lessons. Many of the girls I taught had fun swimsuits with ruffles on their shoulders or around their hips. 
I'll also point out that kids who liked their swimsuits tended to enjoy swim lessons more than those that didn't like their suits. Letting them pick out their own suit (within reason) can go a long way. Just a little tip for anyone going through swim lessons 😉 
Tankinis for Girls
In our opinion, tankinis are fantastic but underrated swimsuits that deserve more attention. A tankini is a two-piece swimsuit that masquerades as a one-piece. This is because although the top and bottom pieces are separate like a two-piece, the top covers the stomach like a one-piece.
Because of the versatility of tankinis, they make a great swimsuit for girls. Especially those that want to wear a two-piece but aren't quite ready to make that step. Or for parents who aren't ready for their daughter to wear a two-piece yet!
Related article: What is a Tankini? (And Why You Should Have One)
Tankinis tops can come in a variety of lengths. Longer tankinis are typically referred to as tankinis. But those that come up higher on the stomach may be called 'midkini'.
For more coverage, opt for one that reaches down to the bottom of the swim bottom. Less coverage will show more stomach but may not be as revealing as a bikini.
Like one-piece swimsuits, tankinis come in thin and wide straps. They typically don't have a hole in the back, mainly because the top is loose enough that the hole isn't needed for easier movement.
Tankinis can be used for fun and activity, such as swimming and lessons!
Again, I saw several tankinis when giving swim lessons. For some kids, the freedom to move around more made it easier for them to swim and be comfortable in the water.
Two-Piece and Bikinis for Girls
Like bikinis for women, bikinis for girls come in a wide variety of styles. From triangle-style tops (which usually have the least amount of coverage) to more square/rectangular tops (more coverage). Some rectangular tops may also have a ruffle along the top for more flare.
Most bikinis have thin straps but some are available in wider strap options. 
When it comes to activities in a bikini, suits that are more fashion-driven aren't the best for high-level water activity. Mainly because the suits aren't designed to stay put at high intensity. Such as swimming or even surfing. 
More Content for You: 6 Best Earplugs for Swimming + FAQ
If your daughter wants a two-piece to train in or another high-intensity activity, it may be better to look at suits for training. Minimally, the swimsuit bottoms should have a good drawstring to keep them from falling off.
Girls can wear two-piece swimsuits for swim lessons if they so want. I did have a few girls wear them during lessons. That said, younger ones do spend quite a bit of time fussing with the top piece and trying to pull it down. 
Float Suits
What is a float suit? A float suit is a type of girls' swimwear designed for safety in the water. They're like a life jacket that's been built into a swimsuit!
These suits have extra buoyancy floats built into them that help keeps a child's head above the water. The design also allows kids to move through the water with ease compared to the heavier weight of life jackets.
Most float suits are designed so that the floats can be removed as your child gains confidence and swimming ability in the water.
More Content for You: The 7 Best Swim Caps for Long Hair
That said, float suits ARE NOT a substitute for adult supervision. Whenever your daughter is in the water, you should always keep a close eye on them. Float suits can keep kids safe in the water but they're not perfect. Accidents can still happen.
Board Shorts and Swim Shorts
Most board shorts designed for girls are simply swim shorts that are made to go into the water. These are better than regular shorts, as they hold water and can weigh your daughter down! 
Related article: Board Shorts vs Swim Trunks
While board shorts (for men at least) are designed for surfing and reach down to the knees to protect their legs, the design for girls (and women) is much shorter.
Though short in length, they can provide additional coverage for in and out of the water.
Rash Guards and Swim Shirts
It's not ideal for your daughter to swim or wear a regular t-shirt in the water. The material absorbs a ton of water, can become extremely heavy, and builds up bacteria easier. 
Instead, the better options are rash guards or swim shirts.
Related article: Answering Your Questions About Rash Guards
Rash guards and swim shirts are designed to be used in the water without restricting motion. They also have UV protection and prevent sunburns, and can provide modesty by wearing them over a swimsuit.
The biggest difference between the two is that rash guards fit tighter to the body and swim shirts are a bit looser.
Both can be used for swimming and other water activities, but the tightness of the shirt may play a role in the level of comfort. 
For example, swim shirts are better for playing at the beach or pool and can also be used for hiking, kayaking, or spending time on the river.
Rash guards are often used for surfing to prevent rashes or chafing, just as they can be worn under a wetsuit to prevent chafing.
And yes, your daughter can wear these to swim lessons! I've seen them at swim lessons and even some of the younger swimmers on my team wear them to practice. 🙂
Girl's Swimwear FAQ
Which Swimsuit Style is Best for My Daughter?
The short answer is 'it depends'. And this may seem like a cheap answer but when it comes to girls' swimwear, there are several factors to consider.
We do believe that you and your daughter should pick the style that she likes best and feels most comfortable in. 
That said, certain swimsuit styles fit better activities than others. A cute ruffled bikini is great for having fun at the beach or pool but it's not the best option for a girl who is training.
More Content for You: 8 Reasons Why Your Swim Cap Slides Off
Just as you can get swimsuits that are geared towards more activity and training that still look cute and fun. And no one ever said you had to stop at just one swimsuit!
There's nothing that says your daughter can't have a swimsuit for training and one for fun 🙂
What Age Should a Girl Start Wearing a Two-Piece Bikini?
Honestly? We don't have the answer to this because it's not a simple answer and it varies by family. Some parents don't feel comfortable with their child wearing a bikini until a certain age while others are okay with it regardless of age. 
We also feel that it's important to note that not every girl feels comfortable wearing a bikini at any age! I have teammates who would rather wear a one-piece swimsuit over a two-piece because they don't like bikinis.
Related article: How to Make Your Swimsuit Last Longer
That said, we believe it should be a collective agreement between the parent(s) and the girl as to when she can start wearing a two-piece. If there's an impasse, consider the middle ground of a tankini.
A tankini is a two-piece but appears more like a one-piece swimsuit. This option may satisfy both parties 🙂
How Do I Pick a Swimsuit for My Daughter?
If she's old enough to pick her own swimsuit out, we believe she should be able to pick out her own! With conditions and a final veto from you, of course 😉
Letting your daughter pick out her own suit can go a long way to making her feel comfortable and confident in what she's wearing. This is extremely helpful for not just swim lessons but also practice and having fun.
Someone who doesn't feel comfortable in their clothes (or suit, in this case) or doesn't like what they're wearing tends to feel miserable. You wouldn't wear a swimsuit that you hate. The same should apply to your daughter 🙂
When picking swimsuits, know that the bathing suit should feel comfortable first and foremost. From there, you should pick a suit that goes with the water activity your daughter will be doing. 
How Tight Should a Swimsuit Be?
Tight enough that it's not falling off the shoulders or hips and that it won't sag in the bottom. But not so tight that it digs into the skin and hurts.
Finding the right level of tightness is a balancing game. Especially as suits can stretch over time and may be looser in the water.
More Content for You: How to Fix Common Swim Goggle Problems
We recommend that you should be able to stick at least two fingers underneath the strap when you're wearing it and still have some resistance on your fingers. Can't lift up the strap? It's probably too tight!
Lastly, have your daughter move around in her suit. This will help you both see how the suit moves with her and to see if it's too tight, if it chafes, or if other concerns need to be addressed.
In Closing
There are hundreds of girls' swimwear to choose from and while it might seem overwhelming, know that there isn't a wrong answer to the right swimsuit. 
---
Bonus Content
Best Items to Take to Your Child's First Swim Lesson: It's time for your child's first swim lesson. You've packed a bag and picked out a suit. But what should you bring for yourself while your child is taking their swim lesson?
Best Women's Swimsuits for Lap Swimming and Training: Here are 8 best swimsuits for lap swimming and/or training. Along with some alternative options to help you find the best suit for you.
---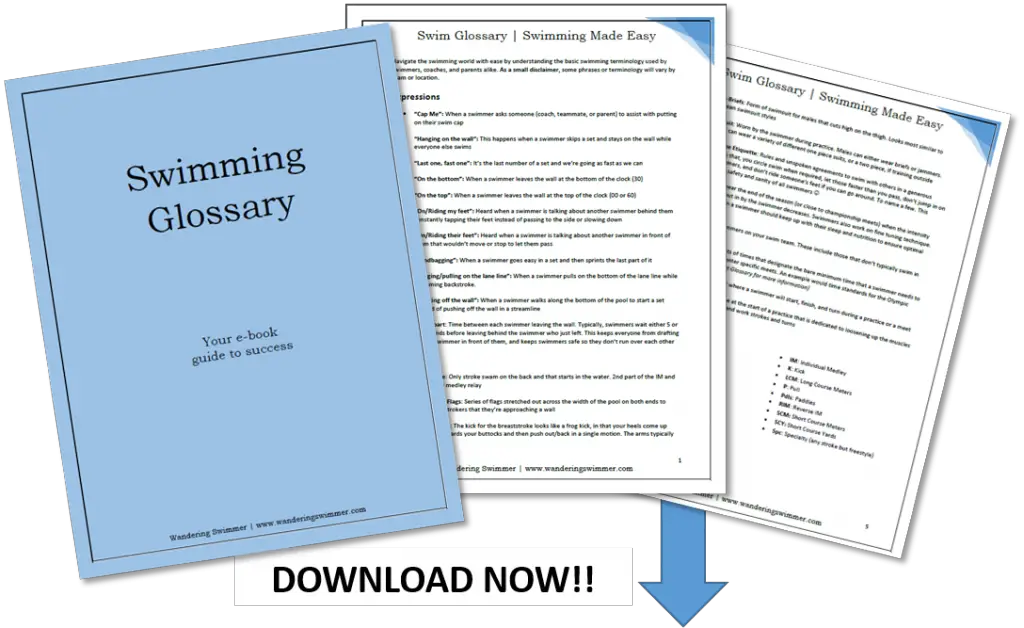 Want to Improve at the Pool?
Join swimmers and swim parents to receive my free newsletter and receive a free Swimming Glossary e-book as thanks!
Every month you'll receive tips and coaching to help you find success at the pool.
---
About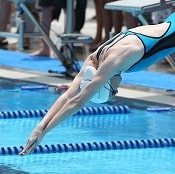 Chevron is a current competitive swimmer with almost 20 years of experience in the pool. And although she fell into the sport by accident in her high school years, she still trains daily and competes throughout the year. She's committed to providing guidance to all levels of swimmers and believes that everyone should know how to swim.