You may have seen signs or ads for summer league swimming around your community. But you have no idea what it is and what all it entails. 
At 6-10 weeks, summer league swimming (or summer swim team) is a short swimming program in the summer (hence the name) with swim meets at least once a week. Kids practice daily, either in the morning or afternoon to prepare for these meets. 
Related article: What is Summer Swim Team?
But most importantly, summer swim teams are a way to introduce the sport of swimming to kids in a fun and enjoyable manner. At the same time, it also helps build confidence and teamwork skills, and creates friendships. 
Here's our (mostly) complete guide to summer league swimming and some tips to help get you started!
Disclosure: This post may contain affiliate links, meaning we earn a small commission at no cost to you if you purchase something through one of our links. As an Amazon Associate, we earn from qualifying purchases. Please check out our disclosure page for more information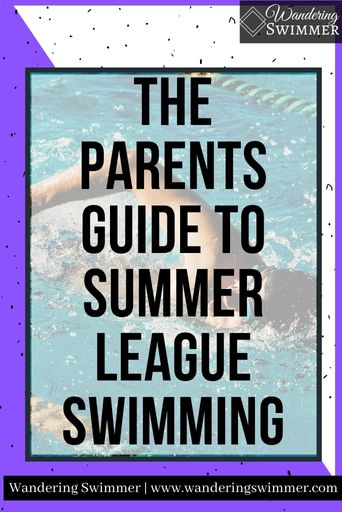 How to Find A Summer League Swim Team
Start looking early. Registration is required for your kid to join a summer swim team and registration can start earlier than you think. 
In warmer climates, registration may be as early as April or May. This may vary in other areas where summer temperatures don't hit as early. 😉 
Check around your community and neighborhood. If your area has a local community pool, chances are they'll have notices up for registration. A quick online search of 'summer swim teams near me' is also a great way to find local teams and their information.
Who Can Participate?
While this can vary by location and team, the age range that is allowed to join, train, and compete is typically 6-18 years old. 
Some summer league teams also require that you live in that specific town/city. This is because teams are usually created and founded at a local community pool. And it would make sense that your child(ren) would practice there instead of across town.
More Content for You: How to Count Laps in Swimming
If you don't have a local community pool though, it may be possible to join a team in the next town or community over. It never hurts to ask and some teams are more flexible than others!
Questions to Ask Your Summer Swim Team Coach
Summer league isn't without questions. And most of these answers can be found on the team's website. You can usually find practice times, swim meet dates and times, tryout information, cost, and how long the season runs.
Some team's websites may also list the coach(es) on staff, contact information, and any fun events planned. 
However, not everything can be included on a website and if you don't see a question listed here, please ask the coach. That's what they're there for. 
Below is a list of questions to ask or consider. Some may be found online while others are more one-off questions to ask directly. 
How long is the season?
When are tryouts?
How much does registration cost?
When is registration?
When are practices and how long are they?
What gear is needed and what's provided?
How many coaches are there? (And is there a coach for each age group/ability?)
Are their lifeguards on deck during practices and swim meets?
Are coaches CPR certified?
Can I stay to watch practices?
What Equipment is Needed?
Summer swim teams are relatively inexpensive compared to year-round swimming and other summer sports. There are at least 3-4 items that you'll need to get your child(ren) started with summer league swimming.
For a more detailed explanation, tips, and suggestions regarding equipment for summer league swimming, please head over to our companion article: What Swim Gear is Needed for Summer Swim Team?
1. Swimsuits
Pretty self-explanatory but your child will need a swimsuit! Make sure you get a swimsuit that's meant for swimming and activity (such as these girls and boys suits), otherwise the suit may fall off in the water. 
Depending on the team, you may need to purchase a team swimsuit in addition to a regular practice suit. 
Lastly, if your child (or you) aren't comfortable in just a swimsuit, we recommend swim shirts or rashguards. These go over the swimsuit but allow for better movement in the water than a regular shirt.
Related article: Answering Your Questions About Rashguards
2. Goggles
You don't need expensive racing goggles for summer league swimming. Basic, tinted goggles will do the trick. Especially as goggles always seem to end up missing on a weekly or monthly basis for some kids!
Related articles:
Check the goggle packaging to see if it's designed for kids. These are usually labeled as 'Jr' or 'Youth.' These goggles are smaller in size to fit a kid's face better than an adult-sized face. 
3. Swim Caps
Most summer league swim teams will provide swim caps with the team's logo or name on it. These are typical latex caps, which are cheap but can tear easily. They're also well-known for pulling hair.
We recommend a silicone swim cap for practice if your child doesn't like latex caps. Or has a latex allergy. We also suggest that if you can, write your child's name on the cap. There's a tendency to not just lose swim caps but also grab the wrong one by mistake.
Related article: 8 Reasons Your Swim Cap Slides Off
If your child has long hair, you can look at long hair swim caps to make things more comfortable for them. Some, such as Sporti and TYR, are better for swimming. Others, such as Dsane and Lahtak are great for thick, curly hair and dreadlocks, but they're more prone to sliding off.
4. Towels
Don't forget about swim towels! We do recommend that you go with beach towels instead of your bath towels at home. And if you can opt for darker colored towels. These towels will end up on the ground and will usually end up pretty dirty.
Extras
Swimsuits, caps, and goggles are the most bare-bone swim gear that you'll need to have for summer league swimming. That said, there are a few extras that will make your and your child's life a bit easier.
Some of the items on this list are options while others we highly recommend (if not believe they should be on the 'need to have' list). 
More Content for You:
What Does Summer League Swim Practice Look Like?
As a disclaimer, practices at summer swim teams vary by team. Some larger teams may have a few practice sessions for different age groups. Others may have a small enough team to only have one practice session.
However, age groups will train together, which is a great way to help coax anxious swimmers into the water. Teammates of the same age can be a great encouragement and motivator for some kids.
Typically, most practices won't last longer than an hour. At best, practices last around 30-45 minutes for each group. And expect to have practice on Monday through Friday. 
More Content for You: 4 Ways to Prevent Swimmer's Ear
The time of day can change depending on when the season falls on the calendar. If your kid is still in school, practices may be in the afternoon after school. And once school ends, practices may shift to the morning.
Practices are the best time to talk to swim coaches, too, as they'll be on deck and available. If you have questions or concerns, speaking to a coach before or after practice is your best option.
During practice though, let the coaches do their job and focus on the kids. Don't try to distract your child by trying to get their attention or worse, try to be the coach. Do not be that parent.
Related article: Practice Etiquette for Swim Parents
Summer Swim Team Swim Meets
The summer league swim season is short. So expect your first swim meet to be within 2 weeks of the season starting. It may seem too soon or early but kids thrive on seeing their results in short periods. 
By having meets almost weekly, they get to see how much they're improving in a short amount of time. 
Related article: How to Read a Heat Sheet
Swim meets as a whole are…special. Don't expect your child's swim meet to look like what you see on television during the Olympics. 
Instead, they're loud, hot, extremely long, crowded, chaotic, and absolutely crazy. 
Kids will run around on the deck with adults chasing them to get them behind the blocks. Some kids may cry because they missed a race, are nervous before their race, or because they didn't win. And there's more unhealthy and sugary food than should be advised for kids.
But summer league swim meets are also fun.
Watching your child make it across the pool for the first time will make you feel like they just won the Olympics. You'll want to display their ribbons and show them off to anyone. And you'll cheer yourself hoarse by the time the meet is over. 
More Content for You:
What to Bring for Summer Swim Meets 
It should go without saying, you should bring your child's swimsuit, caps, goggles, and towels. We're adding plurals in there because if it can be lost or broken, it'll happen at a swim meet. And it's always good to have backups.
In addition to these basic items, there are several other items you should bring to summer league swim meets. Things you wouldn't expect but you'll quickly realize you need after the first meet.
This is where swim bags or totes come in handy, as they can help carry everything and keep it (mostly) in one place.
A cooler filled with water and snacks
Snacks (or money for the concession stand if you opt not to bring your own snacks)
Several Sharpies (seriously, get at least a dozen, you'll lose at least one at each swim meet)
Extras of the extra towels (and keep a few in the car for the drive home)
Comfortable clothes, shoes (ones that breathe well in the summer heat and shoes that don't rub if they get wet), a hat, and sunglasses
A well-charged phone to take pictures and video your child's race(s)
Entertainment for both you and your child. Remember that you're around water and wet hands mixed with electronic games aren't always a good combination 🙂
What's After Summer Swim Team?
Eventually, the summer league swim season will end and you may have the question of 'what next'? 
If your child(ren) enjoyed summer swim team, one of the next options is to consider year-round swim teams. Some coaches may already know some good swim teams to recommend. A few may swim or have previously swam with a team!
You can also look online through USA Swimming's team search page, which will list all the teams nearby you. If you have a nearby YMCA, you can also check there to see if they have any swim programs or teams.
Making the step towards year-round swimming is a big decision and comes with many questions. We have several articles about year-round swimming to help get you started and answer some questions.
The switch from summer league swimming to year-round club swimming may seem intimidating. And potentially overwhelming. But as someone who enjoyed the sport so much in summer league and made the switch, it's worth it for those who want to take swimming to a new level. 
If you get the chance, we suggest that you give it a try! You never know how far you'll go 🙂
In Closing
Summer swim teams are about fun and helping kids grow their confidence. It's a way for kids and adults to make new friends and spend a few weeks over the summer at the pool. And while the season may only last for a few weeks, the memories remain for years to come.
As always, happy swimming!
Chevron
---
Bonus Content
How to Make Your Swimsuit Last Longer: Swimsuits can be expensive. Whether you're using them for training, working out, or lounging by the pool, how can you make your swimsuit last longer?
Swimming Basics to Get You Started: Swimming can be overwhelming. From the variety of different swim etiquette to the needed equipment.  It's enough to make your head swim! Let us help you find the answers and provide a good starting place.
---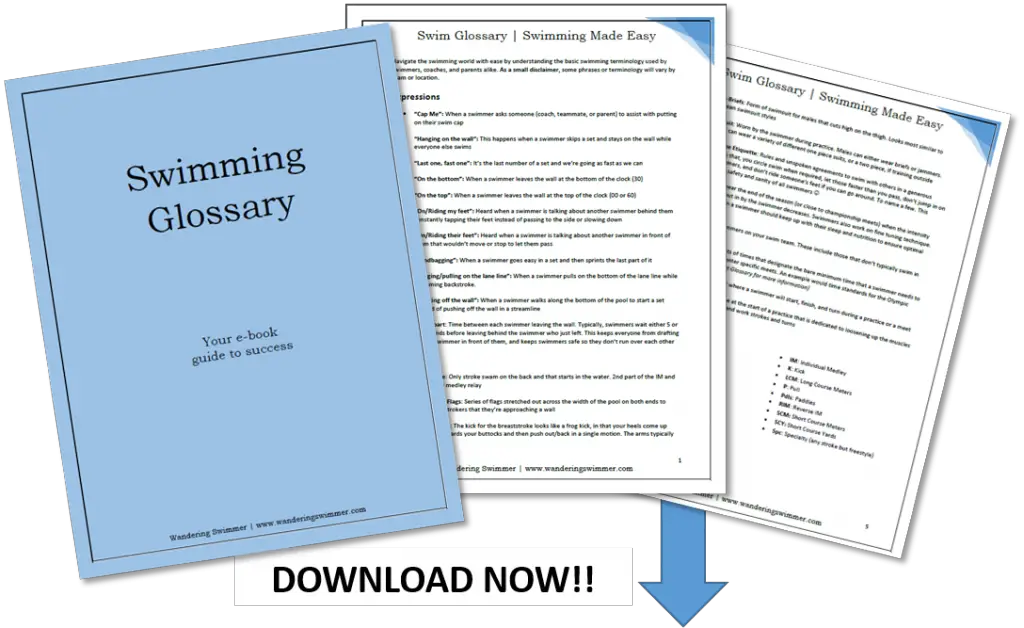 Want to Improve at the Pool?
Join swimmers and swim parents to receive my free newsletter and receive a free Swimming Glossary e-book as a thanks!
Every month you'll receive tips and coaching to help you find success at the pool.
---
About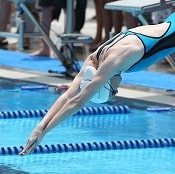 Chevron is a current competitive swimmer with almost 20 years of experience in the pool. And although she fell into the sport by accident in her high school years, she still trains daily and competes throughout the year. She's committed to providing guidance to all levels of swimmers and believes that everyone should know how to swim.