Swim meets are long and arduous for swimmers and parents alike. For parents, learning how to survive a swim meet is a lesson of patience and preparation. 
While these tips can't make swim meets go any faster, they can make them more tolerable and understandable. 🙂
Please note that this guide is more on 'how to make it through a swim meet' than a breakdown of a meet. If you're wanting to know what happens at a swim meet, please check out our other post 'What to Expect at Your Child's First Swim Meet'
Disclosure: This post may contain affiliate links, meaning we earn a small commission at no cost to you if you purchase something through one of our links. As an Amazon Associate, we earn from qualifying purchases. Please check out our disclosure page for more information.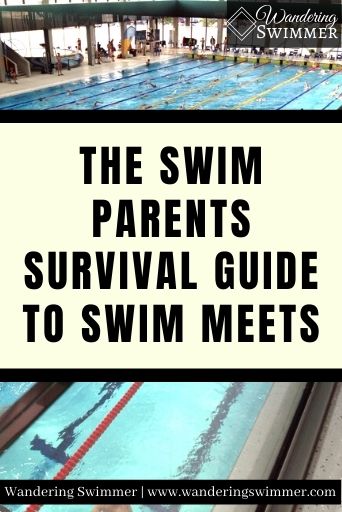 Know Some Swim Meet Terminology 
If you're new to swimming, it's easy to feel as though everyone around you is speaking a different language. From heat sheets to tech suits, you'll probably hear dozens of new words or expressions.
And that's okay! It's part of the learning process. For both you and your swimmer. And it's something you can learn together.
When you can though, take some time to learn a few of the various swim meet terminologies that you might hear. Listening to your swimmer talk about swimming or practice is a great start. Some words used at practice are also used at swim meets.
You can also check out our Swim Meet Terminology for 23 swim meet terms to get you started!
Follow Swim Meet Guidelines 
The meet information provides several various rules and guidelines for everyone to follow. Such as parking information at the natatorium or cost of admission. But there are some guidelines that swim parents should follow, too.
Some are actual rules, while others are a common courtesy for your fellow parents. Such as picking up after yourself and being respectful to those around you.
Related article: Swim Meet Etiquette for Parents
Following these rules and guidelines can help make swim meets more enjoyable for everyone. Including your swimmer!
Pack Appropriately 
The best way to survive a swim meet? Make sure you pack everything that you'll need. And then some extras.
Related article: Swim Meet Essentials for Parents
Swim meets are typically warm for parents. But if you're usually cold, you might want to bring a jacket or a small blanket. You can also use an extra towel that you keep on hand for your swimmer.
Is the swim meet outside? Don't forget your sunscreen, hat, sunglasses, and plenty of water. 
Your comfort at a swim meet will either make the meet miserable or more enjoyable. So ensure that you've considered the weather and the natatorium conditions. 
Survival Tips to a Long Swim Meet
It might not seem like it on television, but swim meets are long. They can last anywhere from a few hours (if you're lucky) to an all-day affair. 
This stems from a large number of swimmers at the meet, slower times, or both!
Why do we tell you this? Because mentally knowing and physically preparing for a long meet is one way to help survive your next swim meet. 
More Content for You:
Many parents go to their first few swim meets and think they'll be over quickly. And then grow frustrated with how long they take.
Keep reading to learn how you can survive your next long swim meet.
Volunteer
Almost every swim meet needs volunteers to operate effectively and on time. One of the biggest reasons swim meets end up delayed is due to the need for timers.
Because of this, volunteers are the unsung heroes of a swim meet!
To help survive a long swim meet, consider volunteering. This not only helps the meet start on time, but it gives you something to do during the meet itself.
Throughout the entire swim meet, your child will only swim, at best, 2-7 minutes throughout a 4-hour meet. That's a lot of time to sit around and be bored! 
Related article: How to Create Healthy Habits for Swim Parents
An added perk of volunteering is that you're near the action. You get to watch the races up close and you might even have a tight race in your lane. In some ways, volunteering and being on deck to watch a race is a much better experience than up in the stands.
Lastly, volunteers get free food and drinks! We will admit that this varies by meet, but some meet hosts provide food and sometimes even shirts to their volunteers.
Bring Something to Do
The best way to survive long swim meets (or any length of meet, really) is to bring something to do. 
This varies by each individual, as what is entertaining for some isn't for others. That said, consider bringing some of the following to help pass the time:
If you don't want to bring something, or if you get tired of sitting around, get up and take a walk. Most of a swim meet is spent waiting around, so you'll have more than enough time to get some steps in.
Just remember to check the heat sheet before you leave to know when your child's next race is. And don't forget any admissions pass if it's required for the meet. 🙂
Food and Drink
With swim meets running for hours on end, it's important to bring something to eat and drink. Some meet venues have a concession stand, but their prices might be a little on the expensive side.
If you can, pack a small cooler that you can bring with you. Or carry them in a bag. If you're sharing sitting space with your swimmer, make sure you bring enough food and drinks for everyone!
Try to pick drinks that have an open/close cap. Such as a reusable water bottle or a cup with a lid. This will help keep it from spilling if it gets knocked over or you get bumped into. One thing to note is that glass bottles are rarely allowed in pool venues.
When it comes to food, you can bring a wide variety of options. We do recommend that you check the meet information to ensure if and what the natatorium allows you to bring.
Some good options are:
Fruits
Crackers, chips, nuts, or pretzels
Granola and protein bars
Candy
Sandwiches and breakfast tacos 
Some parents bring fast food, such as burgers or pizza from nearby restaurants. While you can do this, we don't recommend it when you're sharing sitting space with swimmers. The smell doesn't always settle well with anxious stomachs. 😉
Bring Something to Sit On
No matter how long the swim meet is, expect some hard seats. Or expect no seating at some pools!
When it comes to seating at swim meets, you can expect to find one of the three types of seating at your next swim meet.
Stadium seating
Bleacher seating
No/ground seating
Read through the meet information beforehand to know what you can expect. Based on the seating at the meet, you may want to bring either a cushion or pillow to sit on. Or you might need to bring a camping chair to sit on.
Regardless of how long the meet is, we do recommend that you bring something to sit on. It's a great swim meet survival tip for parents. Because even short meets can feel long when you're sitting on a hard bench.
Practice Self-Care
Between the heat, the screaming and yelling, and the smell of chlorine, swim meets are hard on the senses. One way to help make it through a meet when you start to feel claustrophobic or frustrated is to practice some self-care.
Ear Plugs
Bring some earplugs. Swim meets can get loud, especially when they're indoors. The sound echoes around the natatorium and it's typically louder during close races
More Content for You: 6 Best Earplugs for Swimming 
Earplugs or even noise-canceling headphones can help reduce the noise level for you. They'll protect your hearing and with any luck, help keep any headaches at bay.
And we'll be honest. With how loud meets can get, more people should wear earplugs. If only to help protect their hearing.
Take a Break 
When the noise and smell of chlorine get to be too much, go get some fresh air. Even if you're at an outdoor venue, getting away from the crowds can help provide cleaner air. 
Take some deep breaths and enjoy some quiet around you. For some, this alone can help release some tension that can build up during swim meets. And can make you feel a bit more energized.
Consider taking a brief walk, too. After sitting for several hours, it'll do your legs some good to walk around. Stretch, too! 
Medication
Lastly, every swim parent should keep some medication on hand for swim meets. Whether it's for themselves or their child. 
Pain medication is great for swim parents when headaches start to develop from the noise and chlorine smell. And it can also address any aches from sitting for so long. 
If you don't like medication, bring whatever else you typically take at home to help with your various aches. 
As always, to happy swimming!
Chevron
---
Bonus Content: (coming soon)
The Rudest Things Parents can do at a Swim Meet:
Swim Meet Tips for Parents:
---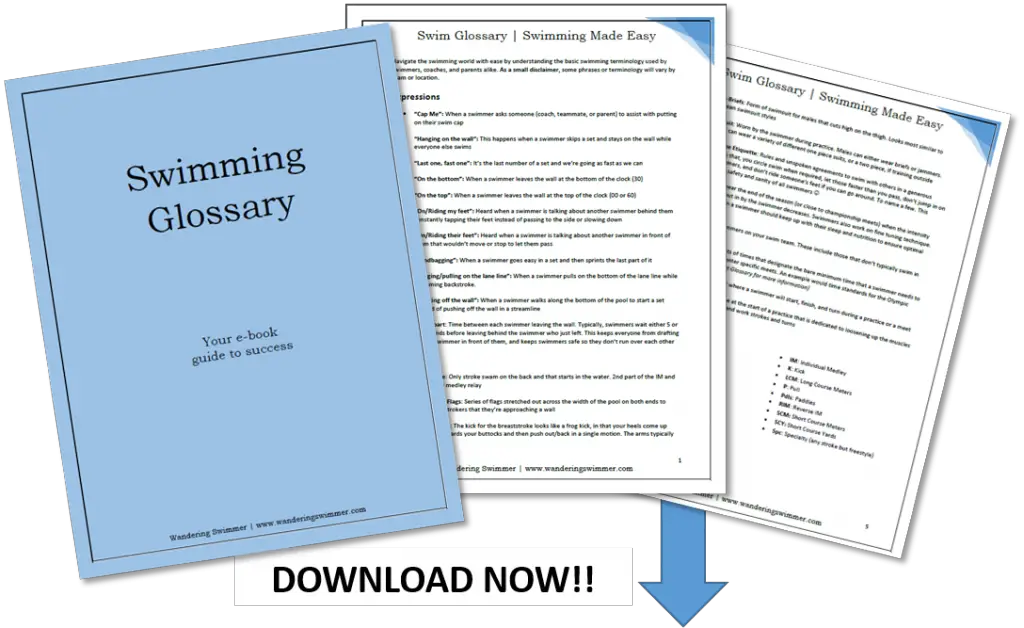 Want to Improve at the Pool?
Join swimmers and swim parents to receive my free newsletter and receive a free Swimming Glossary e-book as a thanks!
Every month you'll receive tips and coaching to help you find success at the pool.
About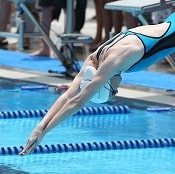 Chevron is a current competitive swimmer with almost 20 years of experience in the pool. And although she fell into the sport by accident in her high school years, she still trains daily and competes throughout the year. She's committed to providing guidance to all levels of swimmers and believes that everyone should know how to swim.