If you've never been to a swim meet before, chances are, you've at least watched one on TV or online. Usually when the Olympics roll around. And while those meets are exciting to watch, they're not the best representation of what a swim meet is truly like.
Related article: What is a Swim Meet Really Like?
Swim meets aren't just one race and move onto the next event, as they're portrayed on screen. Every swimmer, coach, and parent wishes they were though!
So if swim meets aren't like what TV shows them, then what can you expect at your child's first swim meet?
Disclosure: This post may contain affiliate links, meaning we earn a small commission at no cost to you if you purchase something through one of our links. As an Amazon Associate, we earn from qualifying purchases. Please check out our disclosure page for more information.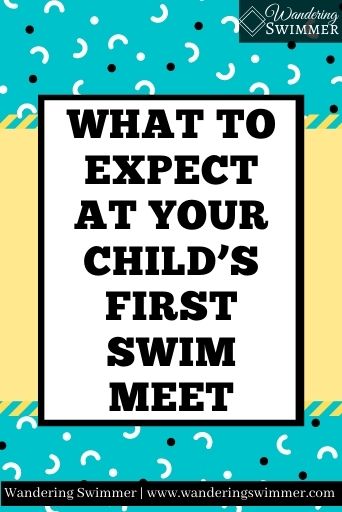 Early Mornings
Most meets start early in the morning. Early enough that you're typically waking up earlier than you'd like on a weekend. Because while the warm-up might start at 7, you still have to factor in breakfast, packing the car, and drive time.
Give yourself plenty of time in the morning to get ready. It's easy to forget or misplace various items. And if you need to circle back home and stop by a store on the way to the meet, you want to ensure you have enough time. 
One way to help save some time before any swim meet is to pack the night before. Having the bags packed and food pulled out can save you time and stress. 
Related article: A Brief Overview of Swim Meets
We will note, too, that not every swimmer can eat before warm-ups. Nerves and anxiety are hard on stomachs and can make it difficult to eat. If your child is too anxious to eat before you leave, that's okay!
Instead, pack up their breakfast and take it with you. They can either eat or nibble on it on the way over. Or, they can eat it after warm-up.
Ideally, as they have more meets, they'll be able to stomach a bit more before morning warm-ups. However, this varies by each swimmer.
Crowded Pool Decks and Seating
Depending on the pool that the meet is held at, you might be separated from your child once you arrive. In most cases, parents aren't allowed on the pool deck with the swimmers and coaches.
Related article: Swim Meet Etiquette for Parents
Some pools don't have separate seating and everyone can mingle with each other. No matter what the seating arrangements are though, you'll find that there are typically not enough seats for everyone.
For this reason, we highly encourage swimmers and parents to get to the pool early. This allows you time to get a good seat and stake out your area.
Be sure to check the meet information to see what type of seating the pool has. Based on the natatorium or pool, you may need to bring your own chair. Or at the least, something comfortable to sit on 🙂
Warm-Ups
Warm-ups are chaotic. It's one thing you can expect at your child's first swim meet. Yes, it's normal and it's almost a shame that they don't show it on screen! 
Swimmers have to fight for lane space and avoid getting kicked or run over. All the while trying to get in their warm-up and hoping they don't hit anyone. 
However, they're necessary for swimmers.
Warming up before a meet gets the blood moving and the muscles loosened up to help prevent injury. Swimmers also use the warm-up time to get acquainted with the new pool. 
So while warm-ups only seem to add an extra hour or two to your day, it's important to remember that your swimmer needs this time. 
Swimmers should also use the time before warm-ups to stretch. Plan to allow enough time for your swimmer to stretch before they even get in the pool to warm up. If warm-ups start at 8, plan to be there at least by 7:40.
Or earlier if your child needs more time to stretch and get ready!
Mass Chaos
Swim meets in general are organized centers of mass chaos. Hundreds of people will be on the deck in various states of activity. From sitting or standing to running around and cheering or trying to get to their next race.
It's more normal than you expect. It's also not uncommon for younger swimmers or those new to the sport to get caught up in everything going on. Or miss a race. 
Swimmers and parents need to keep a close eye on the event that's in the water and the heat sheet. This helps prevent everyone from missing a race and know what's going on at the same time.
With time though, swimmers and parents find an understanding of the organized chaos that are swim meets. For your child's first swim meet (and a few after), don't feel bad if you feel overwhelmed or confused.
Ask questions to those around you! Every parent has been there at one point 🙂
Waiting
Know what else you can expect at your child's first swim meet? Waiting. Lots and lots of waiting.
For swim meets that are aired, viewers only ever see 1-2 heats race in each event. What they don't show are all the prelim races held early in the morning.
At actual swim meets, you don't have the luxury of commercials in between races and extra heats cut from the program. Instead, you have a several pages thick heat sheet with each event having nearly a dozen heats. 
Related article: Easy Swim Meet Terminology 
So get comfortable. You might find that you have two hours before your child competes in their first event. And another hour before they race again. And when most swim meets can last from four hours up to eight, you'll want to ensure you bring something to do.
Noise
Cram a couple of hundred swimmers, parents, and coaches into a pool area and it's sure to get loud. Coaches whistle and everyone is cheering like mad for a large portion of the meet. 
The noise level can get even louder during a close race. Or when someone is chasing a cut/record.
We recommend packing some earplugs to take with you to your child's first swim meet. Especially if loud noise bothers you. You might find that you don't need it but it's better to have them on hand than suffer for hours without.
Smell
Oh, the smell of chlorine. Mix that with the scent of the concession stand or the food that someone brought in and you have an interesting smell in the air.
For some, the heavy smell of chlorine in the air is hard to deal with. There's no way you can prepare for it. And in some cases, the smell can give some parents headaches.
Especially when you add in all the screaming and shouting happening on the pool deck.
Pack some medication just in case. Or take frequent trips outside if you can. Sometimes getting fresh air can help clear up your senses and keep any headaches at bay.
Lastly, if you have to share the restrooms with the swimmers, be prepared for some rather, ripe, smells.
Nerves can play havoc on the body before and during a meet. And most swimmers will have several bowel movements as the body acts accordingly to the anxiety. 
Confusion
For new swimmers and parents alike, first swim meets are confusing. They're filled with new words and questions. And at times, it's hard to know what exactly is going on. 
You're scared to leave your seat because you might miss your child's race. But at the same time, you feel like you've been waiting for ages for your child to swim. You don't know what the various whistles mean or why the official raised their hand during the race.
The good news is that you're not alone. Every swim parent was once the same way. Confused and filled with questions.
So don't be afraid to ask questions. Ask the parents around you or even the coach. More than likely, they'll be happy to help and guide you through your child's first swim meet. 🙂
Various Emotions 
Expect to feel several different emotions at your child's first swim meet. Ranging from nervous to boredom. You can run the gauntlet of emotions throughout a meet.
It's not uncommon to feel nervous when your swimmer steps up on the block. Even after years of swimming, parents can still feel their hearts racing when it comes time for a race. You can also expect to feel excitement and joy whenever they win their race.
But of course, you can feel disappointment, too. 
Swim meets are exciting but your child might not win every race. They might not drop time in every event and they might find themselves disqualified. 
And it happens. Swim meets can be disappointing at times. Especially when nothing seems to go right. Your swimmer missed an event, added time in all their events, or their goggles fell off at the start.
It's okay to feel sad for your child when things like this happen. As parents, you want to see them succeed and win all the time. But it's not always possible. 
Whenever your child does have a bad meet or race, remember that you're there to help support them. Don't ask or tell them what they did wrong. Just be there with a shoulder to cry on and kind words. 
As always, to happy swimming!
Chevron
---
Bonus Content
Healthy Swim Habits for Parents: As a parent, it's easy to want to get involved in your child's swimming. But it's important to develop healthy habits as a swim parent.
9 Words Swim Parents Should Know: New to swimming and being a swim parent? To help better understand your swimmer, here are 9 easy words that swim parents should know.
---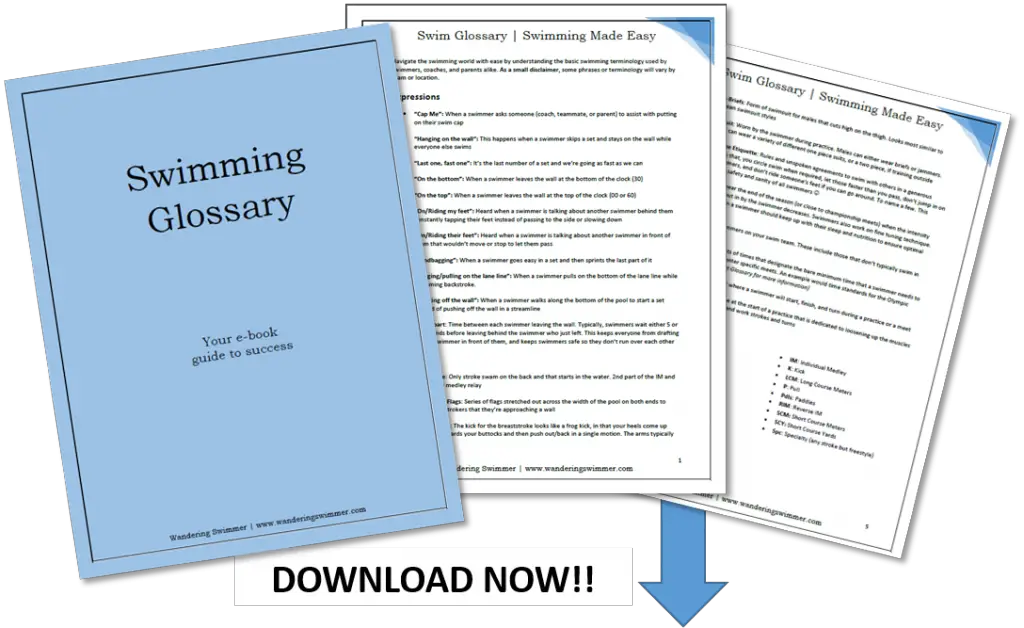 Want to Improve at the Pool?
Join swimmers and swim parents to receive my free newsletter and receive a free Swimming Glossary e-book as a thanks!
Every month you'll receive tips and coaching to help you find success at the pool.
About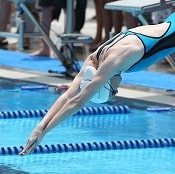 Chevron is a current competitive swimmer with almost 20 years of experience in the pool. And although she fell into the sport by accident in her high school years, she still trains daily and competes throughout the year. She's committed to providing guidance to all levels of swimmers and believes that everyone should know how to swim.