If you've seen the signs around town or online for summer league swimming, you may wonder what summer swim team is. Along with who can join, when are practices, and can your child join?
Related article: The Parents Guide to Summer League Swimming
While summer swim teams vary by team and location, at their core, they're mostly the same.  Keep reading to find out more about summer league swimming and answer any questions you may have!
Disclosure: This post may contain affiliate links, meaning we earn a small commission at no cost to you if you purchase something through one of our links. As an Amazon Associate, we earn from qualifying purchases. Please check out our disclosure page for more information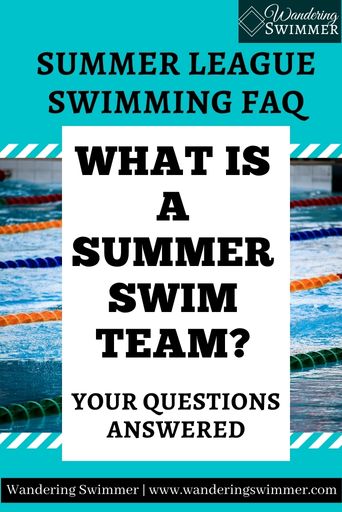 What is Summer Swim Team?
Summer league swimming means different things for each swimmer. But at its core, summer swim teams are about fun. 
At 6-10 weeks, it's a short swimming program in the summer (hence the name) with swim meets at least once a week. Kids practice daily, either in the morning or afternoon to prepare for these meets. 
Typically, events at swim meets are short, ranging from 25 yards/meters up to the challenging 100-individual medley (IM). Swimmers compete against their age groups and the distance of the event is determined by age.
More Content for You: Basic Swimming Terminology
But most importantly, summer league swimming is a way to introduce the sport of swimming to kids through something fun. At the same time, it also helps build confidence and teamwork skills and creates friendships. 
For some new swimmers, it helps them overcome the fear of the water. Having a team of kids around them who are willing to cheer them on and coaches to help them through the tears can improve their courage in the water.
And for some swimmers, summer league swimming becomes the start of a swimming journey and career. One that started with humble beginnings but grew into something far more than any swimmer or swim parent expected!
Who Can Participate?
Almost anyone can sign up and participate! There are at least two conditions though that are considered.
Summer league swimming does have an age limit. While this can vary by location and team, the age range that is allowed to join, train, and compete is typically 6-18 years old. 
We have seen some ages as young as 4 and 5, so always double-check what the age limits are for your local team. 
Additionally, there may be some rules regarding time and who can participate. It might seem funny to say, but you can be too fast for summer swim teams. Again, this rule and time standard will vary by location and team.
More Content for You: The 6 Best Prescription Goggles for Swimmers + FAQ 
In my area, the standard is a specific cut (such as a Sectional cut) that's recognized by the swimming organization. With USA Swimming, this may be an AAA cut or faster.
Lastly, some summer league teams require you to live in that specific community/town/city. This is because teams are usually created and founded at a local community pool. And it would make sense that your child(ren) would practice there instead of across town.
If you don't have a local community pool though, it may be possible to join a team in the next town or community over. It never hurts to ask and some teams are more flexible than others!
How Long is the Season?
The length of summer swim teams varies by location. The same is also true for when they start and when practices are held. A lot of this is due to when the pools open, weather, school ending, and coaches' schedules.
Typically, summer league swimming can last from 6 weeks to 10 weeks. Again, depending on your area. 
Seasons usually finish with one large championship swim meet. At this meet, swimmers may need to qualify (ie, win against other swimmers in that event) to make it that specific meet. 
More Content for You: 6 Best Earplugs for Swimmers
Because of this, some swimmers may have a longer season than others if they do or don't qualify for this meet.
At best though, you can expect the swim season to last at least two months. This leaves enough time for the rest of the summer for family trips and other activities!
Is Previous Swim Experience Needed?
We'll start by saying that summer league swimming is not and should not be a substitute for basic swim lessons. If your child is scared of the water, they're not ready for summer league just yet.
Related articles: 
It's recommended that your child has basic swimming skills, such as swimming at least 25 yards/meters (the length of the pool, ie, one way down the pool) See more: What is Considered a Lap in Swimming?
Before joining a summer league swim team, your child(ren) will need to complete a team tryout. Teams usually have different requirements for each age group and requirements differ by each team.
Because of these requirements, your child should have at least some previous swim experience if they hope to make the team.
That said, some teams do allow a little grace with their tryouts with the understanding that your child(ren) will progress during the summer.
Why are Summer Swim Teams Important?
Summer league swim teams provide a plethora of benefits. Not just for swimmers themselves, but also for coaches, nearby teams, and the community as a whole.
Swimmers
Summer swim teams are about the swimmers, first and foremost. And they should benefit the most from the program. These summer league programs help children learn more about swimming in a fun environment.
It's also a way to help them test out the waters of the sport itself. This is a plus for kids and parents alike, as it can save frustration for parents and kids, as well as money and time for parents specifically. 
More than that though, summer league swimming helps swimmers by:
Building confidence
Offers a fun and easy learning environment for swimming
Competitive swimming without the stress/pressure
A chance to develop new friendships 
Team building skills and exposure to a team environment 
Most kids don't realize the benefits that they're getting during summer swim team because they're having too much fun! But the confidence that they build and watching their results improve goes a long way.
Coaches
For coaches, summer league swimming is a big draw. Not just because these programs can (and do) feed directly into a year-round club or high school swimming. But summer swim teams also offer newer coaches additional experience in the many facets of running a swim team.
And just as kids and parents can see if they like the sport through summer league, so too can newer swim coaches determine if they like to coach swimming.
It's a low-risk and low-stress learning environment with lots of fun. A win for all 🙂
Summer league swim coaches get hands-on experience with team management and running swim meets. They also get more personal coaching with younger children while learning how to best work with their parents.
More Content for You: Awesome Gift Ideas for Swim Coaches
Assistant coaches or newer coaches may do this already on a smaller scale for their year-round or high school teams. But by running and organizing a summer swim team, they build their coaching ability and increase their confidence/experience simultaneously.
Community
Sports can help bring communities together. And nothing says getting to know your neighbor like sitting through an hours-long swim meet!
Even though the swim season is short, practices are daily, and meets are almost weekly. This gives you plenty of time to bump into neighbors and make friends along the way. 
Related article: What No One Tells You About Summer Swim Teams
Swim teams also contribute to the local economy. Meets held at the local pool generate revenue for the team but also the pool that is hosting the meet. Through meet entries and concessions, everyone helps contribute. 
What are Some Negatives of Summer Swim Teams?
Summer swim teams aren't without their downsides. While they're full of great benefits for everyone, some negatives do exist.
No sports team exists without the overly competitive athlete and/or parent. And this is true for summer league swimming. Some swimmers and parents can get too competitive and take the fun out of the sport.
Another negative for some may be the cost. While swimming is typically cheaper than other sports, the costs can still be high for some families. 
Between the registration fee, swimsuits, caps, goggles, and other miscellaneous items, the expenses can add up.
Related article: What Swim Gear is Needed for Summer Swim Team?
For some, the short season may also be a negative. Although for some, it's also a positive! 
However, some swimmers and parents may find that 6-10 weeks isn't enough time to get into the sport and see if they like it.
And of course, there is the negative of your child not enjoying or liking summer league swimming. 
While this can be negative, it's also important to know that they're not trapped in the sport. You can pull them out before the season ends without much fuss. But you probably won't get a refund on the registration fee and the gear you purchased.
Are Summer Swim Teams Worth It?
Do I believe that summer swim teams are worth the time and effort put into the sport?
Yes, I do!
To be fair, I'm biased with my answer. My first competitive swimming experience started with summer league swimming. But it led to me continuing swimming with year-round competitive swimming through college.
In a few short weeks, it taught me the various swim strokes and swimming etiquette that I never would've learned otherwise. It boosted my confidence and love for the sport the first time I won my event. And it taught me the bitter taste of a disqualification (DQ).
These are all lessons that I carried with me when I started swimming in high school and then through year-round club, college swimming, and Masters Swimming.
More Content for You: Why I Started (And Keep) Swimming
Indeed, in 6-10 weeks you can't learn everything. Swimmers will continue to learn and grow the more they're exposed to the sport. But it builds upon the experience and gives kids a chance to discover whether they like something or not.
And when it comes down to it, 6-10 weeks is an extremely short time commitment. But it's just long enough to dip your toes into the water to test the sport (pardon the pun!). 
So while it may seem like a hassle or a lot of time and effort, we do believe that summer swim teams are worth the investment. You never know what can happen in those few weeks and you may have a future swimmer on your hands!
In Closing
Summer league swimming is a low-stress and fun environment for kids to learn more about swimming. If you're not sure about having your kid try out, you should know that it's a win for all! 
Kids have the chance to build confidence and learn team-building skills that they might not develop while in school. But most of all, it's something fun that kids can do during the summer.
If you can, let your child try it for a season and see what happens. You might be surprised at what all they accomplish!
As always, happy swimming!
Chevron
---
Bonus Content
4 Ways to Prevent Swimmer's Ear: Swimmer's ear can be a painful experience if left untreated. That said, there are steps you can take to help prevent swimmer's ear. Here are 4 ways to prevent swimmer's ear.
8 Reasons Your Swim Cap Slides Off: Trying to keep your swim cap on though is a challenge. There's no one secret to keep it in place but there are some reasons why your swim cap slides off.
---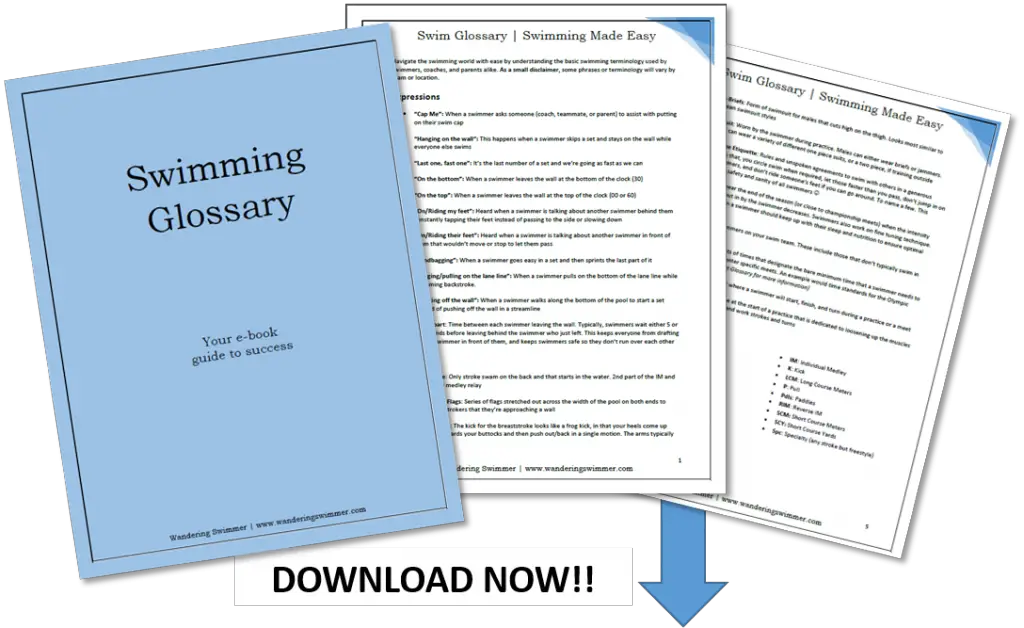 Want to Improve at the Pool?
Join swimmers and swim parents to receive my free newsletter and receive a free Swimming Glossary e-book as a thanks!
Every month you'll receive tips and coaching to help you find success at the pool.
---
About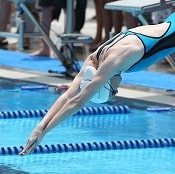 Chevron is a current competitive swimmer with almost 20 years of experience in the pool. And although she fell into the sport by accident in her high school years, she still trains daily and competes throughout the year. She's committed to providing guidance to all levels of swimmers and believes that everyone should know how to swim.