When it comes to summer league swimming, your child doesn't need a lot of gear. At most, we recommend 4 things you need for summer swim team. The rest is optional but highly recommend for your child's well-being.
That said, swim gear isn't all the same and is not all made for the same purpose. While some are meant for fun and splashing around, they're not always the best for active swimming. 
Related article: What is Summer League Swimming? + FAQ
Making sure you get the right equipment though and sorting out what you need and don't need can be a confusing mess.
To help, here are 4 things you need for summer swim team, which are the right ones to buy and some extra items that are nice to have.
Disclosure: This post may contain affiliate links, meaning we earn a small commission at no cost to you if you purchase something through one of our links. As an Amazon Associate, we earn from qualifying purchases. Please check out our disclosure page for more information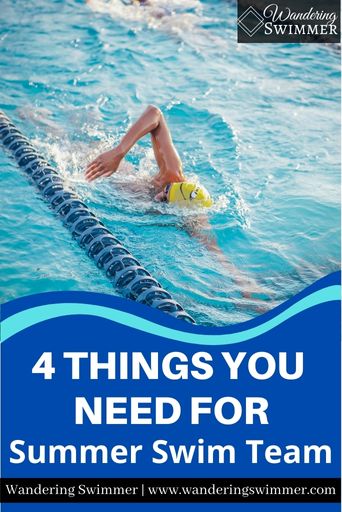 1. Swimsuits 
This should seem pretty simple and self-explanatory but not all swimsuits are made equally. Some are designed just for fun and splashing around in the pool. Maybe jumping off the wall and into the water.
And we'll be frank. Those are cute and fun suits. But they're not meant for swimming. They're much more prone to fall off, ride up, or drag down your child when they're swimming or racing.
The last thing you want is your child to lose their swimsuit when they dive into the water. It'll be embarrassing and traumatic for them and horrifying for you.
Instead, it's best to invest in swimsuits designed for swimming and activity.
For Girls
The one-piece swimsuit is your best option. Most two-piece swimsuits for kids don't have a bottom piece that's secure enough to keep them in place. And it will 100% fall off during a dive. A one-piece suit will stay in place but can still look cute enough for anyone fashion driven 🙂
We recommend one-piece suits with wide straps, as they're much more comfortable for new swimmers. Back designs with a racer back are most commonly seen for younger kids.
Related articles: 
For sizing, you'll want something that's not too loose or too tight. We generally recommend a suit that you can fit two fingers under the strap and lift up slightly. 
If there's a bit of resistance to the strap between the skin, it's probably a good fit. But if the strap is sliding off or you can fit your whole hand between the strap and shoulder, it's way too loose. Alternatively, if you can't lift the strap without a struggle, it's too tight.
Lastly, we highly recommend that you have your child move around in the suit when they try it on. Have them bend over, twist, jump around, etc. This can show you and them how the suit will move and potentially avoid any wedgies. 
It will also help avoid any pinching or rubbing that swimsuits can cause if they're too loose or tight.
For Boys
There are 3-4 styles of swimsuits for boys: swim trunks, jammers, swim briefs, and a square leg brief style (similar to briefs but a smidge longer).
What your child wants to wear is up to them (and any team guidelines). And if you were to ask which would be the best option for summer swim team, we would say a jammer.
Jammers go down to just above the knee and fit tighter to the legs than board shorts do. They offer more coverage than brief style but lack the resistance that board shorts give. 
They're a great compromise between the various styles, especially if you don't want the board shorts weighing your kid down. But they (or you) don't feel comfortable in briefs just yet.
When going for a good fit, you'll want something that fits snug on the hips and won't fall off if you tug on them. If they slip down when you do, try the next size down.
However, if you can't get them up over their bottom or past their legs, you'll want to go a size or two up.
For Both
Lastly, we want to recommend swim shirts or rash guards for boys or girls (or parents) who don't feel overly comfortable in a swimsuit. 
Swim shirts and rash guards are great options for summer swim teams. They're made of lightweight material that allows a swimmer to move unimpeded through the water and has less drag/resistance than a regular t-shirt.
Related article: Answering Your Questions About Rash Guards
Most swim shirts also have a UPF rating to help protect against UV for those long, outdoor practices or swim meets. 
If your child is uncomfortable, embarrassed, or doesn't like having their body exposed in a swimsuit, this can be an option to help them feel more at ease. 
Team Swimsuits
Depending on the team, you may need to purchase a team swimsuit in addition to a regular practice suit. These suits are usually specific to the sport in terms of design, so they may fit a bit tighter than a regular suit you'd buy at the store.
Some swim teams will allow you to practice and go to swim meets in a suit that's not a team suit. But some teams can be more strict and want all their swimmers to have the same attire at meets.
Team swimsuits are typically in the color(s) of the team colors. And based on how detailed teams want to go, they could add a decal/logo on the suit with the team name. 
Related article: What No One Tells You About Summer League Swimming
If you're concerned about the cost of team swimsuits plus the cost of a regular practice suit (in addition to everything else), talk to the coach. They may allow you to purchase a team suit to wear at both practices and swim meets.
When it comes to sizing, these suits tend to fit a bit more tightly. Mainly so they don't fall off on dives and to make kids feel faster in the water. 
If you've never purchased a suit for swimming/water activity, talk with another parent who has. You don't want to be guessing with sizes. 
We'll also note that you do not need to buy expensive racing suits for summer swim teams. In fact, we highly encourage you not to buy them. It'll be a waste of your money, we promise. 
2. Goggles
Some kids love to swim without goggles and others will refuse to swim unless they stay on their faces. There's no hard rule that says your child must swim in goggles. But it's better for their eyes to wear goggles.
Related articles:
You don't need expensive racing goggles for summer league swimming. Again, like racing suits, we discourage you from buying them. Goggles end up lost more often than not at summer league meets and that's not something you want to be losing every week.
Younger Kids
Basic, tinted goggles will do the trick if your child will be swimming outdoors. Tinted or mirrored goggles can provide a bit of protection against the sun, especially on extremely bright days. If they'll be swimming inside, non-tinted goggles will work better as they're not as dark for indoor environments.
Check the goggle packaging to see if it's designed for kids. These are usually labeled as 'Jr' or 'Youth.' These goggles are smaller in size to fit a kid's face better than an adult-sized face. 
The lenses are also wider and padded more so they don't dig into the eye socket. Making for a much more comfortable fit for swimmers.
Some good goggle options for kids are:
Older Teens
For older teens, it's better to look at goggles for adults as the junior size may be too small. Smaller goggles that don't fit well on the face leak more and can be uncomfortable.
Goggles for adults have a wide range of sizes. Some of the more popular goggle options for adults are Speedo Vanquishers and Hydrospex, and Aegend Swim Goggles
Goggles from Aegend have wider and more padded lenses, which may be more comfortable for newer swimmers. They also come in a two-pack option, saving you some money.
You can read our full, detailed article: How to Pick the Right Swim Goggles for a thorough breakdown and recommendations.
Prescription Goggles
For those kids who wear glasses, some goggles come with prescription options. These may be available in tinted and non-tinted depending on the brand. 
It is possible to swim with regular goggles if you have bad eyesight (I did for a few years). So don't feel that you need to get prescription goggles. However, they can help your child see while swimming which can increase their confidence in the water.
For more information about prescription goggles and swimming with bad eyesight, check out our articles: The 6 Best Prescription Goggles for Swimming + FAQ and Can I Swim With Bad Eyesight?
Goggle Strap Tip
Lastly, if you have the option to switch out goggle straps for bungee goggles straps, we highly recommend that you do. 
The silicone goggle straps that come with the goggles are known for snapping after a while. And some are notoriously difficult to adjust for new swimmers and little fingers can struggle. 
Actually, adult fingers can struggle with them too, if we're honest. 🙂
Instead, switch them out for bungee goggles straps, such as these from Flow. They're incredibly easy to loosen and tighten in a hurry. And they may keep the goggles on your child's face a bit easier.
I've used bungee straps while swimming now for the last 10 years of my career and I will never go back.
3. Swim Caps
Much like goggles, swim caps are hit and miss with kids. Your summer swim team may require that swimmers wear swim caps though. Swim caps help protect your kid's hair and may aid in preventing swimmer's ear.
Related articles:
Most summer league swim teams will provide swim caps with the team's logo or name on it. These are typical latex caps, which are cheap but can tear easily. They're also well-known for pulling hair.
We recommend a silicone swim cap for practice if your child doesn't like latex caps. Or has a latex allergy. We also suggest that if you can, write your child's name on the cap. There's a tendency to not just lose swim caps but also grab the wrong one by mistake.
You can also consider a lycra swim cap, which has more stretch and is less likely to pull hair. It also fits comfortably on the head and the material is breathable. 
The breathability of the fabric can help keep your child cooler in the hot summer weather. However, it will do nothing to keep their hair dry. Lycra caps are also more prone to sliding off during dives. And they may have a harder time staying on while they're swimming.
Long Hair Swim Caps
If your child has long hair or thick, curly hair, you can look at long hair swim caps to make things more comfortable for them. 
Some, such as Sporti and TYR, are better for swimming. Others, such as Dsane and Lahtak are great for thick, curly hair and dreadlocks, but they're more prone to sliding off.
Related article: The 7 Best Swim Caps for Long Hair
4. Swim Towels
Out of everything on this list, it's actually easy to forget about swim towels! Not only are they overlooked, but they're also easy to get the wrong kind.
While it's tempting to use the bath towels on hand, we do recommend that you look at beach or pool towels instead. It's easy for towels to end up lost, dirty/stained, or just unsalvageable by the end of summer swim team season.
And you don't want to end up with dirty and moldy-smelling bath towels for home use. 🙁
Darker towels are better because they don't show mud as easily as lighter-colored towels. If you'll always be at an indoor pool, you may be able to get lighter towels. But pool floors can get dirty and candy/food can also stain fabric.
Related article: The Parent's Guide to Summer Swim Teams
We also recommend looking at microfiber towels in addition to regular swim towels. Microfiber towels are thin but incredibly absorbent. Plus, they dry quickly and don't hold near as much water as regular towels.
If possible, have a few of these on hand in addition to a few regular towels. Their thin material makes packing them a breeze. And they double as great towels if you're ever traveling or camping!
Wash your child's swim towels weekly to help keep them from smelling like mold by the end of the summer. You should also dry them after every practice and meet. Don't let them sit damp until the next practice. It's a sure way to make them stink within weeks, even with washing.
Stock up on swim towels because you'll go through them quickly. Either because of the dirty factor or because they'll end up lost (or stolen), or they can end up smelling of mold if they're not taken care of.
Lastly, we recommend keeping extra towels in your car. Because you can never have too many! Extra towels can help keep your car interior clean (and mostly dry) and can provide more towels if you happen to run out. 
5. Extras
While we touched on some extras in other articles, we would be remiss if they weren't mentioned again. If only because we feel they're important for your child's well-being and they can make your life easier.
Two tips for you regarding sunscreen and earplugs/ear drops! 
Apply sunscreen at least 15-30 minutes before getting in the water so it can set into the skin. If you put sunscreen on just before your child gets into the pool, it will wash it off right away.
Earplugs and eardrops can help prevent swimmer's ear. Put the earplugs in before getting into the water so they stay in better. Swim caps can also help earplugs stay put better. When your child gets out of the water, put a few drops of eardrops in their ear to dry out the water.
Related article: The 6 Best Earplugs for Swimming
In Closing
While you don't need a lot of gear for summer swim team, the type of gear you get does matter. Make sure you take some time to research the different options available before purchasing. Otherwise, you may be left with gear you can't use.
As always, happy swimming!
Chevron
---
Bonus Content
The 7 Best Swim Shampoos to Remove Chlorine: The chemicals in the pool can leave your hair crunchy and straw-like. Here are the best swim shampoos to help reverse chlorine damage.
How to Count Laps in Swimming (with Reference Tables): Knowing how to count laps in swimming can make the difference between hitting your swimming goal and missing it. 
---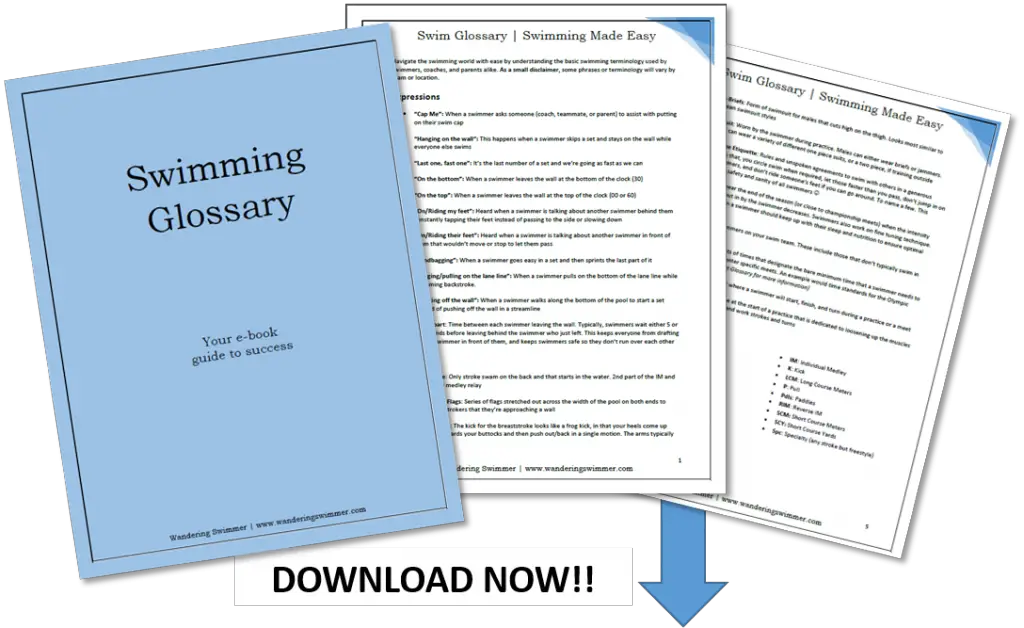 Want to Improve at the Pool?
Join swimmers and swim parents to receive my free newsletter and receive a free Swimming Glossary e-book as a thanks!
Every month you'll receive tips and coaching to help you find success at the pool.
---
About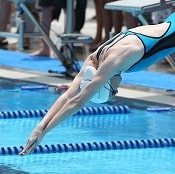 Chevron is a current competitive swimmer with almost 20 years of experience in the pool. And although she fell into the sport by accident in her high school years, she still trains daily and competes throughout the year. She's committed to providing guidance to all levels of swimmers and believes that everyone should know how to swim.