There's no shortage of swimsuits for girls. Finding the best one though may feel like a trial and a test of patience. And it's easy to feel overwhelmed or frustrated not knowing where to start or which girl's swimsuits are the best.
Related article: All You Need to Know About Girl's Swimwear
We've broken out a variety of swimsuit options that are best for girls regardless of the water activity. Additionally, we've provided some alternatives to each category to help you find the best suit for your daughter.
For a companion article on the best boys' swimwear, please head over to The 10 Best Boy's Swimsuits for suggestions!
Disclosure: This post may contain affiliate links, meaning we earn a small commission at no cost to you if you purchase something through one of our links. As an Amazon Associate, we earn from qualifying purchases. Please check out our disclosure page for more information.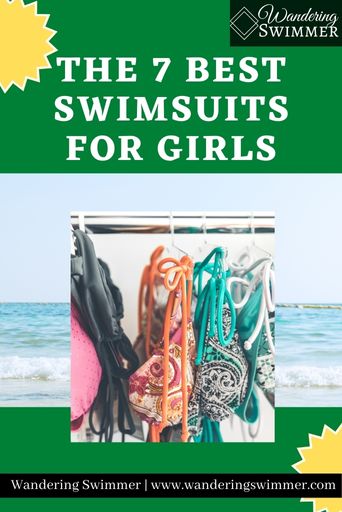 A Note on Swimsuits
All the swimsuits on this list are great options for swimming and water activities. And they are presented in no specific order.
Mainly because swimsuit styles and fit are completely personal. What may be listed as the best 'overall' swimsuit might not be the best overall for your child.
As a child, I wore several different styles throughout my youth and I wouldn't say that any one style was better than the other. Some years I favored wide-strap swimsuits and other years I liked the look/feel of thin straps.
However, just because I didn't like to wear some suits due to my preference doesn't mean they're not good swimsuits. 
More Content for You: Your Guide to Picking Boy's Swimwear
It just means that I preferred not to wear them. But that doesn't mean that you can't like them 🙂
Because of the many different styles available for girl's swimsuits, the best way to pick out the type of design and pattern that you want is to use the filters listed online in stores such as SwimOutlet. 
This can help you find and narrow down your suit to exactly what you want!
Lastly, it's worth noting that more important than the style of the suit is the fit. 
A stylish and functional swimsuit means nothing if it's uncomfortable. When picking your daughter's suit, make sure she can move around easily, it's not too tight, but not so loose that the suit will fall off.

Closed Back Swimsuits for Girls
A decent amount of suits for girls feature swimsuit backs without an opening, however, sometimes you need to hunt for them!
While the opening in the back allows for easier movement and flexibility, some girls (and women!) prefer having their backs covered while wearing a swimsuit.
You typically see younger girls wearing closed-back swimsuits compared to older girls because it's easier to move around in. Especially during swim practice.
These suits can be used for fun, swim lessons, or training. And while they can be used and worn by older girls, it's much harder to find sizes that fit.
TYR Girls' Maxfit One Piece
For a long-lasting and modest swimsuit, TYR's Solid Ella Maxfit One Piece is a good suit to start with. 
It doesn't have an opening in the back and instead, features a more closed-back design. This provides more coverage and modesty, as well as more support. 
The straps are a wide-strap design, which can be more comfortable than thinner straps. Swimsuits with wide straps may be worn for longer as they disperse pressure over a larger area, making them more comfortable. 
More Content for You: Your Quick Guide to Swim Caps
This suit features a moderate leg cut. One that doesn't arch up too high on the hip but doesn't come so low that it impacts movement. The lower leg cut also allows for full coverage on the bottom. 
One positive and negative about the TYR Ella Maxfit suit is the fabric. It's made from most polyester (at about 88%) and the remaining fabric is Spandex. 
Polyester fabric lasts much longer in the water, meaning this suit will hold up well for multiple uses in the water.
However, polyester is also less stretchy and can fit tighter compared to swimsuits with less polyester material. For some, the tight fit and lack of stretch can be uncomfortable 
The TYR Solid Ella Maxfit only comes in two colors, navy and black. However, their Splice Maxfit swimsuit (same suit design) has three different color patterns if you want more options!
Alternative Closed Back Swimwear
Swimsuit
Description
Available At
Seafolly One Piece Swimsuit
Closed back style with a ruffle lining the top of the suit. This suit has thin straps that tie at the top to keep the suit as loose or tight as needed. 
SwimOutlet
Amazon
Speedo Ruffled Racerback
Fun blue suit with horizontal colored stripes and ruffles. Features a closed back with thick straps, and a polyester/Spandex blend
SwimOutlet
Dolfin One Piece
Available in about a dozen different patterns with options available for toddlers to younger girls. All suits are thin straps and have polyester/Spandex fabric
SwimOutlet
Funkita One Piece
Also available in about a dozen different patterns but more geared towards toddlers. All suits are thin straps and 100% polyester 
SwimOutlet
Kanu Surf One-Piece
Nylon and Spandex fabric for more stretch with several pattern and print options 
Amazon (Daisy Prints)
Amazon (Layla Beach Print)
One Piece Bathing Suit for Girls
There are thousands of different one-piece swimsuits for girls. With the wide variety and a number of options, it's hard to say which swimsuit is the best. Mainly because it comes down to preference.
To make things easier, we focused on the back styles for each one-piece suit to keep the list easier to sort. For more about the various back styles in swimsuits, head over to our companion article: 6 Swimsuit Backstyles Explained
Our criteria focused on:
Moderate hip cut 
Full to moderate bottom coverage
Fabric life
Comfort/fit
Because of the numerous different options, we also felt it important to list a few alternatives for each suit. Just to give more options. 🙂
Speedo Infinity Splice One Piece (Racerback Style)
A fun and sporty style one-piece, Speedo's Infinity Splice One-Piece is the ideal racerback swimsuit. To accommodate ages, there are two different versions of this suit! One for little kids and one for big kids.
However, please note that just because one version is labeled for big or little kids doesn't mean that it will or won't fit your child. Please be sure to check the sizing chart and reviews for the best fit.
It features wide straps and has a small to moderate keyhole opening in the back of the suit. Both the wide straps and opening in the back allow for a more comfortable fit and easier movement.
More Content for You: The 7 Best Swim Shampoos to Remove Chlorine
The bottom is considered full coverage and features 'No Wedgie Worries' for coverage that will stay put.
This suit has Nylon and Xtra Life Lycra fabric for stretch. But the material is also built to withstand the multiple wears in the water and pilling of the fabric.
There are five different color options for your daughter to select from for the big kid version. And two for the little kid.
We will note that the torso of the suit does run small, so check the measurement chart. You may need to order 1-2 sizes up from what you typically purchase.
Racerback Alternatives
Swimsuit
Description
Available At
Speedo Girls' Mesh Splice Thick Strap One-Piece
Similar to the Speedo Splice but features a smaller circle in the back for easier movement. Wide straps and Nylon/Lycra fabric blend for more stretch 
SwimOutlet
Amazon
Sporti Wide Strap One Piece Youth
Racerback style with thick straps and a larger opening in the back. Nylon/Lycra fabric blend and many color options
SwimOutlet (splice)
SwimOutlet (solid)
Amazon (solid)
Speedo Endurance Super Proback Youth Swimsuit
Polyester suit for long-lasting fabric with wide straps and a wider keyhole on the back
SwimOutlet
Amazon
Nike Racerback
Wide straps with a medium-sized keyhole in the back and several colors available. Low cut on the hips and full bottom coverage
SwimOutlet
Amazon
Arena Madison Thick Strap One Piece
100% polyester fabric with several color options. Features a wider keyhole and medium coverage. Same style suit is available in women's sizes if you need a larger size
SwimOutlet
Amazon
Sporti Thin Strap Youth One-Piece (V Back Style)
The V back swimsuit is a classic swimsuit and was my swimsuit of choice in high school and college. 
Sporti's Thin Strap Youth One-Piece is a great V-back swimsuit (also called a Keyhole Style). It's very similar to the Sporti Splice Wide Strap. Although, as the name implies, it has thin straps instead of wide straps.
For some girls, thin straps fit tighter on the shoulders compared to wide straps. This can make them a bit uncomfortable. However, there are some girls that don't like wide straps because they can rub.
If your daughter likes the style of wide-strap suits but wants a thin-strap version, this suit with thin straps will be a great fit.
Because this is a youth suit, the cut on the hips comes lower on the leg. This provides more modesty and coverage on the bottom. That said, swimsuits fit everyone differently and you may find that this suit fits higher than you would like.
More Content for You: The Parent's Complete Guide to Summer Swim Teams
The fabric is a Nylon and XtraLife Lycra blend for more stretch but still lasts. For a longer lasting fabric, you can try Sporti's HydroLast Thin Strap One Piece for Youth, which features a polyester fabric blend.
This suit does have a larger keyhole opening in the back compared to some V-back style swimsuits. Based on your daughter, this may be a positive or negative feature.
Their piped swimsuit style is available in many colors. Sporti also has several fun and colorful print options to let your daughter's personality shine.
V-Back Alternatives 
Swimsuit
Description
Available At
Speedo One Piece Thin Strap
Smaller keyhole in the back with thin straps. The fabric is a polyester and Spandex blend
Amazon
*some options may feature a closed back*
Waterpro One Piece Swimsuit
A thin strap suit with a larger keyhole opening in the back. Front and back lined with a fabric blend of Nylon and Lycra
SwimOutlet
iSwim Solid Thin Strap Youth
This suit has a low hip cut and full bottom coverage with thin straps, and a polyester/Spandex fabric
SwimOutlet
TYR Diamond Fit 
Mostly polyester fabric mix with a small keyhole in the back and full bottom coverage
SwimOutlet
Amazon
Speedo PowerFlex Flyback Youth
High cut on the legs for more flexibility and freedom of movement, smaller keyhole back, and recycled nylon and Xtra Life Lycra fabric
SwimOutlet
TYR Trinityfit (Crossback Style)
While perhaps not exactly a true cross-back style, it's fairly close! TYR's Trinityfit Girl's One-Piece is a nice combination of a cross-back style and an open-back style. 
A few of the girls on my team wear this suit and enjoy the fit of it in addition to the more open back. 
Crossback style swimsuits have a more open back to allow for greater flexibility and mobility. The sides for this suit in particular come forward more as the back cutout on the Trinityfit is fairly open.
The leg cut does cut high on the hip and has moderate coverage on the bottom. For some, these may be negative features of the suit. While others may want something a bit higher cut for greater movement when training.
More Content for You: How to Make Your Swimsuit Last Longer
If the high cut of the leg or the coverage of the bottom is an issue, consider pairing this suit with some swim shorts. Swim shorts can provide additional coverage/modesty while still allowing your daughter to wear the swimsuit she likes!
This suit comes in several colors and a few pattern options. With fabric that's 94% polyester and 6% Spandex, you can expect this suit to last for at least a year. If taken care of, of course 😉 The sizes may be limited for girls and if you need to size up, you may want to check the sizes for this suit in TYR Women's Trinity.
Crossback Alternatives
Swimsuit
Description
Available At
Dolfin Youth Cross Back
This suit does feature a lower cut on the leg and a more full bottom coverage. The fabric is a polyamide/elastane blend and the color options are limited
SwimOutlet
Amazon
Turbo Girl's One Piece
Fun pattern options available with a moderate back opening. Polyester and PBT fabric blend. Could potentially be considered an open back style suit.
SwimOutlet
Speedo Crossback
While marketed for women, smaller sizes can fit older girls. The leg cut is high and has moderate bottom coverage. Polyester fabric
SwimOutlet
Amazon
TYR's Girl's Cutoutfit One Piece (Open Back Style)
Out of all the one-piece swimsuits on the list, swimsuits with open-back styles have the least amount of coverage. There aren't many for girls, especially younger ones. 
That said, I've seen a few girls wear open-back styles and they absolutely love them. Much like my own preference for this suit style, these girls feel most comfortable in a suit that leaves them less confined in their swimsuit. But, we also understand that this style isn't for everyone.
More Content for You: 7 Reasons to Wear Goggles When You Swim
TYR's Girl's Cutoutft One Piece is specific for girls (as opposed to women). It does feature a very open back that dips lows and cuts high on the legs. The design of this suit provides moderate to potentially slim bottom coverage based on how it may fit your daughter.
The fabric is chlorine resistant and is 94% polyester and 6% Spandex for a long-lasting fit. 
While there aren't a lot of alternative options for open-back styles for girls, there are dozens in the women's selection. If your daughter wants more options, you can see if any of the smaller sizes may fit her.  
As a note though, most of these suits for women do have high leg cuts and cheeky to moderate bottom coverage. You can see our pick for these suits here: Best Women's Swimsuits for Lap Swimming and Training
Open Back Alternatives 
Swimsuit
Description
Available At
Speedo One Back
Less stretch/give depending on Endurance+ or Endurance Lite fabric. Moderate bottom coverage. More pattern and color options
SwimOutlet
Amazon
Arena Challenge
Features moderate bottom coverage, high hip cut, more pattern and color options, and deeper cut sides
SwimOutlet
Amazon
Nike Cut Out Tank
Cheeky to moderate bottom coverage, high hip cut, more pattern and color options
SwimOutlet
Amazon
Sporti Hydrolast Micro One Back
Similar design to Sporti's Micro Back, but features moderate bottom coverage and 100% polyester fabric. More pattern and color options
SwimOutlet
Tankinis
The tankini is a highly underrated girls' swimsuit, in our opinion. It takes the classic bikini/two-piece and masquerades it as a one-piece. They're a great option for girls who want a two-piece but may not want as much skin exposed.
Tankinis can also be used for pretty much any water activity, including swim lessons and swim team (depending on age and level). We do recommend bottom pieces with a drawstring though for high-intensity water activities.
Related article: What is a Tankini? (And Why You Should Have One)
The coverage on tankini tops varies from crop top (short) to full tankini (covering the stomach). We'll note the coverage amount for each tankini listed 🙂
Lastly, one reason to truly love tankinis? Because they're technically two-piece swimsuits, the bottoms come off, making for easier trips to the bathroom!
JerrisApparel Tankini w/ Boyshorts (Tankini Option)
For a simple but cute and fun design, this tankini by JerrisApparel checks all the boxes. 
This tankini has long coverage for the top piece (although it may be shorter if your daughter is tall in the torso). The straps are a wide-strap design, which typically fits more comfortably and can be worn for longer periods.
We like that the top part of this tankini genuinely looks like a tank top and could be worn away from the pool without issue. 
The top piece does have a built-in bra liner, which may be a positive or negative option depending on your daughter. If it's a negative thing (ie, scratchy or too much fabric), it can be cut out without much issue. 
The bottom piece has a boyshorts design for maximum bottom coverage. It doesn't come with an actual drawstring, so be aware that it may tug down some if playing in the waves.
This tankini comes in several different colors and a few pattern designs (like dinosaurs!!) to fit your daughter's personality and style. The fabric is a nylon and spandex blend.
Tankini Alternatives
Swimsuit
Description
Available At
Kanu Surf Girls Tankini
Thin strap suit with many different pattern options. Features a regular bikini bottom and a nylon and spandex fabric. Longer torso coverage
Amazon (Melanie Print)
Amazon (Daisy Print)
Amazon (Charlotte Florence Print)
Speedo Tankini
Regular bikini bottom and a thin or thick strap tankini top with several pattern options. Polyester and spandex mix
Amazon (Thin Strap)
Amazon (Thick Strap)
Belovecol Tankini
Very similar to JerrisApparel tankini. This tankini comes with boy shorts and a top that looks more like a tank top. Nylon and Spandex fabric
Amazon
Girls Swimsuits FAQ
What Should You Look for in Girl's Swimsuits?
Purpose
We always recommend starting your search for swimsuits based on use/purpose. For girls' swimsuits, you have a bit more wiggle room, as they're typically multipurpose. At least compared to women's swimsuits.
However, some swimsuits are better suited for some water activities than others. A two-piece may be fun for the beach, lake, or poolside. 
More Content for You: Answering Your Questions About Rash Guards
But at swim team or swim lessons, they're less likely to stay on. And younger girls often spend most of the swim lessons tugging the top piece back down instead of paying attention.
If you can, try to get a swimsuit for your daughter that will fit the purpose of her getting into the water. If you can't, that's okay, too! There's no hard rule that says what swimsuit your daughter should wear. Only suggestions 🙂
Sizes
With so many options for girls' swimsuits and confusing labeling, it's hard to mistake a suit meant for girls vs women.
Some suits that appear on searches may appear in both the girl's and women's sections, especially when it comes to teens.
Depending on the age, you should look for swimsuits marked as toddler, little kid, big kid, or youth. Some teens can fit into swimsuits marked as youth. But others may fit suits that women can also wear.
We always recommend reading the reviews and looking through the 'questions/answers' section if shopping online. These can help you determine if the suit fits larger or smaller.
Do Girl's Swimsuits Come with Padding?
Most girls' swimwear does not have built-in bras, a bra shelf, or padded lining for modesty. Mainly because they're marketed toward younger girls who haven't started developing breasts yet. 
That said, you may find some suits that add support in their suits for large swimsuit sizes meant to fit older girls. Additionally, you can check to see if the suit is lined for modesty. Suits can be either fully lined (front and back) or just front lined.
More Content for You: The 6 Best Earplugs for Swimming
If your daughter needs support but all the suits you're looking at don't have support options, consider wide-strap swimsuits. Suits with wide straps can help support the bust better than thin straps can.
You may also consider looking at the women's suits and seeing if one of the smaller sizes may fit or work for your daughter.
How Should a Swimsuit Fit My Daughter?
Comfortably and in place. You don't want the swimsuit falling off your daughter's shoulders or hips. But you don't want the suit so tight that it digs into her shoulders.
It is a delicate balance of finding the right fit, as some suits will stretch over time. And some girls, such as the ones on swim teams, may need their swimsuits to fit just a bit on the tight side.
Again, we always suggest moving around in the swimsuit after you try it on. This will help your daughter see how the suit will move with her and if it may rub or ride up.
Why Should I Let My Daughter Pick Her Suit?
Excitement and a sense of individuality. By letting her pick out a swimsuit of her own, she'll be excited to wear it because it's what she wanted. This goes an incredibly long way in making swim lessons easier.
Doing so also makes her feel more comfortable and confident in her choice. 
Should you get veto power over certain choices and be able to put guidelines in place? Of course! But also see if you can compromise when applicable. Such as she wants a two-piece but you want her to wear a one-piece. The compromise could be a tankini!
In Closing
When it comes to looking for girls' swimsuits, you have no shortage of options! It may take a few tries to find the swimsuit that works best for your daughter, but it's the best way to find the one that works for her (and you)!
---
Bonus Content
Ultimate Guide for Women's Swimwear: Not all women's swimwear are made the same. To help you find your perfect swimsuit, we've broken down various swimsuits for women.
Can You Swim With Long Hair?: One common swimming question we get asked frequently is "can you swim with long hair?' Still aren't convinced or have some questions? Here are 6 tips to help you swim with long hair and protect it.
---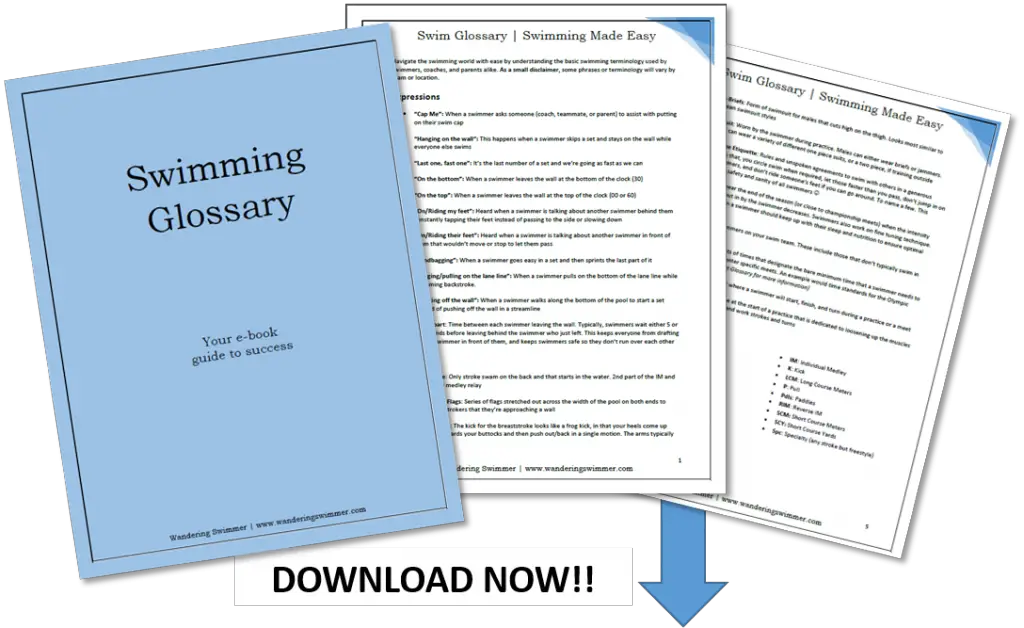 Want to Improve at the Pool?
Join swimmers and swim parents to receive my free newsletter and receive a free Swimming Glossary e-book as a thanks!
Every month you'll receive tips and coaching to help you find success at the pool.
---
About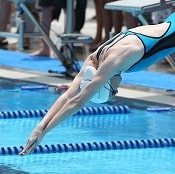 Chevron is a current competitive swimmer with almost 20 years of experience in the pool. And although she fell into the sport by accident in her high school years, she still trains daily and competes throughout the year. She's committed to providing guidance to all levels of swimmers and believes that everyone should know how to swim.