Trying to travel during holiday training can be stressful. It involves communication, coordination, and ample planning to make it work. 
And hoping that your coach isn't too mad when you tell them you're leaving for the holidays!
It might seem like a lot of effort, but keeping up with your holiday training benefits you in the long run.
Make your the best of your tip and training with these 6 tips for traveling during holiday training. 
Disclosure: This post may contain affiliate links, meaning we earn a small commission at no cost to you if you purchase something through one of our links. As an Amazon Associate, we earn from qualifying purchases. Please check out our disclosure page for more information.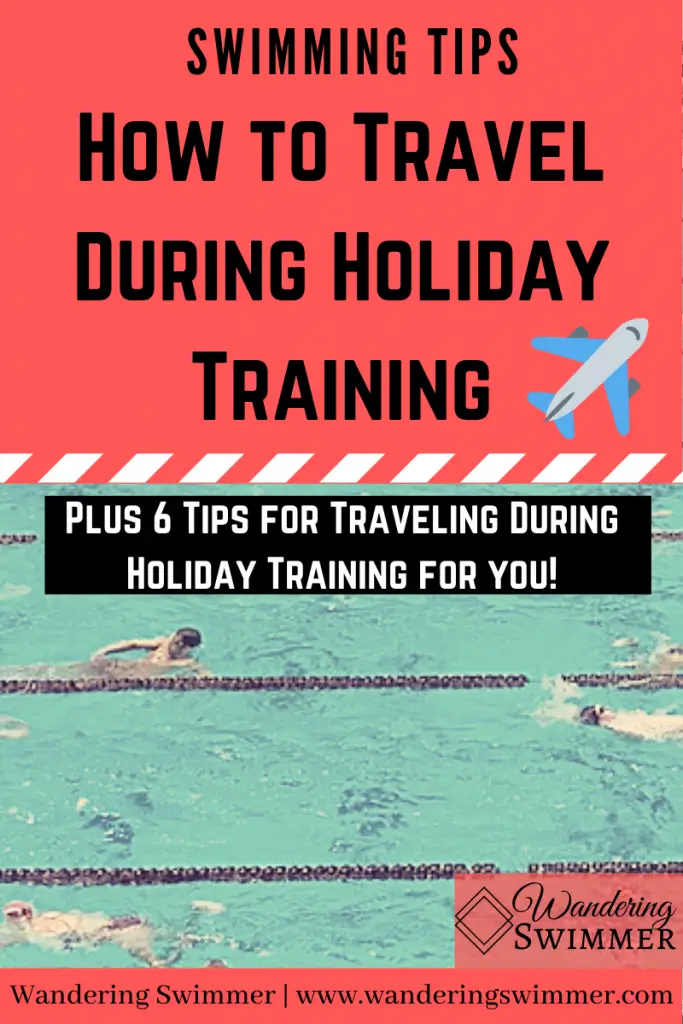 Communication
Have effective and early communication if you plan to travel during holiday training. 
If you know you're going out of town, be sure to let your coach know as soon as you're aware. And remind them again as it gets closer to holiday training. Give them the exact dates and how you plan to train.
This lets your coach know if you need some type of workout while you're traveling. Or if you'll get workouts with another team. 
Related article: 9 Tips to Survive Holiday Training
Don't try to surprise your coach by letting you know the day before holiday training starts. Or by not showing up at all. 
It's rude and disrespectful to the coach.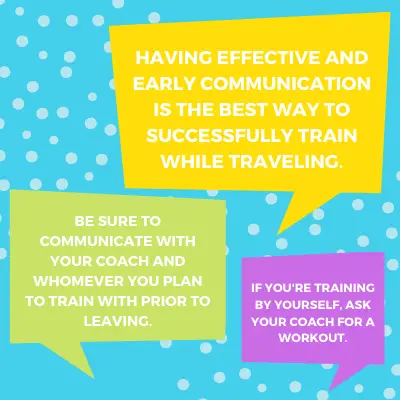 Look For a Place to Swim 
If you plan to travel during holiday training, take the time to do some research before you leave.
Locate a pool or team near where you're staying. Sites such as US Masters Swimming and USA Swimming have team locators that allow swimmers to search for teams based on location.
From these sites, see if the team you found has a website. Most teams will post contact and training information on their sites. Check to see if their training schedules match up with yours.
More Content for You: What to Know About Swim Practice & Dryland
If you can't find a team nearby, search for a gym. Certain gyms allow for day passes to visitors in the area. You might have to pay a bit more, but if you're wanting to keep up with your training, it might be worth it.
Be sure to speak with the gym before leaving to get all the information you need. To include:
Cost per visit
Schedule
Pool availability times
Facility information
Call the Team/Pool
Before you travel during holiday training make sure you speak with someone first. 
Some teams allow swimmers to train with their team for short periods when they're traveling. However, it does involve communication before your visit.
Do not show up at another team's pool and expect to train if you haven't had any communication with them. 
Instead, connect with the head coach before you leave. Let them know the situation and ask if it's possible to train with the team. If they turn you down, don't feel insulted. Instead, thank them for their time and look at Plan B.
If you can train with a team, provide the dates that you plan to train with them. Along with your current swim level, your team, and even your times.
While it might seem like overkill, doing this helps the coach assess where you'll best fit. And help them determine if they have space for you. 
Best Practices When Training with Another Team
You should always put your best face forward when training with another swim team. 
You represent not just yourself, but also your coach and your team. Being disrespectful will reflect on you and will outshine your talent and times. 
And yes, coaches do talk with each other. Word gets around quickly and a bad swimmer can easily ruin a team's reputation.
For some best practices when training with another team, check out our other post: Swim Practice While Traveling.
Staying at a Hotel/Cruise
If you're staying at a hotel (or you're going on a cruise) and have access to the hotel pool, you can get some training in! 
Bring a swim bungee with you to get in some practice. It's not 100% ideal, but in a pinch, it can work. And resistance training is a great workout.
Remember to count your strokes at your home pool before you leave. You'll need to know your stroke count if you want to estimate the distance that you've completed.
For the best swim bungee to use for small pools such as a hotel pool, I recommend the YYST Swim Bungee. You can read my full review on this bungee here: A Swimmer's Review of the YYST Swim Bungee.
Lastly, don't forget about your dryland!
If your hotel has an available gym, take advantage of it. Use the cardio machines available if you can't train in a pool. And get some lifting in with what weights are available for you.  
Dryland Training
One of the great things about dryland is that you can do it anywhere. Even if you don't have access to a pool while you're traveling, you can still get in some dryland. And even some cardio if you're feeling up to it.
Even better, dryland doesn't always require weights. While they're helpful to have, body weight can work just as well for a short period. 
Related articles:
Try some squats, lunges, push-ups, dips, and wall sits to get you started. And don't forget that you can almost always do core work without the need for weights.
Some dryland equipment can travel with you, as they don't take up much space. Equipment such as resistance bands, a jump rope, and others can enhance your workouts. See more dryland options here: Best Dryland Equipment for Swimmers at Home
If you can, don't forget to get in some cardio. Biking and running are great options for getting some cardio in. For those that don't like to run or can't bike, consider doing some cardio inside.
Squat jumps, high knees, and jumping jacks are simple ways to get the heart rate going. Just make sure you keep some water nearby during your workouts!
In Closing
Even when you're traveling during the holidays, you can always get some training in. It might seem like a pain but in the end, it'll benefit you. Remember that your goals don't pause while you're on break.
They keep going forward. Just as other swimmers keep on training. Whether you can get in some training or a lot of training, some workouts are better than none.
As always, to happy swimming!
Chevron
---
Bonus Holiday Training Content:
What is Holiday Training for Swimmers?: What is holiday training? While holiday training varies by team, it can be difficult to explain. And why it's so important to swimmers. 
9 Tips to Survive Holiday Training: It's not always easy to make it through holiday training. Whether it's your first winter training or your tenth, here are 9 tips to help you survive holiday training.
---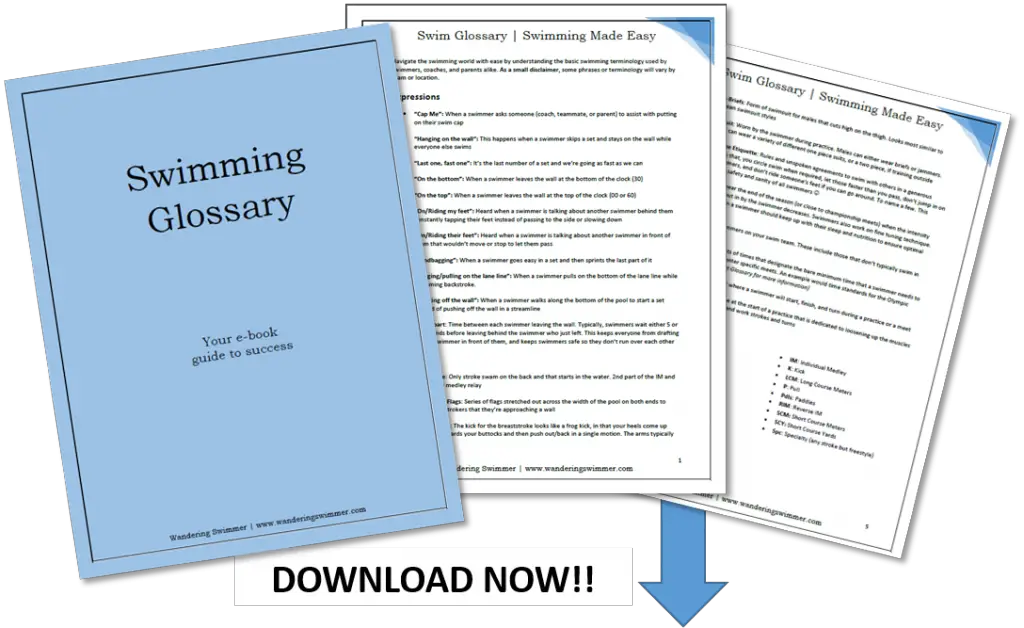 Want to Improve at the Pool?
Join swimmers and swim parents to receive my free newsletter and receive a free Swimming Glossary e-book as a thanks!
Every month you'll receive tips and coaching to help you find success at the pool.