The end of the year means many things to many different people. It's a time when school is out and the holidays are just around the corner. For swimmers, it also means several intense weeks of holiday training. 
More Content for You: Swimming Secrets: What Really Happens at Swim Practice
The good news is that it's a short period in the training season. At only a few weeks to a month-long, it's about 1% of all the training done in a year.
And you know what that means?
It means that you've got this! And you can do it! You can make it through the sets, no matter how tough or easy they are. But it always helps when you have something fun to make the training go just a bit faster 😉
Disclosure: This post may contain affiliate links, meaning we earn a small commission at no cost to you if you purchase something through one of our links. As an Amazon Associate, we earn from qualifying purchases. Please check out our disclosure page for more information.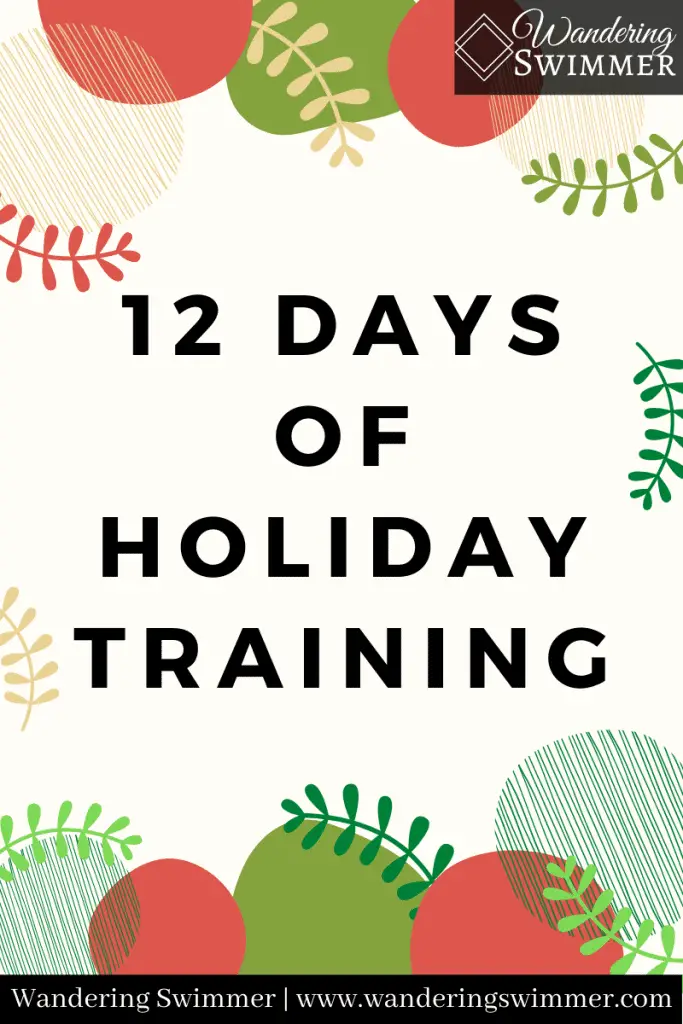 Holiday Training Challenge
Winter training is the moment that your coach announces that the team is ramping up practices and increasing the intensity. It's enough to make the most seasoned swimmer feel like crying and wanting to hide away for those few weeks in winter.
Related article: What is Holiday Training for Swimmers?
Despite the challenges that come with this training, there are always chances for fun. Holiday-themed sets. The classic New Years' set of 100 x100s. Outings with the team after hard practices.
And for those that really need a distraction during those long sets, now's the time to get creative! 
The Challenge
As swimmers, we're used to training with nothing but our thoughts for most of the practice. We count strokes and laps, we sing mentally (and sometimes aloud!) and encourage ourselves. 
And during holiday training when you're struggling to put one hand out in front of the other, I challenge you to get creative. To have fun by switching out the words of 'The 12 Days of Christmas' with swimming-related ones.
And you can take it a step further by writing your own swimming set based on the song. 
Or even any other song that you know!
The 12 Days of Holiday Training
I've done this before during my own winter training during college. Inspiration strikes hard during a three-hour practice, I guess, haha.
Not sure where to start with your own version? Just jot down the ideas that come to you for each day. It doesn't have to be perfect. And you can make almost anything rhyme and go with the song. 
I've listed mine down below for your entertainment 🙂
On the first day of holiday training, my swim coach gave to me…
A swim set in a set of brackets
Two sore knees
Three swollen knuckles
Four Aching joints
Five hundred for time!
Six seconds rest
Seven sprints off the block
Eight swimming lanes
Nine complaining teammates
Ten ice baths
Eleven high fives
Twelve thousand yards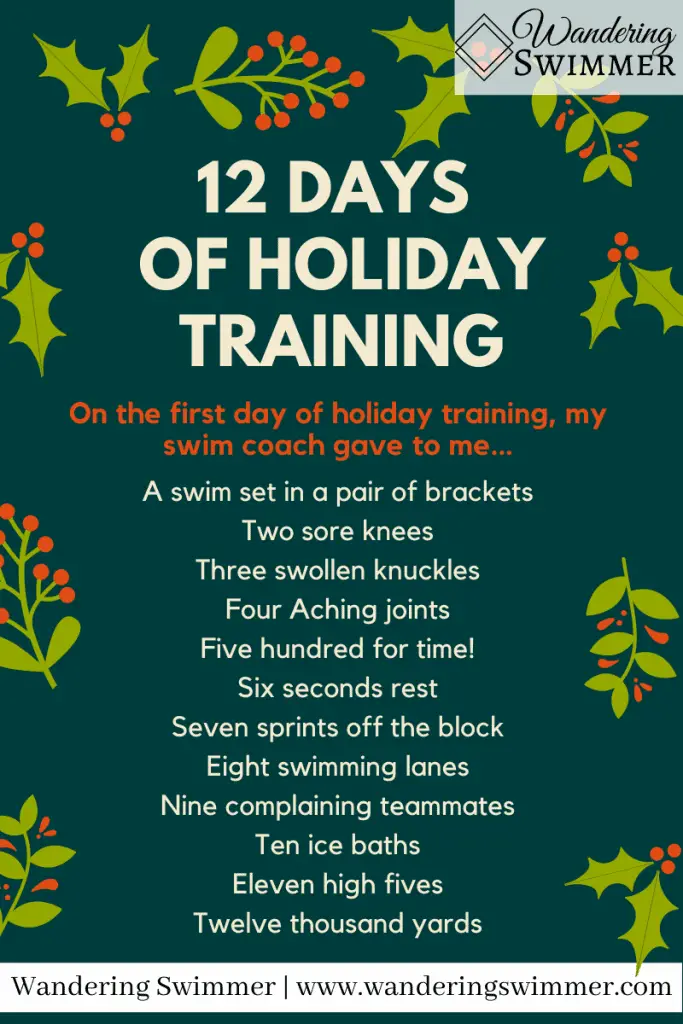 Thought of any yet? It's incredibly easy and versatile. Have fun thinking of your own and if you'd like, feel free to share them down below in the comments
May your training go quickly and not cause you much grief.  🙂
As always, happy swimming!
Chevron
---
Bonus Holiday Training Content:
9 Tips to Survive Holiday Training: It's not always easy to make it through holiday training. Whether it's your first winter training or your tenth, here are 9 tips to help you survive.
How to Travel During Holiday Training: Trying to travel during holiday training can be stressful. It might seem like a lot of effort, but keeping up with your winter training benefits you in the long run.
---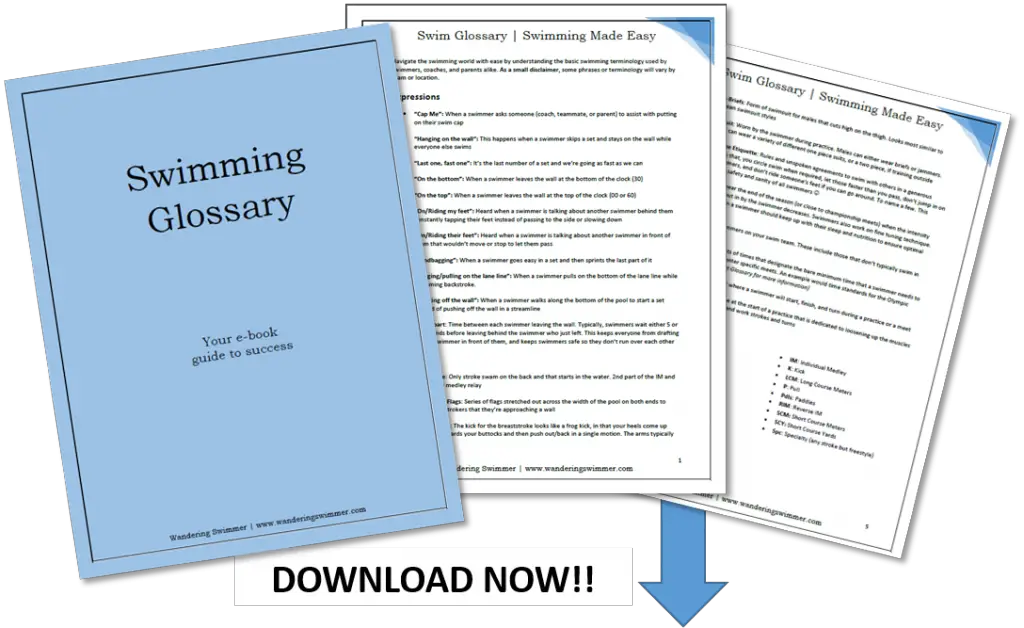 Want to Improve at the Pool?
Join swimmers and swim parents to receive my free newsletter and receive a free Swimming Glossary e-book as a thanks!
Every month you'll receive tips and coaching to help you find success at the pool.