When it comes to picking boys' swimwear, there's no shortage of options. Which may be a good or bad thing! 
It's important to find the right swimwear for your child. Getting the incorrect one can make your son fussy or uncomfortable in and out of the water. But with the various options out there, it's hard to know which boys' swimwear is the right one.
Related article: The 10 Best Boy's Swimsuits 
To help you pick your child's next swimsuit and find the correct swimwear for him, we've broken down the various boys' swimwear that are available. 
For a companion article on girls' swimwear and how to pick swimwear for your daughter, please head over to All About Girls' Swimwear. Some swimwear, such as float suits and rash guards are the same for both genders and reflect as such in both articles.
Disclosure: This post may contain affiliate links, meaning we earn a small commission at no cost to you if you purchase something through one of our links. As an Amazon Associate, we earn from qualifying purchases. Please check out our disclosure page for more information.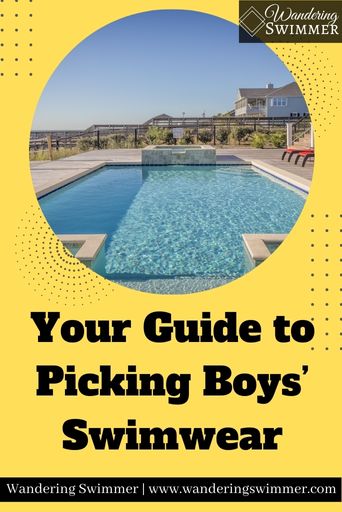 Before we start, here are our beliefs: 
This is only meant as a guide to help get you started and give you a breakdown of boys' swimwear. It is by no means a hard and fast rule (except for certain competition swimwear). 
What you and your child look for in a swimsuit is 100% between you. While we offer our advice, you by no means need to take it if it goes against what you believe or want for your child.
Related article: Complete Guide to Men's Swimwear
At the end of the day, a swimsuit is there to allow your child to get into the water. Everything else is just embellishments. 
Boys' Swimwear for Training
While other forms of boys' swimwear, such as trunks and board shorts, can be used for training, they're not the most efficient suits for swimming. For this section of boys' swimwear, we'll focus more on swimsuits that are efficient for training, lap swimming, and even swim lessons.
Most boys' swimwear for training are knee-length suits that fit tight to the body. These style suits are called jammers. That said, there are also swim briefs and square leg swimwear that boys can wear too.
Swim briefs are also known as 'Speedos' and while not every younger boy likes to wear them, some may like the lack of excess fabric on their legs. Square leg swimwear is similar to briefs, but comes down lower on the thigh but not as low as jammers.
Related articles:
All About Men's Square Leg Swimwear
Swimsuits come in a wide variety of styles and designs. And while boys' swimwear has fewer differences and options than girls' swimwear, it can still be overwhelming.
The biggest things to consider when looking at boys' swimwear are swimsuit length (jammer length vs speedo cut) and fabric type (more polyester vs less). 
To some lesser extent, you may need to consider if the swimsuit has drawstrings instead of just an elastic waistband. 
Breakdown of Suits for Training
Here's a quick breakdown of the various elements to look for in swimsuits that are often used for training and swim lessons.
Swimsuit Style: Swimsuits for training or swim lessons come in a few different styles from jammers to swim briefs and square legs. For boys starting in a novice or level one training program, trunks may be an option, but we wouldn't recommend it as they progress
Fabric Type: Suits that have more polyester in them tend to last longer than those with just nylon or Lycra. This means that your son can wear them for more than one year. The drawback is that suits with more polyester don't stretch out as much and can fit tighter.
Drawstring: A drawstring provides additional support to ensure that the suit stays put and doesn't slide down your son's hips. Drawstrings can also keep younger boys from pulling their suits off on their own! 
Elastic waistband: A swimsuit with just an elastic waistband will slide up easier on your son's hips. But it can just as easily slide off! These suits are better suited for playing in the pool compared to more strenuous water activities such as training
Boys' Tech Suits for Competition 
One of the smaller categories of boys' swimwear but an important one for those who compete. For this section, we're focused mainly on tech suits instead of regular practice suits that can be worn at meets.
Tech suits are most often jammer suits with fabric and fit designed to reduce resistance when racing. There are also brief styles available in tech suit material and design.
Any type of tech suit is expensive and unfortunately, doesn't last as long as practice suits. If your child isn't competing, there's honestly no need for them to wear a tech suit. It's a waste of your money.
Lastly, it's important to note that in the US, swimsuits for competition and racing have specific rules based on age. 
The new ruling put out by USA Swimming in 2020 states that swimmers 12 and under may only wear certain tech/racing suits. The two main features of a 12 and under tech suit are
Suits have sewn seams and not bonded seams
The fabric is textile instead of woven
When looking for these suits, it's important to check that they're approved for ages 12 and under. SwimOutlet has a specific section for these suits. 
Swim Trunks
Trunks are incredibly popular among boys and men alike. And they're a much better alternative than regular shorts, as shorts rarely stay up, become heavy in the water, and take ages to dry. 
Instead, swim trunks feature lightweight fabric that doesn't absorb as much water, fits a bit tighter to the body, and dries much more quickly. 
Swim trunks come in varying lengths, much like board shorts. However, unlike board shorts, they tend to run shorter on the leg. They typically stop above the knee or higher. Whereas board shorts fit right at the knee or lower.
Related article: Swim Trunks vs Board Shorts
The shorter length of swim trunks may be more appealing to some boys as it's less fabric to catch around their legs. They also may feel that they can move around easier with swim trunks instead of board shorts.
Most swim trunks will come with a drawstring nowadays. But some only feature an elastic waistband without the drawstring. You should always check the description to ensure whether the suit has a drawstring or not.
Swim trunks, despite their extra fabric, are still good swimsuits for swim lessons! Most of the boys I taught would wear them. And I've seen a few boys on my team who are in our younger groups wear them to practices.
Board Shorts
Board shorts are a much longer version of swim trunks. Most board shorts reach the knee and may go below the knee. At their shortest, board shorts stop just an inch or so above the knee. 
Another noticeable difference between swim trunks and board shorts is that board shorts typically have stronger/thicker material. They also feature drawstrings. 
More Content for You: What is Summer Swim Team for Kids?
Some boys' board shorts may come with an inner mesh lining. This does differ from men's board shorts, which don't feature a lining.
Board shorts can also be used for swim lessons. The heavier and longer material may be a bit challenging based on their age and how long the shorts are. But that doesn't mean that you can't use board shorts for swim lessons!
Float Suits
What is a float suit? A float suit is a type of boys' swimwear designed for safety in the water. They're like a life jacket that's been built into a swimsuit!
These suits have extra buoyancy floats built into them that help keep a child's head above the water. The design also allows kids to move through the water with ease compared to the heavier weight of life jackets.
Most float suits are designed so that the floats can be removed as your child gains confidence and swimming ability in the water.
More Content for You: 6 Best Earplugs for Swimming + FAQ
Float suits for boys come in the same styles/cuts as float suits for girls. Instead of stopping at the hips, they come up to the torso and hook over the shoulders, almost like a unitard. This is mainly because the float pieces go around the waist and sometimes the chest for extra floatation.
You won't find float suits for boys that are just from the hips down. This type of design would leave your son incredibly unbalanced in the water.
Lastly, float suits ARE NOT a substitute for adult supervision. Whenever your son is in the water, you should always keep a close eye on them. Float suits can keep kids safe in the water but they're not perfect. Accidents can still happen.
Rash Guards and Swim Shirts
It's tempting for some parents to have their child swim with a t-shirt. However, it's not ideal for your son to swim or wear a regular t-shirt in the water. The material absorbs a ton of water, can become extremely heavy, and builds up bacteria easier. 
Instead, the better options are rash guards or swim shirts.
Related article: Answering Your Questions About Rash Guards
Rash guards and swim shirts are designed to be used in the water without restricting motion. They also have UV protection and prevent sunburns, and can provide modesty by wearing them over a swimsuit.
The biggest difference between the two is that rash guards fit tighter to the body and swim shirts are a bit looser.
Both can be used for swimming and other water activities, but the tightness of the shirt may play a role in the level of comfort. 
For example, swim shirts are better for playing at the beach or pool and can also be used for hiking, kayaking, or spending time on the river.
Rash guards are often used for surfing to prevent rashes or chafing, just as they can be worn under a wetsuit to prevent chafing.
And yes, your son can wear these to swim lessons! I've seen them at swim lessons and even some of the younger swimmers on my team wear them to practice. 🙂
Boys' Swimwear FAQ
Which Swimsuit Style is Best for My Son?
Honestly, it depends. When it comes to swimwear, there are several factors to consider. And that's even before you start looking at colors and patterns!
We do believe that you and your son should pick the style that he likes best and feels most comfortable in. 
More Content for You: How to Fix Common Swim Goggle Problems
That said, certain swimsuit styles fit better activities than others. Swim trunks and board shorts may have more fun designs and options. But the extra fabric isn't conducive to training if your son is on a swim team and jammers or briefs may be better.
Whereas swim trunks and some board shorts were always a hit at swim lessons when I gave them. The longer material felt more like regular shorts than a swimsuit, making some boys more comfortable in the water.
How Do I Pick a Swimsuit for My Son?
If he's old enough to pick his own swimsuit out, we believe he should be able to pick out his own! With conditions and a final veto from you, of course 😉
Allowing your son to pick out his suit can go a long way to making him feel comfortable and confident in what he's wearing. This is extremely helpful for not just swim lessons but also practice and having fun.
More Content for You: Why Can't Some People Swim?
Someone who doesn't feel comfortable in their clothes (or suit, in this case) or likes what they're wearing tends to feel miserable. You wouldn't wear a suit that you hate. The same should apply to your son 🙂
When picking swimsuits, know that the bathing suit should feel comfortable first and foremost. From there, you should pick a suit that goes with the water activity your son will be doing. 
How Tight Should a Swimsuit Be?
Tight enough that it's not falling off the hips. But not so tight that it digs into the skin around the hips or legs and hurts.
Finding the right level of tightness is a balancing game. Especially as suits can stretch over time and may be looser in the water. 
You'll have fewer issues with stretching out or pilling with trunks and board shorts. But swimsuits made of Nylon or Lycra blends tend to stretch out easier than polyester
More Content for You: The 7 Best Swim Shampoos to Remove Chlorine
When your son is wearing his suit, tug at them to make sure they're secure enough that they won't fall off. 
For jammers and briefs, you should be able to fit a finger between the suit and the skin. If you can't, try the next size up.
Board shorts and swim trunks won't be tight to the body in the same way jammers are. There should be some space between the suit and the skin.
Lastly, have your son move around in his suit. This will help you both see how the suit moves with him and to see if it's too tight, if it chafes, or if other concerns need to be addressed.
In Closing
With all the options for boys' swimwear, it's easy to feel overwhelmed or lost in the options. Knowing where to start though is the best way to wade through the options and help you find the best suit for your son!
As always, happy swimming!
Chevron
---
Bonus Content
Best Men's Swim Briefs for Lap Swimming and Training:
Basic Swimming Terminology: Knowing some swimming terminology, or swim terms, will help you navigate the swimming world. Here are 25 common swimming terms to get you started.
---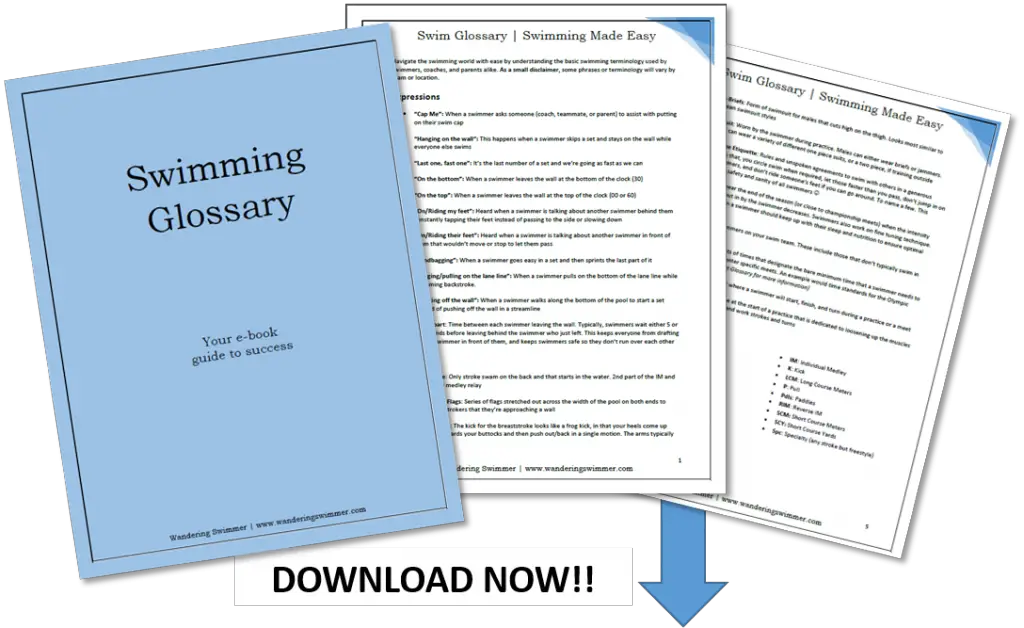 Want to Improve at the Pool?
Join swimmers and swim parents to receive my free newsletter and receive a free Swimming Glossary e-book as a thanks!
Every month you'll receive tips and coaching to help you find success at the pool.
---
About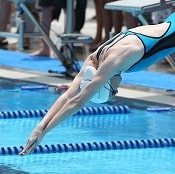 Chevron is a current competitive swimmer with almost 20 years of experience in the pool. And although she fell into the sport by accident in her high school years, she still trains daily and competes throughout the year. She's committed to providing guidance to all levels of swimmers and believes that everyone should know how to swim.