When it comes to picking out a swimsuit for boys, you have dozens of options available to you. Finding the right one though is no easy task and it can test your patience at times. Especially when you don't know where to start or which boy's swimsuits are the best.
Related article: Your Guide to Picking Boy's Swimwear
We've broken out a variety of boys' swimsuit options regardless of the water activity. Additionally, we've provided some alternatives to each category to help you find the best suit for your son.
For a companion article on the best girls' swimwear, please head over to The 7 Best Swimsuits for Girls for suggestions!
Disclosure: This post may contain affiliate links, meaning we earn a small commission at no cost to you if you purchase something through one of our links. As an Amazon Associate, we earn from qualifying purchases. Please check out our disclosure page for more information.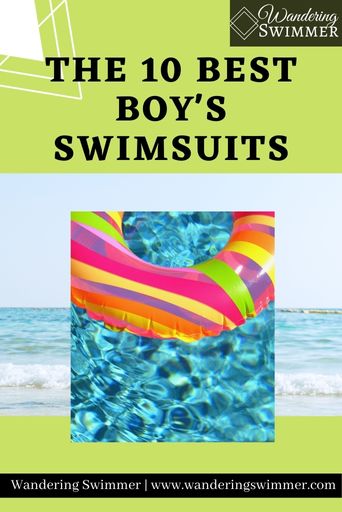 A Note on Swimsuits
All the swimsuits on this list are great options for swimming and water activities. And they are presented in no specific order.
Mainly because swimsuit styles and fit are completely personal. What may be listed as the best 'overall' swimsuit might not be the best overall for your child.
The boys on my team typically wear jammers when they start swimming and rotate to swim briefs as they get older. Just as some never switch to briefs. 
Related article: Complete Guide to Men's Swimwear
At the same time, most boys who aren't swimmers wouldn't typically wear jammers or briefs, and would instead wear swim trunks. Just as swimmers outside of training would rather wear trunks to the lake or beach instead of their briefs.
All this is to say that no one style or fit is better than the other. There may be a time and place for certain boys' swimsuits, but that's not to say it's 'better'.
Lastly, it's worth noting that more important than the style of the suit is the fit. 
A stylish and functional swimsuit means nothing if it's uncomfortable. When picking your son's suit, make sure he can move around easily, it's not too tight, but not so loose that the suit will fall off.
Best Jammers for Boys
Jammers are most popular with boys on swim teams and even swim lessons. Mostly because they fit longer on the legs and are tight to the body to reduce resistance (also called drag). 
Related article: What to Look for in Jammers
That said, it's not a hard rule that jammers can only be worn by competitive swimmers or during swim lessons! If your son wants to wear them at the beach, lake, or river, that's okay, too!
Because every jammer has the same cut/shape to them, we've decided to list out the best jammers by brand. And add some alternate options for additional choices. 🙂
Speedo Endurance+ Jammer
Speedo makes good suits and they make excellent jammers for boys (and men!). 
My teammates favor Speedo's Endurance+ jammer over their other jammer styles because they're long-lasting and comfortable.
This jammer can sit a bit higher on the hips and depending on your son's legs, can stop just above the knee or higher. Speedo jammers come with a drawstring to ensure a tight fit.
You can find this suit in solid colors, a spliced pattern, and several different pattern options. 
Some of the more fun pattern options are available in the Speedo jammers marketed for men. However, their sizes can run as small as 22 to fit younger boys.
The Endurance+ fabric from Speedo is made from 50% Polyester and 50% PBT (texturized polyester). This makes the swimsuit more chlorine-resistant and less prone to fading. 
All of my swimsuits from Speedo are from their Endurance+ line and can last well over a year. Even with 9-10 workouts a week!
The polyester fabric blend tends to run smaller compared to suits with less polyester in them. They're also less stretchy, which may be a negative for some boys. 
Jammer Alternatives for Speedo
Swimsuit
Description
Available At
Speedo Learn to Swim Jammer (Little/Big Kid)
Boys jammer with a Nylon and XtraLife Lycra blend for more stretch. Solid colors only
SwimOutlet
Amazon
PowerFLEX Eco Youth Jammer
Recycled Nylon and XtraLife Lycra fabric blend for long-lasting fabric and more stretch. Solid colors only
SwimOutlet
Amazon
Youth Learn to Swim Pro LT Jammer
Traditional jammer design with 85% polyester and 15% Spandex. This suit has a bit more give than the Endurance+ fabric but will hold up better than a Nylon/Lycra blend
SwimOutlet
Sporti HydroLast Jammer Youth
Although they're a smaller company, Sporti makes excellent swimsuits and in a wide variety of styles, cuts, and patterns. They also offer a wider range of swimsuits specifically for 'youth' instead of smaller men's sizes.
Sporti's HydroLast Youth Jammer is our pick for the best boy's swimsuit for swimming. It has the standard jammer design and the waistband fits a bit higher on the hips. 
More Content for You: Best Items to Take to Your Child's First Swim Lesson
This jammer uses Sporti's HydroLast fabric, which is like Speedo's Endurance+ fabric. It's made from 52% polyester and 48% PBT. The polyester will last longer in the water and should retain its shape longer, too.
Again, the less stretchy material of polyester may not be for your son. So we have similar alternate options that do have more stretch to them for better fit 🙂
The Sporti HydroLast suit comes in about 5 solid colors, a spliced design, and patterns.
Sporti Jammer Alternate Options
Swimsuit
Description
Available At
Sporti Jammer Youth
Available in dozens of different pattern options, all featuring a Nylon and Lycra XtraLife fabric for more give
SwimOutlet
Amazon
TYR Alliance Splice Jammer
Although it's listed for men, TYR's Alliance Splice Jammer can be worn by younger boys, as the sizes start at size 22. 
Like the other jammers on this list, it's a typical style jammer. It sits on the hips and has a drawstring to keep everything in place. The suit stops just above the knee but may sit higher based on the length of your son's legs.
The fabric for this jammer isn't polyester but instead, a recycled Nylon and Lycra XtraLife blend. A lot of the swimmers on my team like this blend because it does stretch out more and doesn't feel as tight.
However, the colors are prone to fading, and the material may dry rot quicker. Especially if it's not taken care of. For this, we highly suggest rinsing out the suit after each use in the water and laying it flat to dry.
Related article: How to Make Your Swimsuit Last Longer
A suit with more polyester will last longer than a Nylon and Lycra blend (such options will be listed below!).
The TYR Splice Jammer comes in a spliced pattern and solid colors (TYReco Jammer)
Alternate TYR Jammer Options
Swimsuit
Description
Available At
TYR Durafast Jammer
Made with TYR Durafast material, which is 53% polyester and 47% PBT for longer fabric life
SwimOutlet
Amazon (solid)
Amazon (Pattern)
Durafast Elite Jammer
94% polyester and 6% spandex for long fabric life and more stretch. These suits are available in solid colors and patterns
SwimOutlet (solid)
SwimOutlet (pattern)
Amazon (pattern)
Boys Durafast Lite (Little Kid/Big Kid)
Designed specifically for boys and made from 88% polyester and 12% spandex. A nice middle ground of fabric between Durafast and Elite
SwimOutlet
iSwim Youth Jammer
iSwim is another smaller company but they still make excellent swimsuits. Their Youth Jammer is designed specifically for younger swimmers. 
One of the things we like about them is that their sizes are specific for youth, which may make it easier to find the right and best-fitting size for your son.
Like all jammers, this suit fits at the hips and stops above the knees. There is a drawstring at the waist and it's front lined only. 
More Content for You: How to Stop Swim Goggles from Falling Off
The fabric is an 82% polyester and 18% spandex mixing, which is a nice blend of long-lasting fabric and stretchy fit. Making it tight but not overly so.
These suits come in about 5 solid color options and several different pattern options.
Flow Funky Jammers for Boys
A lesser-known brand for swimwear, Flow Swim Gear makes crazy and funky patterned jammers for boys. We love the many different pattern options, which are eye-catching (and some are eye-popping!) You'll never lose sight of your son in the pool with these on! 🙂
These jammers from Flow Swim Gear are made of an 87% polyester and 13% spandex blend. This makes for a durable suit that still has some stretch to them. They have a drawstring closure and fit at the hips.
One thing to note is that these suits are not lined. While they're not see-through, once the suits begin to dry rot, there won't be any material to provide extra privacy. This isn't an issue if you keep a second suit on hand for when the first suit starts to thin.
As the suit isn't lined, it will dry faster than suits that have front or full lining. They also may feel lighter or airier when wearing them due to the lack of lining.
If the funky patterns aren't your son's style, Flow Swimwear also has several jammers in a Splice pattern. They also have 3 solid color options, too.
Swim Briefs
Swim briefs tend to be more popular for older competitive swimmers, specifically those on club swim teams. Briefs offer more flexibility and freedom of movement compared to jammers. And most of the older teenage boys on my team prefer briefs.
Related article: Best Men's Swim Briefs for Lap Swimming and Training
That said, there are a few that do still prefer jammers. And we're of the belief that there isn't a set age where a swimmer should switch from jammers to briefs. 
Sporti Youth Briefs
One reason to like swim briefs from Sporti is that they're designed specifically for younger swimmers. Most brands will include boys' swimsuits with the men's selection and add smaller sizes.
While this is okay and does work for most boys, youth sizes can help you find the right fit and size if you're struggling to find a suit listed under 'mens'.
Sporti's Youth Brief is a good starting option for boys. It comes in solid colors, a piped splice design, and many pattern options. 
It's front lined only for faster drying and has a drawstring around the waist.
Related article: What are Swim Briefs (And Should You Wear One?)
The fabric is made from Nylon and Lycra XtraLife fabric, which will leave the color fading after use. We recommend washing the swimsuit in cold water after each use to have it last longer. 
Because there isn't polyester in the fabric, you may find that the suit doesn't last as long as a polyester suit (option listed below). However, some find that the nylon and lycra blend feels better on the skin, and it's worth buying a few extras.
Sporti Brief Alternative Options
Swimsuit
Description
Available At
Sporti HydroLast Youth Brief
Made from HydroLast fabric, which is 48% PBT and 52% polyester for a long-lasting fit. May run smaller and be less stretchy.
SwimOutlet (solid)
SwimOutlet (Splice)
Speedo Endurance+ Brief
Ever the classic, this brief from Speedo is made from their Endurance+ fabric and is a staple on my team. My teammates like the wider outseam and the higher fit on the hips. 
That said, a few dislike it for those same reasons. This shows that everyone has their own preference in how swimsuits fit 🙂
The Endurance+ fabric is ideal for younger swimmers who will be in the water several times a week and need a suit that will last. It may fit tighter and with less stretch compared to suits without polyester.
This suit doesn't come in a set youth size, but it does start sizing at 22, which is the standard size for youth. We have included a specific 'youth' suit in the alternate options below.
You can find this suit in solid colors and a spliced pattern. For more design options, you will need to check under the men's listings and search for the smaller size options.
Speedo Brief Options
Swimsuit
Description
Available At
Speedo PowerFLEX Eco Brief Youth
Youth suit is made from Recycled Nylon and XtraLife fabric for more stretch and flex. Only available in solid colors for this specific youth option, but may have more pattern options under the men's section
SwimOutlet
Amazon
TYR Boys' Racer Brief
When it comes to TYR's boys' racer briefs, there are two options available. One with 100% polyester, and one with 94% polyester and 6% spandex.
Which is the better one depends on your son's preference. The 100% polyester racer brief will fit a tad more snugly and will stretch out less. Whereas the racer brief with the blended fabric may have a bit more stretch to it. 
Both suits come with drawstrings for a secure fit and are lined for privacy. And both styles of suits come in several different patterns and color options. At this time, there are no solid colors available. 
Even between the fabric, there's not much difference and both fabric types will last longer than a nylon and lycra blend.
More Content for You: What is the Cost of Swimming?
If your son is wanting something with more stretch though (such as the nylon and lycra blend), you may need to check the men's section for this option. We do have such options listed below.
TYR Brief Alternatives
Swimsuit
Description
Available At
TYR Alliance Splice Racer Brief
This suit has more stretch and give, as the fabric is a Nylon and Lycra blend. It's lined for full coverage. The smallest size available is 26 (most boys fit around 22-26)
SwimOutlet
Amazon
Swim Trunks
When it comes to swim trunks for boys, we had only one requirement when picking the best swim trunks. And that was that they had drawstrings. 
Related article: Swim Trunks vs Board Shorts
While swim trunks with just elastic are great and easy to slide up, it makes them equally as easy to slide back off. This is especially true if your son is playing out in the waves or at the water park. 
And you probably don't want his trunks sliding off by accident!
Kanu Surf Boys Swim Trunks
With several dozen pattern and color options, Kanu's Surf Boys Swim Trunks have something for everyone! 
We also like that they have a plethora of sizes available from 2T up to 18-20. This helps ensure you can find the best swim trunk size for your son without needing to venture into the men's selection.
These swim trunks also have pockets, which can be helpful if your son will wear them away from the pool. One benefit of swim trunks over jammers is that they can pass as regular shorts, especially from a distance!
And of course, these trunks have a drawstring to keep them from falling. Drawstrings can also make your son's swim trunks last longer if the elastic starts to fail. Or, if the suit is just a touch too big.
Lastly, Kanu Surf Boys Swim Trunks come in several different patterns and color options. From more muted options to those with bright colors and patterns. It makes picking out a trunk all the more fun! 🙂
One thing we like about Kanu Surf's swim trunks is that you can find several style options. They have a Viper Quick line, along with a Line-Up and Echo line. Each of these has dozens of different options. 
Swim Trunk Alternatives
| Swimsuit | Description | Available At |
| --- | --- | --- |
| Ingear Little Boys Swim Trunks | These trunks are available in 2T up to 12-14, come with a drawstring, and many fun/crazy pattern options | Amazon |
| Simple Joys Toddler and Bay Boy Swim Trunks | Specific for babies and toddlers with sizes from 3-6 months and 5T. Trunks come with a bonus (adorable) rashguard shirt! | Amazon |
| Maamgic Boys, Toddler Swim Trunks | Available in 2T up through 14-16 sizes and about 40 different pattern options | Amazon |
Board Shorts
Board shorts for boys tend to run a little bit longer than swim trunks and stop just above the knee. They can also fit looser than trunks. Depending on your son's preferences, he may prefer board shorts to swim trunks. 
Sometimes it's hard to find board shorts that are truly board shorts. As swim trunks and board shorts may be used in the same description. It's always a good option to check the description to see what it's listed as.
For this section, like swim trunks, we only selected board shorts with drawstrings.
Body Glove Boys' Board Shorts
Body Glove board shorts for boys come in a smaller variety of colors, patterns, and designs. But they all feature functional drawstrings and run longer than your typical swim trunk. 
They run from size 4 up to size 18, but the elastic waistband and drawstring may help extend sizes. Most sizes should reach to the knees or stop just above it. You may find that some may extend past the knees.
One small negative about these board shorts is that they feature a mesh liner. For some, this isn't an issue but it can be for others. Especially older boys who surf (or want to start surfing), as the mesh liner can restrict motion.
However, it's incredibly easy to cut out the liner to allow for a greater range of motion.
Lastly, there is a side pocket with a zipper to keep everything secure. We wouldn't recommend testing how secure it is though with any valuable items 😉
Board Short Alternatives
| Swimsuit | Description | Available At |
| --- | --- | --- |
| Hurley Board Shorts | Several design options and classic board short length. One negative is the drawstring isn't adjustable  | Amazon |
Boys Swimsuits FAQ
What Should You Look for in Boy's Swimsuits?
Purpose
We always recommend that you start your search for swimsuits based on use/purpose. 
Swim trunks and board shorts have more fabric to them compared to jammers and briefs. For this purpose, they might not be the best for swimming, such as on a swim team. However, they can be okay for swim lessons.
More Content for You: 4 Things You Need for Summer Swim Team
At the same time, jammers and briefs can go to the lake, beach, or river. But swim trunks and board shorts are more common, and your son may want to fit in with the crowd.
That said, these aren't hard and fast rules that you must follow when looking for swimsuits for your son. They're only suggestions 🙂
Sizes
With so many options for boys' swimsuits and the sometimes confusing labeling, it's hard to mistake a suit meant for boys vs men.
Some suits that appear on searches may appear in both the boys' and men's sections, especially when it comes to teens.
Depending on the age, you should look for swimsuits marked as toddler, little kid, big kid, or youth. Some teens can fit into swimsuits marked as youth. But others may fit suits that men can also wear.
We always recommend reading the reviews and looking through the 'questions/answers' section if shopping online. These can help you determine if the suit fits larger or smaller.
What Should My Son Wear Under Board Shorts (or Swim Trunks)?
It depends. 
Swim briefs or another form of compression shorts can be worn under board shorts. This is true for board shorts with or without a liner. However, some are okay with wearing nothing underneath their board shorts.
The same is also true for swim trunks. Since most trunks have a liner, some boys opt not to wear anything under them. While others may want more coverage.
How Should a Swimsuit Fit My Son?
Tight enough that it won't fall off his hips but not so tight it digs into the skin. 
For jammers and swim briefs, the holes for the legs also shouldn't be cutting into the skin. It may leave lines if they wear them long enough. But it shouldn't be painful.
Remember that some suits, such as trunks and board shorts, will fit loose on the thighs instead of tight. And they should rest comfortably on the hips. If needed, use the drawstring to tighten them for a better fit.
Why Should I Let My Son Pick His Own Suit?
There's something nice about being able to have control and choice over what you get to wear. Allowing your son to pick out his own suit gives him something that's of his own choosing. It makes kids excited to wear the things they picked out because it's theirs.
It can also make your son feel more confident in his choice. And he'll have an idea of how it fits/feels already. This also applies to swim lessons, as it makes kids feel more involved and comfortable in the suit before lessons even start.
Should you get veto power over certain choices and be able to put guidelines in place? Of course! But also see if you can compromise when applicable. 
In Closing
Looking for a boy's swimsuit isn't a simple process and it may take you a few tries to find the swimsuit that works best for your son. However, once you find the right suit, it's a great feeling for everyone involved! 🙂
---
Bonus Content
Beginners Guide to Swimming Freestyle: In this guide, we break down the many parts of swimming freestyle, along with providing some tips, and how to avoid some common mistakes.
Your Swim Team Overview: A brief overview of all swim team related items to help you get started. All the information you'll need on swim teams in one quick overview. The topics listed will cover swim team basics. And hopefully, they'll help you answer the questions that you might have
---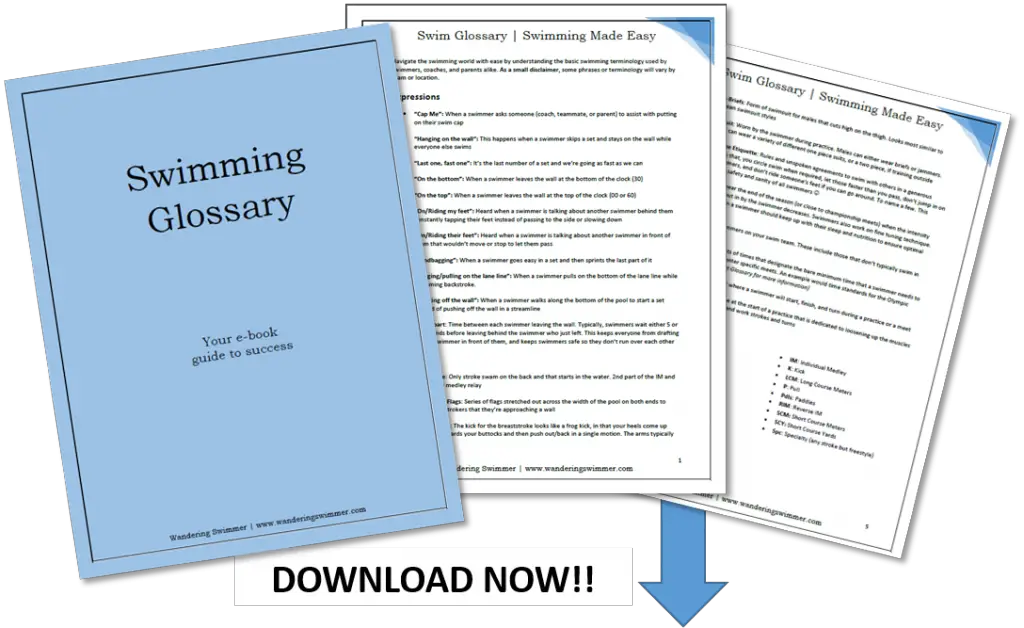 Want to Improve at the Pool?
Join swimmers and swim parents to receive my free newsletter and receive a free Swimming Glossary e-book as a thanks!
Every month you'll receive tips and coaching to help you find success at the pool.
---
About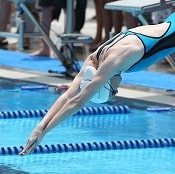 Chevron is a current competitive swimmer with almost 20 years of experience in the pool. And although she fell into the sport by accident in her high school years, she still trains daily and competes throughout the year. She's committed to providing guidance to all levels of swimmers and believes that everyone should know how to swim.