Swim paddles are one of my favorite pieces of swim gear to train with. And I train with a wide variety of paddles to help build and develop my strokes. One of the paddles I use occasionally is Speedo's Power Paddle Plus.
For overall training, this paddle is a great training aid and can be used for all four strokes. 
More Content for You: Swim Gear and Gift Guides
Keep reading to get my full breakdown and thoughts on Speedo's Power Paddle Plus. You might find that it's the swim paddle for you!
Disclosure: This post may contain affiliate links, meaning we earn a small commission at no cost to you if you purchase something through one of our links. As an Amazon Associate, we earn from qualifying purchases. Please check out our disclosure page for more information.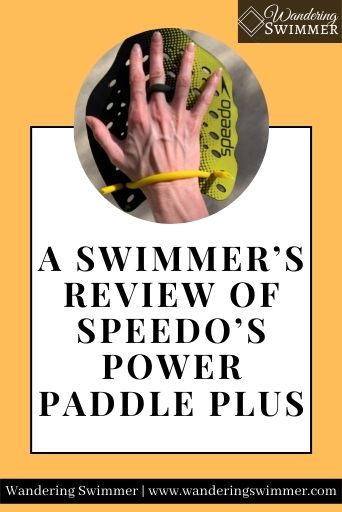 Overall Paddle Design
In terms of swim paddle design, Speedo's Power Paddle Plus has a similar design to most other swim paddles. Except for specialty paddles (such as FINIS Freestylers, Arena Elite Fingertips, etc.).
It's a flat, non-contoured surface design made of hard plastic. The outer sides of the paddle feature a wavy/scalloped edge for smoother pulling.
Related article: The 7 Best Swim Paddles for Swimming
A big plus for this paddle is how thick and strong the plastic material is. Some paddles are made from softer material which makes them bend/curve over time. Or while you're swimming.
Because Speedo's Power Paddle Plus is made from hard plastic, it doesn't bend or curve while swimming. A huge win in my book!
Like most swim paddles, it has rubber tubing for your finger(s) and wrists. The straps can be moved around and placed where they work best for your hand.
Additionally, this paddle features several dozen small holes through the surface of the paddle. This allows water to pass through with each stroke. And gives you more options to place the straps to your liking.
Lastly, these paddles come in four colors (blue, red, yellow, and black). The colors do correlate to the size, which means you can't pick out your favorite color 🙁
Size
These paddles come in four different sizes: small, medium, large, and X-Large. For some, it may be difficult to find just the right size with only 4 size options. But I think that for the most part, the sizes cover a wide variety of hand sizes.
As noted above, the sizes are color-coded. So you are 'stuck' with the color based on your size. This is fairly standard practice for most paddles. Even though it'd be nice to have more color options at times 🙂
The dimensions are as follows:
Small (Blue) – Length: 7.1″, Width: 6.0″, Height: 0.1″
Medium (Red) – Length: 8.6″, Width: 7.0″, Height: 0.1″
Large (Yellow) – Length: 9.2″, Width: 7.5″, Height: 0.1″
Extra Large (Black) – Length: 9.6″, Width: 7.9″, Height: 0.1″
When picking a paddle, it's best to size the paddle so it extends slightly past your middle fingertip. This will ensure you're getting the best fit for your paddle. 
More Content for You: A Swimmer's Review of Arena's Team Line Parka
If the paddle is too small on your hand, it won't do much for your stroke and building strength. On the other hand, if it's too large, you could hurt your shoulders due to the resistance.
When sizing up for increased resistance, always talk with your coach so you don't hurt yourself.
I use a size large (yellow), which measures 9.2 inches (23.37 cm) in length. And 7.5 inches (19.05 cm)  in width. For reference, my hand measures about 7.5 inches from the top of my middle finger down to the end of my palm. 
It's just the right size for my hand and fits my paddle preference. For my paddles, I like to spread my fingers out just a bit. This is why I went with the Large over a Medium. 
Again, that's my personal preference. You may want to size your paddle truer to your hand size.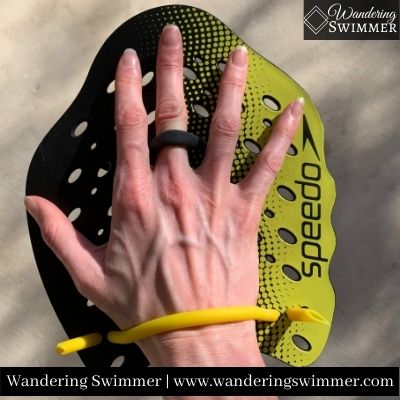 Resistance
With the excess paddle around my hand, the Power Paddle Plus provides excellent resistance when I'm swimming. Between my smaller Strokemaker Paddles and these, I can tell the difference.
It also helps that the material is thicker and more firm, so the paddle pushes back against the water. Instead of bending slightly with it.
More Content for You: 5 Reasons to Own a Shammy
The larger the paddle size you go, the more resistance you'll have when you swim. This can be a good thing if you want to build strength in the pool. But you can also open yourself up for injury if you're not careful.
If you want to increase resistance, I recommend starting at the correct paddle size first. And then start to move up in size as you build up your strength and stroke.
Material 
There's not much that makes up a paddle in terms of material. Just the paddle itself and the straps.
The paddle itself is made of hard plastic. One of the benefits of this harder plastic is that it's less likely to bend while you swim. And I've found that it also allows me to pull just a bit harder because of how strong the plastic is.
Now, it will break if you throw it around or purposefully try to break it. But for regular use, the paddle should last for quite some time.
The straps are made from rubber and while strong, the chlorine has a way of making the rubber brittle after a while. 
One way I've found to help extend the length of the straps is to dry off my paddles after each practice. And I usually keep my paddles in my swim bag instead of my gear bag. 
Related articles:
Keeping it out of the heat or direct sun can also help prolong the strap life. As the heat will wear it out quickly. 
If you're planning on taking a break for anything longer than a few days, I recommend storing your paddles at home. This way, they can stay in a climate-controlled area and last much longer.
Lastly, if your straps do break (which they will after some time), you can use Sporti replacement straps. Or ask your coach if they have any extra tubing. 
Ease of Use
I wouldn't exactly call these swim paddles comfortable. Then again, no swim paddle is truly 'comfortable'. But they are extremely easy to use and don't have a sharp learning curve. Like Arena Flex Paddles or FINIS Freestyler Paddles do.
More Content for You: A Swimmer's Review of FINIS Freestyler Paddles
They're a flat-designed paddle, which might cause some discomfort to swimmers who are used to a contoured (or shaped) paddle. However, the flat design allows you to pull and grab more water when swimming.
We typically use paddles several times a week for a variety of different sets. And I've never had issues with them performing as needed. From sprint to distance sets and drill sets, these paddles get their use. 
I'm not overly fond though of using these paddles for butterfly or breaststroke. Instead, I stick with my ones from Strokemaker because they're smaller. But truthfully, I don't like using paddles at all when swimming these strokes. 
For me, this could be because the paddle is just too big for my two weaker strokes. And because they make me work harder on them.
But if these are your stronger strokes, you might find that the paddles work well for them. 
Lastly, one minor complaint I have is that at first glance, it's not easy to determine which paddle goes on the left and right hand. Speedo provides a small hand at the bottom left corner of the paddle which tells you which hand the paddle goes on. 
But until you remember which hand goes with which paddle, it's a pain to look for that tiny icon. Especially if you're in a hurry between sets.
Hint: The color side of the paddles goes on the pinky side of your hand. While the black side goes on your thumb 😉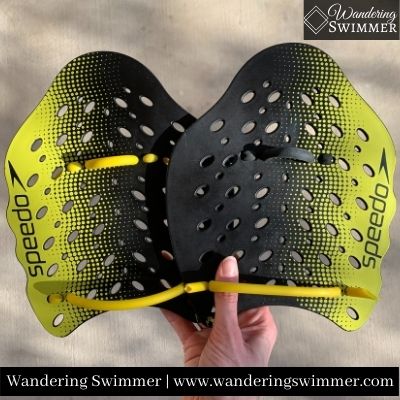 The Straps
The straps on these paddles can be adjusted and moved around on the paddle to best fit your hand. Like my Strokemaster paddles, I only use the straps for the fingers and remove the wrist straps.
I like to keep the strap on my middle finger and usually set the strap so it's just a smidge above my knuckle.  
More Content for You: 6 Best Prescription Goggles for Swimming + FAQ
One negative about the Speedo Power Paddle Plus is the durability of the straps.
They do seem to last shorter than other paddle straps that I've used before. Some of that can contribute to the amount of use they get and how they're stored.
They hold up well for the most part, but you can tell when they start to get brittle.
Because I bring my swim paddles home with me, the straps tend to last longer than others on my team. 
Price
When it comes to price, the Speedo Power Paddle Plus runs on the higher end when compared to similar paddles. Such as Strokemaker, Zone 3 Power Stroke, and Sporti Power Paddles.
However, these paddles are made from durable plastic, making them last through years of heavy use. Even if the straps themselves may not last the entire time.
Weighing the Pros and Cons
Pros
The Speedo Power Paddle Plus has many things to like about it.
It's a simple design that works for all four strokes and can be used at various speeds. Or for a variety of different sets. The various amounts of holes in the paddle allow for water to pass through and give the swimmer several locations to place the straps.
The heavy and durable plastic means it'll last year after year. And the swim paddles are easy to use. 
What We Like in Review:
Durable and hard plastic makes for a strong paddle
The various holes allow for easier and more personalized placement of the straps
These paddles can be used for any stroke
Or any type of set
The larger sizes are great for building up strength (when trained correctly)
While the smaller sizes allow for a perfect fit
Cons
Probably the only thing negative about these paddles is the life of the paddle straps. They can be on the thinner or more brittle side. 
However, I also feel that with proper care, they can last much longer than what they're given credit for.
What We Didn't Like in Review:
The durability of the paddle straps
For some, the flat paddle might be uncomfortable if they're used to a shaped/contoured paddle
Other Paddle Options
Like most swim gear, Speedo's Power Paddle Plus isn't the only paddles available. You can find swim paddles from almost every swim brand. Some may be noticeably different from this design of paddle. While others will run very similarly.
Some options to consider are:
Sporti Power Swim Paddles: One of the more affordable paddles out there, these paddles from Sporti are simple but effective. They're great for those just getting started with using paddles
Speedo Nemesis Contour Paddles: A little cheaper than the Power Paddle Plus and are contoured instead of flat. Some swimmers prefer the contour shape as it's easier to grip the paddle while you swim.
Strokemaker Swim Paddles: These have a simple design to them but they can pull a good amount of water with them. The many holes on the paddle allow for easier and custom strap placement
Speedo Power Paddle Plus Final Thoughts
Overall, do I like using my Speedo Power Paddles?
I do! They're sturdy paddles designed for the swimmer. It's a simple paddle to help correct your stroke and build your strength. And it does what it's designed to do. 
I believe this paddle is good for swimmers of any level. But the stronger material works exceptionally well for swimmers who pull a lot of water, as it won't bend as easily.
If you're on the fence about this swim paddle, know that it's a well-designed paddle. However, if you're looking for something more suited to just starting, you may want to try Sporti's Power Swim Paddles. Or the smaller Speedo Nemesis Contour Paddles.
These may make it easier to ease into using swim paddles. And you can build up from there 🙂
Lastly, if you know someone who uses swim paddles, ask if you can try them for a few laps. And get their opinions on them. This can help you narrow down what you're looking for.
As always, happy swimming!
– Chevron
---
Bonus Content
The 7 Best Swim Shampoos to Remove Chlorine: The chemicals in the pool can leave your hair crunchy and straw-like. Here are the best swim shampoos to help reverse chlorine damage.
The 10 Best Swim Fins for Swimmers: If you're wanting to better your training in the water and build up your kick, fins are the best way to do it. Not sure which to get? Here are the 10 best swim fins for swimmers of any level.
---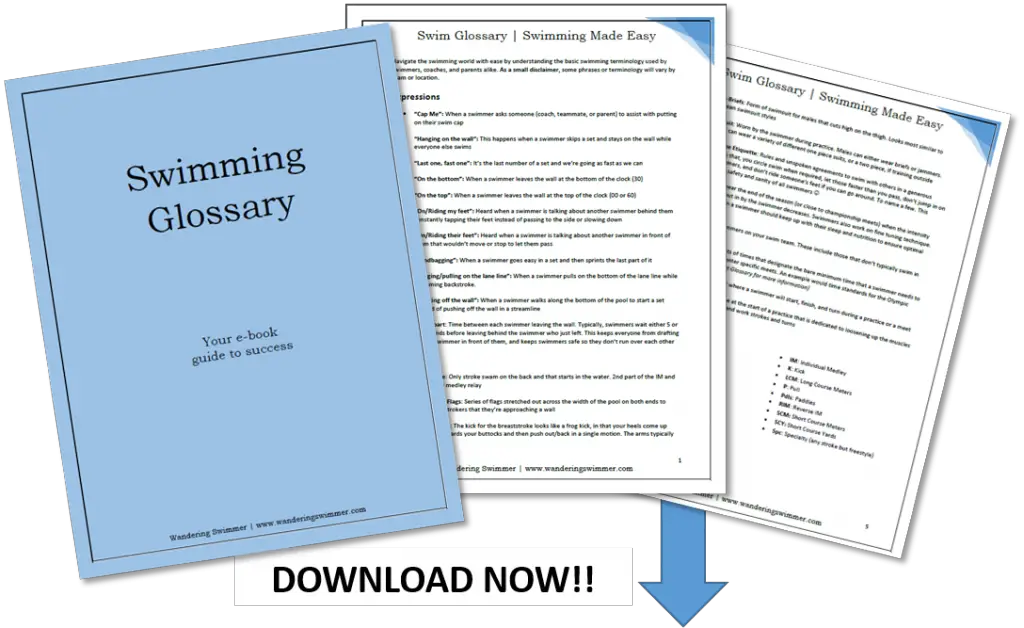 Want to Improve at the Pool?
Join swimmers and swim parents to receive my free newsletter and receive a free Swimming Glossary e-book as a thanks!
Every month you'll receive tips and coaching to help you find success at the pool.
---
About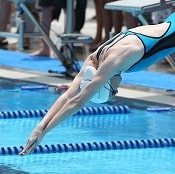 Chevron is a current competitive swimmer with almost 20 years of experience in the pool. And although she fell into the sport by accident in her high school years, she still trains daily and competes throughout the year. She's committed to providing guidance to all levels of swimmers and believes that everyone should know how to swim.