If you're looking to join a swim team, chances are, you'll have to complete some type of swim tryout. What each team requires for their tryouts vary, but there are certain things coaches expect at swim tryouts.
While knowing what swim coaches look for at tryouts can increase your chances to make the team, it's not a guarantee. You should still prepare for swim team tryouts as best you can and do your research when looking for a swim team. 
Related article: 5 Things to Know Before Joining a Swim Team
Disclosure: This post may contain affiliate links, meaning we earn a small commission at no cost to you if you purchase something through one of our links. As an Amazon Associate, we earn from qualifying purchases. Please check out our disclosure page for more information.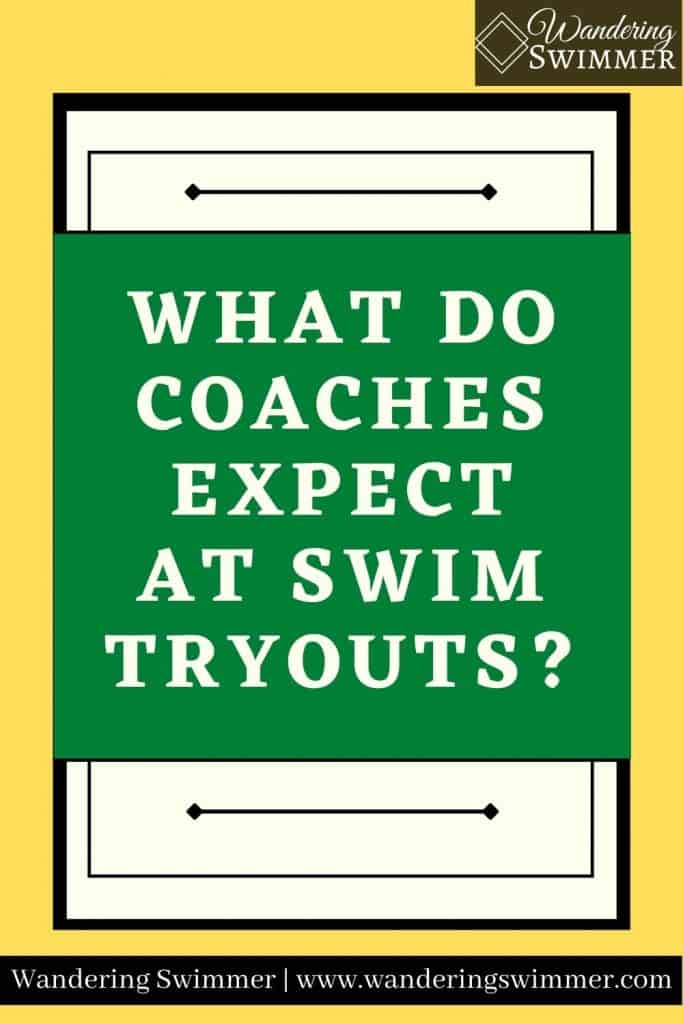 Show up on Time
Try your best to arrive early or on time for your tryout. 
Depending on the team you're looking to join, coaches will have a set time dedicated for swim tryouts. This can be a block of time that they've set aside in the pool. Or, they can tell you what time your tryouts are.
Related article: What to Expect at Swim Team Tryouts
If you're given a set time to be at the pool, make sure you're there when requested. Showing up late can cause delays for others who are also trying out for the swim team. Or it can also keep a lane unavailable that could otherwise be used for other swimmers.
If the team has an allotted period that's dedicated to swim tryouts, try to get there as soon as you can. Showing up too late might keep you from finishing your tryout. Or you'll run over on time.
When you can, always let the coach know if you'll be running late. This way, they know that you're on the way and when they can expect you.
Good communication is key to make a good impression with the coach.
Swim Ability
We will start by saying that this varies by each team. No team is the same in their expectations at swim tryouts. 
Some teams will let anyone tryout, regardless of their swimming abilities. Others will expect that you have basic swimming experience or knowledge. Again, each team is different in what their coaches expect from swim tryouts.
That said, coaches will evaluate your swimming abilities. No matter what that looks like.
Related articles:
Coaches will typically ask you to swim all four strokes so they can assess your technique. You may also need to do a turn or two based on your level of swimming.
Based on your swimming skills in the water, the coach will place you in the level/group that they feel is appropriate for you. In some cases, they might recommend that you take swim lessons first. Either through their team, private lessons, or through a swim school.
If you're ever not sure about your swimming ability at tryouts, speak with the coach. They can help clarify what they expect at swim tryouts.
Current Times
For higher-level groups within a team, a coach may also look at your times to help place you. While you might know all four strokes and have an understanding of the technique, you need to be able to keep up with the group.
Some coaches and teams will look at your current times (if you have them), in addition to your stroke technique. If you don't have current times, they may have you swim a certain distance to get a better idea of your times.
Looking at your times and your technique can ensure you're placed in the right group. If you're not, you might find yourself frustrated if the swimmers on your team keep passing you. And it can lead to disappointment.
If the coach places you in a group lower than you were hoping for, know that they did so for a reason. Be sure to ask them what's needed for you to move up to the next level and make that your next goal! 
Ready to Swim
When you arrive to swim tryouts, make sure you're ready to swim! 
This means you should at least have a swimsuit to wear for your tryouts. More than likely, you can change at the pool when you first arrive but you should double-check if there's space to do so.
You should also see if the coach expects you to bring anything else, such as a swim cap and/or goggles. Some teams require swim caps regardless of gender to help keep hair from getting into the pool. 
For tryouts, you don't need an expensive or fancy suit. Or even an expensive cap and goggles. Save your money and look at something more for practice instead of a meet. 
Related articles:
Some good suits to consider for swim tryouts are Speedo, Arena, or Jolyn. These suits are made for practicing/training and the fabric will last longer than casual swimwear.
As a rule of thumb, girls should wear a one piece and boys should wear either jammers or brief. We don't recommend swimming in trunks or shirts, as they can make it difficult to swim in. 
If you feel more comfortable swimming in a shirt, we encourage you to use either a rash guard or a swim shirt. These two swim tops are designed with swimming in mind and their tighter fit to the body means it won't weigh you down as much.
Related article: Answering Your Questions About Rash Guards 
It's also important that you feel comfortable in your suit or it might distract you during your tryout. Try on your suit beforehand. And if you can, swim some laps in it before tryouts so you get a good feel for how it fits.
Good Attitude
You don't have to be a ball of sunshine and smiles but you should at least have a positive attitude. Refusing to do something that's asked of you or arguing isn't the best first impression. 
Coaches expect that you're ready and willing to try out for the swim team. Even if your parents signed you up 😉 
Having a good attitude at tryouts can be an indicator to the coach on how you'll perform at practices. If you like to complain or challenge everything that you're told, the coach might not be as inclined to let you join the team.
Listen
It's important that you listen to what the coach tells you to do. Coaches expect that you'll listen and ask questions as needed at swim tryouts. 
Any sport has its risks and dangers, and with swimming, one of the biggest risks is drowning. Because of this, it's extremely important that you listen to what the coach says. This includes when you should get in the water and what you should be doing.
Don't play around and keep diving under the water. You might miss something important in doing so, such as the proper way to circle swim. Or how they want you to swim down the lane and back again.
If you're trying out with other swimmers, you might hurt someone if you're not listening carefully. 
Communication
Coaches expect communication at swim tryouts. 
This can range from arriving late due to your schedule to something you're unsure of. 
You know your limits on what you can and can't do. If the coach tells you to do something that you can't do (or don't know how to do), you need to communicate this to them. 
In doing so, you can set yourself up for a better tryout. And it can help the coach better place you in the best group for you.
Lastly, if you have any questions at all during or before tryouts, you should ask them. During swim tryouts, a coach will ask you various questions. But it's okay if you need to ask them questions, too.
Communication is a two-way street 🙂
As always, to happy swimming!
Chevron
---
Bonus Content:
How to Calm Down before Swim Tryouts: It's easy to feel anxious before tryouts. But there are also ways to help calm down before swim team tryouts. Try these 6 tips before your next tryout!
10 Myths About Swim Teams: Some swim team myths can mislead people in various ways and might keep them from joining a team. Let's debunk these 10 common swim team myths.
---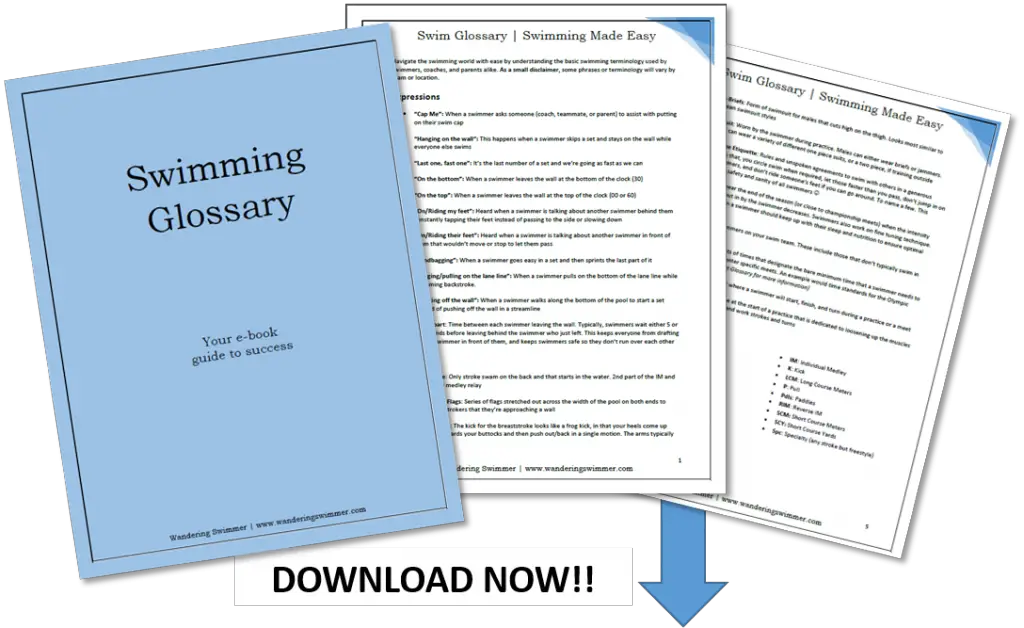 Want to Improve at the Pool?
Join swimmers and swim parents to receive my free newsletter and receive a free Swimming Glossary e-book as a thanks!
Every month you'll receive tips and coaching to help you find success at the pool.