Not every swim parent can go back home during their child's swim practice. The drive is too long or it's not worth the gas money to make the trip numerous times. So how do you keep yourself entertained during your child's swim practice?
Because let's face it, swim practices can be long and boring. And if you can't go home, they feel even longer.
Related article: Why You Shouldn't Stay at Your Child's Swim Practice
One good thing about swim practice? It gives you – in some ways – the gift of time.
So it's time to flex those time management muscles. Because here are eight things you can do during your child's swim practice.
Disclosure: This post may contain affiliate links, meaning we earn a small commission at no cost to you if you purchase something through one of our links. As an Amazon Associate, we earn from qualifying purchases. Please check out our disclosure page for more information.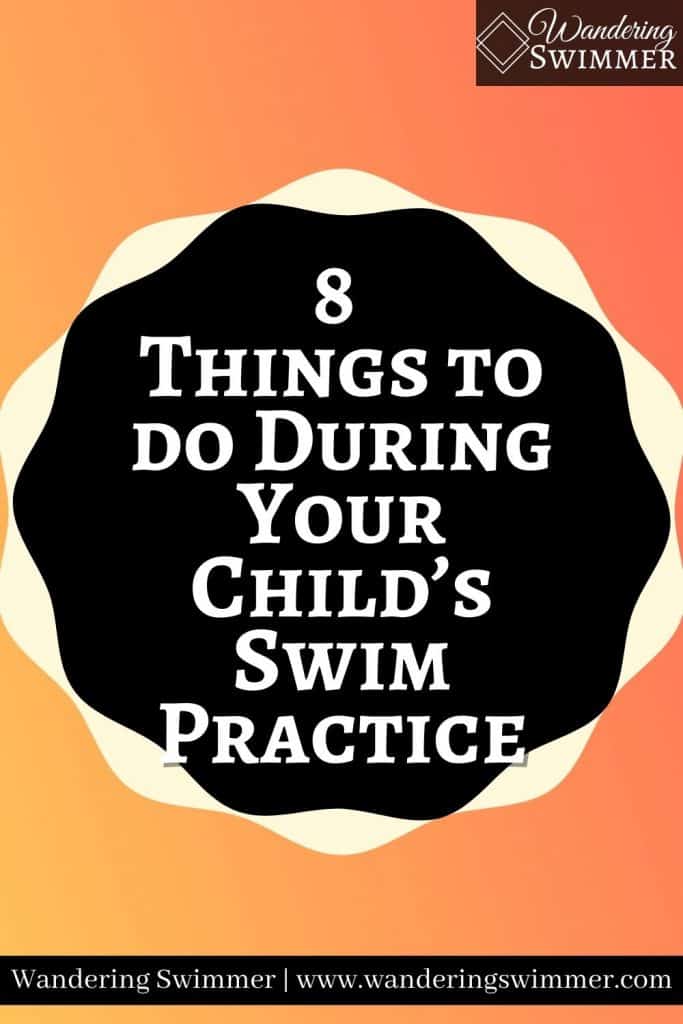 Workout
Your child is working out, so why not get a workout in yourself?
The best part about this is that it can be as simple or as complex as you want. If you don't want to join or pay for a nearby gym, that's fine too! Not all workouts have to be at a gym or workout facility.
Instead, look at simply walking or jogging around the area.
If the location that the team trains at isn't the best for running or walking, find a nearby park instead. Bring your dog if you have one and take them, too!
Or, round up a group of swim parents and go together. 
Working out is what you make of it. Whether that's simply walking a few laps around the neighborhood. Or hitting up the gym to lift some weights.
Whatever suits your fancy, putting in a workout during your child's swim practice is a great way to utilize your time!
Run Errands
We're all busy people. In between work, the commute, and shuttling kids around, there's not enough time in the day to do everything else. Trying to cram in errands during the workweek feels like another job at times!
Utilize the time during your child's swim practice to complete some of those errands.
Your child's swim practice gives you about 1-3 hours to do some running around. Whether that's grocery shopping, taking back some returns, or picking up something at the store. 
If the pool is close to places that you need to go, take advantage of that! You'd be surprised at home much running around you can get done when you're already away from the house. 
Get in Some Extra Work
While not everyone can do this based upon their job, it is feasible. Not only is it feasible, but it's also a great way to spend your time at your child's swim practice. 
Catch up on reports or projects that you didn't get to that day. Or start planning tasks for the next day. If you can work remotely, take some time to sort through that never-ending inbox. 😉 
Related article: Practice Etiquette for Swim Parents
For those that can't work while away from the office, you could consider starting a side gig. For those days with longer practices, offer your services with a rideshare company. Or a delivery service.
Most side gigs such as these allow you to work on your own schedule. This means that during the time that your child is swimming, you could supplement your income if so desired.
We will be honest and say that this isn't for everyone. Sometimes, the best part about staying through swim practice is the chance to unplug from work.
And if that's the case for you, great! Everyone needs mental and wellness breaks from day-to-day life.
Do what's best for you, first and foremost. Whether that's working or not. No one is here to judge you 🙂 
Catch up on Shows
Chances are, you probably have a list of shows that you want to watch. Or are currently watching. Depending on how long each episode is, you can squeeze in at least one during swim practice!
Find a comfortable spot, get a good set of headphones and watch away!
Alternatively, you can also watch any games that might be on during practice. 😉
Just be sure that you keep a charger handy so you don't drain your battery. And of course, know what your cell plan is, so you don't run up your bill by mistake!
Start or Finish a Book
Full honesty here. You're more likely to find me curled up with a book – or an e-reader – than watching a movie or show. If that's you, then take this time during your child's swim practice to catch up on some reading!
Start a new book or finally finish an older one.
If you can read anywhere, knock yourself out. But if you need some quiet to focus on your book, go hunt for that quiet spot 🙂 Or, bring some headphones and put on some music/white noise to block out the world around you.
Get cozy and start scratching off that 'to read' list!
Start or Maintain a Hobby
For some people, swim practice offers a great chance to pick up a hobby. Or even continue one! 
Admittedly, this works better for some hobbies over others. Such as knitting or crocheting. We've seen dozens of swim parents at practices and meets bring in bags filled with yarn for their favorite hobby.
They sit themselves down, pull out their needle(s), and start working! You'd be amazed at how much someone can knit or crochet during a practice. Or even a swim meet. We all know how long those are 😉
And if you don't know how to do any of these? Learning during your child's swim practice is one way to start. Chances are, a swim parent already knows how to do this and will be more than happy to teach you.
Or, they'll want to learn alongside you. And who knows, maybe you'll start a knitting or crocheting club of your own!
Study
Studying isn't just for your child(ren). It can also be for adults too! 
This can be for any adult of any age. Whether you're picking up a degree or looking to go back to school, you can rock study time at the pool. Use the time not just to study, but also complete homework or assignments.
You have a window, use it wisely!
You can also use this time to advance your career with a certificate or credential in your field. Something fancy that will put some letters behind your name. And maybe give you a raise at the same time 😉 
The best part? This isn't just for you. 
It's fantastic motivation for your child(ren) to see you studying. It sets an example and shows that no matter your age or job, you can always learn something new.
Related article: How Can I Be a Good Swim Parent?
Pamper Yourself
Lastly, take the time to pamper yourself!
Go get your hair cut or your nails done. See some friends if you have time. Or even take a nap in the car!
Being a parent is tough. You have to balance so much and swim practice just adds more to that ever-growing list. But at the same time, it gives you a chance to also take some time for yourself.
Whatever shape that might take. 
Some people thrive on the constant grind of the day. Others need breathers throughout the day. Whichever best suits you, be sure to schedule a time to take care of yourself.
Everyone deserves some pampering, along with some relaxation.
So enjoy a few hours to yourself!
In Closing
The time spent at your child's swim practice can be both a good and bad thing. 
Yes, it can be long and boring. But it also offers the gift of time. And it's time that's already blocked out of your schedule that you can utilize.
Just remember that it's your time and to use it as you see fit. Doing something during practice helps make them go by faster. And you might find yourself with more time on your hands later on!
As always, to happy swimming.
-Chevron
---
Bonus Content
8 Things Every Swim Parent Should Know: There's a fine line between being supportive and overbearing. Learn how to find that balance as it's something every swim parent should know.
How to Make Your Swimmer's Practice a Success: Success at swim practice isn't determined by talent. Rather, it comes from these extra actions that swimmers put into making their practice successful.
---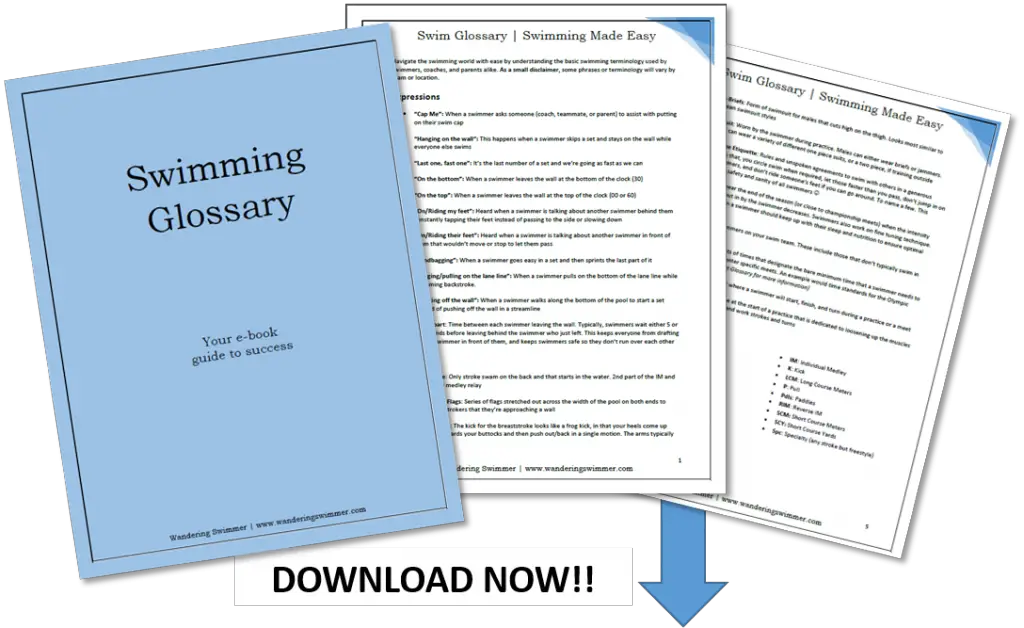 Want to Improve at the Pool?
Join swimmers and swim parents to receive my free newsletter and receive a free Swimming Glossary e-book as a thanks!
Every month you'll receive tips and coaching to help you find success at the pool.
---
About
Chevron is a current competitive swimmer with almost 20 years of experience in the pool. And although she fell into the sport by accident in her high school years, she still trains daily and competes throughout the year. She's committed to providing guidance to all levels of swimmers and believes that everyone should know how to swim.