How to Start Competitive Swimming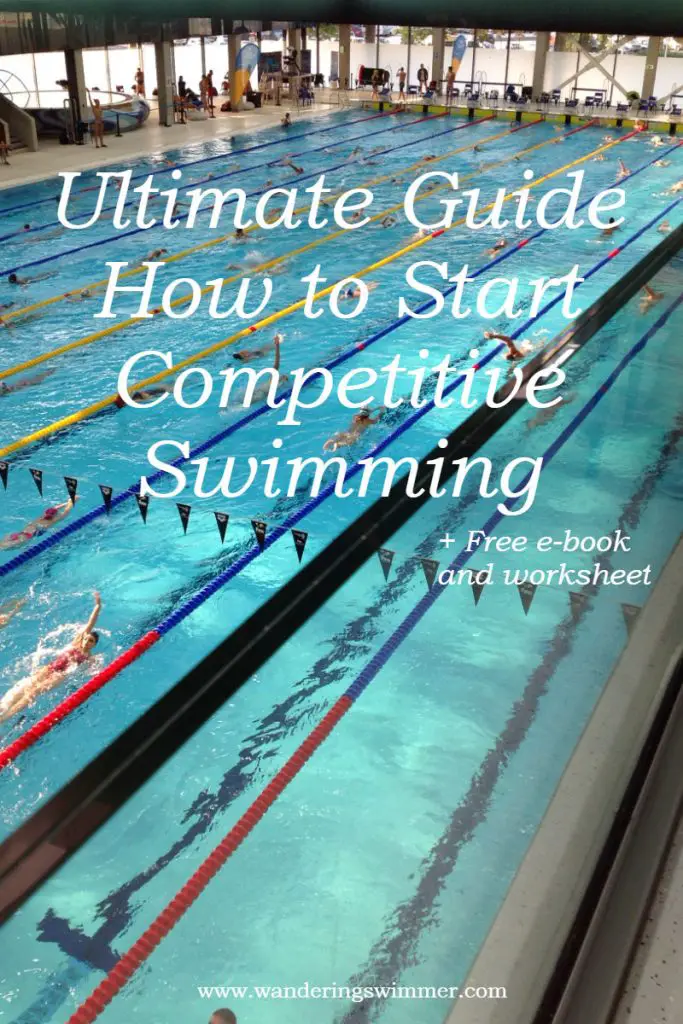 Years ago, if you wanted to start competitive swimming in the US, it wasn't the easiest to find information. It remained a relatively unknown sport. To most people, you swam in the summer when the weather grew warmer and that was that!
Fast forward to 2004 when Michael Phelps really started to make waves in the pool. By 2008, swimming captured world wide attention as Phelps chased down gold medal after gold medal. And of course, there was that little issue with 'plastic racing suits', but that's a whole different subject 😉

The years following 2004 pulled swimming back into the spotlight and encouraged thousands of new swimmers to pick up the sport.

New swimmers (or new swim parents) like you!

Or maybe you're still on the fence about joining and not quite sure what makes swimming, well…swimming!

And I get it. I really do.

When I started swimming, no one told me
Other strokes existed outside of freestyle
That, oh, by the way, you can't shave your legs until the end of the year. I looked at the coach and said, "You want me to do what now?"
That I would wake up at 5 in the morning to jump into freezing (to me) water
All of that wasn't listed in the brochure!

That confusion doesn't limit itself to swimmers either. Parents remain just as lost as their swimmers. They have questions their own questions about swimming, such as:
How much does swimming cost?
What gear/equipment does my swimmer need?
What are swim meets (And how does my swimmer get faster)?
So when you're looking to start swimming (at any age!) or have just started, you probably have dozens of questions running through your head. First and foremost: How do I start competitive swimming?

Who Can Swim Competitively?

Actually, before I answer the first question you probably asked, I'm going to take a step back further. Instead, the first question is: Can I (or my child) swim competitively?

That answer? Yes, yes, and heck YES!

Because the best thing about starting competitive swimming? Anyone can do it, regardless of age, gender or experience. Swimming is ageless.

You can start competitive swimming at any age. Whether you're 6 years old or 60, it doesn't matter.

Now, if you're older than say your typical high schooler (13 to about 18), I would actually recommend that you look into Masters Swimming. Masters Swimming is competitive swimming that's specifically geared towards adults. Particularly, those older than 18 and up through age 100.

Yes, you read that right! 100 years of age.

I've had the absolute pleasure of watching a 95 year old swim competitively in numerous races. Not only did she finish the race, she also broke a world record! I've also met Masters swimmers who started competitive swimming much later in life than what's considered 'normal'.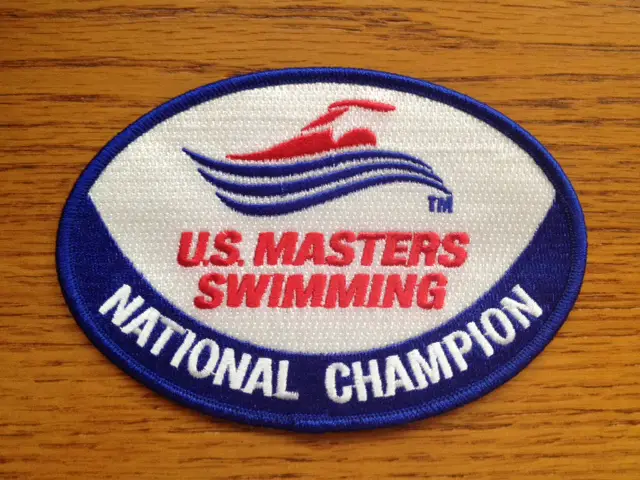 Benefit to Masters Swimming
The benefit to Masters Swimming over say Club Swimming, is that you practice with adults. And you race against adults. Having a support group around you that's closer to your age can make all the difference in your swimming career

Personally, I'm registered to swim with both USA Swimming and US Masters Swimming.

And take it from someone who swims on a club team with just high school kids. The immaturity and 'life problems' you encounter everyday? It gets old pretty quickly, haha.

So yes, you can start swimming at any age!

All that said, if you want to read more about Masters Swimming, check out my other posts!

Related Posts: Masters Swimming

For those still within that high school range and younger, I'll repeat it again for you 🙂 You can start swimming at any age! Most swimmers start around the 6-11 age range and grow from there.

Yes, late bloomers in the sport do exist. I was one of them!

Additionally, most club and YMCA teams offer various groups geared towards ability level. This means that even if you have only basic knowledge, you can still start competitive swimming!

Because you don't start out as a perfect swimmer. You learn and grow along the way.

How, you ask?

I'm glad you asked 🙂

How To Start Competitive Swimming

Now we're back to that first question you asked. How do I start competitive swimming? The answer? With research and another question.

Why am I (or why is my child) starting competitive swimming?

The answer? You (or they) could look to join High School or Summer League Swimming. You might want to join the local YMCA team. Or a local year round team. Some combination of the above.

Or maybe, you've exhausted all other sports but swimming.

And hey, that happens! I know that no coach would want me on their team if it required running, haha.

Whatever the answer though, each one requires some research on your part. Or keep reading here 🙂

High School Swimming:

Prior to entering high school, check to see if your high school offers competitive swimming as a credit in lieu of PE. If they do, that's one of the best ways to get started with the sport if you've never swam competitively before.

Now, I should note that the school offers competitive swimming. Not swimming class. This is a sports team. And most teams will have tryouts where you'll have to demonstrate your abilities. Based on how well you do, you can make the team. Whether that's Jr. Varsity or Varsity depends on the team's criteria.

Based on when your school offers swimming, be sure to check with the coach for when tryouts are. Remember that you need to tryout before you can make the team. Usually, tryouts happen during the summer, just before school starts.

In a case like this, you should spend the summer practicing the different strokes needed to make the team. Having the skills and ability to swim all four strokes (butterfly, backstroke, breaststroke, and freestyle) will increase your chances to the team.

Additionally, you should probably know how to execute a flip turn, or an open hand turn.

Again, this isn't swim class. While your coach can teach you things, it's with the expectation that you already know how to do them. Your coach should instruct you on how to better your strokes and turns.

Questions to ask:

Before trying out, you should also ask the coach what practices look like throughout the year. To include holiday training, if any. Most schools have a designated class period for swim practice. However, you might have to come in earlier to do some weight lifting (dry land), stretching, or some cardio.

You should also inquire about the meet schedule. At best, you can expect to have a swim meet at least once a month. You might also have meets designated by time standards or cuts. In that, you have to swim a certain time in order to swim at a specific meet.

Lastly, be sure to find out what gear/equipment you need to have. As a basis, you will need the following to start:
Swimsuits
Cap
Goggles
Towel(s)
Bag
Eardrops
Water Bottles
Tennis Shoes
Shirt/Shoes
While the school may provide a swimsuit, most coaches prefer to save the suit for meets. You should also have at least one other suit to rotate through. This keeps the suits from wearing out so quickly.

Some good brands to start are:
Speedo (I recommend either an Endurance+ or Endurance Lite in terms of fabric)
Arena
TYR
In terms of other gear, such as kick board, pull buoy, and fins, the high school should typically provide these. However, please note that not all schools can provide extra gear. Please be sure to check with your coach ahead of time.

But what if you have no idea what any of those words mean? Where do you go from there?

I would recommend starting with a Summer League!

Summer League:

As the name implies, summer league swimming takes place in the summer. Smart, right? 😉

Summer league is a great place to start competitive swimming. However, it's also geared towards teaching swimming, growing swimmers, and having fun. Yes, you'll have those parents and swimmers who take it way too seriously. But you have those in any sport. In general though, one of the main goals of summer league is to promote swimming.

Not just competitive swimming, but life saving swimming.

To get started, you should begin your search for nearby teams in the early spring. I recommend starting earlier in your search, usually before school lets out. This also gives you some information and time to prepare. Some summer leagues start swimming before school ends

You can usually find most summer league programs at a local community pool or neighborhood pool. When checking for locations, take a moment to check what requirements they have. Some pools require that you belong to the community or city to join.

Questions to ask:

Much like high school swimming, you'll want to check if the team has tryouts. If so, what time they are? Additionally, be sure to check with the coach about the training and meet schedule. Depending on the size of the team, they might have multiple practices to accommodate everyone.

As mostly younger swimmers compete in summer league swimming, the team won't lift weights or run. They might do some basic push ups, jumping jacks, or stretching. However, most of the practice revolves around pool time.

Swim meets, however, occur almost every weekend. Or at least every other weekend. Great for kids with tons of energy. Not so great for tired parents, haha. All of these meets usually lead up to a championship meet at the end of the season.

Be sure to check with the coach about team suits. Again, like high school swimming, you're expected to provide the basics:

Swimsuits
Cap
Goggles
Towel(s)
Bag
Eardrops
Water Bottles
Shoes/sandals
Shirt/Shoes
Your team will place suit orders to use at meets. However, you can also use this suit for practice as well once you receive it. As a reminder, you can extend the life of your suit by changing it out with another.

Baggy suits are the worst 🙁

What to expect
The swim season only lasts for the summer. It's a fast paced season, given the short nature of it. However, it's a ton of fun for nearly everyone.

It's a great place to start if you have little swimming experience but don't want to join a year round club team. Or, if you don't want to pay for membership at a gym or club.

I should know. It's how I started with the sport!

I signed up for high school swimming with only the basic knowledge of one stroke. My mom suggested summer league to get me more familiar with competitive swimming. Hands down, it helped so much. It taught me:
Flip turns (mostly)
Starts
All four strokes (I walked away with three successful strokes!)
How to circle swim in a lane
Swimming terminology
Funny enough, even knowing all that, it still didn't wholly prepare me for high school or year round swimming. Each class – if you will – of swimming contains unique features about it.

You can rank Summer League as the most laid back class with year round club swimming as the most dedicated or intense. But that doesn't make one better than the other!

One thing to note about summer league though. It does cap at a specific age. Once you reach that age, you're no longer eligible to compete. Instead, you would either stay with your high school team, join the YMCA – if available – or, join a club team.

However, just because you phase out of summer league, doesn't mean you can't stay involved. You can always help with coaching or volunteering. Help others who once stood in your shoes, or fins 😉

If summer league doesn't fit in your schedule though, you can check out the local YMCA!

YMCA

Full disclosure here, I didn't have this option available growing up. Therefore, I'm not overly familiar with how the YMCA swimming program works. I do know, however, that most YMCA's have a swim team that teaches and develops swimming skills.

This includes both life saving swimming and competitive swimming.

If you have a YMCA nearby that offers swimming as a class or a team, check them out! You never know what they can offer or do for you.

Much like your high school and summer league swimming, be sure to ask about the practice schedule. You might have practice after school instead of before, like with most high school teams. You might also have a weekend practice, typically on Saturday.

It's also likely that you'll have more meets during the weekend compared to the weekday.

As a newer swimmer looking to start the sport, or someone looking to join a high school team, this can be another great place for you to start. You can cover the basis and get a firm foundation before joining either a high school or club team.

Year Round Swimming (Club Swimming)

Still with me so far? Great!

Year round swimming, like the name implies, swims year round.

It consists of those teams that register to swim and compete with a national governing body for the sport of swimming. Some swimmers from high school, summer league, or the YMCA will feed into club teams based on what else they want from competitive swimming.

Whether this is collegiate swimming, Nationals, or even up to Olympic Trials!

Much like Masters Swimming, swimmers can start competitive swimming at any age. Meets vary upon their formats. In that, age groups compete against each other. Or you swim against those with the same time as you in the same event.

This means that if your child wants to start competitive swimming at the age of 8, they could swim against others in their age group. Alternatively, if you start in high school, you would swim against your peers.

Year round swimming also use a combination of time standards or cuts and age groups to regulate meets. This helps prevent a college swimmer from racing against a child and keeping them from advancing to finals.

Because of this format, it makes it easy to join and start competitive swimming. Again, at any age!

Locate a team

To start, simply find a club team near your location by searching online.

I'll take a moment to note now that these teams don't typically offer swim lessons.

It's expected that you have some basic understanding when joining the team. In fact, most teams will have tryouts to determine your level and what group best suits you.

For this reason, most swimmers who enjoyed summer league or high school swimming can join these teams without much issue. For those who still need to develop their strokes or skills, you can see if the team offers private lessons to get you started.

Visit the team
Once you locate a team, see if you can stop by for a visit. I recommend calling ahead to get permission, as not all coaches will allow you on the property without notice.

Why should you do this? It gives you a chance to see the facility, meet with the coach, and watch the team. Burnout in swimming is a common occurrence. The right coach and team though can easily help prevent burnout.

Look to see how the coach interacts with the team. Do they joke around and have fun occasionally? Or do they come across as strict. Do the swimmers seem to enjoy themselves? As much as you can while working out at least, haha.

Little things like this can tell you a lot about how the team operates.

If it seems like a place where you (or you child) can have fun but still get better, great! If not, try the next club.

When in doubt, be sure to speak with the parents on the team, too. They hear all the gossip (for better and for worse) and know the team.

Tryouts
When you find a club you'll have to determine if you need to tryout for the team. Each team will have a different approach to this. Some schedule tryouts at the same time for a specific day each month. Others, you can schedule an appointment and tryout within a few days.

After your tryout, the coach will notify you what group you'll swim in.

Each team has various different groups or levels based on a swimmers ability. As your swimming skills grow, your coach will move you up to the next group. An example would be: novice, intermediate, senior, and elite

Questions to ask:

You made team, yay! Uh, now what??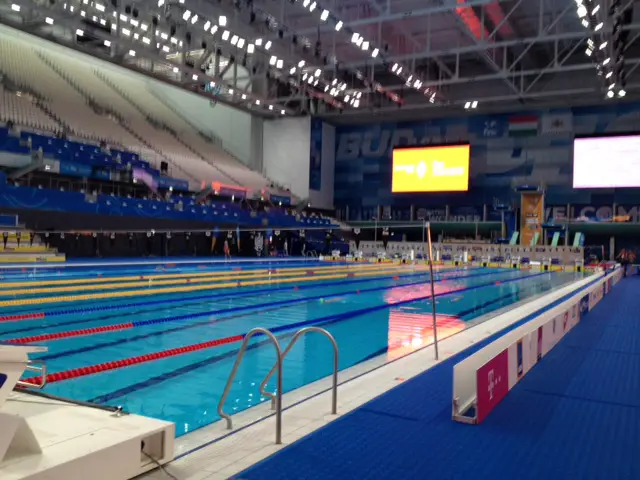 Practices:

Following tryouts, your coach will provide you a training schedule. If they don't, be sure to ask for one. You can usually locate this on your team's website, too. Most year round teams have multiple practices to accommodate everyone.

These practices can run concurrently if the facility allows it. Otherwise, you can expect practices to run in 1-2 hour blocks. You can also expect to put in some dryland work on specific days.

Be sure to ask about holidays. Most year round teams do train on holidays. It can be a normal day of practices, or one longer practice. This can depend on the group you train with. If your team has multiple groups, be sure to review the correct group practice 🙂

Practices also vary by seasons. Swimming has two seasons. Short and long course. Short course runs from August through February/early March. Long Course runs from late March through July/August. Because long course operates in the summer, practice times can adjust due to summer break.

Lastly, understand that year round swimming trains during winter and summer break. If you plan to go on vacation during those times, I would highly suggest letting the coach know.

You can find out more about these practices with some of these related posts! (Coming Soon!)
Related Post:
Swimming 101: Practice
Mental Training: Practice
First Day of Practice (And What to Expect)
Meets

You should also inquire about the meet schedule. Like the training schedule, you can probably find this online. Some coaches will print out the packet for you as well.

You can expect to have a swim meet at least once a month. Most meets have designated cuts to enter the meet. Others will remain 'unclassed' in that anyone can swim.

I can't cover everything here for meets, or we'd be here all night, haha. However! You can check out these related posts (coming soon!):
Related Post:
Swimming 101: Meets
Mental Training: Meets
First Meet (And What to Expect)
Best Advice for Swim Meets
How to Prepare for a Swim Meet
Gear/Equipment:

Lastly, be sure to find out what gear/equipment you need to have. As a start, you will need the following to start:

Swimsuits
Cap
Goggles
Towel(s)
Bag
Eardrops
Water Bottle
Tennis Shoes
Shorts/Shirt for dryland
As a rule, most clubs require that you provide your own equipment. They also request that you have a team suit and warm up apparel for meets.

In terms of other required gear, you'll probably need a kick board, pull buoy, fins, snorkel, paddles, and a gear bag.

Why do you need these extra items? Swim gear helps you work on a specific part of your technique while in the water. For example, fins help build up endurance and strength in your legs to kick stronger. Plus, the design of some fins assist in proper kick technique.

You will learn the basics of your stroke techniques no matter where you go. However, year round swimming truly focuses on working technique and adding speed to the equation. Once you have a firm, solid technique, you can start building upon that.

Conclusion

There you have it!

I might've missed one or two things, but I think that covers the general basics on how to start competitive swimming. Of course, from here, you probably have more questions that came to mind. Such as:

What are the health benefits of swimming?
What do I need to know about swimming?
When is the off seasons?
What are swim meets?
What do I need to start swimming?
How much does swimming cost
What can swimming do for me?
Is swimming right for me?
Unfortunately, I can't cover all those questions here. Otherwise, we'd be here all night, haha. But please, feel free to check out some other posts that have the answers to those questions! Some even have free downloads to help you along the way 😀

While starting competitive swimming may seem like a daunting task, filled with dozens of questions, it doesn't have to be. Truly, the best place to start is again, asking yourself: why do you want to start competitive swimming?

From there, it's all about finding out which route works best for you.

Whether it's high school swimming or year round swimming. It could be both! There is no right or wrong answer. Pick which one works best for you, your family, and your lifestyle, and keep going.

Because no matter which path you take, the first step belongs to you 🙂

Still not sure where to go or have more questions? Check out some of these other posts to get you started!

As always, to happy swimming

-Chevron
---